The Most Critical Argument Democrats Will Have in 2020
Expect way more fighting over health care before the next set of presidential debates.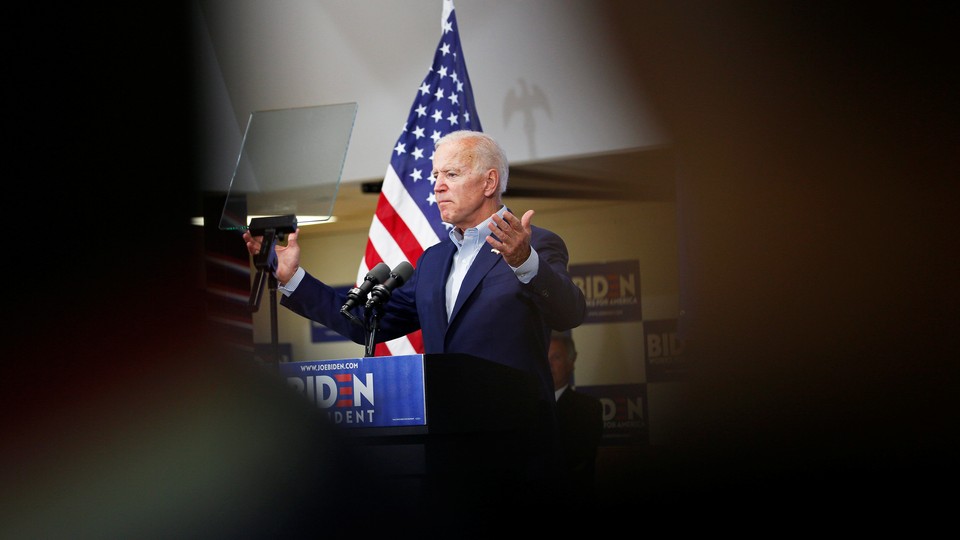 The battle over health care is emerging as the most consequential policy choice facing Democrats in the 2020 presidential contest—and it's one that could play out over time to Joe Biden's advantage.
As last week's debates demonstrated, Democrats now face a stark choice: a nominee who would establish a government-funded, single-payer, national health-care system that bans private health insurance, or one who would maintain the availability of private insurance while seeking to increase coverage by enrolling more Americans in the Medicare system.
The debates produced the most pointed skirmishing on the issue yet, with Senator Michael Bennet of Colorado and former Representative John Delaney of Maryland, who are both lagging in the polls, aggressively making the case against a single-payer system that would ban almost all private insurance. But the encounters also set in motion a dynamic that virtually guarantees greater conflict among higher-ranking candidates over this issue leading into the next debates in late July.
Most candidates across the two nights of debate said they oppose a plan that would eliminate private insurance. But those who support elimination include three of the four candidates who have emerged as the race's clear top tier in the post-debate polls: Senators Bernie Sanders of Vermont, Elizabeth Warren of Massachusetts, and Kamala Harris of California. The only top-tier candidate who would maintain private insurance is the former vice president.
As Biden tries to recover after a shaky performance at the first debate, that contrast provides him a clear incentive to stress his differences with the three others. Put another way, while the debates demonstrated vulnerability for Biden overall, they also showed him the most obvious way to regain his footing. His team emerged from the debate eager to sharpen his engagement with Sanders and the other candidates advocating the elimination of private insurance. "We are headed for a health-care conversation in this party," says one top Biden aide, who requested anonymity to discuss internal campaign calculations. "I think he'll be talking about it more in the coming days."
The stakes in this choice could be enormous. While the Democrats embraced other controversial positions during the debates—such as decriminalizing unauthorized border crossings and covering undocumented immigrants in any national health-care plan—none of those directly affects nearly as many Americans as the future structure of the health-care system overall.
No issue contributed more to the Democrats' gains in the 2018 midterm elections than the party's defense of the Affordable Care Act, particularly its provisions protecting patients with preexisting medical conditions. In exit polls during the 2018 election, nearly three-fifths of voters said they trusted Democrats more than Republicans to protect consumers with preexisting conditions. Those voters backed Democrats in House races by a crushing margin of 89 percent to 4 percent. The polling found that the issue was especially important in helping Democrats regain some ground among white women without a college degree, whose support for President Donald Trump was critical to his victories in the three Rust Belt states that effectively decided the 2016 election: Pennsylvania, Michigan, and Wisconsin. Democrats are optimistic that Trump has provided them a comparable opportunity again in 2020 by repeatedly pledging that he will try again to repeal the law if he's reelected.
But polls have consistently found that most Americans oppose eliminating private health insurance. In a January survey by the nonpartisan Kaiser Family Foundation, just 37 percent of Americans supported a national Medicare for All plan with a ban in place. In a CNN survey released this week, only 21 percent of all Americans said they preferred a national health-care plan that would eliminate private insurance. Such results have prompted alarm from many Democrats—especially but not exclusively centrists—that running in 2020 on a platform of eliminating private insurance could neutralize the advantage Democrats have achieved on health care by defending the ACA.
"You remember what the pushback was when Barack Obama said, 'If you like your insurance, you can keep it'? And a couple million people lost their insurance because they had plans that didn't meet the standards?" Bennet asked this week on the liberal podcast Pod Save America. "Imagine a world where our offer is, 'If you like your insurance, we're going to take it away from you.' We just have got to beat Donald Trump at the end of the day here. And so we have to have an agenda that is going to appeal to the American people."
The sheer magnitude of eliminating private insurance is difficult to overstate. Fully 181 million Americans receive health coverage through their employers, according to census figures. Employer-provided coverage is the source of insurance for the vast majority of well-educated voters on whom Democrats now rely: Three-fourths of those with a two-year college degree, 87 percent of those with a four-year degree, and 90 percent of those with graduate education all receive their coverage at work. At least three-fourths of adults are covered through work in a wide array of the white-collar suburban districts that drove the Democratic recapture of the House last fall. That's one reason just two House Democrats from districts that voted for Trump in 2016 have backed the single-payer bill introduced by Representative Pramila Jayapal of Washington. Only one-sixth of college-educated whites in the CNN survey said they would support a national health plan that eliminated private coverage.
Paul Starr, a sociology and public-policy professor at Princeton University who wrote a book, The Social Transformation of American Medicine, on the history of the American health-care system, says those suburban dynamics present a clear red flag for Democrats proposing to eliminate private coverage. "There is a problem for the Democrats in keeping their House majority, and in winning the Senate seats [they need], if the party supports Medicare for All," says Starr, who also advised former President Bill Clinton during his push to reform the health-care system in the 1990s.
But polling sends mixed signals on how Democratic voters, as opposed to the electorate overall, feel about eliminating private insurance as part of a universal-coverage plan.
In the January Kaiser survey, a solid 57 percent majority of self-identified Democrats said they would still support a Medicare for All system if it eliminated private insurance. But in the more recent CNN survey, which was conducted entirely after last week's debates, just 30 percent of Democrats and Democratic-leaning independents said they preferred a "national health insurance program for all Americans" that would "completely replace private health insurance." A much larger group of Democrats and leaners, 49 percent, said they would prefer a national program that does "not completely replace private health insurance." The rest either did not want to create a national health-care system in the first place or said they did not know what system they would prefer.
In that CNN poll, eliminating private insurance did not attract plurality support from any large group within the Democratic coalition. A system that banned private insurance drew support among Democrats from just 33 percent of whites and 26 percent of nonwhites; 27 percent of men and 32 percent of women; and 37 percent of self-identified liberals and 24 percent of self-identified moderates and conservatives. Only among two groups—whites without a four-year college degree and adults younger than 45 years old—did nearly as many Democrats support eliminating private insurance as maintaining it. The idea was especially unpopular among Democrats older than 45, with just 22 percent supporting it and 52 percent opposing it.
An ABC/Washington Post survey released on Wednesday that asked the question in a different way—stressing that the current system leaves some people uninsured while the new system would provide universal coverage—found much broader support for the idea. Two-thirds of Democrats in that poll said they would still back "Medicare for all if it meant there was no private-insurance option available."
The divergence in these results suggests that opinions on the issue are still fluid and somewhat undefined. And that means the next stage of debate among Democrats could be critical in framing opinions about a government-run system, not only within the Democratic coalition but also, potentially, beyond it.
The CNN survey underscores that conclusion. It found that Sanders, Warren, and Biden—in that order—all finished closely together among voters who would eliminate private health insurance (as the first two candidates have proposed), according to results provided to me by CNN's polling director, Jennifer Agiesta. Similarly, the poll found Harris leading, followed closely by Biden and more distantly by Warren and Sanders, among the plurality of Democrats who would preserve private insurance. That suggests this issue hasn't yet shaped the race nearly as much as it could if the candidates delineate their differences more sharply.
Since his 2016 race for the nomination, Sanders has been the principal proponent of a single-payer system that would ban private insurance for all but peripheral services, such as cosmetic surgery. His camp sees his identification with single payer as a key to victory in a crowded primary field. Sanders is worrying less about building majority support in the party than about consolidating a passionate third or so of Democratic primary voters—and no issue, his camp believes, is more important in helping him do that than single payer. "For one-third of the primary electorate, it is going to be 'Screw the insurance companies, screw the pharmaceutical companies, I want to crush the whole system,'" says one top Sanders adviser, who similarly requested anonymity. "I am okay with having that debate. It is the debate we can win the nomination with."
Sanders's challenge is that Warren and Harris, who have both endorsed a single-payer plan that eliminates private coverage, are clearly encroaching on his support with the most liberal voters. He's tumbled to fourth in some post-debate surveys, both nationally and in the kickoff state of Iowa. Meanwhile, South Bend, Indiana, Mayor Pete Buttigieg, while more moderate on issues such as health care, is also cutting into the support among young people that propelled the Vermont senator last time.
Biden faces a different equation. His strongest support in the race so far has come from the voters the CNN poll shows are most resistant to a single-payer plan that eliminates private insurance: older voters, nonwhites, and moderates.
Yet Biden was muted and indistinct in expressing his opposition to the Sanders approach during the first debate. The closest he came was at the end of his sole answer on health care: "I'm against any Democrat who … takes down Obamacare and any Republican who wants to get rid of it." But Biden did not connect that argument directly to the other top candidates who want to replace Obamacare with single payer. That reticence allowed Bennet to emerge at the debate as the most vivid critic of single-payer plans, though it's unclear whether that will be enough to lift him from his trailing status in the race.
Aides say Biden will likely express his differences much more pointedly leading into the next debates. Among the critiques of single payer he's likely to stress, aides say, are the immense cost; the potential disruption to the existing Medicare program; the potential for providing employers, who just received a huge tax break from Trump, another windfall by relieving them of the responsibility to provide coverage; and the importance of building on Obama's accomplishment in passing the ACA. That last argument could allow Biden to tie the health-care debate into his broader effort to frame his candidacy as an extension of Obama's legacy. Biden is likely to stress that creating a single-payer system "is also about the destruction of the ACA," says another adviser who asked for anonymity. "And that really hasn't been talked about much."
Simultaneously, Biden is likely to fill in his own broad-brush plans to expand coverage without dismantling the ACA or private health insurance. At the recent Poor People's Campaign forum in Washington, D.C., Biden indicated that he would automatically enroll into his Medicare public option, at no cost, any low-income family eligible for Medicaid in a state that has not expanded it under the ACA. He's likely to flesh out that idea more by the next debate, aides say.
Starr says that single-payer advocates have not fully grappled with the complexities involved. Total U.S. health-care spending on insurance premiums and out-of-pocket expenses, he notes, roughly equals the federal government's total receipts from the personal income tax (about $1.7 trillion, according to the latest figures). Even if a single-payer system cut cumulative costs by 10 or 20 percent, that would leave an enormous amount of revenue to raise through new taxes if the government assumed the burden of covering all health-care spending. And reducing those costs by shifting all health-care providers and hospitals to the reimbursement rates that Medicare offers—which are considerably lower than reimbursement rates from private insurance—could cause enormous disruption in the health-care system. "It would create havoc," Starr says.
For these practical reasons, as well as political considerations, Starr thinks it's highly likely that in the general election, any Democratic nominee will shift to a position of allowing private health insurance to coexist with an expanded public alternative (though even that, he cautions, may be more complicated than it now appears). Other Democratic policy and electoral analysts agree.
"I think that there is a majority sweet-spot position for a universal-health-care plan that relies heavily on public insurance, but doesn't eliminate private insurance," says Neera Tanden, the president of the liberal think tank the Center for American Progress and a former chief domestic-policy adviser for Hillary Clinton. "In this case, in an election where people are concerned about electability, I do think lots of voters are anxious about anything, policy or otherwise, that can detract from defeating Donald Trump."
But there's no guarantee Democrats end up in that place. And the argument that is likely to gather momentum into the next debates may determine not only whether they do, but also how many scars they acquire along the way. "The challenge for the Democratic Party … is to go through this process and ensure that health care remains a top-tier positive issue for [the general election]," Tanden says. As the party's divide over a single-payer system widens, that may be easier said than done.