The Long-Shot Candidacy Conundrum
For little-known Representatives Tim Ryan, Eric Swalwell, and Seth Moulton, running for president may be only a stepping stone.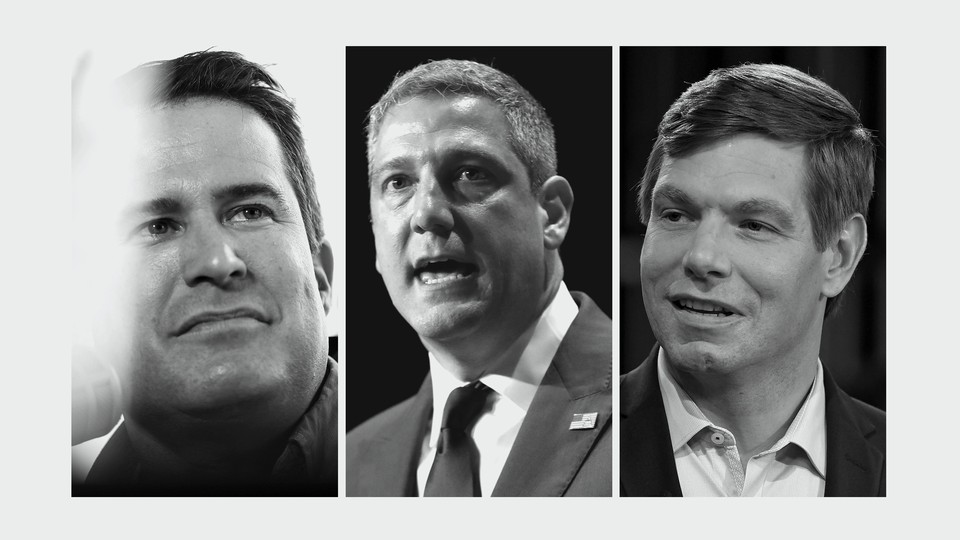 Officially, Representatives Tim Ryan of Ohio, Eric Swalwell of California, and Seth Moulton of Massachusetts are all running for president. They are mounting serious campaigns and getting their message out to millions of potential voters. They're aggressively trying to raise money, traveling to early-primary states, and building ground organizations that can deliver votes. On January 20, 2021, each of these little-known congressmen says, they hope to be taking the oath of office as commander in chief.
Yet Ryan, Swalwell, and Moulton—along with potentially a half-dozen or more of their Democratic rivals—are also operating under an unstated reality of modern politics. The general election for the presidency may be a zero-sum game, where the winner gets to be leader of the free world and the loser is remembered forever as a runner-up. But the marathon party primary is more like that staple quote of high-school yearbooks: Shoot for the moon. Even if you miss, you'll land among the stars. A popular, if trite, mantra for American youth on the cusp of adulthood, this exhortation of ambition is also an apt (though never admitted) explanation for the long-shot campaigns of as many as a dozen Democratic presidential hopefuls.
Underdog campaigns can be successful even in defeat, and the mere act of running for the pinnacle of American politics can be a stepping stone to higher office in and of itself. Just ask Energy Secretary Rick Perry and Housing and Urban Development Secretary Ben Carson, who parlayed White House bids into positions in President Donald Trump's Cabinet. Or Joe Biden, whose failed presidential campaign in 2008 led to his selection as Barack Obama's running mate and eight years as vice president.
"If you don't embarrass yourself—and I don't think so far anyone's embarrassed themselves—you end up in a better place than where you started," Scott Ferson, a veteran Democratic consultant in Massachusetts, told me. Ferson worked on the 1988 presidential campaign of Representative Richard Gephardt, a future House leader who was then relatively unknown outside Washington, D.C., and his home state of Missouri.
Senators like Cory Booker of New Jersey, Kirsten Gillibrand of New York, Amy Klobuchar of Minnesota, and Michael Bennet of Colorado are currently languishing in the low single digits in 2020 polling, but they could be vice-presidential short-listers a year from now. So too, conceivably, could the governors in the race—Jay Inslee, John Hickenlooper, and Steve Bullock—or Julián Castro, the former secretary of housing and urban development.
All of the candidates above entered the race with resumes that checked the boxes of conventional presidential viability (at least until Trump came along): winning multiple statewide races, with years of experience either in the Senate or at the executive level managing a state government or Cabinet department.
That is not the case for Ryan, Swalwell, or Moulton, whose decisions to mount long-shot presidential bids have stumped political insiders—even some former allies—both in their own states and nationally, stirring suspicions that their real near-term goal is something other than the White House. The last politician to make the jump directly from the House to the presidency was James Garfield in 1881. Ryan, Swalwell, and Moulton lack the star power of Beto O'Rourke, the former Texas congressman whose near-win over Senator Ted Cruz last year made him a household name. Nor do they have the distinctive politics or personal story of Representative Tulsi Gabbard of Hawaii, whose strident anti-interventionist foreign-policy stance has set her apart from her rivals.
---
In interviews over the past few weeks, people who have worked with the three congressmen in their respective home states or have closely followed their careers mentioned a number of different offices the men might have their eye on beside the White House, from Senate and governorships to Cabinet posts in a Democratic administration. In Ohio, Ryan has repeatedly passed on chances to run for statewide office, to the point where he developed a reputation as something of a political Hamlet. He disappointed some Democrats in the state when he decided not to run in the open governor's race last year, which the Republican Mike DeWine won.
"It was pretty much a consensus, even among Republicans, that he could have beat DeWine," says David Betras, a Ryan ally and, until recently, the chairman of the Mahoning County Democrats.
Ryan, whose district includes the longtime steelmaking hub of Youngstown, has centered his presidential run on appealing to working-class voters of all genders and races whom, he argues, the Democratic Party has forgotten.  In a phone interview last week, Ryan told me he is "solely focused on winning the race" and noted that after the first round of debates, his campaign had been getting calls from activists in early-primary states who were leaning toward Biden but were interested in talking to him. We spoke after he left a campaign stop in Sioux City, Iowa, where he said the coffee shop was "packed" for his speech at 9 a.m.
Still, Ryan has not registered higher than 1 percent in a single poll, and he could struggle to clear the stiffer threshold for the fall debates. "The plan is to be in until the voting starts," he told me. "That's the plan." As for a potential fallback plan of seeking statewide office in Ohio, Ryan said: "I've not gotten that far ahead. We are literally focused on this race right now. So I have no idea what 2022 or whatever looks like."
At 45, he's trying to win over Democrats who are looking for a younger version of Biden with less baggage, and his supporters have suggested that he could be a potential running mate for a coastal senator like Kamala Harris of California or Elizabeth Warren of Massachusetts who might want to balance their ticket with a candidate who could appeal to white men in the Rust Belt. Yet they also acknowledge that the enhanced name recognition Ryan gets from even a losing national run could make him a stronger statewide candidate back home, where despite having served 17 years in the House, he is not well known across the entire state. Both DeWine and Republican Senator Rob Portman will be up for reelection in 2022.
"Obviously, if he holds himself out very well, that certainly opens up opportunities in the House, statewide in '22, you name it," David Pepper, the chairman of the state Democratic Party, told me. "That can be especially true in Ohio, because it's such a big state that a lot of Ohioans from other parts of Ohio still don't know who Tim Ryan is. Not even close. That's just the nature of the state."
Kyle Kondik, the managing editor of the Crystal Ball website at the University of Virginia's Center for Politics and the author of a book on Ohio politics, also noted another possible consideration for Ryan: His House district, which has long been safely Democratic, could get carved up in the next round of redistricting, when Ohio is likely to lose one of its seats in Congress. "Ryan may well have to find a way out," Kondik told me.
Ryan is not giving up his House seat even as he runs for president; he plans to take advantage of a state law allowing someone to be on the ballot for both offices simultaneously, just as then-Representative Paul Ryan (no relation) of Wisconsin did when he ran as Mitt Romney's running mate in 2012.
In California, Swalwell has sought to make a name for himself over the past two years as a vocal Trump critic on social media and cable news, where, as a member of the House Intelligence Committee, he was frequently invited on to comment on developments in the various investigations into Russian electoral interference. But he's obscure nationally, and his attempt to win the presidency after just three terms in the House perplexed Democrats in the state.
"My question is, why?" says Aimee Allison, the Oakland-based founder of the national organization She the People, which is dedicated to empowering women of color in politics and hosted a presidential forum in April. "You have a California congressman who is doing a pretty good job right now trolling Trump," Allison told me, "and I thought, hey, we need you in Congress to keep doing that. And that's where I think he's really excelling."
Swalwell, 38, has made combating gun violence a centerpiece of his campaign and argues that his youth—he's a young father still paying off a mountain of student-loan debt—will help him connect with the voters the Democratic Party needs to inspire to turn out next year. At last month's debate, he made a bid for a viral moment when he told Biden to "pass the torch" to the next generation of leaders. But Swalwell, like most others on the stage alongside the former vice president, was overshadowed by Harris, his California colleague. His back-of-the-pack standing didn't budge in the initial round of post-debate polls.
"Everyone just assumes he's trying to establish some name ID in order to run for U.S. Senate," one well-connected California Democrat who is unaffiliated in the presidential race told me, repeating a bit of speculation that two other Democratic operatives also mentioned on the condition of anonymity to speak freely. The state's senior senator, Dianne Feinstein, just won reelection to another term but is 86 years old. The other seat would open up after 2020 if Harris, who surged in the polls after her debate performance, wins election as president or serves as  vice president.
Unsurprisingly, Swalwell denied having interest in any office besides the presidency—at least for now. "I'm running to win," he told me in a recent phone interview. "This is a hell of a way to do anything else." Swalwell noted that he had missed his son's first day of preschool to campaign. "You lose more than you gain doing this," he said. "If I'm thinking about the day after this election, whatever that means, then I'm not focused on what the people care about."
Swalwell said he had not given "an inch of thought" to what his next step might be if he doesn't win. He has said he won't seek reelection to his House seat while running for president, prompting a number of local Democrats to jump into that race to succeed him. But the filing deadline isn't until December, giving him several more months to change his mind if his campaign doesn't take off. Candidates could begin dropping out of the race by the fall if they don't make the debate stage in September and if they are running out of money after the end of the critical third-quarter fundraising period.
Ryan and Swalwell have struggled to break through, but the congressman running for president who's in the most precarious position, both nationally and locally, is Moulton. The Massachusetts Democrat failed to make the stage for the first debates in Miami, and there's no indication as of yet that he's improved his standing for the second round of primary debates in July.
Moulton has less of a fallback option back home and a number of Democrats who are questioning his political judgment. The 40-year-old Marine Corps officer, who served four tours of duty in Iraq, burst to the forefront of Massachusetts politics when he toppled incumbent Representative John Tierney in a Democratic primary in 2014. He was seen as a likely statewide candidate, possibly even a strong primary challenger to Senator Ed Markey in 2020. But Moulton's long-standing opposition to Speaker Nancy Pelosi, which continued even after Democrats regained the House majority last fall, angered voters, particularly women, in his district and the state party. "I think he's got a better shot at being president than being a senator from Massachusetts," said Ferson, who worked for Moulton's winning congressional race in 2014 but is not involved with his presidential run. "He burned a lot of bridges in Massachusetts in the Democratic Party, and for statewide office you need party support."
Moulton has plenty of time to run for reelection if he drops out of the 2020 race in the next several months, but several local activists and elected officials are considering a primary challenge. "He's going to have an incredibly hard time getting reelected to his seat," Mary Anne Marsh, a veteran Democratic consultant based in Boston, told me. "What looked like a bright future now looks like it could get derailed."
Moulton has tried to distinguish himself by focusing on national security and foreign policy. He's one of only a few military veterans in the large Democratic field, and he made headlines by talking openly about his struggle with post-traumatic stress disorder after returning home from Iraq. Given his cloudy future in Massachusetts, Moulton is seen as a possible contender for a Cabinet post if another Democrat defeats Trump—potentially atop either the Veterans Administration or even the Pentagon.
A spokesman for the congressman's campaign, Matt Corridoni, dismissed the suggestion that Moulton's opposition to Pelosi had left him vulnerable in his House district. "Everyone in Seth's district knew his position on leadership when they went to vote for him and reelected him overwhelmingly in 2018," he told me. "You can't run a campaign against something. Your campaign has to stand for something, and Seth's record in the district speaks for itself." Corridoni said Moulton is "focused on running for president, and he's running to win."
For Democratic candidates as well as the party's voters, the great motivator remains Trump. "Donald Trump made everyone think, If he can do it, so can I. The barrier to entry has been lowered," an aide to one long-shot candidate told me, speaking on the condition of anonymity.
Even in a primary field of nearly two dozen, candidates can raise money and get attention faster than ever before. The upside potential of beating expectations—name recognition, higher office, a cable show or the paid-speaking circuit—seems to outweigh the downside risk. "In some ways, it's easier," Gephardt told me, reflecting on the differences between a dark-horse campaign now and when he first ran for president more than three decades ago. "Because of communication technology today, it is easier to catch that fire—to become someone that everyone instantaneously knows."
Gephardt did briefly catch fire in 1988. He won the Iowa caucuses before fading in the spring, losing to the eventual nominee that year, Massachusetts Governor Michael Dukakis. Gephardt returned to the House, where he rose to become the Democratic leader for eight years. When he ran again for the White House in 2004, he was a top-tier candidate and a finalist to be Senator John Kerry's running mate. For the past 15 years, Gephardt has been a prominent D.C. lobbyist.
For Ryan, Swalwell, and Moulton, perhaps Gephardt's story serves as inspiration—an underdog campaign that doesn't end in the presidency, but opens the door to opportunities that didn't exist before. And while they—and the others struggling to break out of the pack—may genuinely not have given much thought to the potential consolation prizes of a failed presidential bid, if they don't catch that fire soon, they may have no other choice.