Trump Invites Kim Jong Un to Yet Another Summit
Even if the the two leaders do meet again, something needs to give before North Korea relinquishes its nuclear weapons.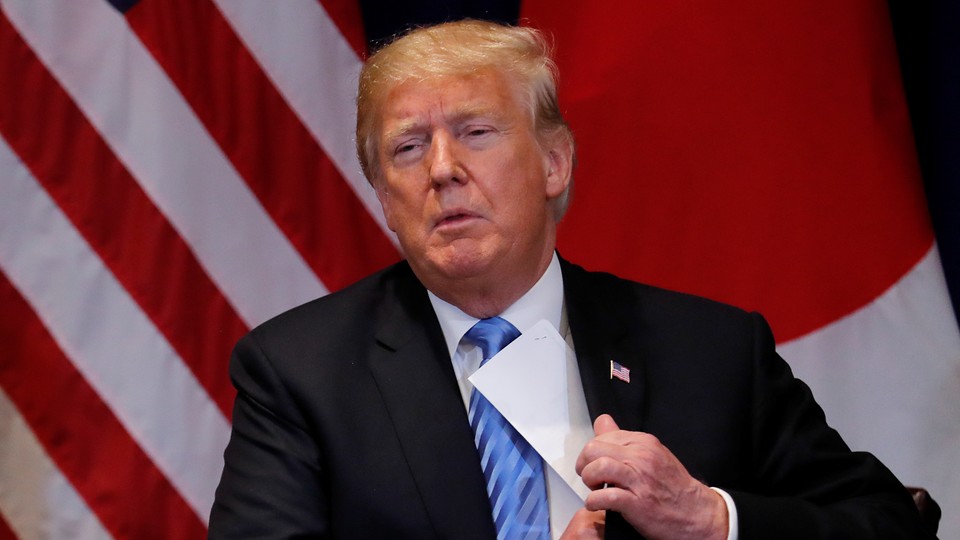 Updated at 8:00 p.m. ET on June 28, 2019.
When Donald Trump visits South Korea this weekend, he'll have plenty to discuss with President Moon Jae-in: trade, China, their troubled military alliance.
But the question on everyone's mind ahead of the trip was whether the U.S. president would hold a surprise third summit with North Korea's leader, Kim Jong Un. And on Friday Trump, with characteristic flair, provided an answer. Kind of. "If Chairman Kim of North Korea sees this, I would meet him at the Border/DMZ just to shake his hand and say Hello(?)!" the president wrote on Twitter from an international conference in Japan.
The North Korean dictator is (as far as we know) not on Twitter, but Trump's tweets have a way of instantaneously making their way to the farthest reaches of the world, even the most isolated country on Earth. However the message has been delivered to the North Korean dictator, Kim has yet to accept the invitation.
All the buildup and made-for-TV drama, however, has distracted from one salient fact: North Korea has not given up its nuclear weapons. In fact, it likely has more nuclear-weapons material now than it did a year ago, when Trump became the first American leader to meet with his North Korean counterpart. What the fevered anticipation does underscore is that progress on North Korean denuclearization rests largely on Trump and Kim's personal relationship—even though this dependence contributed to the collapse of their second summit, in Vietnam last February.
Sure, Trump's diplomacy has opened a promising high-level channel of communication between longtime enemies. It also encouraged Kim to suspend the nuclear and long-range-missile tests that brought the United States and North Korea to the brink of war in 2017. But the North Korean leader has recently tested other weapons, in protest of Trump's decision to walk away from the Vietnam summit, and continued developing less visible aspects of his nuclear-weapons program in the absence of an agreement.
As recently as this month, Trump-administration officials such as National Security Adviser John Bolton and Defense Intelligence Agency Director Robert Ashley Jr. have stated that North Korea hasn't yet decided to give up its nuclear weapons. Last week, Steve Biegun, Trump's special representative for North Korea, acknowledged that the two sides still haven't agreed on a common definition of the "complete denuclearization of the Korean peninsula," which Kim committed to work toward during the first summit, in Singapore. "We'll never get to our destination if we don't know where we're going," Biegun said during a conference at the Atlantic Council. "The progress has not been as much as we would have liked."
In South Korea, the president will be seeking not just to salvage his top foreign-policy initiative but also to validate his signature approach to getting what he wants from other countries: Apply all forms of pressure short of war, and then signal to the other party that the only way out of the ensuing crisis is doing a deal on his terms.
The method has yielded a wobbly trade agreement with Canada and Mexico, but it has yet to produce a trade pact with China, a democratic transition in Venezuela, or a new and improved nuclear deal with Iran, all of which are crises-in-progress. With North Korea, "tensions are down, but the underlying reasons for tensions—which is nuclear weapons in North Korea—have not been addressed," Joseph Yun, who served as the North Korea envoy for Barack Obama and Trump from 2016 to 2018, observed this week at the Center for Strategic and International Studies.
Biegun said the Vietnam summit failed because North Korean negotiators had not been "authorized" to discuss denuclearization ahead of the Trump-Kim meeting.
"It was clear in hindsight that these issues are of such a sensitive nature, and held so closely inside the North Korean government," Biegun said, that only Kim was going to be able to negotiate with Trump.
The result was an unproductive summit: Trump dismissed Kim's small-bore offer to dismantle one major nuclear complex in exchange for the lifting of most international sanctions, and Kim rejected Trump's proposal to go big and give up all his weapons of mass destruction in return for peace and economic transformation.
Biegun's team and their North Korean counterparts had made serious headway on other commitments from the Singapore summit—through measures such as declaring an end to the Korean War, opening liaison offices in each other's capitals, and providing North Korea with an economic-incentives package—but had to set all that aside amid the impasse on denuclearization.
North Korean officials, "when they meet with us again, must be empowered to be able to negotiate on all of the issues," Biegun said, noting that the Vietnam summit "underscored the necessity for sustained working-level negotiations between our two sides." Broaching denuclearization isn't a precondition for resuming these lower-level talks, he stressed, "but it's definitely the pathway to success for us."
So far, however, this problematic history appears to be repeating itself. After the humiliation in Vietnam, the North Koreans shifted into "silence mode" and a "severe [internal policy] review," one senior South Korean official, speaking on condition of anonymity to discuss the sensitive negotiations, told me in April. North Korean officials and state media denounced Bolton and Secretary of State Mike Pompeo for sabotaging the nuclear talks with their hard-line positions, implying that they considered Trump (and perhaps Biegun, who has thus far escaped Pyongyang's wrath) as their only viable American interlocutors. Biegun reportedly received no answer to a letter he wrote to Choe Son Hui—a savvy North Korean diplomat with extensive experience dealing with Americans—requesting a resumption of working-level talks. Rumors have swirled about Kim purging members of his negotiating team, and it's not even clear at this point who Biegun's counterparts are.
Pompeo and Biegun seemed to want to move from "summit diplomacy" to "process diplomacy," Yun told me in May, but faced stiff resistance from the North Koreans, who were deploying their traditional tactic of making the United States "desperate for talks, so they are the driver."
Biegun said last week that there had been direct and indirect communication between the U.S. and North Korean governments, but admitted that since the Vietnam summit, diplomacy had "been in something of a holding pattern." U.S. officials, he noted, were poring over North Korean government statements and state-media articles to understand Pyongyang's positions.
What has finally disrupted that holding pattern, just as it did last winter to bring about the Vietnam summit, is another exchange of effusive letters between Trump and Kim. The correspondence, along with a hurried third summit in the demilitarized zone, could provide the necessary spark for rekindling working-level talks; U.S. officials believe the North Koreans are willing to take "meaningful and verifiable steps on denuclearization," according to Biegun, so long as they "proceed in context with broader discussions of security guarantees and improved overall relations." (The North Koreans appear more interested in sanctions relief than in security guarantees and improved relations. The Trump administration, however, has given little indication that it is prepared to ease sanctions on North Korea, even in a partial and reversible manner, to reward Kim for steps that fall short of total denuclearization.)
But the developments could just as well suggest that talks are about to revert to a strictly leader-to-leader affair, with all its limitations. The president is "keeping the door open for diplomacy with Kim" by maintaining their personal relationship, a senior Trump-administration official told reporters in a background briefing this week. "But he also has made clear that the nukes have got to go; that he's looking for the final and fully verified denuclearization of North Korea." Last time, that relationship wasn't nearly enough to persuade Kim to renounce his nuclear arsenal. It's far from clear that a handshake and hello will do the trick.