A Single Day Exposed the Central Tension Driving American Politics
The Supreme Court's census ruling and the second Democratic debate both wrestled with the same question.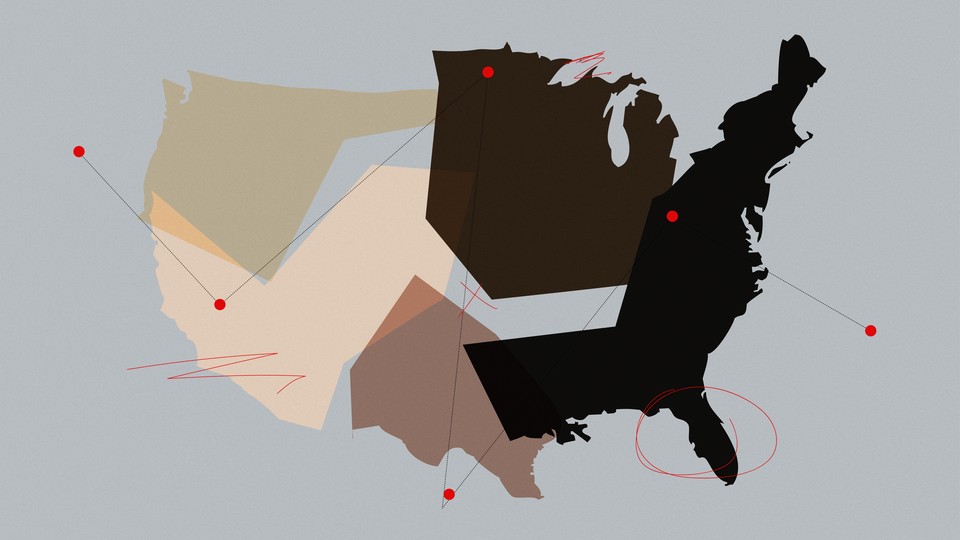 The same explosive question rumbled through this week's Supreme Court ruling on the 2020 census and the two nights of Democratic presidential debates: How will America respond to the propulsive demographic, social, and economic changes remaking the nation?
The juxtaposition of these two events, purely coincidental, underscored how much of American politics in the years ahead is likely to turn on that elemental question. Trump's determination to add a citizenship question to the census, which many think will depress Latino participation, demonstrates how thoroughly he has pointed his agenda at the voters most uneasy about these fundamental changes, a group I've called the coalition of restoration. Even after the Supreme Court, for now, blocked the citizenship question in a 5–4 decision yesterday, Trump immediately tweeted that he's resolved to include it, even if that means delaying the census.
Against that backdrop, the Democratic debates, with their diverse cast of candidates and nearly unswerving calls to advance the interests of minority groups, showed how deeply Democrats are invested in mobilizing the voters who either embody these changes or welcome them, a group I've called the coalition of transformation. Especially in last night's debate, the Democrats crystallized the question of whether the party can look back for leadership or must lean into America's changing society by picking a presidential nominee who embodies it. That dynamic was underlined as much by images as by words, as two candidates—South Bend, Indiana, Mayor Pete Buttigieg, who is a gay Millennial, and Senator Kamala Harris of California, who is of mixed-race descent—ran rings around, and sometimes directly over, the two white male septuagenarians at the center of the stage and the top of the polls: former Vice President Joe Biden and Senator Bernie Sanders of Vermont.
Through the Democratic race's early stages, ideology has seemed the most important dividing line in the field, with Biden, the moderate, pitted against the more left-wing Sanders and Senator Elizabeth Warren of Massachusetts. But at Thursday night's debate, the most powerful fissure appeared to be generational. Standing beside each other, Biden and Sanders seemed united more by age than they were divided by ideology; each looked a step slower compared with the forceful presentations of the younger, diverse candidates flanking them: Buttigieg next to Biden, Harris beside Sanders.
Buttigieg talked about the value of generational change (though less explicitly than did Representative Eric Swalwell of California from the fringe of the stage), and demonstrated it with a succession of nuanced, confident answers. Harris, more confrontationally, directly challenged Biden: She produced the night's most memorable moment, suggesting that the former vice president, who has bragged about working with segregationist southern senators and who opposed busing for school integration in the 1970s, should not lead the Democrats' kaleidoscopically diverse coalition. Whether or not it immediately moves the polls, last night's debate raised the possibility that the axis of the Democratic race could shift from left versus center to new leadership that reflects the modern party's diversity versus old leadership that does not.
All of these events unfolded this week as the nonpartisan States of Change project released new forecasts on the unrelenting diversification of the electorate. The new projections, released yesterday, estimate that noncollege whites, the core of Trump's base, will decline two percentage points in 2020 as a share of all voters (from 44 percent in 2016 to 42 percent), while minorities, who strongly lean Democratic, will grow by two points (from 26 to 28 percent) and college-educated whites, who are now divided closely between the parties, will remain stable at 30 percent. Through 2036, the project expects those working-class whites to shrink to a little more than one-third of all voters, while minorities will rise to match them.
These long-term changes loom over each party's strategic choices. After Mitt Romney's defeat in 2012, a post-election GOP "autopsy" recommended that the party make greater efforts to court minority voters. Instead, in 2016, Trump won the nomination and the presidency by expanding his support among white voters, in large part by appealing to racial resentments more openly than any major presidential candidate since George Wallace in 1968. He hasn't deviated from that strategy in office.
Trump's push to add the citizenship question to the census captures, as precisely as anything he's done, how much his appeal relies on restoring the racial, gender, and cultural hierarchies of an earlier America.
Adding the question would have immediate practical effects: census experts have projected it would undercount Latino residents by about 6 million. That would shift federal funding and congressional seats away from growing and diverse states across the Sun Belt toward older, mostly white states in the Rust Belt. Within states, it would shift influence away from diverse urban areas toward whiter exurbs and rural communities.
Beyond these practical effects, designing the census in a manner that suppresses the counting of Latinos and other immigrant communities sends a powerful symbolic statement. What better way for Trump to signal his determination to hold back the emerging America than to literally wipe millions of people within it out of existence by not counting them in the census? As Vanita Gupta, president and CEO of the Leadership Conference Education Fund, put it in a call with reporters yesterday, the citizenship question represents "the administration's effort to erase certain communities from our nation's diverse portrait."
In the case, Department of Commerce v. New York, Chief Justice John Roberts joined the four Democratic-appointed justices to block the Trump administration from adding the citizenship question, at least for now, because the evidence did not support its stated rationale that its inclusion was to improve enforcement of the Voting Rights Act. Given the time constraints on printing the census documents before it is administered, Gupta and a succession of lawyers from other civil-rights groups insisted the case is concluded and the question is dead.
But in the complex ruling, Roberts and the four other Republican-appointed justices ruled that the administration does have the authority to add a citizenship question if it can justify it through a more convincing rationale. Rick Hasen, a UC Irvine law professor who specializes in election law, quickly noted that the ruling left open the possibility that the administration could construct a new argument for including the question, fight out the case through the lower courts, and get it back to the Supreme Court by the fall, when Roberts could flip to support it in time to add it to next year's census.
The census case offers another pointed reminder that a Supreme Court majority nominated and picked by Republican politicians elected primarily by the parts of America least touched by racial diversity will be determining the legal landscape for an America on an irreversible path toward becoming far more racially diverse. The tension between that diversification, and a Supreme Court majority deeply suspicious of government programs that dispense benefits along racial lines, is likely to be a volatile source of political tension in the years ahead—even if Roberts has at least delayed (or perhaps entirely defused) a conflagration over the next census.
The growing imprint of that diversification on the Democratic Party was vividly apparent in the sprawling two nights of party presidential debates this week. It was displayed in the diverse nature of the candidates: African-American Senators Harris and Cory Booker; Mayor Pete Buttigieg, the first openly gay presidential contender; former Housing Secretary Julián Castro, a Latino; entrepreneur Andrew Yang, an Asian American (and 2020 long shot); and Representative Tulsi Gabbard of Hawaii, a practicing Hindu (and another long shot). It was evident in the somewhat forced but still striking determination of three of the first night's candidates (Booker, Castro, and former Representative Beto O'Rourke of Texas) to address the audience in Spanish during the event. And it was, most important, abundantly clear in the commitments the candidates offered to provide a pathway to citizenship for undocumented immigrants and welcome more asylum seekers; to reform the criminal-justice system and more closely supervise police interactions with communities of color, especially African Americans; and to safeguard the rights of gay and transgender Americans. Last night, all the Democratic debaters raised their hand when asked whether their health-care plan would cover undocumented immigrants—a pointed contrast from Obamacare, which excludes them.
"When you looked at the Democratic field this week, how diverse it was, and how diverse the field is in general, and you've got veterans, and Millennials, and Hindus, and people speaking in Spanish, the party is coming off as a very diverse, modern enterprise," says Simon Rosenberg, the president of NDN, a Democratic strategy and analysis group. That, he says, contrasts with a Trump-led GOP that, on issues from the citizenship question to his hard line against both undocumented and legal immigration, "sure looks like [it] is trying to prevent the future from happening politically."
But the two nights of Democratic debates also made clear that the party faces a crucial divide over how far it can go in relying on a new coalition centered on these growing groups. Republicans believe Democrats have already made commitments that will hurt them in the general election: Trump himself tweeted about their commitment to providing health coverage to the undocumented, calling it "the end of the race."
On one side of the Democratic divide are candidates like Senators Elizabeth Warren and Bernie Sanders, who say the party should ignore such pushback and focus on maximizing mobilization of minorities, Millennials, and the most liberal whites through an undiluted left-leaning agenda.
On the other side are those, led by Biden—but also including Senators Amy Klobuchar and Michael Bennet and former Colorado Governor John Hickenlooper—who warn that Democrats can't tilt so far left that they lose the support of more centrist whites they will likely still need to build a winning majority against Trump.
Like many Democrats, Rosenberg says the party is so closely split between these competing perspectives that it's impossible to safely predict today which side will prevail. "Many of these issues are jump balls in the Democratic Party, and that's why we are going to have a very spirited debate over the next eight to 10 months," he says. "I don't think we really know where we are on these things. We are moving from one place to another place, and we don't know where that new place is going to be."
Though it's unclear which of these camps will succeed in picking the next nominee, Rosenberg correctly notes that the majority of the House of Representatives seats that Democrats picked up in the 2018 midterms tilted more toward the center than the left. And he's also correct that while the diverse younger Democrats in the presidential field—Buttigieg and Booker in particular—are unvarnished on social issues and minority rights, they have not moved as far left on economic issues as the two older candidates, Warren and Sanders, mobilizing the party's liberal vanguard. "We have to be very careful to not allow the old definition of the left to speak for this new generation," he says. "They may be very left on racial justice, issues of identity, but may not be on economic issues. There is a pragmatism." Indeed, neither Buttigieg nor Harris, the two candidates who most effectively embodied the new Democratic coalition at last night's debate, are natural champions of the left (though Harris has moved that way in her candidacy).
Despite some private grumbling, public resistance in the GOP has virtually collapsed to Trump's effort to more explicitly define it as a party that appeals to white anxieties and resentments about social and demographic change. Under Trump, the GOP will bet its fortunes in 2020 primarily on squeezing bigger advantages from groups shrinking in society—particularly evangelicals and noncollege whites.
There's no question the Democratic Party is embracing the causes of a changing America far more unreservedly than it did under Barack Obama, much less Bill Clinton. But as the debates showed, it remains divided over how much it must shape, or trim, its agenda to attract more white voters, both from blue- and white-collar communities. The party also appears on track for rising debates over whether it should nominate a white candidate who is 70 or older (Elizabeth Warren has just joined Biden and Sanders in passing that threshold), or pick a younger choice who embodies the changing America. With Trump doubling down on his message of restoration and racial resentment, these dynamics loom as crucial choices in a Democratic-primary season that accelerated into second gear after this week's energetic and illuminating debates.