The White House Is Nowhere Near Ready for Impeachment
The president is stewing over the possibility Democrats could try to remove him from office. His reelection-minded advisers want him focused on just about anything else.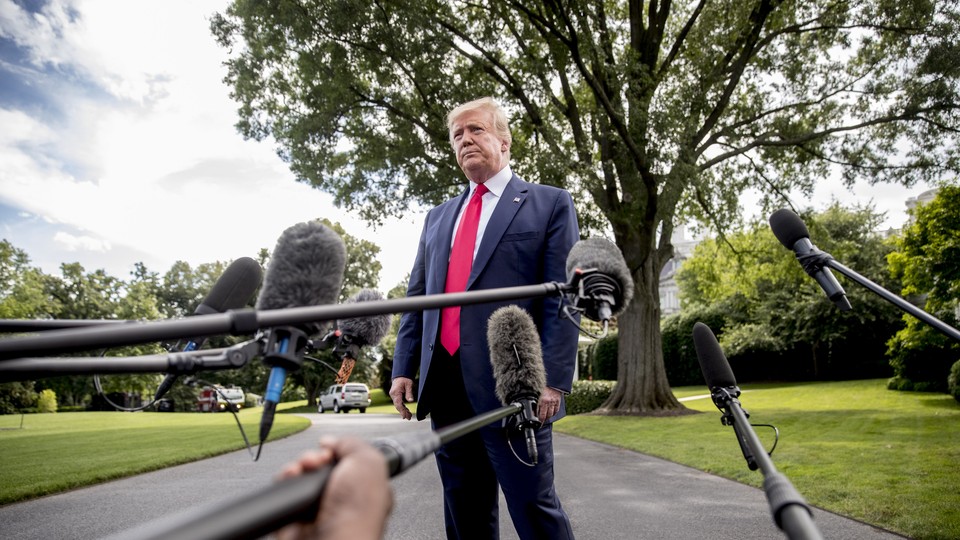 Anyone can tell from President Donald Trump's Twitter feed that he's furious with congressional Democrats for even contemplating impeachment. But to get a better sense of what he's telling friends, I went to one of his confidants and occasional golf partners: Senator Lindsey Graham of South Carolina. "Does Trump ever mention impeachment to you?" I asked, trailing the senator through the hallways of the Russell Senate Office Building. "Yeah! He's really pissed," Graham said.
"What does he say about it?" I pressed, looking for specifics. Graham had reached his private office by this point, but he re-created Trump's end of the conversation before closing the door: "I'm really pissed."
Trump's advisers believe that impeachment is inevitable: Though Speaker Nancy Pelosi has spent weeks rebuffing House Democrats who want to open proceedings, the party's base will force her to eventually relent, they reckon.
Yet Trump's White House seems wholly unprepared for the legal and political whirlwind that could be coming its way. Inside the building, there are no signs that aides are girding for a fight. There's no war room in place, and no meetings under way to prepare for the possibility. The in-house lawyer who was most steeped in the nuances of the Russia investigation, Emmet Flood, recently left. One of the only people stewing over impeachment may be the president himself—even as his reelection-minded advisers want him focused on anything else.
Impeachment troubles the president's team on several levels. For one, it would divert Trump from the core economic message that Republican operatives want him to deliver as his reelection bid intensifies. If cable news is covering it, Trump will be watching, tweeting, and talking about it. What's more, some of the president's outside advisers worry that a motivated corps of Democratic investigators, armed with subpoena power, might unearth disturbing new material. In his nearly two-year-long probe, Special Counsel Robert Mueller stayed within a distinct set of guardrails, sticking to contacts between Russia and the 2016 Trump campaign and possible obstruction of justice on Trump's part. A Democratic-led impeachment probe could be more wide-ranging, venturing into private business dealings that Trump deems off-limits.
"I don't think the president has done anything criminal in nature, but you go through 40 years of someone's business activities, and there might be some things that don't look so great in hindsight," Chris Ruddy, a friend of Trump's and the CEO of the conservative news outlet Newsmax, told me. "I personally believe the impeachment thing is a grave danger."
Impeachment is nothing Trump wants in any event, people close to him say, believing that even a failed attempt would be an indelible stain. "I don't think any reasonable person wants to be impeached," said Republican Senator John Kennedy of Louisiana in an interview. But if it is that serious a concern for the president, he hasn't mobilized his White House to counter the possibility with any gusto. (One White House official said it would be a mistake to draw conclusions from the lack of proactive planning. It's more a sign of chronic disorganization in the West Wing than anything else, said this person, who, like others I talked to for this story, spoke on the condition of anonymity to talk more freely about internal dynamics.)
Should the Democrats open impeachment proceedings, Republicans insist they won't be flat-footed. They would try to undermine the case by flagging what they see as hypocritical behavior on the part of Democratic lawmakers leading the fight. One Trump-campaign adviser cited House Judiciary Committee Chairman Jerry Nadler, who, according to a recent Politico report, has tried to convince Pelosi that impeachment is necessary.
Back in 1998, when congressional Republicans sought to force Democratic President Bill Clinton from office, Nadler embraced some of the same arguments the GOP is making today about why impeachment should be avoided. In remarks recorded in the Congressional Record two decades ago, Nadler said, "There must never be a narrowly voted impeachment or an impeachment supported by one of our major political parties and opposed by another." What Nadler said then is at odds with what many pro-impeachment Democrats argue now: that impeachment is justified even if Senate Republicans band together to prevent the two-thirds majority vote needed to convict. "We're going to be able to highlight some of the past statements and conflicting views of Jerry Nadler from two decades ago and today," the Trump-campaign adviser said.
But even as the White House wings it on impeachment, the president seems determined to drag the issue into the 2020 campaign. A chunk of his campaign-kickoff speech in Orlando, Florida, on Tuesday night was spent proclaiming, erroneously, that he'd been cleared of any wrongdoing by Mueller, whose report would be the foundation of any impeachment inquiry. Trump has privately been telling friends much the same thing, though that's, of course, a self-serving interpretation. In a rare public appearance last month, Mueller made clear that, had he concluded Trump committed no crime, he would have said as much. "How can you impeach me? I'm doing a great job," Trump is wont to say, according to one of his confidants.
Impeachment would be a live issue on the campaign trail these days even if Trump were able to leave it alone. In a meeting with Atlantic editors and reporters yesterday, former Massachusetts Governor William Weld, who is running against Trump for the Republican presidential nomination, cited an episode last month when Trump abruptly walked out of a White House meeting with congressional Democrats, refusing to talk with them about the nation's infrastructure so long as oversight committees investigated his dealings. Trump's behavior in that instance amounted to an abdication of his role, Weld said. "That's what the impeachment clause was designed for," Weld said. "Get rid of a rotten apple who is interfering with the proper functioning of the Constitution."
"I think he's a sick man," Weld added at one point. "He's very insecure."
So far, Trump's campaign seems to be off to a bumpy start as he settles on a defining message. Money is pouring out the door, with not much to show for it yet. Between the main campaign and affiliated pro-Trump political-action committees, about $100 million has been put toward winning a second term. Approximately $10 million of that has gone toward Trump campaign ads on Facebook and Google, according to Bully Pulpit Interactive, a Democratic communications agency. Yet Trump is trailing the Democratic front-runner, former Vice President Joe Biden, by an average of nearly nine points, according to a RealClearPolitics survey of polling data.
A Wall Street Journal/NBC News poll this month showed that 52 percent of registered voters are "very uncomfortable" with Trump's candidacy, compared with just 23 percent who were "enthusiastic" about the president.
Trump is following the Democratic race closely. One White House official said that he likes to make fun of South Bend, Indiana, Mayor Pete Buttigieg's last name, pronouncing it Boot-edge-edge-edge. Trump has also mocked Buttigieg's appearance, comparing him to Alfred E. Neuman, the Mad magazine mascot. I asked Buttigieg about the ridicule during his recent visit to The Atlantic offices. "I don't care," he said, adding, "It's interesting strategically to note that he can't quite seem to figure out what to do with me …"
Trump is tracking his own performance in the campaign too. He was infuriated by the kerfuffle over the past week about his internal polling data, which showed him losing to Biden in a number of battleground states. Several of the president's pollsters were pushed out, a step taken to send a message that leaks wouldn't be tolerated, a Trump-campaign official said. Trump told his campaign advisers he wanted "new numbers" showing him performing better, the Trump confidant told me, which led to the campaign initiating internet-based polling that showed the president faring better against potential opponents. Those numbers, however, may not be all that reliable: Trump's confidant told me the surveys referenced negative things about the Democratic candidates, which in turn led to more favorable results for Trump. (A Trump-campaign official declined to comment on the polling.)
Basic questions involving Trump's message and self-presentation are a source of campaign friction. As Trump focuses on impeachment and resurrects other old grievances, his advisers want him to talk about the economy—never a bad idea when jobs are plentiful. As a counter to allegations he's not presidential—or shouldn't be president at all—some aides want him to pursue a classic "Rose Garden" strategy that showcases the trappings of his office, with Trump delivering speeches from the White House and visibly working from the Oval Office. Yet another faction wants him to improvise, believing his gut instincts are the root of his almost mystical connection to the Republican base.
"If everything was peaceful, calm, and relaxed, Trump would not be happy," Ruddy told me.
Nothing in Trumpworld is tranquil these days—everyone seems off balance. It's not known whether Democrats will impeach the president. It's not certain what his reelection message will be. It's not clear how the internal schism over campaign strategy will ultimately be resolved. Trump, then, on some deeper emotional level, may not be as pissed off as he lets on.