The Atlantic Politics & Policy Daily: Trouble in the Transatlantic Alliance
The week ahead in national security. Plus: A D-Day anniversary, and grading the Trump administration's foreign policy (a B+ for the approach to China, a D for its ISIS strategy).
The Top Story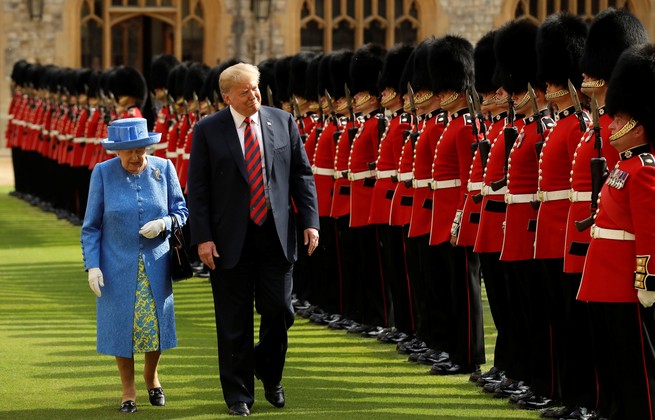 President Donald Trump and Queen Elizabeth II at Windsor Castle in July 2018. Trump was in the U.K. last year as part of a "working visit," not an official state visit. (Matt Dunham / Reuters)
Trouble in the Transatlantic Alliance
On the eve of Donald Trump's first state visit to the U.K., Washington's "special relationship" with London is looking … rather unextraordinary, even though the White House said the purpose of the trip was to "reaffirm" that relationship.
That close cooperation has been crucial at countless points in history, with no better example than D-Day, which Trump will commemorate in Normandy this week after meeting with Queen Elizabeth II and Theresa May. But it's in danger.
"The special relationship is arguably at its lowest point since the Suez crisis of 1956," argues Thomas Wright. Trump, he writes, has interfered in the U.K.'s domestic politics and "repeatedly undermined its national security."
This largely ceremonial trip to Europe offers Trump a rare opportunity for a "reset"—to follow the precedent of former presidents in distress who have gone on foreign trips to take attention away from chaos back in Washington. Except the chaos always seems to follow Trump: "In past visits to Europe, he's ignited international incidents of varying degrees," Peter Nicholas writes.
Watch for how Trump inserts himself into international politics this week. He could do so by criticizing America's allies, or he might compliment Theresa May's political foes and enter the Brexit debate, or something else entirely. When he visits Normandy, the site of the campaign that marked the beginning of the end of the Nazis' reign in Europe, how will he discuss the transatlantic alliance?
After a recent visit to Omaha Beach, Rachel Donadio's prognosis is grim: "My trip to Normandy had left me with an unsettling feeling that the postwar world—the world of the Marshall Plan and NATO and international alliances that a lot of us grew up believing were unshakable—is fragile. That it may even be over."
***
🗓 The Week Ahead in National Security
‣ Monday, June 3: Donald Trump begins his state visit to the U.K. at the invitation of Queen Elizabeth II. He will also meet with embattled Prime Minister Theresa May.
‣ Tuesday, June 4: One hundred years ago, Congress voted to ratify the Nineteenth Amendment and give women the right to vote. With more women serving as elected officials, is there a "female" foreign policy?
‣ Wednesday, June 5: On this day in 1967, the Six-Day War began. It ended with a victorious Israel controlling territories including the West Bank and Gaza.
‣ Thursday, June 6: Donald Trump attends a ceremony marking the 75th anniversary of D-Day in Normandy, France.
‣ Friday, June 7: Theresa May steps down as leader of the Conservative Party. As many as 12 people are vying to replace her.
***
🌏

Foreign policy & diplomacy
The USS John S. McCain is pictured after a collision near Singapore in August 2017. (Ahmad Masood / Reuters)
Grading Trump's foreign policy: All eyes will be on the transatlantic alliance this week as Trump visits Europe for the 75th anniversary of D-Day. Two and a half years into his presidency, has he delivered on his "America first" priorities?
Our reporters gave Trump a foreign-policy report card on some of the key challenges his administration has faced. He's doing better on some (China and North Korea earned a B+ and a B-, respectively) than others (Iran and NATO each got a C; ISIS was stuck with a near-failing D). Here's why he earned mostly middling scores.
+ Amid reports this week that North Korea executed its envoy for peace talks with the U.S., Trump faced criticism for his longtime affection for Kim Jong Un. Uri Friedman tries to find the logic behind Trump's bizarre lovefest with Kim.
Putting peace on standby: Israel descended into political chaos this week after Benjamin Netanyahu failed to form a coalition government, meaning Israeli voters will return to the polls in September. Israel's parliament dissolved just as Jared Kushner touched down in Jerusalem to tout the Trump administration's peace plan, which Shadi Hamid argues will fail because it doesn't address a key issue: the dignity of the Palestinians.
Following orders?: Before Trump visited a naval base in Japan last week, top naval officers—reportedly operating under the orders of the White House and with consent from acting Defense Secretary Patrick Shanahan—worked to conceal the name of the USS John S. McCain warship, ultimately covering it with a tarp because the destroyer could not be moved.
Eliot A. Cohen called the move "a stain on the honor of the Navy," a shockingly partisan action by America's armed forces: "That this could happen to the mightiest armed forces on Earth should worry Americans far more than reports of Chinese hypersonic missiles or ace Russian-military hacking teams."
Breach of protocol: The Navy stonewalled the journalist Zachary Stauffer while he produced a documentary investigating a deadly Navy helicopter crash. Now, months after its release, a public-records request revealed that officers mocked him and failed to take his inquiries seriously. "Garbage journalism," one officer wrote in an email. Another called Stauffer "an annoying pain in the ass." And yet: The military is among the most trusted public institutions in the country, Stauffer notes.
This also happened: Trump pledged to impose tariffs of up to 25 percent on Mexican goods until Mexico stops migrants from crossing America's southern border. (Ana Swanson, The New York Times).
***
🇷🇺 Russian interference
Mueller really, really wants you to care about Russia: America heard Robert Mueller's voice for the first time since he became special counsel, and he used it to issue a serious warning: "There were multiple, systematic efforts to interfere in our election. And that allegation deserves the attention of every American." (He also addressed obstruction-of-justice charges in his final—and only—speech as special counsel.)
Yet no one wants to talk about that, despite Russian interference being Mueller's most definitive claim. Instead, impeachment is all the rage. That's left our election system defenseless, writes David Graham: "By deciding not to act, the American government has effectively decided that foreign interference is acceptable."
This also happened: The head of the Defense Intelligence Agency said Russia might be conducting low-level nuclear tests, contrary to a global ban. (Jonathan Landay and David Brunnstrom, Reuters)
---
About us: This edition of The Atlantic's Politics & Policy newsletter was written by Gabby Deutch and edited by Yara Bayoumy, the national-security editor, and Shan Wang, the newsletters editor.

We have many other free email newsletters on a variety of other topics. Browse the full list.