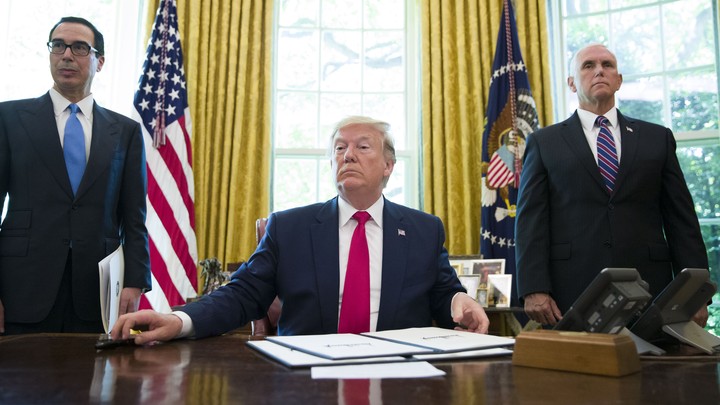 Updated at 2:30 p.m. ET
President Donald Trump has declined to strike Iran for now over the downing of an American drone. Instead, he chose to retaliate by reaching again for a favorite tool: economic warfare.
On Monday, Trump announced he would impose sanctions on Iran's supreme leader, Ayatollah Ali Khamenei, and other individuals close to him, denying their access to "key financial resources and support." This follows reports over the weekend that the U.S. also launched cyberattacks on computers used by Iranian intelligence.
"The supreme leader of Iran is one who ultimately is responsible for the hostile conduct of the regime," Trump said from the Oval Office. "His office oversees the regime's most brutal instruments."
Following repeated rounds of financial penalties since Trump withdrew from the nuclear agreement last year, about 80 percent of Iran's economy is already sanctioned, according to Secretary of State Mike Pompeo. This includes virtually all of its oil exports; a major arm of its military, the Islamic Revolutionary Guard Corps, which is also deeply interwoven in Iran's economy; and petrochemicals and metals.
The results have been twofold: First, Iran's economy has withered. Second, Iran has lashed out.
Read: A boom time for U.S. sanctions
Pompeo recently characterized weeks of Iranian provocations ahead of the drone being shot down—including explosions on energy tankers and missile and rocket attacks in Saudi Arabia and Iraq—as evidence of a successful "maximum pressure" campaign. Officially, that campaign's aim is to drive the Iranians back to the negotiating table. But administration officials have cited what they see as a side benefit of depriving Iran of the resources it uses to fund terrorism. The past week has demonstrated that, after more than a year under Trump's sanctions, Iran still has plenty of means to harass the U.S. and its allies.
Will this set of sanctions finally be what gets Iran to give up its hostility to negotiating with the U.S.? Or will it at least make it appreciably harder to stage attacks? Elizabeth Rosenberg, a senior fellow at the Center for a New American Security, told me she doubted that Khamenei was using financial instruments that are exposed to U.S. jurisdiction anyway. Rosenberg, who worked on Iran sanctions during the Obama administration, said the sanctions are more symbolic than practical. "Not only do [the new sanctions] not have a major economic impact on Iran, they're also kind of a sideshow to the military tensions and escalations and levers available that have been used so far by the United States and Iran," she said.
Yet it's a major step to sanction the leader of a country. It "puts the supreme leader in the same position as other untouchable leaders of the past, like Qaddafi of Libya, Assad of Syria, and Maduro of Venezuela," John Smith, a partner at the law firm Morrison Foerster and the former director of the Treasury Department's Office of Foreign Assets Control, told me.  "The U.S. designates a head of state generally at the point of no return, where the U.S. believes there are no communications, negotiations ,or other deliberations needed with that government."
He noted that this was not what one would expect from an administration still seeking negotiations. Speaking to reporters following the sanctions announcement, Treasury Secretary Steven Mnuchin also said he planned to designate Iranian Foreign Minister Javad Zarif later this week.
Iran is by far the biggest target of U.S. sanctions, but the Trump administration has also leaned on economic pressure in pursuit of changes in Venezuela, North Korea, and elsewhere. Previous administrations have relied on the tool as something sharper than diplomacy but gentler than war, but Trump has far stepped up the frequency of their use. Venezuela's Nicolás Maduro has withstood the economic-pressure campaign aimed at forcing him to step down, though Trump has cited sanctions' success in bringing the North Koreans to negotiate with him over their nuclear program. These negotiations have yet to yield a deal, however.
On Iran, other powers may have incentives to undermine the United States, if they think economic relief for Tehran is the only way to resolve the crisis. European countries have been scrambling to calm tensions, especially since Iran threatened in May to breach the nuclear deal absent economic incentives. Russia's national security adviser vowed that Moscow would look out for Iran's interests at an upcoming meeting of Russian, U.S., and Israeli officials this week.
There are, meanwhile, faint signs of softening on both sides. The administration has offered to negotiate without preconditions. Critics of Barack Obama's nuclear deal complain that the deal addressed only the nuclear issue and left other destabilizing Iranian activity, including ballistic-missile testing and support for militant proxies, in place—Pompeo last year laid out 12 far-reaching demands touching on those and other issues he said would have to be a part of any new deal. But Trump seemed to walk that back slightly over the weekend, telling NBC's Chuck Todd on Meet the Press: "I think they want to make a deal. And my deal is nuclear. Look, they're not going to have a nuclear weapon … I don't think they like the position they're in. Their economy is, is absolutely broken."
Read: Is there still a deal to be done with Iran?
Monday, however, he vowed that the U.S. would increase the pressure on Tehran "until the regime abandons its dangerous activities and its aspirations, including the pursuit of nuclear weapons, increased enrichment of uranium, development of ballistic missiles, engagement in support for terrorism, fueling of foreign conflicts, and belligerent acts directed against the United States and its allies."
For the Iranians' part, Ray Takeyh, a Middle East scholar at the Council on Foreign Relations, has argued that the recent attacks attributed to or claimed by Iran are intended not to start a war, but to enter negotiations from a position of strength. "Before negotiating with the United States, Iran needs a narrative of success," he wrote in Politico Magazine. "And the events of the past few days, in which the Trump administration threatened and then backed off a military confrontation, have finally provided Tehran with a justification to enter talks with, in Iran's telling, a chastened Washington."
Washington, however, is certainly not presenting itself as chastened. While the administration has stuck with sanctions for the time being, Trump was quick to warn: "I think a lot of restraint has been shown by us—a lot of restraint—and that doesn't mean we're going to show it in the future."
We want to hear what you think about this article. Submit a letter to the editor or write to letters@theatlantic.com.