Trump Heads Into the G20 on Shaky Ground—And the World Knows It
The president will meet with a number of leaders in Japan. They've noticed that for all his bluster, he often folds.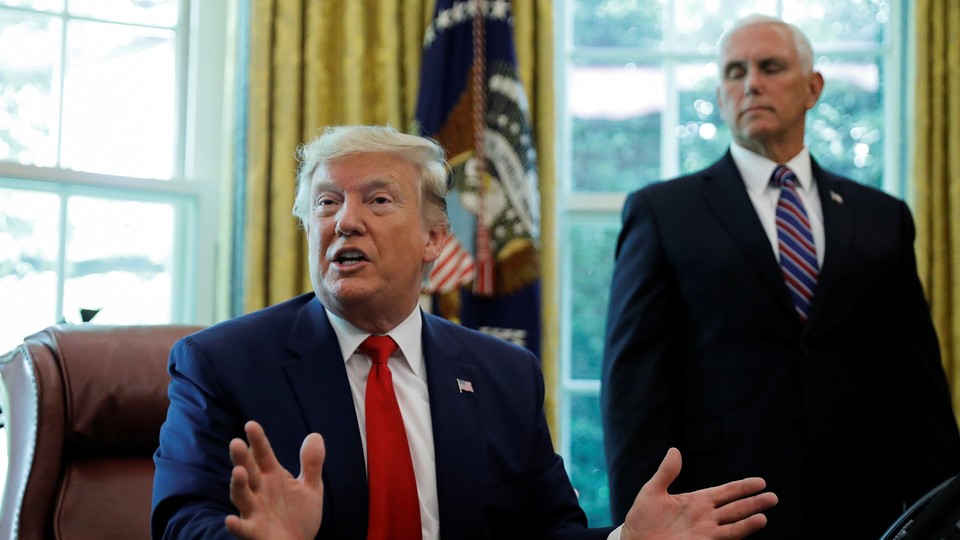 When he ran for president, Donald Trump said he wasn't going to telegraph his moves to America's adversaries. He's been doing just that. He said he wouldn't draw "red lines" and then ignore them. That's happening too. He vowed the United States on his watch would be a military colossus so feared that "nobody's going to mess with us." People are messing with us.
Trump leaves for Japan today for a series of meetings where he'll try to make headway on foreign-policy goals at the core of his presidency: ending the nuclear threat posed by North Korea, dealing with Iran, and settling a persistent trade dispute with China. He'll be talking privately with foreign leaders whose cooperation he sorely needs—China's Xi Jinping, Russia's Vladimir Putin, Saudi Crown Prince Mohammed bin Salman, and Japanese Prime Minister Shinzo Abe among them. (He later travels to Seoul to meet with South Korean President Moon Jae-in.) But he's walking into the Group of 20 summit in Osaka at a moment when his credibility has been shaken by a failure to make good on his threats and stick to his promises.
His counterparts have surely noticed that for all his bluster, Trump often folds. Understanding that the trade war has roiled the financial markets that Trump watches closely, Xi might try to extract concessions from the president in ongoing trade talks. Putin has already seen that Trump is amenable to his argument that Russia did not interfere in the 2016 elections. Trump plans to raise the issue of Russian interference, administration aides said, but Putin could use his meeting to once again convince Trump that Russia is blameless.
Trump campaigned on the notion that he would be an inscrutable commander in chief who would keep enemies off balance. "We must, as a nation, be more unpredictable," he said in a foreign-policy speech during the 2016 campaign.
Certainly he's bellicose. In a Tuesday-morning tweet, he threatened Iran with "obliteration." Yet he has largely drawn from a predictable set of tools to deter and punish adversaries: economic—not military—warfare. When Iran shot down a U.S. drone last week, Trump said he would not "stand for it." But after preparing a military strike against Iranian targets, he abruptly pulled back. Instead, he levied yet another round of sanctions on Iran, targeting the country's supreme leader, Ayatollah Ali Khamenei.
Are the sanctions working? Since withdrawing from the nuclear deal last year, Trump has imposed round after round of sanctions on Iran—including one meant to drive oil exports, the lifeblood of Iran's economy, to zero. There's little evidence that the sanctions have cowed Iran's leadership. Iran's behavior, if anything, has grown more belligerent on Trump's watch—and additional sanctions could squeeze the country to the point where it feels compelled to escalate tensions even further, experts said. After Trump signed an executive order approving the latest round of sanctions, Iranian officials said they would not agree to negotiations with the U.S.
"There's a pattern where his [Trump's] rhetoric is far tougher than his actions, where he's much more willing to threaten the use of force than to actually use it," Richard Haass, the president of the Council on Foreign Relations and a former State Department official under President George W. Bush, told me. "Sanctions and tariffs have become the instruments of this administration. We see very little in the way of diplomacy and very little in the way of military force. In almost every situation, we see economic instruments."
Underpinning Trump's foreign policy is a vow that, when threatened, the U.S. won't bluff. He ridiculed his predecessor, Barack Obama, for letting the Syrian regime mount a chemical attack in 2013 with impunity, even though Obama once called the use of such weapons an unacceptable "red line."
"Our friends and enemies must know that if I draw a line in the sand, I will enforce that line in the sand, believe me," Trump said in the same 2016 foreign-policy speech. Trump has drawn plenty of red lines in the past few weeks, only to erase and reposition them when it suits him. Talking to reporters last week about the downed drone, he suggested that his red line for a military counterattack would be American casualties. Had the aircraft been manned, he said, "it would have made a big difference, let me tell you."
So, it would seem, the threshold for military reprisal against Iran would be an attack that killed Americans. But Trump just moved the line again. In another tweet yesterday, Trump said that "any attack by Iran on anything American will be met with great and overwhelming force." That would suggest that destroying a U.S. military asset would be grounds for a counterattack. But that's precisely what happened last week—and Trump called for the military to stand down.
"People don't put much stock in the credibility of his promises, and they don't put stock in the credibility of his threats," Vali Nasr, a State Department official under Obama and a professor at the Johns Hopkins School of Advanced International Studies, told me. "Rather than him looking weak, it underscores the fact that he's erratic. And most countries find that more problematic."
Inside the White House, aides believe there is some value to what may, from the outside, look to be an incoherent foreign-policy approach. The world now sees Trump as a restraining force and his two top foreign-policy hands, Secretary of State Mike Pompeo and National Security Adviser John Bolton, as impetuous hawks itching for armed conflict, aides told me. That's a potentially useful perspective, a White House official who requested anonymity told me, and gives Trump more flexibility.
"What the Iranian regime is thinking is that as long as Ambassador Bolton is standing next to Trump, he's a wild card," the official said. "So there's a good psychology. And the president helps that along." Channeling Trump, the official said: "'I've got Bolton, you know. If it were up to John Bolton, we'd be fighting with everybody.' He [Bolton] is okay with that perception."
No one serving in Trumpworld, though, is entirely secure in the job. Senior aides are a tweet away from being fired. Trump has made clear that he and Bolton are fundamentally at odds over how interventionist the U.S. should be. "If it was up to him, he'd take on the whole world at one time, okay?" Trump said Sunday on NBC's Meet the Press.
Is that all a pose to keep foreign adversaries guessing? Cue Trump's favorite expression: We'll see what happens.