How a Forgotten White House Team Gained Power in the Trump Era
Changes in the makeup of the Domestic Policy Council have already had broad national effects.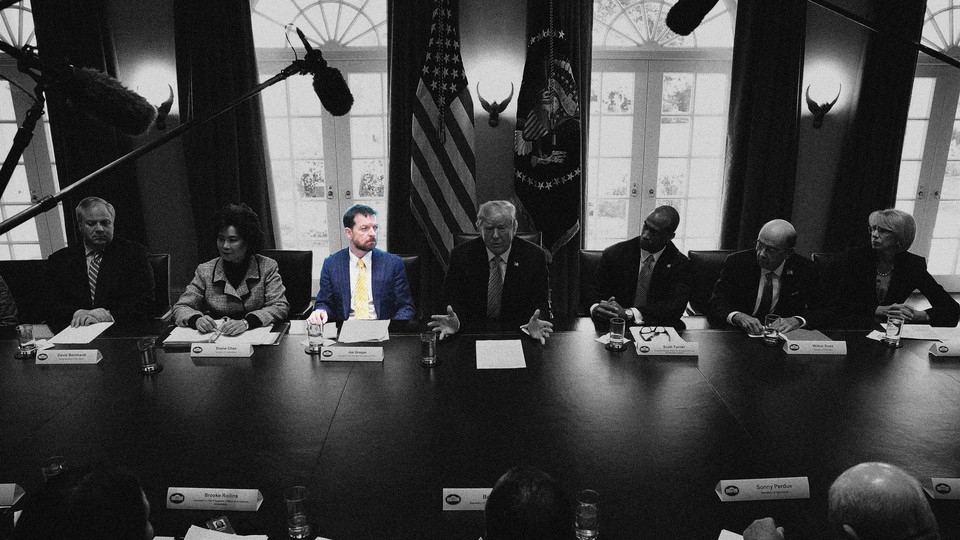 That Alex Azar, the secretary of health and human services, was generally opposed to major new restrictions on fetal-tissue research wasn't necessarily relevant. What mattered was that Joe Grogan—the faceless director of a little-known White House office called the Domestic Policy Council (DPC)—felt differently.
It was the end of May, and the two camps had been sparring for several weeks over the policy. Azar, according to Politico, sought a less restrictive measure, echoing scientists' concerns about how a total ban on federally funded fetal-tissue research could inhibit the potential for medical breakthroughs. (The tissue, which is obtained mainly from abortions, has been used to help develop vaccines for diseases such as polio, chicken pox, and hepatitis A.)
But Grogan argued for ending such research at the National Institutes of Health entirely. Nevermind that Grogan was someone, one White House official joked to us in a recent interview, whom President Donald Trump likely couldn't pick out of a lineup, or that the DPC had been largely irrelevant for the past two-plus years. Grogan was Mick Mulvaney's guy, a loyalist who followed him from the Office of Management and Budget (OMB) to the White House, and he's part of a cadre of conservative, like-minded advisers Mulvaney has sprinkled throughout the West Wing since becoming acting chief of staff in January. Besides that, Mulvaney agreed with his appointee: He believed that government scientists should be barred from doing fetal-tissue research. With the help of anti-abortion activists, the duo made their case to the president.
On the morning of June 5, Trump announced that not only would his administration end such research at the NIH, but it would also cancel an HIV research contract with the University of California at San Francisco, which required fetal tissue for its work on new HIV therapies. "Promoting the dignity of human life from conception to natural death is one of the very top priorities of President Trump's administration," HHS said in a statement that day.
In nearly any other administration, a DPC aide less than six months into his or her job would, to a Cabinet secretary, be the equivalent of a sand flea. To be sure, this used to be the dynamic in the Trump administration as well, with policy staffers running up against not just the Cabinet but also the president's children and others who had early on claimed key issues as their own, as Jared Kushner did with the Israeli-Palestinian conflict.
But unlike his predecessor, Grogan has apparently found a way to use that dynamic to his advantage. White House officials often refer to the "shiny-object phenomenon" when discussing the president or those closest to him—the tendency for Trump and Kushner, mainly, to find themselves consumed by whatever the hot topic of the day is, and not much else. There are downsides to this, officials say, in that attempts at well-laid plans are often railroaded on a whim, and that what should be good news has an uncanny tendency to devolve into bad news. But there are upsides, too: Working as a policy staffer on an issue that Trump and Kushner do not fancy at the moment allows one to make plans with less fear that they might spontaneously combust. And in some cases, it allows one to shuttle through controversial policies without many people noticing.
At least, that's how Grogan sees it. And according to a dozen current and former White House and administration officials who spoke with us on the condition of anonymity to divulge private conversations, that "aggressive" posture, as one official put it, has made for a noteworthy shift in the Domestic Policy Council's clout. As Mulvaney's functional deputy, these sources say, Grogan is deeply invested in bringing the acting chief of staff's health-care and deregulatory vision to life. At times, that vision has notably clashed with both Azar and Labor Secretary Alexander Acosta on issues such as drug pricing or deregulation. But Grogan's ideological kinship with Mulvaney has helped render the Cabinet less and less an obstacle. Grogan's approach, he told us in a phone interview, is "to be on permanent offense around here, constantly driving policy forward … and not wasting time."
The ceaseless churn of news in the Trump era means White House decisions that at one time would've dominated headlines for weeks barely register. In no episode was that more apparent than the fetal-tissue research ban: Whereas the George W. Bush administration's decision to ban federal funding for stem-cell research in 2001 made for a defining cultural flash point, hardly anyone seemed to notice the White House's announcement on fetal tissue, even in a moment when the abortion debate is more fraught than ever, with nine states, including Alabama, Georgia, and Ohio, signing early or near-total abortion bans into law. As Grogan sees it, though, with such dissonance comes power—the ability to realize conservative policy goals, expand Mulvaney's reach across government, and evade any of the backlash that those actions, in another time, would surely spark. The result is a dynamic that, for better or worse, could make the next two years the most quietly impactful period of Trump's presidency.
---
Historically, the DPC has not been notably powerful. It was founded in 1985 by President Ronald Reagan more as a way to streamline White House policy processes than infuse its members with new power over them. And it was altered eight years later by President Bill Clinton, who split the office to form the National Economic Council, which to this day is largely seen as the more influential and high-profile policy body in the West Wing. Under Trump, for example, the NEC took the lead on tax reform, one of this administration's more substantial achievements.
Still, some sources argued to us that a relatively low-profile position comes with valuable maneuvering room, especially in a time when Trump's tweets command far more attention than the minutiae of his policies. But they said that Andrew Bremberg—a former George W. Bush HHS official who was Trump's first pick to lead the DPC—failed to capitalize on that dynamic. That's not to say he didn't accomplish anything. But overall, the current and former officials say, Bremberg preferred to involve himself in big-ticket items on which he'd have little to no sway—dominated as they were by, say, Kushner or Stephen Miller—rather than focus more on pushing traditionally conservative policies in areas that the Kushners and Millers of the White House didn't care about. And it didn't help that the first major issue that Bremberg took ownership of—repealing and replacing Obamacare—was a colossal failure. (Bremberg declined to comment for this story.)
As Bremberg's influence was dwindling, Grogan was testing the limits of his own. In March 2017, Grogan joined the OMB under Mulvaney as the associate director of health programs. He came to the office from the drug company Gilead Sciences, where he worked as a lobbyist. In financial-disclosure records, he listed his income at the company as $823,000. He had also served as an adviser in the Food and Drug Administration during George W. Bush's presidency.
In July 2018, House Oversight Committee Chairman Elijah Cummings raised concerns with Mulvaney that Grogan was in violation of the Trump administration's ethics rules, given that he was working on a payment model for a specific method of cancer treatment just as his former employer was looking to acquire a company developing the same method of treatment. "Mr. Grogan's actions … raise serious concerns about whether President Trump's drug pricing policies are intended to benefit drug companies rather than American consumers," Cummings wrote. (When asked about Cummings's concerns, Grogan told us that he had "divested of all private interests, at considerable cost" and that he had "sold all my stock in my previous employer. There are no conflicts with my previous employer or industry." He added that he'd still like to work with Cummings to bring down drug prices.)
Ethics questions aside, Grogan intended to make the most of his new role. It wasn't long after Azar succeeded Tom Price as HHS secretary that tensions began to simmer between his department and OMB. Grogan and Azar found themselves at odds in particular on drug pricing, with Grogan frequently opposed to Azar's proposals to fulfill Trump's campaign pledge to lower costs.
"Grogan would slow things down as a process matter" to try and make his own "comments and issues" known "even though the fundamental policy thing had been decided," a source familiar with the matter told us. "And Mulvaney wasn't going to police that properly. It was like, um, the secretary and the president decided we're doing this; you can't try to stop it by nonconcurring as a desk officer at OMB."
On January 22, 2019, when the new Mulvaney-led White House announced that Grogan would officially be taking over the Domestic Policy Council, Azar and his allies, the source said, "were very concerned."
---
After two years, Bremberg exited the White House to try and become ambassador to the U.S. mission in Geneva, a position for which he's still awaiting confirmation. He left for Grogan a hollowed-out council within a hollowed-out White House whose chances of any meaningful policy victory ahead of 2020 seemed to get slimmer by the day.
Yet Grogan wasn't looking for meaningful policy victories, necessarily—or at least not the kind flashy enough to play out on the House and Senate floors and be debated ad nauseam on cable-news panels. And he wasn't looking to make headway on an infrastructure plan or work with Kushner on immigration reform or argue with Miller over tariffs. He had his own goals in mind, chiefly to do with health-care and undoing the Obama regulatory agenda, which made him an ideal ally for Mulvaney. "Mick and I see the world the same way, largely," Grogan told us. "And the number one thing we're seeing is the fact we only have so much time in the first term."
"The Trump shiny-object phenomenon has made the regulatory process far easier than it should be," Ryan Streeter, the director of domestic-policy studies at the American Enterprise Institute, told us. "Normally you'd expect people to be reacting very publicly and very negatively … but they're completely preoccupied with whatever Trump is doing."
Grogan has been keen to embrace the shiny-object phenomenon. He made several hires as he tried to ramp up the 15-member council's metabolism. Grogan told us that he feels obligated to execute "much-needed regulatory reforms" that the president has demanded. It's not such a surprise, then, that HHS officials bristled at Grogan's appointment—not only was he ideologically opposed in many ways to Azar, but he was also quick to show that in his new role, he had no interest in being a wallflower. (Grogan said that he meets with Trump "regularly.")
But there were other things, too, that foretold a chipping away of Azar's power at HHS. The White House official said that the health secretary has been "coming unraveled a bit" ever since the administration instituted its "zero tolerance" policy, in which migrant families were separated upon crossing the southern border beginning last spring. "He was really rattled by it, and HHS is still dealing with the fallout," the official said, referring to the department's Office of Refugee Resettlement, which today is overseeing tens of thousands of unaccompanied minors. Lawyers who visited a Border Patrol station in Texas last week found 300 children living in squalid conditions without adequate food or water and in some cases caring for one another. Most of the children were transferred to different facilities in recent days, amid outrage from a bipartisan group of lawmakers, but then 100 were returned to the same station.
Azar has accordingly taken a slightly more timid stance in dealings with the White House. That was less problematic for the success of his initiatives in the past, given that he and Bremberg were largely aligned ideologically. But policy disagreements with Grogan, combined with Grogan's more assertive posture, have left Azar on shakier footing. "It shouldn't be a situation where DPC is telling HHS what to do," the White House official said, "but that's what Joe is trying to do."
---
The extent to which the executive branch has overpowered the legislative branch over the past two-plus years has been well documented. But Grogan's newfound influence—made possible by his eagerness to go head-to-head with Azar—highlights how the White House is consolidating more and more power within the executive branch itself. The result is an administration in which the West Wing—far above the Cabinet and both chambers of Congress—represents the origin of an increasing number of meaningful decisions about the future of this country.
Asked about friction between his agency and the White House, Azar told us that their goals are identical, even if they've differed over tactics. "We are one administration, one team, with the president on drug pricing," Azar said, while heading into the White House for a meeting with Trump on Monday. "My boss is so firmly committed to get drug prices down and his team is completely committed. We may have debates about the best approaches—this, that, or the other. But as the president said on Friday, he makes the decisions on everything and we're all aligned."
For Grogan, the fetal-tissue announcement on June 5 underscored the savviness of the calculation that ceding turf on the issues of the day to Kushner and the like, in order to more narrowly focus on one's own priorities, would make for a more effective DPC. That also seemed clear on June 14, when Trump announced in the Rose Garden that the White House had issued a new rule meant to expand health-care options for small businesses. The rule allows employers to offer tax-exempted funds, known as health-reimbursement arrangements, to help workers buy insurance plans on the individual markets in place of offering a company plan. Grogan, who alongside Brian Blase at the National Economic Council finalized the measure, told reporters ahead of the announcement that it would "provide hundreds of thousands of businesses a better way to offer health-insurance coverage, and millions of workers and their families a better way to obtain coverage." John Tozzi summed up the significance of the rule for Bloomberg: "The cumulative effect could erode a core principle of the ACA: ensuring that people can rely on their health insurance if they get sick, and to spread the costs of illness widely."
Another sign of Grogan's influence is the extent to which he and Mulvaney appear to be reshaping agencies with which they've previously been at odds. An example is the Labor Department, headed by Acosta. White House officials have been upset with Acosta for slow-walking deregulation efforts, prompting suspicions inside the administration that he was doing so because he wanted a judgeship some day and doesn't want to alienate Democratic lawmakers, one person familiar with the matter said. One of Acosta's former deputies, Nick Geale, had clashed with the DPC, making critical remarks about the council in private meetings, according to people familiar with the matter.
Grogan declined to comment when asked if he and Mulvaney helped orchestrate Geale's departure. He did say, though, that he had little patience for agencies that fail to follow through on Trump's deregulatory measures. "I don't want to say I'm putting pressure on them—I just don't want the White House to be an excuse," Grogan said. "I don't want someone to say, 'Oh, great. We sent it to DPC and now … we don't have to worry about it.'"
Last month in Axios, Geale said that "there are lots of passionate people in the administration, and I certainly am one of them. I believe I've done a great job in implementing the president's vision." (Geale declined to comment for this story.)
A spokesperson for Acosta said the Labor Department has already locked in more than $3 billion in "deregulatory savings" and has more measures in the works. The department "continues to work aligned with presidential priorities. Any suggestions made otherwise is contrary to these facts," the spokesperson said.
Grogan seems poised to take his momentum into drug pricing, pushing largely to maintain the "status quo" while Azar attempts to lower costs, according to the source familiar with the matter. The two officials have managed to reach a middle ground on increasing cost transparency: On Monday, Trump issued an executive order that requires hospitals to disclose list prices for common items and services. But Grogan and Azar's disagreements on how to address the prices themselves, the source added, have made for the "defining dynamic" between the White House and HHS.
"Grogan has been much more stubborn about sticking to how Republicans have traditionally thought about drug pricing, i.e., generally defending pharma," the source told us. The White House official said that internally, Grogan says his opposition to Azar's efforts—such as rolling back rebates paid by drug manufacturers to pharmacy middlemen and instituting changes to Medicare premiums—are rooted in concern about adding to the already steep federal deficit. "But staff [are] always wondering if it's actually for more personal reasons," the official added, referring to Grogan's lobbying background.
It would seem a losing battle for Grogan, given President Trump's campaign promise and recent speeches in which he has affirmed his desire to lower drug costs. The reality, though, is that Trump does not have as visceral an attachment to the issue as he does to, say, tariffs and immigration, meaning he is far more likely to entrust his aides to the fine print. Added to that is the fact that Mulvaney doesn't care much for debating the policy himself, according to the White House official, who said that following a recent staff meeting on the issue, Mulvaney joked that he "fell asleep" while aides were discussing it. In other words, Grogan has potentially ample room to choreograph the administration's efforts on drug pricing, which could help ensure that current costs, contrary to Trump's desire, stay steady.
Grogan's latitude in this respect could very well increase in the months to come, as Trump's reelection campaign kicks into high gear and even fewer people—the president included—are paying attention to policy. As for the future, Grogan demurred when asked what regulations, whether in the health-care space or otherwise, he's looking to unravel next. "They're people who are living their lives in the real world who've been regulated to death by Washington, D.C. And we trust them more than other administrations have," Grogan told us. But, he added, "I don't want to telegraph too much of anything that's market-moving."