'If You Want, I'll Go On': Trump's Rambling News Conference
The president defended Vladimir Putin and Mohammed bin Salman while airing his grievances against Hillary Clinton, John Kerry, and the Democratic Party.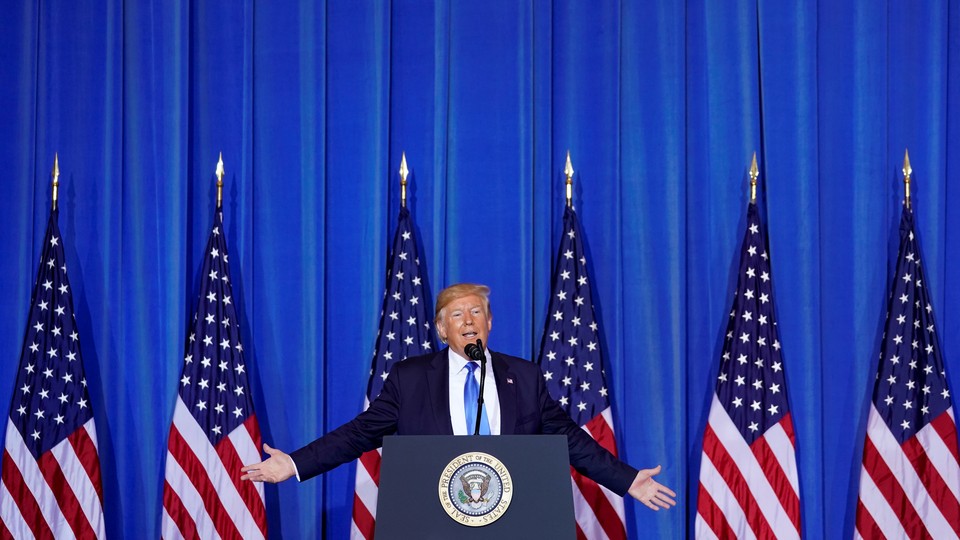 For those of you who didn't get to see President Donald Trump's news conference early Saturday, let's recap what he said: Former Secretary of State John Kerry broke the law in talking to Iran about its nuclear program. Jimmy Carter was a terrible president. Russian President Vladimir Putin says he didn't interfere in the 2016 elections, and, come on, how many times are you going to push the guy on that point?  Vast numbers of illegal immigrants may soon be deported from the United States. And, circling back to Putin, the Russian president kind of makes sense when he says that Western-style liberalism is dead, at least when you consider the sorry state of a couple of Democratic-run cities in California.
That's by no means a comprehensive list. At one point in the hour-and-15-minute news conference in Japan, Trump squinted at the roomful of reporters with their hands raised and asked whether they'd had enough. Did they want him to stop or keep going? Watching from home at 3 a.m., I didn't get a vote. But I have to confess: If my colleagues in Japan had opted to pack it in, I wouldn't have been inconsolable. Speaking in a low monotone at the Imperial Hotel Osaka, Trump seemed to be pushing the outer limits of how much news the bloodstream can safely absorb.
After the press conference, Trump boarded Air Force One for a trip to Seoul, South Korea. He has dangled the possibility of a meeting with the North Korean leader, Kim Jong Un, at the demilitarized zone between the two countries. He tweeted about the plan Friday night, and noted at the news conference that Kim reads his tweets and that North Korea is open to the idea (CNN chyron: "Trump says Kim Jong Un follows his Twitter feed."). It is unclear whether Kim has a Twitter account—and if he does, whether it's under his own name.
Negotiations over North Korea's nuclear program appear stalled. Indeed, North Korea's stockpile of nuclear-weapons material has likely grown since Trump last year sought to roll back the country's weapons program through personal diplomacy.
Trump walked out of a summit meeting with Kim in February as talks broke down. If they do meet this weekend, Trump said, it would be a quick hello and a handshake. He said he'd be willing to cross the demilitarized zone and see Kim in North Korean territory. "I feel very comfortable doing that," he said, following a blitz of meetings over the past two days with Putin, Chinese President Xi Jinping, and other foreign counterparts.
Trump said he and Xi made progress in settling a trade dispute that has shaken financial markets. He said he'll hold off on imposing additional tariffs on Chinese goods, while China has agreed to buy more U.S. farm products. "It doesn't mean it's going to be a deal, but they would like to make a deal, and if we could make a deal it would be a very historic event. We've never had a deal with China. We've had tremendous [trade] deficits." The president says he believes that large trade deficits are bad for a country's economy—a view not shared by many mainstream economists.
Trump was pressed on whether he raised difficult subjects with a pair of autocratic leaders whose affections he deems important: Putin and Mohammed bin Salman, the Saudi crown prince. Before his meeting with Putin at the G20 conference in Osaka, reporters had asked Trump whether he would tell the Russian leader not to interfere in the 2020 elections, as U.S. intelligence agencies believe happened in 2016 . Trump smiled and wagged his finger at Putin: "Don't meddle in the election, please," he said. At the press conference, Trump said that he and Putin "did discuss it a little bit after that."
He added, though, "He denies it totally. How many times can you get somebody to deny something? He has in the past denied it. He's denied it also publicly."
A reporter asked the president about an interview Putin gave the Financial Times, in which the Russian leader cast pluralistic, liberal societies as outmoded.
Trump seemed to misunderstand the question, though, interpreting the word liberal in an American political context. Putin, he said, "sees what's going on" in Los Angeles, San Francisco, and other U.S. cities "run by an extraordinary group of liberal people." He went on to say that Putin "does see things that are happening in the United States that would probably preclude him from saying how wonderful it is."
Trump said that he confronted the Saudi prince about the murder of the journalist Jamal Khashoggi. A United Nations report released earlier this month found evidence that Salman and other senior Saudi officials were liable for the murder.
"I asked him what was happening," Trump said of his meeting with Salman. He said that the prince was "very angry about" the murder and updated Trump on efforts to prosecute those responsible. "I did mention it to him very strongly," he said. But he also stressed the importance of the alliance with the kingdom, saying that Saudi purchases are important to the U.S. economy. Then he parlayed a question about Khashoggi's death into an attack on his erstwhile opponent in the 2016 presidential election, Hillary Clinton.  He said he wouldn't comment on a CIA assessment that Salman ordered the killing because it involves classified intelligence. In a reference to Clinton's use of a personal email account when she dealt with classified material as secretary of state, Trump said that he's empowered to declassify information, "unlike Hillary Clinton."
"She decided to just give it out," he said.
The FBI investigated Clinton's use of a personal email server in 2016 and concluded that while she'd been "extremely careless" in her practices, her actions did not merit criminal charges.
While Trump was away at the G20 Summit, the Democratic presidential candidates held a pair of debates in Miami. Trump said he has been following the kerfuffle involving the Democratic front-runner, Joe Biden. At the debate Thursday night, Senator Kamala Harris of California skewered Biden over his past opposition to busing as a means of integrating public schools. Trump has been harshly critical of Biden, whom campaign aides see as the Democrats' strongest candidate. Yet in the news conference, Trump talked about Biden with uncharacteristic sympathy. He said that Harris had gotten "too much credit" and that Biden "was hit harder than he should have been hit."
Biden's eloquence is no match for "Winston Churchill," Trump said, but in fairness to him Harris's attack seemed precooked.
As the news conference played out, Trump seemed in no hurry for it to end. His next stop was Seoul, but as he told reporters, Air Force One doesn't take off without him. He had one concern: that the press might report he held the spotlight too long. "If you want, I'll go on," he said.
On he went.