Another Allegation—And Trump's Allies Just Don't Care
Inside the president's orbit, the gravity of sexual-assault accusations against him no longer seems to register.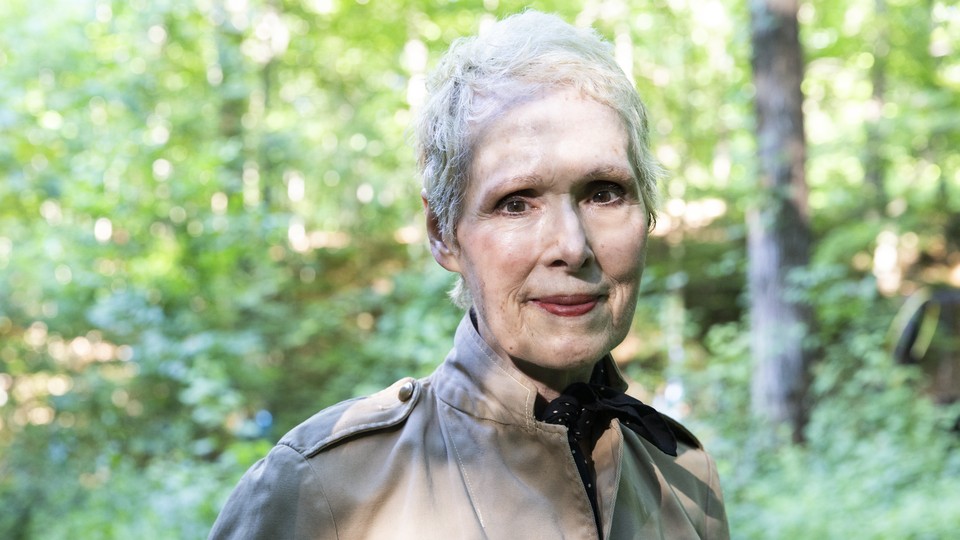 Updated on June 28, 2019, at 12:09 p.m. ET
"What was she, like, the 28th or something?" one former White House official pondered to me. In a separate conversation, another offered a different guess: "Twenty-two? Twenty-three?"
They were talking about E. Jean Carroll, the longtime Elle advice columnist who, for the first time last week, publicly accused Donald Trump of assaulting her in a Bergdorf Goodman dressing room more than 20 years ago. And what they were trying to do was locate the latest number of women who have accused the president of sexual misconduct. (The answer: at least 22.)
For these former officials, the apparently incalculable magnitude of this number did not cause them to reconsider Trump's every denial of the varied allegations—to wonder, for example, about the likelihood that 22 or 23 or 28 women were all lying in their stories of harassment, groping, unwanted kissing, and, in Carroll's case, sexual assault.
Rather, for them, the increase in the number of women seemed to mirror the increase in their indifference. Another accusation, they seemed to say, was like another dollop of numbing cream. "I didn't read it," the second former official told me, referring to Carroll's written account in New York, which was an excerpt from her forthcoming book. "We're just kind of numb to it all at this point."
One current White House official said that "the only thing" that "caught my eye" was Trump's dismissal of Carroll's claim. Speaking to reporters from The Hill on Monday, the president addressed her allegation from behind the Resolute desk: "I'll say it with great respect: No. 1, she's not my type. No. 2, it never happened. It never happened, okay?"
"Like, what are you gonna do?" the official said. "This is the guy you got."
Only one of the half-dozen officials I spoke to, who currently work in or have worked in the White House and on the Trump campaign, had read Carroll's essay, and none agreed to go on the record with their comments. Taken together, the officials' quick willingness to dismiss the allegation, not to mention their disinterest in learning more, reflects several of the defining factors of the Trump administration: an under-siege mentality, distrust in the press, and an unwavering loyalty to the president they've aligned themselves with. But there's another reason their assessment is noteworthy. The private reactions of Trump's top allies reveal how, inside the president's orbit, the gravity of words such as sexual assault no longer seems to register. And that attitude—call it a collective shrug—could inform how the government responds to sexual-misconduct claims for, potentially, the next six years.
In her essay, Carroll writes that Trump recognized her as "that advice lady" while shopping in Bergdorf's, the Manhattan department store, and asked for her help in picking out a gift for another woman. While looking on the lingerie floor, Carroll writes, she joked that Trump should try on a pair of underwear. They walked back to the dressing room together, whereupon Carroll alleges he shut the door, pinned her against the wall, forcibly kissed her, and then penetrated her, all while she was attempting to fight him off. Carroll wrote that she confided in two friends at the time about the alleged assault, both of them journalists in New York. They confirmed that she did so to New York, which did not reveal their names. But on Thursday, both went public in an interview on the New York Times podcast The Daily. Lisa Birnbach, the author of the 1981 best seller The Official Preppy Handbook, confirmed that she had encouraged Carroll to go to the police. Carol Martin, who at the time was a local New York news anchor, confirmed that she had advised Carroll to stay quiet because Trump was too powerful.
Carroll's account, which Trump vehemently denies, represents the most serious allegation of sexual misconduct against the president to date. (His first wife, Ivana Trump, once accused him of rape while under oath in a deposition, but she ultimately retracted her testimony.) But by Monday, three days after the essay was published, the prevailing public focus seemed to be less on Carroll's story itself, but on the news media's speed in moving on from it.
The entire episode has made for the rare incident in which the instincts of the media and Trumpworld have seemed to align, if for different reasons. As my colleague Megan Garber wrote on Tuesday, "A news media that is so efficiently calibrated to report that which is new isn't fully sure how to report on that which is manifestly not new." The resulting inertia that Garber describes has been just as evident in the West Wing this week. But if the media have been muted in their response to Carroll's allegations because they lack a clear blueprint for how to respond, Trump officials have found themselves motivated by something simpler: They just don't care that much. "Literally nobody—zero people—have approached me to say that this is an issue," the current White House official told me. "I haven't given it one second of my bandwidth." (Carroll declined to be interviewed for this story via a representative.)
The officials, who were not authorized to speak publicly about the allegations, cited a number of reasons for their indifference. As in most weeks in the Trump era, an astonishing amount of news in the past few days has competed for public attention. The current White House official told me that staffers had been too occupied by escalating tensions with Iran and preparations for this week's G20 summit, among other concerns, to pay any mind to a new accusation against the president. And on a more personal level, the official said, the fallout from the Stormy Daniels saga has made them reluctant to believe any allegation since.
It is unclear, exactly, what the link is between the consensual encounter Daniels and Trump allegedly had and Carroll's claim of sexual assault. But the conflation could be the product of Trump allies' tendency to lump all the women who've alleged encounters with Trump into one. "Like, it turns out that Michael Avenatti is the worst human being imaginable, yet who wasn't trying to get him TV at the time?" the official continued, referring to Daniels's lawyer. In April, Avenatti was federally indicted on three dozen counts, including defrauding his clients of millions of dollars. "I just can't trust any of it after that," the official said.
Along with several others I spoke with, the official also questioned the timing of Carroll's essay. "If you got raped by the president and you're figuring out two and a half years in that it's an issue … it's hard for me to take you seriously," the official said. A third former White House official argued to me that Carroll's promotion of her book, containing the allegation, had made her, in their eyes, "100 percent non-credible."
"What's the excuse for not coming forward a month before the election?" the former official said. "Or, I don't know, anytime in the last two and a half years?"
The first former White House official told me that "nobody is talking" about Carroll's claim, beyond a few Trump allies who may have vented to inquiring reporters. "My reaction was like, it's no different than any of the other stories," this person said. "It's a little bad to say, but when you deal with that stuff regularly—in the White House, I dealt with a lot of the personal-slash-accuser stories—you get a little used to it and numb to it."
It was a curious theme in many of my interviews: people evincing a slight sadness about this static routine of indifference, despite it being a routine they themselves have helped perpetuate. "Morality doesn't matter," a senior campaign official lamented to me. "We excuse moral misbehavior from politicians because they're on our team, and we judge others for being on the wrong team. The really scary part to me is: Does society just not care?"
I was confused: "So you're saying you believe Carroll?" I asked. "No," this person said. Their "worry," they clarified, is that "when an allegation is truthful, are people just not going to care?" I asked what made them so sure Carroll's wasn't truthful. "The timing was weird," was all they said, before telling me they hadn't read her essay.
It's impossible to meaningfully judge the credibility of an allegation without having read the allegation itself. But if all but one source I spoke to had skipped the fine print, all but one were fully up to speed on Carroll's recent television appearances in which she's talked about her account (a dynamic that one Robert Mueller might recognize). One of those interviews took place last Friday with MSNBC's Lawrence O'Donnell. In the first of a series of strange remarks, she told O'Donnell she "wished" that when Trump had asked her how old she was that day in Bergdorf's, she had responded, "I'll tell you my age if you show me your tax returns." When O'Donnell asked her whether she would consider filing charges against Trump, as there is no statute of limitations for rape cases in New York, she replied: "No … I would find it disrespectful to the women who are down on the border, who are being raped around the clock down there."
Another puzzling moment came on Monday night, when CNN's Anderson Cooper uncomfortably cut to a commercial after Carroll said she thought "most people think of rape as being sexy—[they] think of the fantasies." In her interview with The New York Times, Carroll explained why she doesn't use rape to describe what happened to her: "Every woman gets to choose her word … My word is fight. My word is not the 'victim word.' I have not been raped. Something has not been done to me. I fought."
When I spoke with the officials, it was as though her comments had given them a sense of cover to not engage with her underlying claim, nor with the fact that two of her friends corroborated that she had shared her allegations with them contemporaneously. (Given Trump allies' track record on misconduct accusations against the president, officials would likely have dismissed her claims even if she hadn't gone on TV.) The first former White House official said "if anyone" in Trump's orbit has been talking about Carroll, "it's been about those segments." "You know, I don't know one way or the other whether he did it, but I think she set back her story a lot those nights," this person said.
The only instance in which the current and former officials I spoke to suggested wrongdoing on Trump's part was when several of them noted his response to Carroll's story. The first former White House official said Trump's brush-off was emblematic of his ability to elide whatever controversy comes his way. "In a lot of ways, he lives up to the name Teflon Don. I can't think of one thing that can seriously hurt him at this point," the person said. "Everyone has thrown everything at him, and nothing has really stuck."