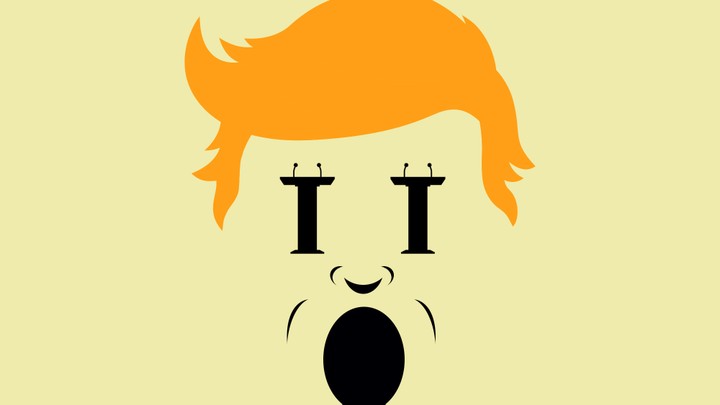 Former Vice President Joe Biden called President Donald Trump a tool of Wall Street who has "ripped" out the nation's soul. The author Marianne Williamson accused Trump of exploiting people's fears. Senator Bernie Sanders of Vermont cast Trump as a "pathological liar" and a "racist."
Trump might as well have been gripping a podium of his own last night, so prominently did he figure into the two-hour Democratic debate in Miami. And if a spot onstage had been offered to him, you had a sense he might have grabbed it. Trump was nearly 8,000 miles away from the 2020 Democrats invoking his name, starting a whirlwind day of meetings with foreign leaders in Osaka, Japan. But the scene in Miami was much on his mind. Between meetings with German and Indian leaders, the president made time to tweet about the 10-person debate and later told reporters he had caught a snippet of it on television. Standing beside German Chancellor Angela Merkel, Trump mentioned the previous night's debate with 10 candidates, saying, "It wasn't very exciting." Merkel didn't play along. Listening to Trump's foray into partisan domestic politics, the German leader stood "stoned-faced," a pool reporter wrote.
If these first two debates showed anything, though, it's how tough it will be for Democratic candidates to compete with Trump for attention. Incumbency gives any president an advantage—even more so in Trump's case. He's shown he can commandeer news cycles through unexpected policy pronouncements that move markets and rattle nations. Democratic candidates who stay focused on the finer points of U.S. industrial policy risk getting drowned out by the insults and outrages Trump dispenses around the clock. "BORING!" Trump tweeted from Air Force One while watching Wednesday night's debate.
Read: For true Trump believers, the magic isn't lost
With his megaphone, Trump can upstage Democrats at every turn, for better or worse. As the first 10 Democrats readied themselves for the debate Wednesday, Trump gave an interview to the Fox Business Network in which he demeaned his handpicked Federal Reserve chairman, Jerome Powell, and accused Special Counsel Robert Mueller of having committed a "crime" in his handling of the Russia investigation. He wasn't done. Trump went on to insult an ally he was on his way to visit. If the United States were attacked, he complained, Japan wouldn't help. Instead, "they can watch it on a Sony television, the attack," he said.
Even Trump's trip to Japan has turned out to be a bit of 2020 counterprogramming. Hours after the Democrats left the stage last night, Trump went into a high-stakes meeting with Russian President Vladimir Putin. A lingering point of contention is Russian interference in U.S. elections. U.S. intelligence officials have determined that Russia meddled in the 2016 elections to help defeat Trump's Democratic opponent, Hillary Clinton—a conclusion the president has resisted. At a summit in Helsinki last year, Trump appeared to accept Putin's word that Russia didn't interfere in 2016. Would Trump warn Putin not to disrupt American elections in 2020? "Yes, of course I will," Trump told reporters. Turning to Putin, he said: "Don't meddle in the election, President. Don't meddle in the election." A readout of the meeting later provided by the White House didn't mention election interference as an issue that was broached. On Wednesday night, the candidates were asked to identify what they see as the biggest threat to the U.S., and only one—New York City Mayor Bill de Blasio—said Russia.
With the first round of debates complete, it's clear that the candidates are split on how to confront Trump going forward. Certainly the party's rank-and-file wants them to take a combative approach. A poll last month showed that 65 percent of Democrats or those who lean Democratic said it's more important to nominate a candidate who stands the best chance of ousting Trump than one who agrees with them on the issues.
One of the biggest applause lines at Wednesday's debate came when Washington Governor Jay Inslee, asked to name the country's biggest security threat, gave a clear-cut answer: "The biggest threat to the security of the United States is Donald Trump. No question about it." The first words out of Biden's mouth on Thursday were an attack on Trump, as were the last words he spoke.
Other candidates were more tepid, targeting the president largely on policy grounds. At Wednesday's debate, Senator Amy Klobuchar of Minnesota faulted Trump for not reducing prescription-drug prices. Julián Castro, the former secretary of housing and urban development, promised to overhaul Trump's immigration policies. These sorts of policy-based critiques of a norm-shattering president whom many Democrats want impeached were likely to fall flat, Williamson warned last night. "It's nice if we have all these plans," she said, "but if you think we beat Donald Trump by having all these plans, you've got another thing coming, because he didn't win by saying he had a plan. He won by simply saying 'Make America Great Again.'"
This time around, Trump's advisers haven't settled on the sort of campaign they'd like him to run. One faction wants to try a "Rose Garden" strategy that maximizes his stature as a sitting president. Another recognizes it's fruitless to expect that sort of discipline from him.
Read: The biggest obstacle to Trump's victory in 2020
Whatever the plan, these advisers acknowledge, Trump will do what he wants, relying on the same instincts that got him elected in 2016. Before the debate began last night, I asked one of Trump's political advisers, who asked to remain anonymous to speak freely, whether they expected the president to tweet about the proceedings. It was evident the campaign had no clue. "We'll see what he decides," the adviser told me. "He's the boss."
From the looks of things, the "Rose Garden" proponents are losing the argument. Shuttling between meetings in Osaka, ostensibly focused on the growing conflict with Iran, the unrest in Venezuela, and the world economy, Trump sounded wistful for the televised skirmish in Miami. In a tweet that came in the early evening Friday from Japan, Trump wrote that he was "representing our Country well, but I heard it was not a good day for Sleepy Joe [Biden] or Crazy Bernie [Sanders]. One is exhausted, the other is nuts—so what's the big deal?"
We want to hear what you think about this article. Submit a letter to the editor or write to letters@theatlantic.com.
Peter Nicholas
is a staff writer at
The Atlantic,
where he covers the White House.