The World Is Getting Sucked Into U.S.-Iran Tensions
Secretary of State Mike Pompeo blamed Iran for the latest tanker attacks in the Gulf of Oman.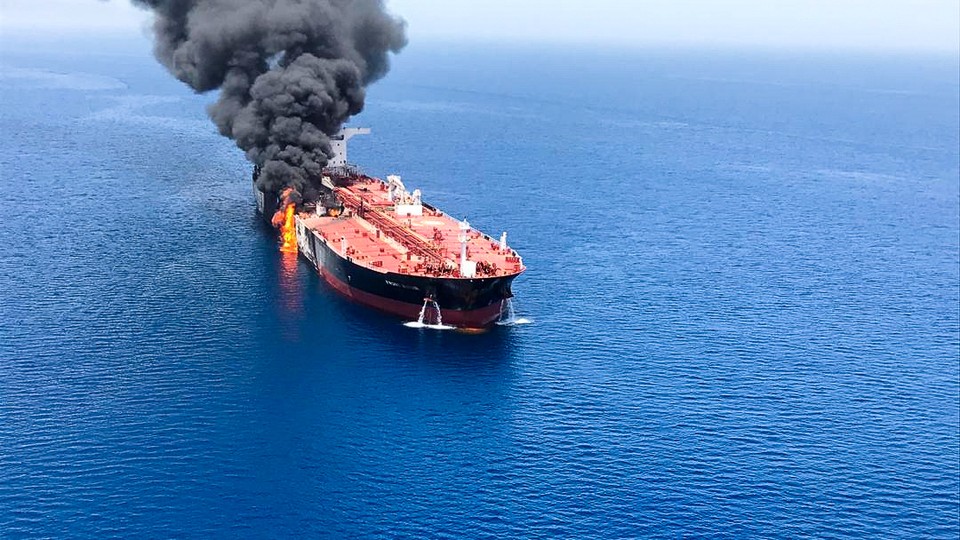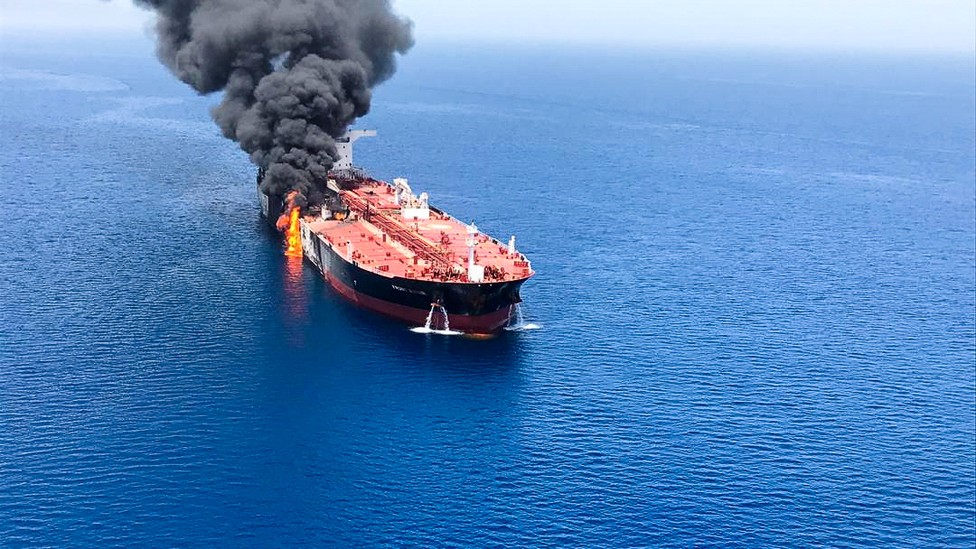 Updated at 3:12 p.m. ET on June 13, 2019.
More ships burned in the Gulf of Oman today, hours after a missile hit a Saudi airport and weeks after explosions hit four other vessels in the region. As threats escalate between the United States and Iran, multiple other countries—whose tankers traverse the strategic waterways, whose oil supplies depend on safe navigation, and whose people and infrastructure are vulnerable to rockets from Yemen's Iran-allied Houthi rebels—are getting sucked into the morass.
Secretary of State Mike Pompeo this afternoon blamed Iran for the shipping attacks. "No proxy group operating in the area has the resources and proficiency to act with such a high degree of sophistication," he told reporters at a press conference. He called the explosions part of an "unacceptable campaign of escalating tension by Iran," and said Iran is "lashing out because the regime wants our successful maximum-pressure campaign lifted."
In May, it was Saudi Arabia, the United Arab Emirates, and Norway whose oil tankers were subject to what the UAE called "sabotage" attacks. U.S. officials blamed those on Iran, though the Iranians denied responsibility and the affected countries have blamed only an unnamed "state actor" since conducting their investigation. Today it was Japan, where a company owning one of the affected ships is based and whose prime minister has been in Tehran to soothe tensions; Panama and the Marshall Islands, under whose flags the tankers were operating; and Singapore and Taiwan, where the ships' cargo was destined. And this time, the U.S. Navy got involved, sending a nearby destroyer to help rescue people evacuating the affected ships.
On Twitter, Iranian Foreign Minister Javad Zarif called the explosions and their timing "suspicious," a statement Pompeo mocked from the podium today. "Foreign Minister Zarif may think this is funny, but no one else in the world does," he said.
The administration's blaming of Iran, Pompeo said, is based on intelligence as well as on Iran's capabilities and its past behavior. The Islamic republic has, in the past, relied on proxy forces and asymmetric means to coerce concessions without having to attack the United States directly. (So far, the U.S. hasn't made any concessions.) And the crowded shipping lanes in the region, where a significant percentage of the world's oil supply passes through, shows just how quickly a bilateral spat can turn into something much bigger. Oil prices, which jumped after the explosions, have been a particular concern for Trump.
Numerous countries stand to be affected. "You have the regional exporters, countries with tankers, and importers, not to mention those countries with insurance firms involved, to name a few," Ariane Tabatabai, an Iran expert at the Rand Corporation, wrote in an email. "During the 1980s Tanker War, you had upward of 30 countries whose ships were hit by Iran and Iraq."
But the U.S. has recently made moves to give itself options in case the attacks do turn out to be linked to Iran. In May, White House National Security Adviser John Bolton announced the deployment of a carrier strike group to the region, and the Pentagon later announced it would send 1,500 troops to the Middle East as a "force protection" measure. The U.S. already has 60,000 to 80,000 troops in the region, though the level fluctuates, plus a number of air and naval bases in the region. Iran, meanwhile, has the powerful Islamic Revolutionary Guard Corps at its disposal; proxies operating in numerous countries, including Yemen, on Saudi Arabia's border; and the largest arsenal of ballistic missiles in the Middle East. The administration has cited intelligence saying that Iran was preparing attacks, though Democrats who have seen the intelligence have been skeptical.
There will doubtless be a partisan battle over whether the latest suspected attacks are proof that the threat was real all along, or proof that the administration's purportedly deterrent and defensive moves could provoke a wider conflict. Defense officials, including acting Defense Secretary Patrick Shanahan, have said that the recent deployments have deterred Iranian attacks, raising the question of whether the new attacks mean that deterrence has failed.
Caught in the middle of all that are tankers, sailors, and commuters who have nothing to do with the "maximum pressure" campaign the U.S. is waging against Iran. Bolton's initial statement left somewhat vague what precise actions would provoke a forceful U.S. response—but the administration is already punishing Iran with unprecedentedly harsh sanctions for its regional activities. "Any attack," that statement said, "on United States interests or on those of our allies will be met with unrelenting force."
The attacks, assuming Pompeo's assessment is right, are happening. Administration officials have, since Bolton's statement, repeatedly expressed their desire for dialogue with the Iranian regime—gestures the Iranians have so far rebuffed. Trump has said he hopes to avoid war with Iran, but has taken credit for creating economic problems in the country; this week he told reporters, "Hopefully, we'll be able to get along with Iran. If we can, that's great. And if we can't, that's great too." Today, Pompeo reiterated that position: "Our policy remains an economic and diplomatic effort to bring Iran back to the negotiating table at the right time." He went on: "Iran should meet diplomacy with diplomacy, not with terror, bloodshed, and extortion."
In a Twitter message on Thursday, following an apparently failed effort by Japan's Shinzo Abe to lower tensions, Iran's supreme leader, Ayatollah Ali Khamenei, said, "We do not believe at all that the U.S. is seeking genuine negotiations with Iran, because genuine negotiations would never come from a person like Trump." Trump later sent his own tweet, saying that he appreciated Abe's efforts but that "it is too soon to even think about making a deal." The world is left to wonder at what point American force comes into play.