The Atlantic Politics & Policy Daily: Pentagone
Patrick Shanahan withdrew from consideration for secretary of defense. Plus: President Trump is formally announcing his reelection campaign today in—wait, what?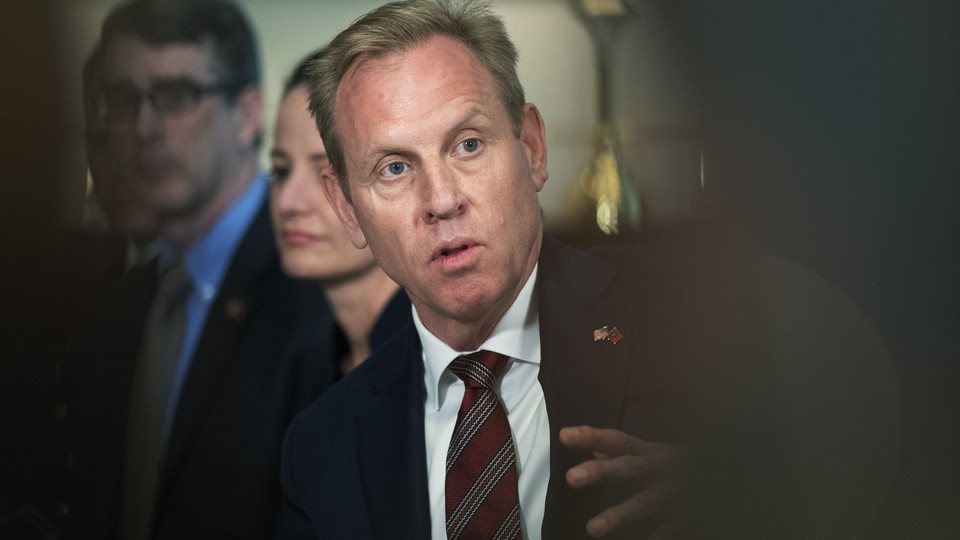 What We're Following Today
It's Tuesday, June 18.
Shana-Can't: Patrick Shanahan, the acting secretary of defense, withdrew from consideration to lead the agency after reports surfaced of domestic violence within his family. The announcement leaves the Defense Department without a permanent head as the U.S. faces growing tensions in the Middle East.
What's the Big Deal?: President Donald Trump is traveling to Orlando today, where he will hold a rally to launch his 2020 reelection bid. But not only has the president already announced his reelection plans at least five times, argues David A. Graham, he's never really stopped campaigning in the first place.
They Smell Blood: The several moderate men running in the Democratic presidential primary—Senator Michael Bennet of Colorado, Montana Governor Steve Bullock, and Representative Tim Ryan of Ohio, to name a few—are getting punchy, reports Edward-Isaac Dovere. They think they're starting to sense weakness in former Vice President Joe Biden's campaign. And they see an opening for themselves.
End of an Era: A small, private liberal-arts school in Brookline, Massachusetts, held its last commencement ceremony in May before permanently closing its doors. It's one of the latest schools in a string of small colleges across the country that have completely ceased operations, leaving many students stranded partway through their higher-ed experience. Here's what's going on.
---
Snapshot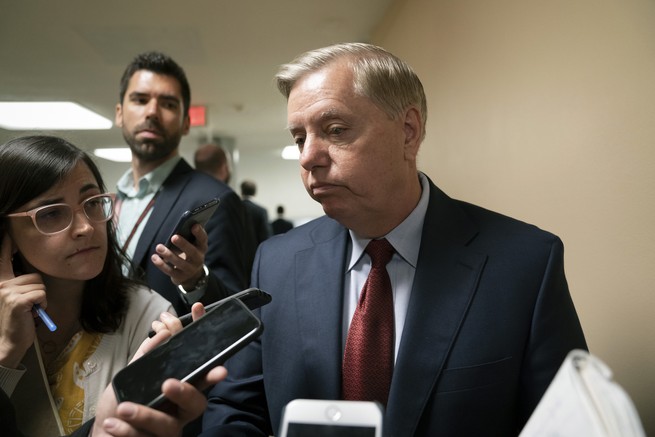 Senate Judiciary Committee Chairman Lindsey Graham is questioned by reporters at the Capitol about rising tensions between Iran and the Trump administration. (J. Scott Applewhite / AP)
---
Ideas From The Atlantic
How Harvard Should Handle the Kyle Kashuv Mess (Conor Friedersdorf)
"Harvard might conserve the valuable stigma that the college and its defenders want attached to racial slurs, while still alleviating the concerns of its critics, by affirming its desire for ideological diversity among its undergraduates and pledging to replace Kashuv with an openly conservative wait-listed applicant." → Read on.
Trump's Sinister Assault on Truth (Peter Wehner)
"Many other presidents have been viewed as divisive figures, but none have taken as much delight as Trump in provoking acrimony, malice, and bitterness for their own sake; in turning Americans against one another in order to turn them against one another. He seems to find psychic satisfaction in doing so." → Read on.
Birth Is Not the Finish Line (Belle Boggs)
"As the anti-abortion movement poses the question of fetal personhood, deciding what to do with our embryos has been instructive to me in thinking it through. Leaving those vials in the freezer would be unthinkable if a 0.1-millimeter embryo, or a pea-size fetus, was truly a child. Instinctively, though, we know otherwise." → Read on.
Julián Castro Wants to Hold Police Accountable (Adam Serwer)
"The former secretary of housing and urban development under President Barack Obama and former mayor of San Antonio, has put forth perhaps the most ambitious immigration and police-reform plans in the Democratic primary." → Read on.
---
What Else We're Reading
‣ 'Crickets. They're Gone': Why the Mercers, Trump's Biggest 2016 Backers, Have Bailed on Him (Gabriel Sherman, Vanity Fair)
‣ Cities Start to Question an American Ideal: A House With a Yard on Every Lot (Emily Badger and Quoctrung Bui, The New York Times) (🔒 Paywall)
‣ McConnell's Blockade of House Legislation Is About to Face Its Toughest Test (Ronald Brownstein, CNN)
---
About us: This newsletter is a daily effort from The Atlantic's politics writers: Elaine Godfrey, Madeleine Carlisle, and Olivia Paschal. It's edited by Shan Wang.

Were you forwarded this email? Sign yourself up here. We have many other free email newsletters on a variety of other topics. Browse the full list.