The Atlantic Politics & Policy Daily: 5-4
The Supreme Court speaks on gerrymandering and the citizenship question. Plus: We hand out awards for last night's Democratic debates and look at tonight's contenders.
Welcome to a special Democratic-debate issue of the Atlantic's signature politics newsletter.

Were you forwarded this email? Sign yourself up here.
---
What We're Watching Today
It's Thursday, June 27.​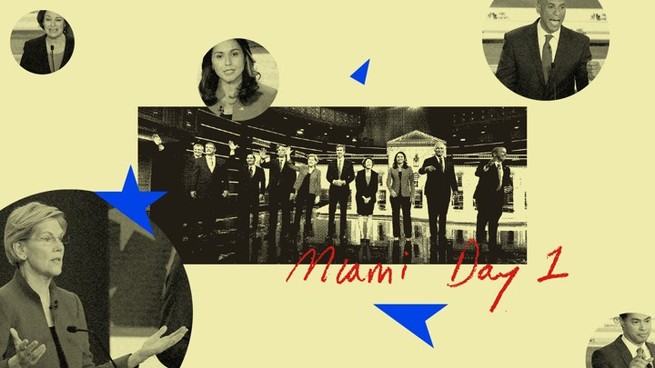 (Carlo Allegri / Reuters / Wilfredo Le / AP / The Atlantic)
Put on your thinking caps and bust out your college language credit. Night one of the Democratic debates—more than two hours broken down into brief sound bites—featured policy proposals, technical difficulties, a few tense exchanges, and multiple candidates addressing viewers in Spanish.
We're not done yet: The second half of the Democratic field takes the stage tonight. Below, we're giving out some awards for the first night, and you'll find a handy primer on tonight's field.
First, some news. On the last day of the term, the Supreme Court handed down two highly anticipated rulings:
On partisan gerrymandering: In a 5–4 decision, the Court said that judges cannot strike down state legislative maps drawn to help candidates of a particular party, ruling that claims of partisan gerrymandering "present political questions beyond the reach of federal courts."
On the census citizenship question: In another 5–4 decision, the justices blocked a citizenship question from appearing on the 2020 census, calling the Trump administration's stated argument "contrived."
---
🏆NIGHT ONE RECAP AWARDS
(Charlie Neibergall / John Locher / Paul Sancya / AP / The Atlantic)
‣ Most Valiant Attempt to Put Daylight Between Candidates: All, of course, agreed Americans should have access to health care. Show of hands: Four of the 10 are on record supporting Medicare for All. Others argued for a hybrid, incremental approach.
+ Runner-up: Candidates vied throughout the night to show just how much they support Roe v. Wade. They also "avoided the most controversial and contested aspects of abortion policy, including limits on the procedure at any point in a pregnancy," reports Emma Green. Even more policy-happy candidates like Elizabeth Warren side-stepped.
‣ The Gabbard-Klobuchar-Warren Award for Most Frustratingly Familiar Dynamic: The women onstage mostly spoke when called on, and the men butted in and spoke over one another—a dynamic, as Adrienne Green points out, that frequently plays out in the modern American workplace.
‣ The Chuck Todd Award for Very Brief Foreign-Policy Round Robin: The greatest geopolitical threat to the U.S.? The moderator Chuck Todd's question highlighted "deeper divisions within the Democratic Party about the foreign-policy answer to Donald Trump's blend of isolationism, mercantilism, protectionism, and bluster," writes Kathy Gilsinan. These were some of the threats candidates called out.
(Mike Segar / Reuters / Shutterstock / The Atlantic)
‣ The Jay Inslee Award for Attempting to Have a Debate on Climate Change: Climate change is an issue Democrats somehow still haven't figured out how to talk about. But Warren, Beto O'Rourke, and "single-issue" candidate Jay Inslee gave it the old college try—even if their talking points didn't come across very coherently, writes Robinson Meyer.
‣ The Rising Star Award goes to … no one? So what does the Democratic Party stand for? Each candidate focused on his or her favored issues: Julián Castro on immigration, Warren on economic inequality, Tim Ryan on the working class, and so on. "The early debates are about Democrats searching for their new star," writes Edward-Isaac Dovere.
‣ But the Overperforming Underdog Award goes to: Castro hasn't polled well, but had a few breakout moments. He provided one of the night's relatively few heated exchanges, going after fellow Texan O'Rourke on the question of decriminalizing border crossings.
+ Runner-up: Bill de Blasio was a louder-than-expected presence on the debate stage, picking the night's first policy fight.
‣ Most Unabashed Pivot: Would he support a marginal individual tax rate of 70 percent on the highest earners? O'Rourke, breaking out his heavily accented Spanish, responded grandly with something about including everyone in our democracy.
‣ Most Disgruntled in the Spin Room: After night one, both Ryan and John Delaney told Edward-Isaac Dovere that they felt boxed out of speaking.
+ Runner-up: Tulsi Gabbard's sister.
---
🗣WHO'S WHO? USEFUL READING FOR ROUND TWO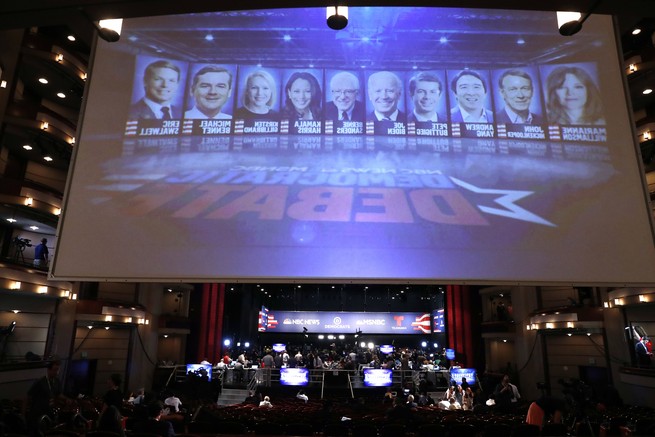 (Brynn Anderson / AP)
Tonight's debate features a lot of familiar faces: two of the longest-serving elected officials in the race—Joe Biden and Bernie Sanders—alongside Michael Bennet, Pete Buttigieg, Kirsten Gillibrand, Kamala Harris, John Hickenlooper, Eric Swalwell, Marianne Williamson, and Andrew Yang.
‣ Michael Bennet, senator from Colorado: A recent cancer survivor, Bennet says his own health has got him thinking a lot about preventative care. He's also behind one of the most unrealistic proposals of the Democratic primary.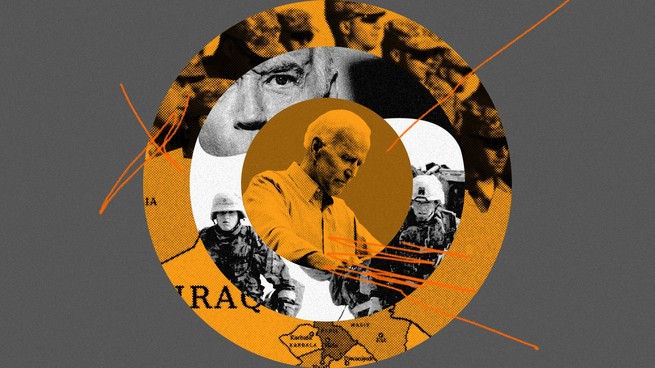 (AP / Getty / Lucas Jackson / Anja Niedringhaus / Mark Reinstein / Reuters / Brian Snyder / The Atlantic)
‣ Joe Biden, former vice president to President Barack Obama: The self-proclaimed Obama BFF has nevertheless not been endorsed by Obama (who has yet to endorse at all). Biden's been mum on major issues and has a haunted legacy in Iraq. Here's the definitive history of Biden's involvement in the long war.
‣ Pete Buttigieg, mayor of South Bend, Indiana: Following a charmed rise early on in the campaign, remote-working Mayor Pete has struggled in recent weeks to respond to a crisis back home after a white South Bend police officer fatally shot a black man.
‣ Kirsten Gillibrand, senator from New York: She's built her career pushing for women's issues, and has made abortion rights a central issue of her campaign. But the 2020 slog seems to have proved tougher for her than she expected.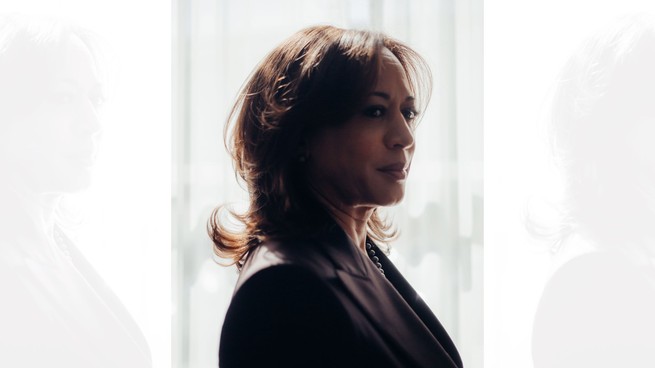 (Sasha Arutyunova / The Atlantic)
‣ Kamala Harris, senator from California: She previously served as the attorney general of California (her current rhetoric doesn't line up with her record), and has framed herself as a prosecutor who could clean up the corruption in the Trump administration. A Trump-Harris matchup might be truly riveting, but can she break through the primaries?
‣ John Hickenlooper, former governor of Colorado: During his time as governor, he expanded access to family planning and oversaw a free-birth-control program. He was also a geologist and owns a brewery! Neat!
‣ Bernie Sanders, senator from Vermont (independent): You know the self-avowed democratic socialist well from the 2016 primary against Hillary Clinton, during which, according to some, he pushed the party significantly to the left. Many policies embraced by candidates this cycle, such as Medicare for All, felt radical when Sanders proposed them four years ago.
‣ Eric Swalwell, representative from California: Swalwell has centered his campaign on the issue of gun control, proposing policies that would ban assault-style rifles and implement a rifle-buyback program.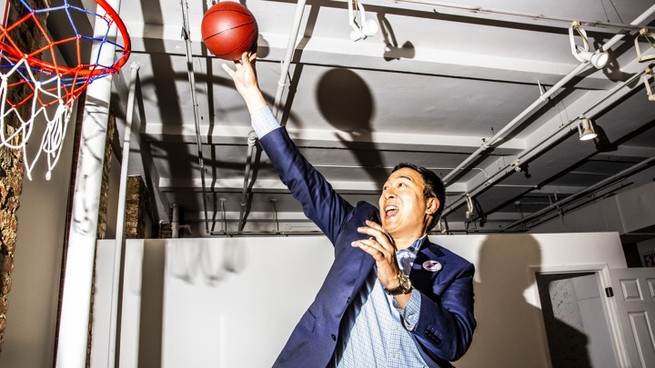 (David Williams / The Atlantic)
‣ Marianne Williamson, self-help author: Oprah Winfrey's supposed "spiritual adviser," Williamson has never held elected office. She backs progressive policies such as the Green New Deal, and recently apologized after saying policies requiring children to get vaccinated were "draconian." She also moved to Iowa for all this.
‣ Andrew Yang, entrepreneur: Yang's proposing a form of universal basic income that would give everyone over the age of 18 $1,000 a month. His campaign is Very Online, with its fiery base of supporters who call themselves the #YangGang. Question is, will they put him next to Joe Biden onstage?
---
About us: This newsletter is a daily effort from The Atlantic's politics writers: Elaine Godfrey, Madeleine Carlisle, and Olivia Paschal. It's edited by Shan Wang.

We have many other free email newsletters on a variety of other topics. Browse the full list.