GOP Lawmakers Are Quietly Turning Against the Death Penalty
Republican state legislators across the country have joined with Democrats to ban capital punishment—including in New Hampshire, which recently became the 21st state to end the practice.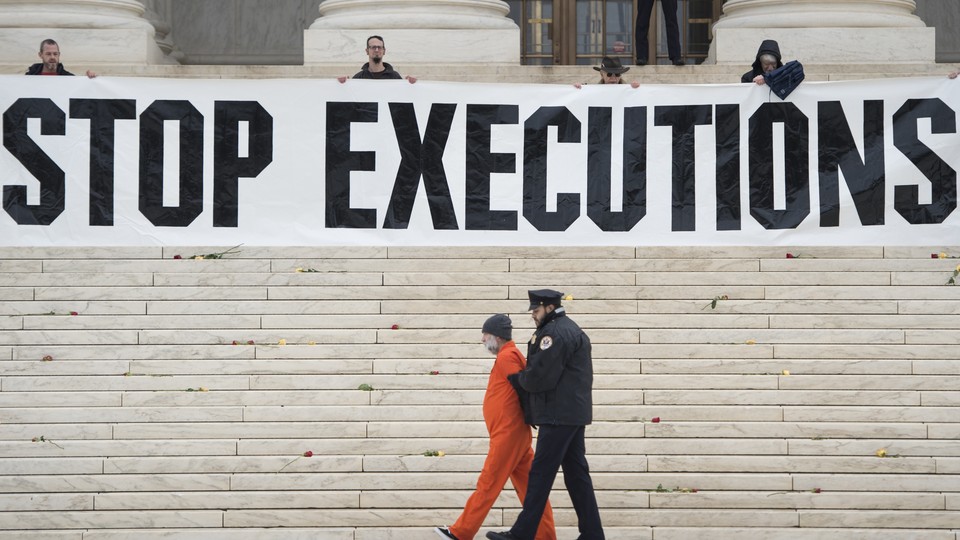 David Welch's wife died on Christmas Day 2016. He doesn't remember much of what happened that next year. But in the grips of grief, he came to a fundamental realization, he told me: The death penalty is "just morally wrong."
Welch has served as a Republican in the New Hampshire state House for more than three decades. For most of that time, he had consistently voted to uphold the death penalty. But after his wife's death, he came to understand that when the state executes someone, it puts another family through the intense period of mourning he went through. "There is no reason for it," he told me. "They're innocent."
Though law-and-order conservatives have long championed the death penalty, New Hampshire is one of a growing number of states where Republicans like Welch are joining Democrats to push for a ban. Last week, New Hampshire became the 21st state to outlaw capital punishment, one of 11 states this year—including GOP strongholds such as Kansas, Wyoming, Kentucky, and Missouri—where Republican lawmakers have sponsored bills to end the practice. The movement is the result of several political factors, including Republican and Democratic concern over the country's criminal-justice system. But it's also been motivated by lawmakers' personal experiences, just like Welch's. Death-penalty reform has quietly broken through as a bipartisan issue—one that could portend a shaky future for capital punishment in the U.S.
Lawmakers in New Hampshire had tried and failed to outlaw the death penalty for two decades. In 2018, they got close: The GOP-controlled state legislature passed a repeal bill, though it didn't have enough votes to override Republican Governor Chris Sununu's quick veto. This year was different. A repeal bill, co-sponsored by Welch, passed both chambers with just enough bipartisan support to narrowly best the governor.
Of course, many Republican state lawmakers—not to mention the president—still support the death penalty. So does their base: A 2018 Pew Research Center poll found that three-quarters of Republican voters favor capital punishment, compared with just 35 percent of Democrats. And the overwhelming majority of executions take place in red states: Of the 25 prisoners put to death in the United States last year, 13 were in Texas alone. Democrats still continue to lead the charge to abolish the death penalty throughout the country, and starting in 2016, the national party included it in its official platform. Nevertheless, like other states, New Hampshire wouldn't have been successful without the support of dozens of Republicans in the legislature.
The slate of repeal bills being considered across the country reflect growing opposition to the death penalty over the past two decades. A 2017 Gallup poll found that 55 percent of Americans supported the death penalty, a 45-year low. Executions themselves are also down. Since 1999, there's been a 75 percent decline in executions, and in the 30 states that still have death-penalty laws, more than a third have not performed one in more than a decade. Governors in four of those states have also placed moratoriums on all executions.
It wasn't always this way. Politicians from both parties have historically used the death penalty as a wedge issue to show that they were "tough on crime," says Robert Dunham, the executive director of the nonpartisan Death Penalty Information Center. A rise in the number of executions in the 1990s coincided with a push toward mass incarceration. While calls for reform escalated in the 2000s, as late as 2008, the then–presidential candidate Barack Obama voiced his disagreement with a Supreme Court ruling limiting the use of the death penalty in Louisiana.
One significant reason the tide has started to shift is the rise in conservative support for criminal-justice reform in the past few years. Conservative groups such as Right on Crime and the Charles Koch Institute have advocated for reforms, including the First Step Act, a bipartisan bill President Donald Trump signed into law in late 2018 that changed some sentencing laws and targeted recidivism.
Another key factor is increasing concern about the risk of innocent people being put to death. As of May 30, 165 former inmates in 28 states have been exonerated from death row since 1973, in part because of advancements in DNA science. Many pro-life advocates, including certain activist arms of the Catholic Church, have protested the death penalty for years. The Death Penalty Information Center also reports that there's "strong evidence" to suggest at least 15 innocent people have been executed nationwide since 1976, when the Supreme Court reinstated the death penalty after a four-year moratorium.
"As conservatives, we know the government's flawed. We hate the government," says Hannah Cox, the national manager of the advocacy group Conservatives Concerned About the Death Penalty. "Why would we give it power over life and death?"
And fiscal conservatives have balked at the cost of putting someone on death row, which is more expensive than sentencing them to life in prison. A significant portion of the cost of a death-penalty case is incurred at the trial level, because these cases require multiple trials: one deciding a defendant's guilt, and another determining whether capital punishment is truly warranted—not to mention appeals.
Overall, the opposition to the death penalty among Republicans represents a genuine, if slim, fault line in the party, one that could grow in parallel with concerns about the criminal-justice system as a whole. State lawmakers seem like the ones to watch: From 2000 to 2016, the number of GOP legislators sponsoring death-penalty-repeal bills increased by more than a factor of 10, according to Cox's group. Repeal efforts have made it strikingly far in some conservative states. In February, Wyoming's repeal bill passed the House and came within seven votes of passing the Senate. In Utah, a 2016 repeal effort passed the Senate but was just eight votes shy in the House. And in 2015, Nebraska lawmakers successfully overrode the governor's veto to ban the death penalty, although it was later reinstated.
In New Hampshire, the anti-death-penalty movement can be traced to the late 1990s, when the Democratic legislator Renny Cushing, whose father was murdered, introduced his first repeal bill in 1998. (He's since made death-penalty repeal in the state his central cause.) Repeal efforts picked up around 2006, says Barbara Keshen, the chair of the New Hampshire Coalition to Abolish the Death Penalty, when the state brought a capital case against Michael Addison, a black man accused of killing a white police officer. He is now New Hampshire's sole death-row inmate; if he were executed today, he would be the first person put to death by the state since 1939.
After the Addison trial's conclusion, in 2009, yet another repeal bill was introduced in the House, and "to the surprise of everyone, it passed," Keshen says. Though it never even got a vote in the Senate—the governor at the time, the Democrat John Lynch, had promised to veto it—support for the death penalty's repeal in New Hampshire has only swelled in the decade since. "I think what makes us so excited this year," said Jeanne Hruska, the political director of the American Civil Liberties Union of New Hampshire, when we talked before the veto-override vote, "is the level of bipartisan support."
When Cushing introduced his bill again this year, 72 Republicans in the House joined most of the 212 Democrats in backing it. In the Senate, the bill also passed with bipartisan support, with five Republicans joining 12 Democrats. On Thursday morning, Sununu issued a statement expressing his disappointment in the Senate's override of his veto: "I have consistently stood with law enforcement, families of crime victims and advocates for justice in opposing a repeal of the death penalty because it is the right thing to do." (When Sununu vetoed the repeal bill last year, he surrounded himself with police officers.)
But for conservatives in New Hampshire who were key in getting death-penalty repeal past his veto, their concerns about capital punishment were too hard to ignore. Bob Giuda, a Republican state senator, told me he also used to support the death penalty, but then slowly changed his mind. "What do we accomplish by executing people?" he said. "What statement do we make?" Giuda's wife lives in a vegetative state, and he told me that he aspires to view all lives as equal, whether it's his wife's or Addison's. "We don't get to assign that value," he said.
That type of deeply intimate answer may be why Republicans and Democrats in New Hampshire, and in other states, are joining together to scrap death-penalty laws, even as they remain deeply polarized on a whole set of other issues. "I never hear, 'Well, my caucus thinks' or, 'My party says,'" Hruska said. "It's always a personal answer."