The Atlantic Politics & Policy Daily: Tariffs + Negotiations + Building a Wall = Border Security?
The week ahead in national security. Plus: When Donald Trump sees immigration on the country's southern border as one of the biggest threats to U.S. national security.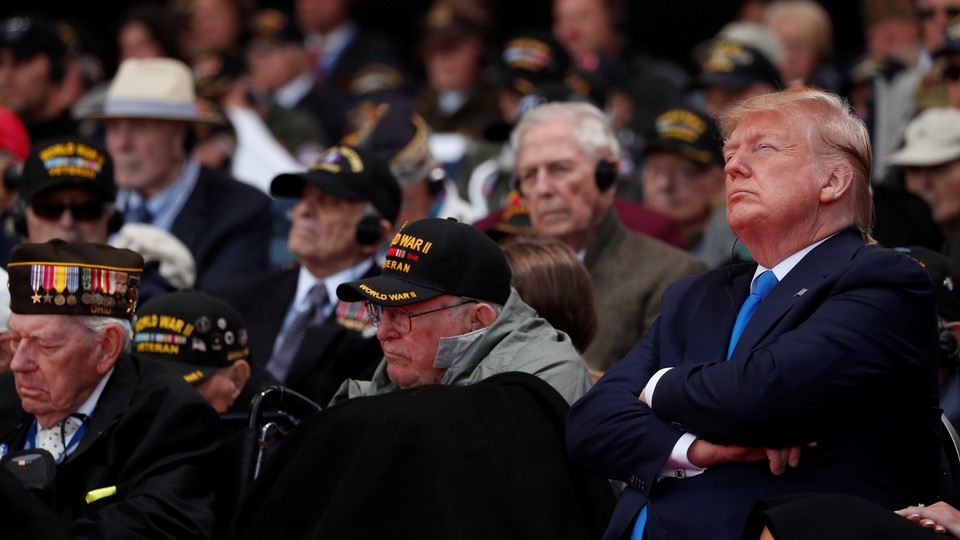 The Top Story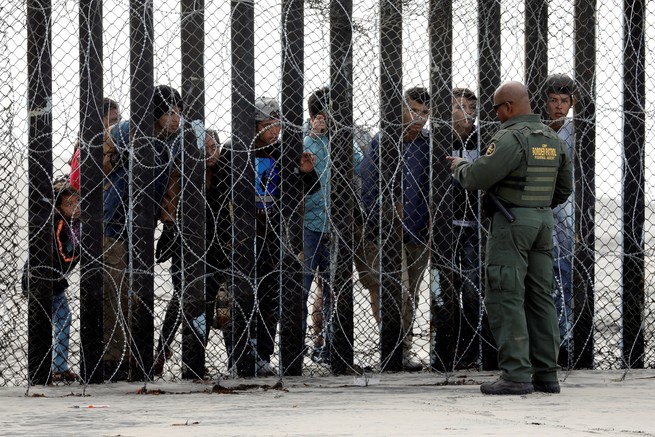 A U.S. Customs and Border Patrol agent talks to people who are on the Mexican side of the border near San Diego. (Chris Wattie / Reuters)
5% tariff + negotiations + building a wall = ... border security?
According to President Donald Trump, one of the biggest threats to America's national security is immigration on the country's southern border. He claims it's such a problem that he wanted to put a 5 percent tariff on goods imported from Mexico—until the country stems the tide of migrants crossing the border. Which Mexico agreed to in a late-in-the-day deal on Friday.
But then: Additional reporting over the weekend revealed that what Trump announced on Friday may have consisted mostly of protocols and programs agreed upon by negotiators well before Friday's deal.
Trump's closest advisers had opposed his tariff strategy, which, Elaina Plott notes, was a classic Trump crutch: turning to immigration, his soft spot, instead of dealing with other national-security concerns, such as Mueller's pronouncement earlier that week about American vulnerability to election interference.
His focus on the southern border as the source of national-security woes is misplaced. Kathy Gilsinan reported last year on Trump's tactic of linking immigration to terrorism (largely inaccurately) as grounds for his border wall, but he doesn't need to: "Border security is an important component of counterterrorism—but in the U.S., that part of the problem was already largely solved before Trump's tenure."
In fact, Trump's obsession with the southern border could have unintended consequences on the country's overall national security. He recently removed top Homeland Security officials who opposed his vision on immigration. The staff shortages keep the agency from doing what it was created to do, David Graham argues: keep the U.S. safe from terrorists.
Since Mexico will now adhere to a rule that requires migrants awaiting asylum in the U.S. to wait in Mexico, and has agreed to deploy its National Guard across the country to keep migrants from entering the U.S., does that mean America is now safer? Trump's past logic would indicate he thinks so.
---
🗓 The Week Ahead in National Security
‣ Monday, June 10: Syrian president Hafez al-Assad, father of current president Bashar al-Assad, died on this day in 2000. Sam Dagher reported on the sinister message of the resurgence of statues of Hafez in Syria today.
‣ Tuesday, June 11: Acting Homeland Security Secretary Kevin McAleenan testifies about fixing the crisis at the southern border at a Senate Judiciary Committee hearing.
‣ Wednesday, June 12: Donald Trump hosts Polish president Andrzej Duda, of the far-right Law and Justice Party, at the White House.
‣ Thursday, June 13: The New York Times began publishing the "Pentagon Papers," a set of classified documents about U.S. involvement in Vietnam, on this day in 1971. The Atlantic covered the federal trial about whether the newspaper had the right to publish the material. (Yes, the Supreme Court famously ruled.)
‣ Friday, June 14: On this day in 1940, Auschwitz received its first prisoners. A new exhibit about the brutal Nazi death camp opened in New York recently, but in its chronicle of all things awful about the Holocaust, the exhibit "does everything right, and fixes nothing," writes Dara Horn.
---
🤝 State of alliances
Donald Trump greets a veteran who served at Normandy during a commemoration of the 75th anniversary of D-Day. (Ian Langsdon / Pool via Reuters)
Lessons learned: Donald Trump spent the week in Europe, where world leaders tried to convince the American president of the value of Washington's alliances with their countries. Trump's British hosts took pains to ensure Trump's whims were accommodated—and that he didn't see or hear from the thousands of people who turned out in London to protest him.
"Britain used every bit of pageantry and symbolism in its arsenal to impress upon the 'America First' president that it's important to distinguish friend from foe," Yasmeen Serhan and Peter Nicholas reported from the U.K. Theresa May, Justin Trudeau, and Emmanuel Macron—all of whom Trump has insulted—read letters from soldiers who fought beside Americans on D-Day.
Officially, it went smoothly. Nancy Pelosi, who attended the same commemoration in Normandy as Trump, said he "made a very fine speech." But, Nicholas writes, "the president can undo his message with a simple tweet." Indeed, he began his trip with a series of harsh tweets criticizing London's mayor. All the feting by the allies has amounted to precisely no change to Trump's worldview or American policy.
Lessons not learned: As world leaders gathered to remember the courageous soldiers who fought on D-Day, David Frum noted that the legacy of that day is complicated, and it extends beyond the value of the transatlantic alliance. "The human impulses on which the fascists and communists of the 1930s battened? Those do remain with us," he writes, and "this time, no D-Day is called for to defeat them."
This also happened: In a closed-door meeting, Mike Pompeo said it has been "devilishly difficult" to keep the fractious Venezuelan opposition united against Nicolás Maduro. (John Hudson, The Washington Post)
---
🚨threat assessment
Fog of war: For the past several weeks, we've brought you updates about tensions with Iran, sparked by what Trump administration officials claimed was national-security intelligence that showed Iran preparing to attack American assets in the Middle East. Now that the dust has settled, and a military confrontation was avoided, Mike Giglio asked the experts: How should we read the intel on Iran? And is it as bad as it was made out to be?
Left- and right-wing intelligence experts both agreed that the threats were serious, and military escalation had been a real possibility. But the recent concerns didn't show anything particularly different from the hostile ways Iran has acted in the past.
What was new this time was the official characterization of those actions: "In effect, the Trump administration has moved the red line for military escalation from the issue of nuclear weapons to a wide range of more commonplace Iranian activities," Giglio writes. Whether the experts agreed with this strategy came down to politics.
Is China winning?: When the State Department hosted a dozen European and Asian diplomats in April ahead of China's Belt and Road Forum, Washington wanted to send Beijing a message that its allies unanimously opposed Xi Jinping's signature infrastructure initiative. But the allies refused, Noah Barkin reports—the latest sign of America's ineffective efforts to influence China policy worldwide. The effects of the U.S.-Europe disagreement on China could be devastating for the transatlantic alliance, even after Trump leaves the White House.
"European countries must prepare for a world in which they will be viewed by Washington through a China prism," Barkin writes, "much in the same way that Europe was seen through a Soviet lens during the Cold War."
The growing enmity between Washington and Beijing has another potential casualty, argues Reihan Salam: "the enmeshment of the Chinese and U.S. economies that has defined the past 20 years." Cutting off Huawei is just the start. And the result will be bad for China—but it might also be bad for America.
This also happened: Huawei inked a deal with Russia's largest mobile carrier to build the country's 5G wireless network. Vladimir Putin and Xi Jinping attended the meeting in Moscow. (Sherisse Pham, CNN)
---
About us: This edition of The Atlantic's Politics & Policy newsletter was written by Gabby Deutch and edited by Yara Bayoumy, the national-security editor, and Shan Wang, the newsletters editor.

We have many other free email newsletters on a variety of other topics. Browse the full list.