The Atlantic Politics & Policy Daily: No More Mr. Tough Guy
The week ahead in national security. Plus: Trump now finds himself in the surprising and peculiar position of trying to stop further escalation in Iran. Plus: G20 is coming.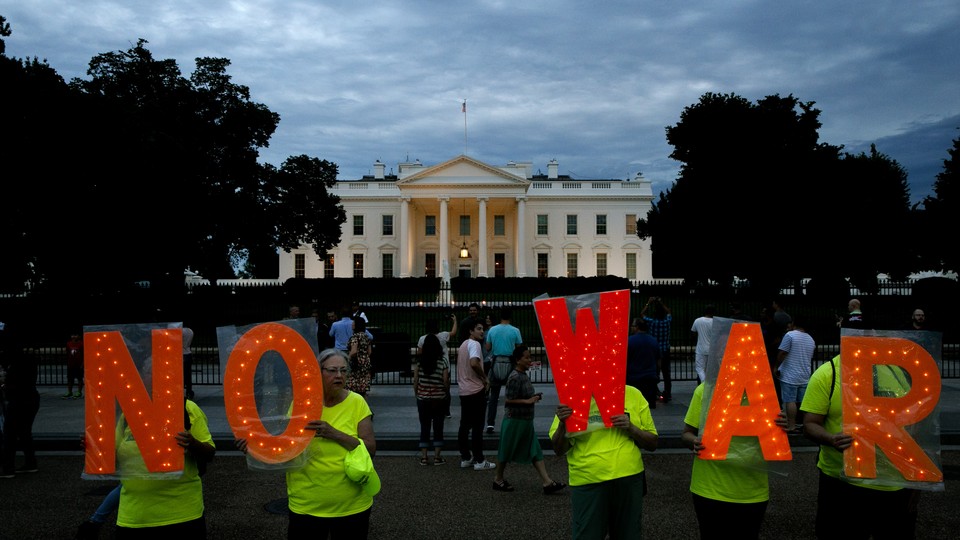 ---
The Top Story
Sailors get ready for flight action on the USS Abraham Lincoln in the Arabian Sea on June 14. (Tristan Kyle Labuguen / U.S. Navy / Handout / Reuters)
Not a Hawk, Not Yet a Dove
After Iran shot down an American drone over the Strait of Hormuz, the countries appeared poised for a military confrontation. American jets were set to attack, until President Donald Trump—ever the tough guy—called it off.
In an administration of Iran hawks who seem intent on bringing the two countries to a head, Trump now finds himself in the peculiar position of trying to stop further escalation.
"Trump is getting conflicting advice on dealing with Iran's provocations," Peter Nicholas and Elaina Plott report from the White House: National Security Adviser John Bolton has "raised the specter of armed conflict," while Trump himself sits "atop the more dovish wing."
The president's Iran instincts don't just run contrary to his inner circle of advisers. General Kenneth McKenzie, the new head of U.S. forces in the Middle East, is making sure Centcom (Central Command) has even more resources to deal with Iran. The Defense Department's long-term strategy focuses on great-power competition with countries like China and Russia, Kathy Gilsinan writes, but "McKenzie will help keep the U.S. focus on the Middle East."
After nearly two months of rising tensions, U.S. policy has reached an impasse: Washington's "maximum pressure" campaign of increased sanctions and small, steady troop buildups hasn't yet pressured Iran to yield.
Will Iran continue to test America's patience? And will Trump continue to test his advisers' limits? One remaining option is diplomacy. But "when and if Tehran is ready to talk, the differences between Trump and [Ayatollah Ali] Khamenei present further obstacles," Karim Sadjadpour argues. A darker reality is that there might not be a way back to the negotiating table at all.
---
🗓 The Week Ahead in National Security
‣ Monday, June 24: Mike Pompeo begins a six-day trip to Asia. He'll stop in India and Sri Lanka, then meet Trump at the G20 Summit in Japan and travel with the president to South Korea.
‣ Tuesday, June 25: The U.S. and Bahrain host the "Peace to Prosperity" workshop, the first step of Jared Kushner's proposed Middle East peace plan. (Neither the Israelis nor the Palestinians will be present.) Kori Schake argues that using "prosperity as a shiny object to distract Palestinians while their political aspirations are swept away" is "un-American."
‣ Wednesday, June 26: The United Nations charter was signed by 50 nations in San Francisco on this day in 1945. Last fall, UN Secretary-General António Guterres told The Atlantic that he thinks American global power is in decline.
At tonight's first round of Democratic debates, watch for whether any of the candidates vying to take on Trump put forth a vision of America's role in the world.
‣ Thursday, June 27: On this day in 1950, the U.S. entered the Korean War. North Korea and South Korea never signed a peace treaty.
‣ Friday, June 28: Trump attends the G20 Summit in Osaka, Japan, where he plans to meet with Xi Jinping and Vladimir Putin, along with officials from more traditional American allies like Britain and France.
---
💣THREAT ASSESSMENT
Marines walk past Marine jets at a Saudi air base in 1990 during the Gulf War. (David Longstreath / AP)
What arms sales to the Gulf actually do: The Republican-led Senate voted Thursday to block billions of dollars in arms sales to Saudi Arabia and the United Arab Emirates. The House is expected to follow, though Trump will likely veto the legislation. The vote is a victory for human-rights advocates.
Since the sales are almost sure to continue, it bears asking: Why does Washington keep doing this? Do arms sales actually work? Andrew Exum, who served as the assistant secretary of defense for Middle East policy in the Obama administration, says no—the arms sales are a failure because America's Gulf partners can't help Washington in the way it wants. The goal of these sales, Exum argues, is "to build military capacity among our partners in the Gulf." But their militaries are weak, so they rely on American assistance, while American attention is elsewhere.
An empty Pentagon: Iran shot down an American drone this week and the U.S. nearly responded with military strikes. That's as big a military challenge as it gets, barring all-out war—all while the Department of Defense is leaderless. Patrick Shanahan, who served as acting defense secretary for more than five months, stepped down after reports of domestic violence in his family were made public. The White House announced Friday night that it will nominate Army Secretary Mark Esper, who was already due to become acting defense secretary today, when Shanahan's resignation comes into effect.
This also happened: Kim Jong Un and Xi Jinping met in Pyongyang, where Xi urged the U.S. to resume nuclear negotiations with North Korea. (Ken Moritsugu, Associated Press)
---
🌏FOREIGN POLICY & DIPLOMACY
Venezuela's alternate reality in Washington: Despite the Trump administration (and scores of other countries) claiming otherwise, Nicolás Maduro remains Venezuela's president. But in the U.S., the opposition has already won: Carlos Vecchio, the opposition leader Juan Guaidó's man in Washington, has the ear of the president and the bipartisan backing of Congress.
In interviews with The Atlantic, Vecchio made clear that he trusts Trump to continue working to unseat Maduro. "Carlos, the U.S. will stand with you until you recover your democracy," Vecchio recalled Mike Pence telling him, even as reports suggest Trump is losing interest in Venezuela.
But, Uri Friedman asked, "[are] Guaidó's diplomats ... making more headway in Washington than their colleagues are in Caracas"? Vecchio insists that is not the case. Yet five months into the opposition's challenge to Maduro's rule, they might have more to show for their efforts in a foreign capital than back at home.
Mr. Salvini goes to Washington: When Italy's far-right interior minister and deputy prime minister came to Washington on Monday, he met with Mike Pence and Mike Pompeo—and not Trump—as protocol dictates. But that Matteo Salvini visited Washington at all is a "major coup," Rachel Donadio writes: "The visit more than symbolically places Salvini in the company of other 'strongmen' who have visited the White House this year."
This also happened: Colombian paramilitaries are recruiting desperate Venezuelans who have fled instability and chaos. (Helen Murphy and Luis Jaime Acosta, Reuters)
---
About us: This edition of The Atlantic's Politics & Policy newsletter was written by Gabby Deutch and edited by Yara Bayoumy, the national-security editor, and Shan Wang, the newsletters editor.

We have many other free email newsletters on a variety of other topics. Browse the full list.