The 'Death Penalty's Dred Scott' Lives On
In 1987, the Supreme Court came within one vote of eliminating capital punishment in Georgia based on evidence of racial disparities. Instead, it created a precedent that civil-rights advocates have been fighting for decades.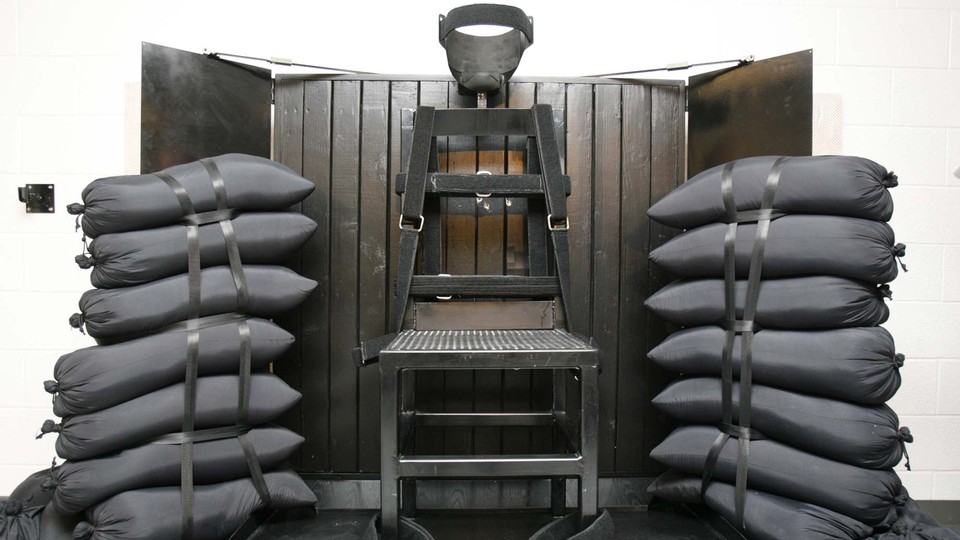 Curtis Flowers has faced six separate trials for a 1996 quadruple murder. Two ended in a mistrial; three others resulted in him being convicted and sentenced to death, but all three sentences were later overturned by the Mississippi Supreme Court on the basis of prosecutorial misconduct. In its third such ruling, the court found that the prosecutor had unconstitutionally struck African Americans from the jury pool because of their race. The fourth and latest conviction reached the U.S. Supreme Court on appeal in March, with the defense alleging a pattern of prosecutorial discrimination in jury selection that had continued in the sixth trial. A series of decisions from earlier this year suggest that the Court's new conservative majority may in general be supportive of capital punishment—but the alleged discrimination in Flowers's trials elicited concern even from some of the conservative justices.
The record of systemic disparities in U.S. capital cases is long and well documented. Compounding the biases that pervade the entire criminal-justice system, including in jury selection, states are more likely to seek and secure a death sentence in cases involving white victims, especially if the defendant is black. But while studies have consistently shown that these disparities exist in capital-punishment systems around the country, the success of discrimination-based challenges to the death penalty has been piecemeal. The Supreme Court has heard a number of arguments about racial discrimination in capital cases over the past three decades, and has found in favor of several of the defendants, but the scope has almost always been limited to individual cases of discrimination.
After empirical evidence of systemic bias was first published decades ago, it was almost used to strike a major blow to the criminal-justice system, in the 1987 Supreme Court case McCleskey v. Kemp. Lawyers for Warren McCleskey, a black man sentenced to death in Georgia for killing a white police officer during an armed robbery, argued on appeal that capital punishment in the state was racially discriminatory and violated McCleskey's Fourteenth Amendment right to equal protection. They based their allegations of unconstitutional discrimination on a landmark statistical study showing significant racial disparities in the administration of the death penalty in Georgia. The case brought the Court within one vote of potentially striking down capital punishment in the state—but instead affirmed a standard that civil-rights advocates have been fighting ever since.
In a contentious 5–4 decision, the Court determined that general disparities in a state's capital-punishment system were not enough to demonstrate unconstitutional discrimination in an individual defendant's case. In a memo to his fellow justices, Antonin Scalia wrote that racial biases have a "real" and "ineradicable" influence on "jury decisions and (hence) prosecutorial decisions"—and yet he didn't believe that bias was enough to invalidate those decisions.
Justice Lewis Powell, writing on behalf of the majority, even noted that the arguments in the case "basically challenge the validity of capital punishment in our multiracial society." But, citing a standard previously established in civil law, he too concluded that the Court couldn't find that McCleskey's rights had been violated solely based on the discriminatory impact found in the study; McCleskey's lawyers would have also needed to prove that the state had intended to discriminate against him.
In an eloquent dissent, Justice William Brennan cited the Supreme Court's past decisions barring black citizenship in Dred Scott v. Sandford and protecting segregation in Plessy v. Ferguson, warning that the McCleskey ruling would have broad implications in the fight for racial equality. "The reverberations of injustice are not … easily confined," he wrote. Responses from scholars echoed his concerns. One philosophy professor's reaction in the Los Angeles Times ran under the headline "Someday McCleskey Will Be Death Penalty's Dred Scott."
The McCleskey opinion has had far-reaching effects on all kinds of equal-protection claims. The precedent impairs constitutional challenges based on widespread racial disparities not just in capital sentencing, but in the criminal-justice system more widely; it requires defendants to prove discrimination on a specific basis, providing clear evidence that they were explicitly targeted because of their race. If police officers, prosecutors, judges, or others don't openly acknowledge their own prejudices, defendants face a prohibitively high bar fighting for their Fourteenth Amendment rights in court.
If one of the justices in the majority had voted the other way, the Court may have not only overturned McCleskey's sentence, but also ruled Georgia's capital-sentencing system unconstitutionally discriminatory. Such a decision would have provided a powerful precedent for contesting the death penalty at the national level—and the racial biases of the country's broader criminal-justice system. Powell himself came to regret his decision before long, but too late to change the outcome of the case. In 1991, four years after Powell retired from the Supreme Court, his biographer asked him if, given the chance, he would change his vote in any case he had presided over. "Yes," Powell told him. "McCleskey v. Kemp."
In the decades since the case was decided, legislators and state courts have sought to address the systemic racial disparities that McCleskey acknowledged but did nothing to correct. Beginning in 1988 with the introduction of the Racial Justice Act, which would have prohibited "the imposition or the carrying out of the death penalty in a racially disproportionate pattern," Congress has proposed more than a dozen laws to counteract the ruling. None of them has passed.
Politicians have had more success at the state level. State legislatures have passed racial-justice acts in Kentucky and North Carolina (North Carolina's has since been repealed), and have abolished the death penalty outright in Illinois, Maryland, and New Hampshire, citing racial discrimination as a motivation. (Other states have banned the death penalty for different reasons.) State courts in Connecticut and Washington have also recently ruled the death penalty unconstitutional, in part on the basis of discriminatory application. It has now been abolished or overturned in 21 states, as well as in Washington, D.C., and Puerto Rico.
In four other states, governors have imposed moratoriums on executions. In California, Governor Gavin Newsom issued the latest such order in March, arguing that the death-penalty system is inherently unfair and disproportionately targets people of color and those with disabilities. The action drew immediate support from several of the 2020 Democratic presidential candidates, and Beto O'Rourke and Kamala Harris have promised that, if elected, they would suspend executions at the federal level for similar reasons.
In the past, such statements would have likely generated backlash from the national electorate. But Cassandra Stubbs, the director of the Capital Punishment Project at the ACLU, says the death penalty's unfairness has, over time, led to a rise in opposition among the public."This notion that we're going to fix the death penalty, we're going to make it less arbitrary, we're going to make it nondiscriminatory, we're going to put in place various reforms—the fact is that all of those have really failed so spectacularly," she told me.
She said the compounding evidence of discrimination and the failures to mitigate it have also prompted renewed litigation against capital punishment. Some lawsuits reached the Supreme Court via defendants who alleged that someone had acted with discriminatory intent toward them—in line with the precedent that McCleskey set—and the justices voted to overturn a number of individual death sentences in those cases. These decisions reflect a larger shift in the Court's capital-punishment jurisprudence in recent decades; with Justice Anthony Kennedy as a frequent swing vote, a series of prominent decisions limited the applications of the death penalty.
The Court has "never revisited its shameful holding" in McCleskey, Stubbs has written. But, she told me, it "is certainly a vulnerable precedent when you line it up next to other decisions that they've issued in recent years." And even with Kennedy's departure from the Court, the addition of the conservative justices Neil Gorsuch and Brett Kavanaugh, and the Court's apparent change in position on the death penalty overall, Stubbs argued, "I don't think it's fair to say that we've lost a majority of Supreme Court justices who are concerned about bias."
Three of the Court's conservative members have already joined their liberal peers in voicing unease about discrimination in individual capital cases: John Roberts condemned the use of racist arguments in court when writing for the majority in a 2016 case that overturned a capital sentence, and during arguments in Flowers v. Mississippi, Samuel Alito said that "the history of the case prior to this trial is very troubling" and "is cause for concern." Kavanaugh directed a series of pointed questions toward the Mississippi attorney general that suggested he was sympathetic to Flowers's case. Gorsuch will soon have an opportunity to share his own in-depth thoughts on the alleged racial discrimination in Flowers when the Court delivers its opinion.
But even if they agree that a biased prosecutor repeatedly discriminated against jurors on the basis of race, the Court's conservative justices may also believe, as the McCleskey majority did, that general disparities in the criminal-justice system cannot alone prove unconstitutional discrimination in individual cases. The justices don't seem eager to reconsider the latter point. The Court had two opportunities to revisit McCleskey in 2017, when it received petitions for cases arguing that a statistical study demonstrated that racial considerations had created unconstitutional bias in Oklahoma capital-sentencing judgments. But this January, the justices declined to hear arguments in either case.