This Isn't Going According to Plan for Kirsten Gillibrand
The senator from New York is a battle-tested campaigner who thrives as the underdog. But 2020 is proving to be a much tougher challenge than she thought.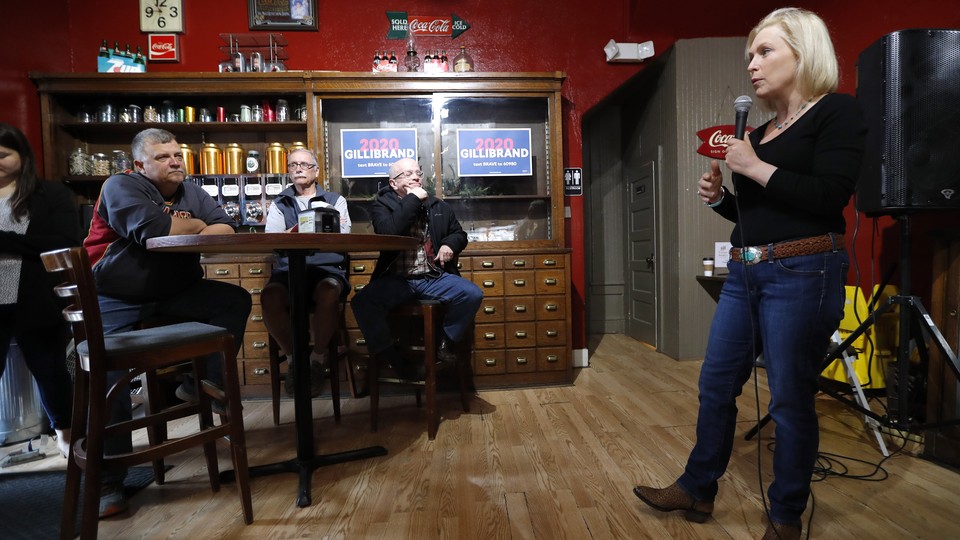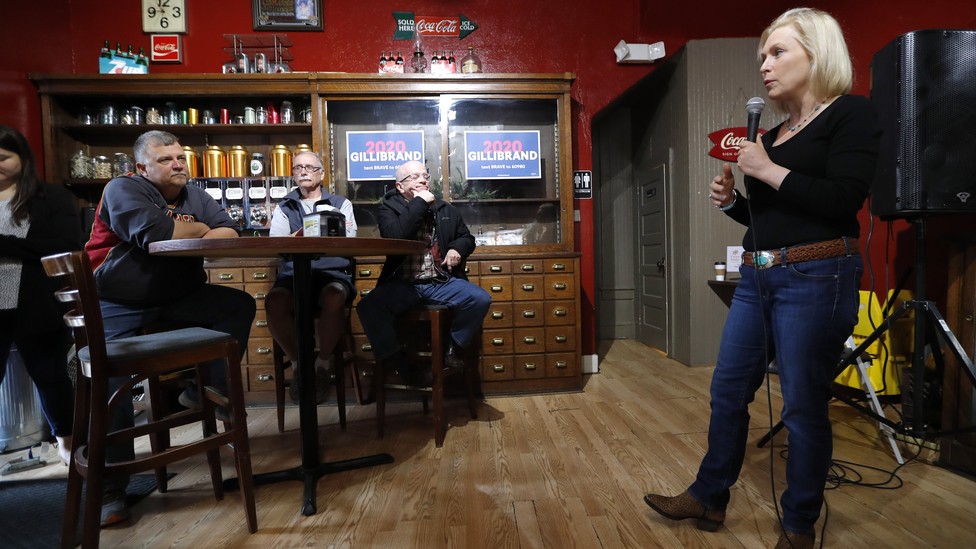 DES MOINES—Isaac Rosenberg is stumped. What is it about Kirsten Gillibrand that makes people love to hate her, the rush of coverage eager to point out how her presidential campaign has underperformed?
Maybe, Rosenberg says, "it's because America isn't used to such an opinionated and strong woman."
Rosenberg doesn't get it. They hit it off. Rosenberg likes her style—in politics, and in fashion. They'd just done their makeup together upstairs. "I like a full, pink lip; she likes a red lip," Rosenberg tells me.
We were standing in Blazing Saddle, a gay bar in the East Village neighborhood here. Rosenberg had on a white top exposing a bare midriff, and a flowing white skirt that people in the crowd had to be careful not to step on. Rosenberg is better known as the drag queen Vana, and is one of the senator's biggest fans in Iowa.
Or, at least at this point, one of her very few big fans in Iowa.
This isn't going well for Gillibrand. She has failed at some basics. For someone who's always been a voracious fundraiser, she raised just $3 million in the first quarter of the year, less than half of what South Bend, Indiana, Mayor Pete Buttigieg raised. And she was weeks behind the self-help author Marianne Williamson and the automation alarmist Andrew Yang in getting the 65,000 donors needed to guarantee her a spot on the Democratic debate stage later this month. (Her campaign announced she finally passed that mark last weekend.)
Gillibrand is a United States senator from New York, and this is the best she can do. A mess, maybe. But it's no more of a mess than at least a dozen other candidates who are underperforming just as much, or worse. If all the candidates who, like Gillibrand, haven't broken 2 percent in the polls were subject to as much coverage about how terribly they were doing, there wouldn't be room for coverage of anything else.
She and her aides say it's not as bad as it seems: They think the race will look different in the fall. That's when most of her compatriots in the zero to 1 percent range will likely run out of campaign cash and be forced to drop out. Meanwhile, she'll be hanging in there with the $10 million nest egg she transferred from her Senate account—more than most of the lesser-known candidates are going to raise during their entire presidential campaign—on top of whatever she raises in between. In a smaller field, she's confident that she'll stand out more, and her won't-ever-stop determination is going to get her there. "As long as she's got money for a bus ticket in Iowa, she's in it to win it," said a person close to her campaign who asked not to be named to discuss internal campaign strategy. In a primary that will have already seemingly gone on forever, the theory goes, she'll be fresh but also seasoned, and it won't matter that she's struggled to break through so far.
"There's a national narrative ... that I think is unusual, but I will overcome that too," Gillibrand told me, in a hotel conference room she commandeered here for an interview about trying to make sense of this primary process. "Whatever the rules of the road are, I play by the rules, and I figure it out."
---
In the past, Gillibrand has figured it out. Thirteen years ago, she ran for a House seat no one thought she could win and squeaked by on the force of her insistence—and a leaked 911 call of the incumbent's wife claiming he was "knocking her around the house." Ten years ago, she was appointed to Hillary Clinton's old Senate seat, when basically everyone in New York politics thought Gillibrand was a joke.
Since then, Gillibrand has won more votes in a New York election than anyone else in history, and was an effective inside player on several of the very few legislative battles that have actually gone the Democrats' way in the past decade, including ending Don't Ask, Don't Tell; passing the 9/11 health bill; and taking on sexual assault in the military.
"I win people over not only with sincerity and authenticity, but with a determination that they don't see in other people," she said. "People yes them to death. I don't yes anyone to death. I actually come up with substantive solutions and then I pass them."
This is the story Gillibrand tells about herself, and she tells it consistently: "I have always been underestimated—not only by potential opponents, but by the media," she said in a 2010 interview, right after she'd dispatched what seemed likely to be a serious primary challenge from a former representative. "It will be the tale of the tortoise versus the hare, and I am the tortoise. Every campaign I've ever had, it's always been part of my story, and I was not helped by many people who should have helped me," she told me when we sat down briefly in April at a Friendly's outside Concord, New Hampshire. "I am an underdog, and I've always been in every race I've ever had, and I win people over based on the merits," she told me last week in Cedar Rapids, Iowa.
But this is a presidential race, with polls that at this point reflect cable-news coverage more than they reflect campaigning, donors she's always done well with who aren't writing her checks, and a political press corps that has more than enough other candidates to keep track of. By the time she's aiming to be a factor, the major lines of the race might already be set, and it might be too late for anyone new. Most other campaigns have already written her off, convinced that voters who never seemed interested aren't going to suddenly start looking at her.
---
Gillibrand had given a speech at Blazing Saddle and then headed behind the bar. At one point, she poured us both glasses of Jack Daniel's. "We're having it on the rocks so that we're civilized. We're not doing shots," she told me, and when I pointed out that she was cheating when she put her glass down to move on while leaving me with mine, she took the glass out of my hand and took a sip. "I won't let you drink alone," she said. From there, she was off to shake more hands in the bar, pet a dog that she spotted while a man told her he was a single-issue voter on net neutrality, and then make her way outside to the "silent disco," dancing with headphones on while a bubble machine sprayed the crowd. The next morning, at an appearance with a book club hosted by the vice chair of the Iowa Democratic Party at the YMCA a few blocks away from the bar, only about 50 people showed up, including three young girls whom she gathered around her to read them a chapter from her children's book.
The potential reasons her campaign hasn't caught on are seemingly endless. People working with her campaign acknowledge that she clearly underestimated how much her being out front in calling for Al Franken to resign from the Senate was going to haunt her—even though that was a year and a half ago, and despite the fact that all the other senators in the race called for him to go too. Among primary voters and partisan media outlets that put a premium on purity, no one is letting go of her past pro-gun or anti-immigrant positions. The media spotlight she gets in New York and Washington only makes it more shocking when insiders in those cities realize she's largely unknown to almost everyone else.
Gillibrand claims to be not surprised that big donors haven't been as supportive as she would have wanted. She claims to be not surprised that she's been slow to gain a following. She claims to be not surprised that she seems stuck in a time loop, with almost every event and interview including questions about Franken and how she's changed her position on gun control since running in her first House race. "They don't know me," she reasons, so they're going for the easy attacks on her, but "once I get the chance to speak about who I am, what I've done, and what I intend to do, I believe the questions will change, and what people know about me will change."
Among her supporters, though, there's a growing sense of nervous impatience. "This is all a game of Chutes and Ladders. There are a lot of ladders that are in front of her that I believe will let her climb," Jon Reinish, a former aide who is not working with the campaign, told me. That said, Reinish added, "it is perplexing and surprising and bedeviling to me that it has taken so long to get traction that I certainly expected to see sooner."
Seeing Buttigieg light up the internet in March for an interview in which he briefly spoke in Norwegian "was an awakening," another person close to the campaign told me. Gillibrand learned Mandarin in college, had studied in China, and had occasionally whipped out a few phrases on the trail, but neither she nor anyone who worked for her thought that was worth harping on. "Thinking about that becomes more important than [visiting Iowa's] 99 counties, all the shoe-leather campaigning," the person close to the campaign told me. "That's a massive change." They had been sending her to restaurants in Iowa and New Hampshire, and for the first few months, the most that earned her was a viral moment of the kind the campaign didn't want, of a woman who pushed past her when she was speaking with a small crowd at an Iowa restaurant, saying, "Sorry, I'm just trying to get some ranch." (Gillibrand immediately embraced the joke, and at the YMCA book-club event, happily signed a bottle of salad dressing that a man handed her.)
But in the time it took them to realize that, other candidates had started to solidify their personas and their reasons for running. Elizabeth Warren has a plan for everything. Bernie Sanders wants a revolution. Joe Biden wants to get America back to a calmer time. Buttigieg is a smart young man, and Beto O'Rourke is an inspiring young man. Jay Inslee wants to save the planet. The list goes on. Yet rather than being identified as the champion of women, or the crusader for reproductive rights or gay rights, she's becoming known as the one who can't break through.
Recognizing that she needs something to help her break through is one thing. Solving that problem is another. It's hard, even as Gillibrand and her aides prepare for the first Democratic debate, to plan for a viral moment or a national splash. That's why she rushed to Georgia in May after the state passed a restrictive abortion law, and why she's pushing so hard to make a rallying cry out of the Fox News anchor Chris Wallace's saying she was "not very polite" to him at a town hall. Others sympathetic to Gillibrand worry that her campaign's strategy of trying to get media coverage by having her be the fun one in the race—arm wrestling, hanging out with drag queens, taking reporters to spin classes—has undercut her as a serious candidate whom people can imagine in the Oval Office. Maybe the skills that allowed her to outmaneuver everyone who came at her in New York by mastering backroom power plays, or that turned her into a Daily Show favorite, just don't translate.
---
What many had expected was for Gillibrand to blast into the race as the candidate of women's empowerment, seizing on the #MeToo movement and the greater moment of female activism that has been driving Democratic victories. That's tough in a race with six female candidates, including three other prominent female senators, but it's also a theme that Gillibrand has largely left alone until now, deciding that because people are so concerned with electability, she'd focus instead on how she's been able to win in tough districts and get bills passed.
A turn started coming last Sunday, at the major state Democratic Party event in Cedar Rapids.
"Women are on fire in America today. We have marched, we have organized, we have run for office, and we have won," Gillibrand shouted, trying for the kind of rousing speech she doesn't tend to do all that well. "Whether it's the everyday acts of resilience or the big, bold moments of resistance, women are taking a stand."
The 19 candidates at the event each got five minutes at the microphone. She was one of the few who got the crowd cheering, telling them, "Now is the time to fight like hell!" Suddenly, she had an actual cause, a reason to be in the race. "To the pundits who still say, 'Can a woman really win?' Ye-es," she said, drawing out the word mockingly, "of course we can." Afterward, she told me, "I wanted a bold statement of who I am and what I believe," and that's why her speech built up to: "Imagine what we could achieve with a working mother in the White House instead of a misogynist." We'll see more of this, Gillibrand and her aides say, and her fans say they're ready for it.
"Her breakthrough moments in the race have been about being an unapologetic feminist at a time where women, especially the Democratic base, but all around the country, are concerned with the role misogyny is playing in our everyday lives right now," said Ilyse Hogue, the president of NARAL Pro-Choice America. A friend of Gillibrand's, she told me she's always been impressed by the senator's ability to shine a light on women's issues that would otherwise have been ignored.
I asked people who have worked for and around Gillibrand what it is that makes people not like her. The answers all included some mention of how much of a striver she is and how clear her ambition is—a complaint laced with notes of sexism that critics have had about her for years, though particularly weird in a presidential race, in which over-the-top ambition and ego are prerequisites. So I asked Gillibrand herself what she thinks it is.
Instead of getting into the frustration that is clearly there, she answered in the upbeat, earnest, very on-message mode she flips into as soon as she sees a microphone.
"I don't know," she said. "I just know that I will prove myself over time, and I know that I can win and I will win. I just have to do what I do, which is campaign directly."
The frustration has started to seep out beyond her campaign headquarters. Last weekend, after an event in a park outside Cedar Rapids where Inslee had just made his pitch about tackling climate change, Iowa State Representative Liz Bennett and I started chatting about the race. Gillibrand was the candidate she brought up first. They'd met a few weeks earlier, but there's no way she'll vote for Gillibrand, Bennett told me. She's torn between supporting Sanders again or moving over to Warren. But she thinks Gillibrand is being unfairly dismissed as a "pretty, upper-class New Yorker."
Other reviews have been similar. "Smart and wonky—and passionate about civil rights" was the assessment of the Des Moines Register's Kathie Obradovich this week after the senator came in for an editorial-board interview. Obradovich added, "Gillibrand also showed a gift for friendly approachability that should serve her well in the retail political arena that defines the Iowa caucuses."
At the YMCA, Gillibrand stayed behind to sign books while simultaneously balancing a baby she was holding to give the mother a break. "Your voice matters!" she wrote in one. "Your voice really matters!" she wrote in the next one. "Your voice truly matters!" she wrote in the one after that. "Be heard!" she wrote in the last one.
Will anyone hear her voice?