Joe Biden's Tell on Abortion
The 2020 Democratic front-runner opposes federal funding for the procedure, in stark contrast to his rivals.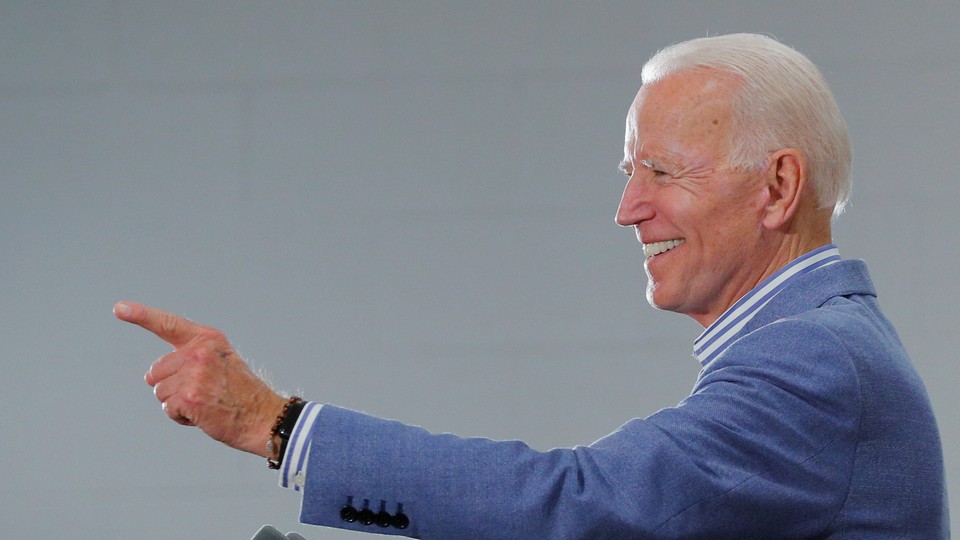 Joe Biden has a subtle move he sometimes uses when speaking to voters—call it the "Catholic schoolboy play." He might be accepting an award or speaking at a campaign event; maybe someone makes a joke, or yells something sexually suggestive. And then Biden crosses himself. It's a small gesture, sometimes meant to be funny, sometimes earnest. But it's a signal. Whatever accusations people may make about his nearly five-decade career in Washington or his penchant for uninvited back rubs, Biden wants everyone to know that he's still Uncle Joe, the good Catholic boy from Scranton, Pennsylvania.
This strategy is one way to interpret Biden's confirmation this morning, in response to questions from NBC News, that he still supports the Hyde Amendment, a decades-old ban on federal funding for most abortions through programs such as Medicaid. As a senator, Biden voted repeatedly to keep this ban in place; in the 1990s, as NBC reported, he wrote a letter to constituents affirming that Americans who oppose abortions should not have to pay for them. The other leading 2020 Democratic candidates have taken the opposite stance, calling for Hyde to be repealed, along with other expansions of abortion rights. Perhaps in response to the Democratic field's move to the left, Biden has recently indicated that he might be willing to protect abortion rights with federal legislation.
While most voters likely do not recognize the term "Hyde Amendment," the issue of using tax dollars to pay for abortion is fairly clear-cut. Even people who support legal abortion, including Democrats, may not believe the federal government should be paying for it. Biden's continued support for a ban on federal funding for abortion sends a different message: This is the moderate Democrat who voters have known for decades. Abortion-rights advocacy groups are already calling out Biden's position on Hyde, but unlike other 2020 Democrats, he is not prioritizing to those groups' causes. In part by emphasizing his fight for "the soul of the nation," as he has put it, over and above divisive social issues, Biden is making a bet that he can appeal to the widest range of voters in a 2020 general election.
The Democratic Party has only recently united behind a push to repeal the ban on federal funding for abortion. 2016 was the first year the party included the Hyde Amendment in its presidential platform; Hillary Clinton called for its repeal on the campaign trail. So far, this has been the consensus position among the 2020 Democratic candidates. Those who have led the debate about abortion, including Senators Kirsten Gillibrand, Kamala Harris, Elizabeth Warren, and Cory Booker, have all said they would repeal Hyde. As Gillibrand recently told me, these Democrats see abortion rights as a winning issue in 2020.
Unlike some of the other candidates, Biden has not made abortion a front-and-center issue for his campaign. In fact, he has not made any of his positions on abortion all that clear. In a recent interview, he offered conditional support for federal legislation that would protect abortion rights, and in a videotaped encounter with an ACLU volunteer, he appeared to say he would support Hyde's repeal. This back-and-forth may suggest a lack of definitive strategy around this issue in his campaign: His positions on abortion have mostly come out reactively, in response to interview questions and campaign-trail confrontations. For now, Biden seems to be sticking with his longtime posture towards abortion: Support basic abortion rights without pushing for their expansion.
This position matches up with a significant portion of Democratic voters, many of whom do not support federally funded abortion. A 2016 poll from Politico and Harvard University asked voters whether they think Medicaid, the federal program that pays for health care for people with low incomes, should cover abortions. Just 36 percent of likely voters said yes; 57 percent of self-identified Clinton voters said yes.
To abortion-rights advocacy groups in Washington, though, supporting the Hyde Amendment is anathema. Progressives have long argued that Hyde is effectively a form of discrimination, making abortion inaccessible to poor women and many women of color who get their health care through Medicaid. Several of these groups moved quickly to condemn Biden's position. "At a time when reproductive rights are under consistent attack, it's unacceptable that a major Democratic nominee supports the Hyde Amendment," read a statement from Emily's List, which supports female, pro-abortion-rights candidates for office. Planned Parenthood Action Fund, the advocacy arm of the clinic network, wrote, "Supporting Hyde isn't good policy or politics. We strongly encourage Joe Biden to speak to the people whose lives are impacted by this discriminatory policy and reevaluate his position."
With the first Democratic debates three weeks away, Biden may be vulnerable to criticism from competitors who are vying to knock him out of his front-runner status by attacking him from the left. Biden's opponents may use abortion and other issues, such as his refusal to apologize for his treatment of Anita Hill during Clarence Thomas's Supreme Court confirmation hearings in 1991, to make him seem out of touch with the current political moment.
But so far, Biden has continued a strategy of rolling with the moment and trying to avoid self-immolation over these issues. He entered this race hoping he could sell himself as the candidate who is about something bigger than petty politics. His self-crafted brand as a politician, including on the issue of abortion, has long been that of a reasonable moderate; it's not surprising that his presidential bid would mirror those impulses. Because he came in with strong name recognition and a long record, Biden could set his sights on the general election from the start of his candidacy. All he has to do is survive a primary filled with progressive candidates and advocacy groups who are taking direct aim at his campaign, pushing for anything but moderation in 2020.