The Atlantic Politics & Policy Daily: Greener Pastures
Jay Inslee tried to make a splash as a single-issue candidate—now he knows it's time to expand beyond climate change. Plus: an immigration attorney on what she saw at the border.
What We're Watching Today
It's Tuesday, June 25.
‣ Democratic presidential candidates will face off in two nights of debates starting tomorrow, and political rookies will share a stage with elected officials who have decades of experience.
We'll be back in your inbox after each debate to help you catch up (and differentiate).
Here's what else we're following:
(Brynn Anderson / AP)
Captain Planet: Washington Governor Jay Inslee has pitched himself as the green choice in the Democratic presidential primary, centering his campaign on the rising threat of climate change. But as he told Edward-Isaac Dovere, he's got "a whole nother story to tell," one about his time as a successful and well-liked governor with a string of progressive accomplishments. Has Inslee boxed himself in as a single-issue candidate? And is it too late to get out?
Children at the Border: As chaos consumes the top leadership of the Customs and Border Protection agency, and following reports of migrant children being held in harsh conditions at facilities near the U.S.-Mexico border, Lizzie O'Leary spoke with Elora Mukherjee, an immigration attorney who recently visited a detention facility in Texas. What she said she saw: "Children were dirty, they were scared, and they were hungry."
What Are You Gonna Do?: Europe's big three players—the U.K., France, and Germany—firmly oppose President Donald Trump's aggressive approach toward Iran. But as the crisis itself has illuminated, "despite their combined economic weight and presence on the world stage, Europe's principal players have proved largely powerless to do anything in the face of raw American hegemony," reports Tom Mctague.
Nothing to Xi: Hopes are high that when Trump meets with Chinese President Xi Jinping at the G20 summit this weekend, it'll be the beginning of the end for the trade dispute that's engulfed their two countries. But even if the crisis is resolved, the trade war has already changed the world, writes Michael Schuman: "Deteriorating ties between the two countries are influencing everything from grand geopolitical strategy to our daily lives."
---
Snapshot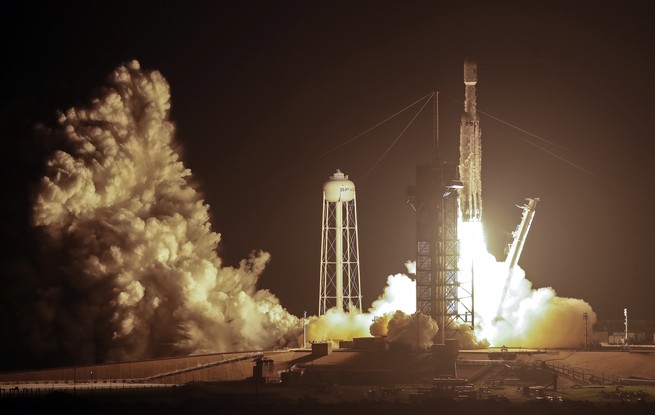 (John Raoux / AP)
A SpaceX Falcon heavy rocket lifts off from pad 39A at the Kennedy Space Center in Cape Canaveral, Florida.
---
Ideas From The Atlantic
The Forgotten History of Gay Entrapment (George Chauncey)
"The tens of thousands of New Yorkers who were arrested for cruising in the 45 years before Stonewall have been even more thoroughly forgotten than the movement that fought on their behalf." → Read on
Not Even Trump Has Any Idea What His Iran Policy Is (David A. Graham)
"Presidents override the judgment of their aides all the time. The problem is that Trump doesn't appear to possess the knowledge or judgment to formulate a policy independent of their advice, because he never bothered to learn about Iran in the first place." → Read on
Chris Christie's Scathing Indictment (Conor Friedersdorf)
"[The former New Jersey governor] wants to be clear: He supports Donald J. Trump. But don't you dare presume that he supports what Trump says or does … Doesn't that make him a good guy?"  → Read on
An Electoral Time Machine Helps Republicans Keep Winning (Robert P. Jones)"Yes, it is possible Trump gets reelected. While Democrats have the long-term demographic winds at their back, Republicans have a time machine: a consistent skew in ethnic and religious voter-turnout patterns that, in national elections, has the effect of turning back the demographic clock eight or more years."  → Read on
---
What Else We're Reading
‣ What Pete Buttigieg Has and Hasn't Done About Homelesness in South Bend (Charles Bethea, The New Yorker) (🔒Paywall)
‣ Dangerous Conditions May Exist in This Area (Katherine Webb-Hehn, Scalawag)
‣ Julián Castro Can't Catch a Break (Nolan D. McCaskill, Politico)
---
About us: This newsletter is a daily effort from The Atlantic's politics writers: Elaine Godfrey, Madeleine Carlisle, and Olivia Paschal. It's edited by Shan Wang.