Jay Inslee: 'I Got a Whole Nother Story to Tell'
The Washington governor realizes that voters care about more than just climate change.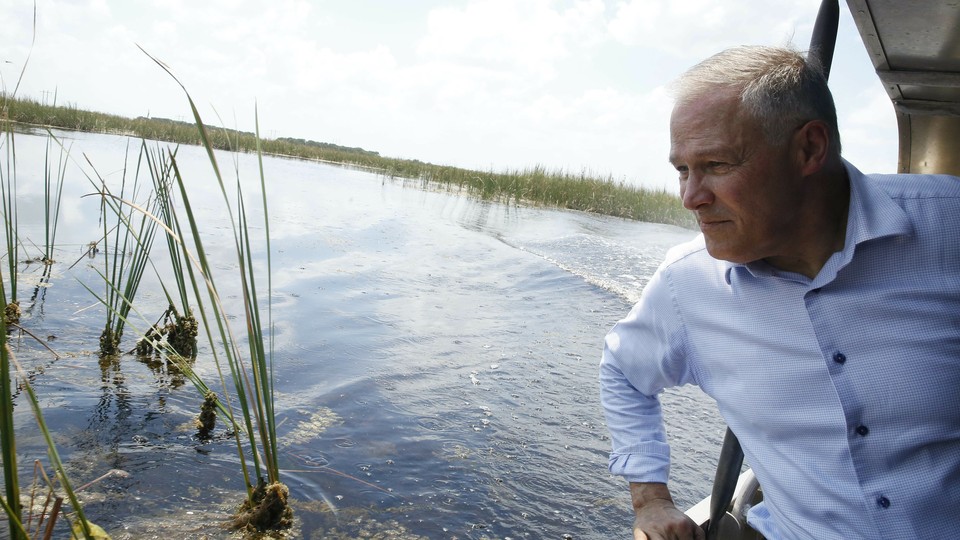 On Monday afternoon in the Everglades, Governor Jay Inslee of Washington was on a boat, using his phone to take a photo of an alligator. He was on his way to unveil his latest 2020 campaign initiative: a plan to completely end America's use of fossil fuels—very on-brand for the Democratic candidate who's all about climate change. Come Wednesday night, when he takes the stage for the first Democratic debates in Miami, Inslee will try to expand that brand.
Running as the Climate Guy helped Inslee make a splash in a primary field crowded with almost every type of Democrat. He picked a losing fight with the Democratic National Committee over its refusal to host a climate-change-only debate, a fight that has helped him win attention among environmentalists and stick-it-to-the-man enthusiasts alike. But Inslee knows that for as much as primary voters say they care about climate change, he'd probably have trouble getting them to support a single-issue presidential nominee, particularly in a field as diverse as this one.
So the Climate Guy knows it's time to branch out. Senator Elizabeth Warren of Massachusetts is the only top-polling candidate who'll be onstage with Inslee Wednesday night, and his campaign believes he has an opportunity to stand out, one that he wouldn't were he sharing the stage with former Vice President Joe Biden, Senator Bernie Sanders of Vermont, Senator Kamala Harris of California, and South Bend, Indiana, Mayor Pete Buttigieg, who are all slated for Thursday night's debate.
"Climate change is not a single issue, number one," Inslee told me, sitting at a picnic table in a park outside Cedar Rapids, Iowa, recently as he ticked through climate change's effects on health, national security, food, and more. "And number two, I got a whole nother story to tell. Which is one of the most, if not the most, successful governors—with the most successful economy, with the most progressive successes. I got notches on my belt. I got bills to pass, and jobs I've created. And every single thing that the other aspirants have talked about, almost everything I can think of, I've done. So every speech they've given, I've passed a bill. I put somebody to work. I've financed a college education. I got the Dreamers paid for. I've done criminal-justice reform. I've even made it safe for composting after you've passed from this Earth."
Inslee has been practicing these arguments. Campaigning in South Carolina last weekend, Inslee used his short speech at the Friday-evening "fish fry" showcase of the field to remind potential voters that when he was in the House, he voted against the Iraq War. On Saturday afternoon, at the state Democratic Party convention, he centered on his vote for the assault-weapons ban that cost him his seat in 1994 after one term. (Four years later, he won a seat in a neighboring district and returned to Congress, where he served until entering the governor's mansion in Olympia back in 2012.)
But when a campaign has so effectively formed a box for a candidate—with notables from Greenpeace to Representative Alexandria Ocasio-Cortez of New York both calling his climate plan the "gold standard"—that box can be hard to escape. In Iowa, Inslee told me he wants to "make sure that part of the narrative is accomplishment, and a can-do ability, and also the ability to get things done even with a Republican Senate." Though aides say that the "phases" of this rollout were always part of the plan, several Inslee allies told me back in December, before he announced, that they worried about him getting typecast and dismissed.
Republicans in Washington don't give Inslee as much credit as he claims for leading on laws passed on his watch, and the big moves he made this year in creating the first state public option on health care came after the Washington state legislature flipped to full Democratic control. Through it all, Inslee's argument is that he's been able to work theory into actual legislative language, to turn aspirations into bills and sign those bills into law. On that list are ways to create jobs through clean electricity and power-plant expansions—and Inslee's emphasis on the economic opportunities to be had in tackling climate change are already distinguishing him from many others in the field. But also on that list are raising teachers' salaries, establishing the highest state minimum wage in the country, extending overtime rules, mandating equal pay, and creating a new financial-aid package for state colleges.
"The Republicans would have you believe that if you grow a middle class, it'll hurt your economy; that if you believe in the power of immigration to be a positive thing in America rather than a negative thing, you'll have a bad economy," Inslee told an Iowa crowd in a speech just before we spoke. "Well, I'll tell you what we have in Washington: We have a governor who was the very first governor to stand up against Donald Trump's Muslim ban. We have a governor who has been the first to say we are welcoming Syrian refugees, we ought to do our part when we're going to have so many climate refugees in the future. I'm a governor who was one of the first to make sure our Dreamers, who are some of the most inspiring people in our state, get a college education when they need it."
Ahead of the second Democratic debates, scheduled for the end of July in Detroit, Inslee's campaign is planning to roll out policy papers drawing on his record in Washington. Expect to hear him use versions of a line that he likes, about what he's been able to get done in "the other Washington." But don't expect Inslee to move away from talking about climate change all the time, Jared Leopold, Inslee's communications adviser, told me yesterday. Whatever other position papers may come, none will reflect the time and care that produced his 15,000-word climate-change plan released in May.
"Jay is a climate-first candidate. We're making the point clearly that you can both prioritize and multitask," Leopold said.
State Senator Rob Hogg of Iowa hosted Inslee for the event in the park, co-sponsored by the Sunrise Movement (the people behind the Green New Deal, which Inslee was an early backer of). Hogg told me he thinks the effects that people have already seen from climate change are the reason that primary voters, including those in the first caucus state—his—regularly list the environment as a top issue in polls. "All these issues are important," he said. "Everything else is like rearranging the deck chairs on the Titanic." Hogg said he's seen that play out in real time in his district since the 2008 floods in Cedar Rapids, which displaced 10,000 people over 10 square miles and resulted in the sixth-largest federal-disaster declaration in history. "When all those people lost their homes, their businesses, and their churches, all those things they cared about before didn't matter as much."
Inslee himself tried to bring the threads together, appealing to Iowans, saying Trump is hitting them in two ways: not dealing with the climate change that's killing their crops, and creating trade wars that make it harder to sell what they do grow.
Last Friday, in a conference call ahead of the debate, Leopold did some very optimistic spinning, invoking Jimmy Carter as the model for the governor's campaign. Carter, Leopold argued, was also a nationally unknown governor at 1 percent in the polls whose record of getting things done appealed to people, and who then went on to win the nomination and the White House.
Inslee won't stick it to the DNC for passing on a climate-only debate this Wednesday—though he still thinks it's making a mistake by not forcing candidates to defend the details of their respective climate plans. And it's not like he's going to avoid talking climate change on the debate stage, even as he tries to focus on the rest of his record.
On Monday in the Everglades, Inslee said he'd been watching Mike Pence on CNN the day before as the vice president dodged any real answers about what causes climate change, or whether the administration will address it.
"Wake up and smell the carbon dioxide, Mike," Inslee said.