The Atlantic Politics & Policy Daily: About Last Night
The Harris-Biden confrontation that laid bare the country's evolution. Plus: How Trump's orbit reacted to E. Jean Carroll's account of being sexually assaulted by him.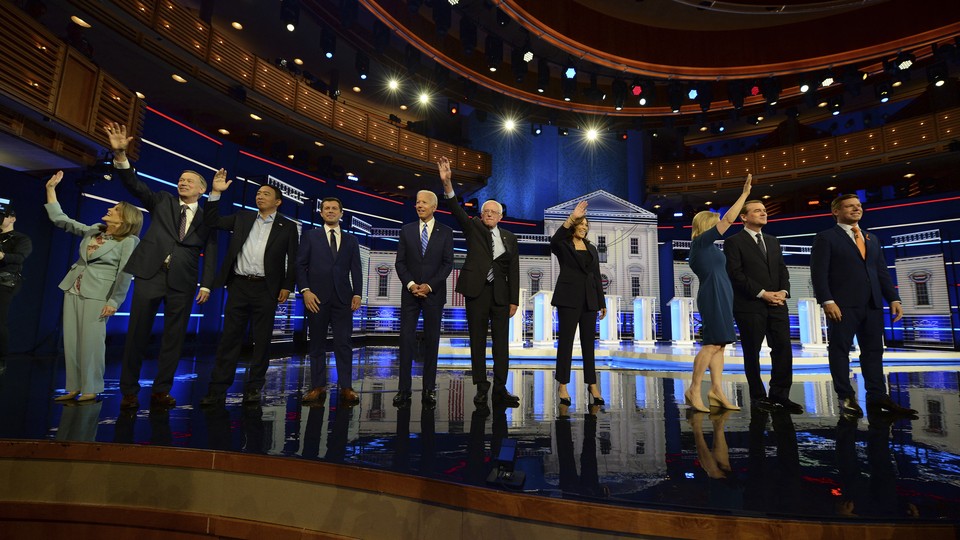 Welcome to a special Democratic-debate issue of the Atlantic's signature politics newsletter.

Were you forwarded this email? Sign yourself up here.
---
What We're Watching Today
It's Friday, June 28.​
(AP / Arsh Raziuddin / The Atlantic)
Ten more Democratic presidential contenders took the stage to persuade people to vote for them (or if you're Marianne Williamson, to love everyone, but maybe also vote for her).
Meanwhile, President Donald Trump, who was 8,000 miles away at the G20 summit in Japan, was invoked so frequently that he "might as well have been gripping a podium of his own."
We sorted through last night's flashes of brilliance and wackiness, and hand out a few more awards for this punchier second round of Democratic debates—which featured fewer kumbaya moments and more tussling over the direction of the party.
First, a few notes on what else we're following:
'A Collective Shrug': Trump's orbit reacted to author E. Jean Carroll's accusation that he assaulted her more than 20 years ago with "radical indifference," reports Elaina Plott. "We're just kind of numb to it all at this point," a former official told her. (Carroll is at least the 22nd woman to accuse the president of sexual misconduct.)
Around the World In ...: On the first day of the G20 summit in Osaka yesterday, Trump informally met with Russian President Vladimir Putin, and is set to meet with Chinese President Xi Jinping today. The end of the fierce trade war between the U.S. and China hangs in the balance.
What a Day: Yesterday's Supreme Court census ruling and the second Democratic debate wrestled with the same crucial question: How will America respond to the demographic, social, and economic changes reshaping the country?
A Goodbye: It's our last day at The Atlantic and our last day writing this newsletter. Thanks for letting us fill your inboxes with politics and puns this past year! We'll miss you all. Our politics writer Elaine Godfrey will be back in the driver's seat next week.
---
🏆NIGHT TWO RECAP AWARDS
(Charlie Neibergall / John Locher / Paul Sancya / AP / The Atlantic)
‣ A Moment Everyone Is Talking About: Senator Kamala Harris went after former Vice President Joe Biden for his recent comments about working with segregationist senators, and for his views on federally mandated busing to integrate public schools. Biden tried to argue that she mischaracterized his statements. The confrontation laid bare the Democratic Party's—and the nation's—evolution, writes Adam Harris. Biden's weaknesses, David Frum argues, should have the Democratic Party worried.
Biden closed the testy exchange with Harris by saying, "My time is up. I'm sorry." Though he meant it in reference to the debate clock, Biden's comment can be read as a poignant reflection of his own aging worldview in a political zeitgeist that seems to be moving past him, argues David A. Graham.
‣ A Mostly Failed Effort to Put Daylight Between Candidates: Every person onstage appeared to indicate they would extend health care to undocumented immigrants.
+ Runner-up: In a night of clear differences, everyone agreed: They'd call European leaders and say, "We're still your friends."
+ Relatedly, the Joe Biden Award for "What Did He Just Say?!" goes to … Biden, who seemed to suggest jailing insurance executives for their role in the opioid crisis, in response to a question about covering undocumented immigrants. (The far bigger culprit is Big Pharma.)
‣ The Bernie Sanders Award for Getting Everyone to Mention Socialism 🌹: The more moderate men onstage got feisty, especially on the question of reforming health care. In response to a direct question from moderators, John Hickenlooper criticized the feasibility of Medicare for All and the Green New Deal. Senator Michael Bennet of Colorado, who said he "agreed with Bernie" on the goal of universal health care, criticized his plans to get to Medicare for All.
+ Runner-up: Kirsten Gillibrand jumped in to say the debate was really "between capitalism on the one hand and greed on the other."
+ Lifetime Achievement Award goes to ... Sanders, who, writes Elaine Godfrey, has moved the Democrats' Overton window more than any other candidate on the stage. (But how do real voters actually view democratic socialism? Here's what DSA members in Iowa think.)
‣ The She-Really-Did-Her-Homework Award: Kamala Harris stood out like the healthiest thumb you've ever seen, with a polished rebuke of her counterparts' cross talk and a pivot to substantive criticism of the president, writes Russell Berman. However, she did have a stumble, saying after the debate that she misinterpreted a question and didn't mean to raise her hand in support of eliminating private insurance.
(Wilfredo Lee / AP)
‣ The Big-Dad-Energy Award of Men Having It All: Multiple male candidates played the "dad card," while none of the female candidates mentioned being mothers. Imagine how this particular joke would've landed if a woman had tried it, writes Ashley Fetters.
‣ The Strongest Invocation of Religion Beyond "God Bless America": Pete Buttigieg went after Republicans for religious hypocrisy: "For a party that associates itself with Christianity, to say that … God would condone putting children in cages, has lost all claim to ever use religious language again."
‣ A Green New Deal Cameo: Harris became the first candidate of either night to endorse the reportedly-more-popular-than-a-carbon-tax Green New Deal onstage (but when it came to policy specifics, something something, the threat of Donald Trump).
+ Runner-up: Buttigieg gave "cogent explanations" of his "carbon-tax proposal," writes Robinson Meyer.
‣ The Atlantic Politics & Policy Award for Cheesiest Catchphrases: You know we love a good play on words, and Eric Swalwell, the long-shot representative from California, brought his best (worst) ones. Besides his Washington-is-smellier-than-a-diaper joke, when asked about his approach to foreign policy, he said: "We're breaking up with Russia and making up with NATO." Forget TV, everyone just wants to be memed now.
---
📚WEEKEND READS
On the 50th Anniversary of Stonewall: Cruising in the Age of Consent (Spencer Kornhaber)
"In truth, gay male spaces—physical, digital, cultural—reflect a long and imperfect process of managing what happens when masculinity, homosexuality, and an often hostile wider society intersect. They deserve scrutiny both on their own terms and for what they reveal about the problems that gave rise to #MeToo." → Read on.
Megan Rapinoe Makes Resistance Look Effortless (Franklin Foer)
"Gather your children in front of the flatscreen and instruct them to fix their eyes on No. 15, the winger with lavender hair. Have them watch as she gallivants down the left flank and flummoxes a defender with a stutter step. Have them listen to her unguarded pregame disquisitions on tactics, Donald Trump, haute couture, and well, every facet of human existence. Tell them that Megan Rapinoe is her generation's Muhammad Ali."  → Read on.
Christ in the Camps (Caitlin Flanagan)
"We know exactly where Christ is, because he told us. He's with the sick and the jailed and the hungry. He's in those camps with those suffering children. And we need to be there, too." → Read on.
---
About us: This newsletter is a daily effort from The Atlantic's politics writers: Elaine Godfrey, Madeleine Carlisle, and Olivia Paschal. It's edited by Shan Wang.

We have many other free email newsletters on a variety of other topics. Browse the full list.