The Atlantic Politics & Policy Daily: 'And That Was My Last Hideous Man.'
President Donald Trump faces a new sexual-assault allegation. Plus: Newspaper archives are filled with Joe Biden's struggles to explain himself on race and civil rights.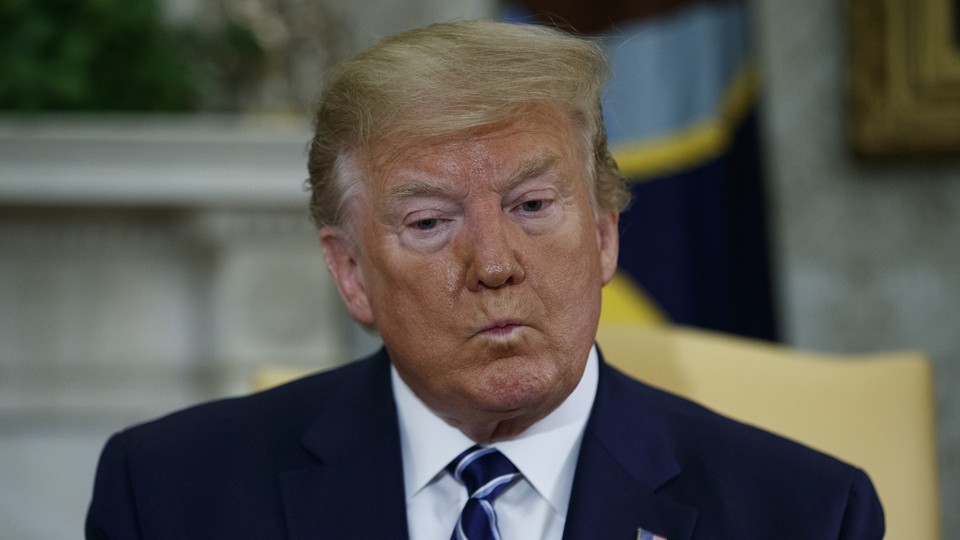 What We're Following Today
It's Friday, June 21.
‣ The writer E. Jean Carroll accused President Donald Trump of sexually assaulting her in a dressing room two decades ago, in a searing essay for New York: "I made a list of hideous men in my life. It includes the president — who assaulted me in the dressing room of Bergdorf Goodman 23 years ago."
‣ Immigration authorities will reportedly start targeting several major American cities for deportation raids, as early as Sunday.
‣ The Supreme Court ruled in a 7–2 decision that a prosecutor violated the Constitution by excluding black jurors from the trial of Curtis Flowers, a black man who was convicted of murder in 1996 (and was subsequently tried six times in the past two decades).
Here's what else we're watching:
The Iran Dilemma: The president called off a retaliatory strike against Iran on Thursday night, which had been planned after the country shot down a U.S. drone. Trump explained his thinking in a series of tweets, saying that he'd decided at the last minute that the response wasn't "proportionate." During an interview with Meet the Press, Trump said he had not given final approval for the strike, and that no war planes were currently in the air.
The president now finds himself confronted with two key questions: Is he willing to risk another war in the Middle East? And is armed intervention necessary to protect American interests?
+ Trump is apparently just as willing as President Barack Obama to make threats that destroy American credibility on the international stage, argues Kori Schake.
Looking Back: Joe Biden's comments about working with two segregationists in the Senate sparked controversy this week, but it's not the first time he's struggled to explain himself on race and civil rights. Newspaper archives are full of the former vice president's comments.
Cooler Than a Carbon Tax: A new poll suggests that Americans might prefer Green New Deal–style climate policies over a carbon tax. "It's one of several shifts, underscored by the events of the past month, that suggest a grim future for the once-optimistic plan," reports Robinson Meyer. If only someone knew exactly what the Green New Deal is offering.
---
Snapshot
(via @steveclemons on Twitter, 2:11 PM, June 21 2019)
"Off2Miami! @BernieSanders in Seat 15A Thought Bubble: 'Is she going to kick my chair? I know she's going to kick my chair! Elizabeth, don't even think of kicking my chair!' @ewarren in 16A Thought Bubble: 'I'm going to kick it the exact moment he thinks I won't."
---
Ideas From The Atlantic
AOC's Generation Doesn't Presume American Innocence (Peter Beinart)
"Whether you believe Ocasio-Cortez's terminology was appropriate or offensive, the deeper question is why it provoked such a ferocious debate. The answer: Because for the first time in decades, the left is mounting a serious challenge to American exceptionalism." → Read on.
The Military Is Not a Prop (David A. Graham)
"Pulling back the strikes wasn't a sign of shaky resolve—it was a stage-managed turn, allowing Trump to show his power by declining to exercise it, like an ancient king granting clemency only once the condemned was at the gallows." → Read on.
Religious Monuments Are Fine Now—If They're Old (Garrett Epps)
"For those scoring at home, that's Cross 7, Humanists 2—but the seven are divided among at least four and maybe five different views of how a case like this should be decided. At a minimum, the divided lineup indicates that both the high court and the lower courts will continue to struggle with public-religion cases of all kinds." → Read on.
U.S. Arms Sales to the Gulf Have Failed (Andrew Exum)
"It is not clear to me that what we've been doing over the past three decades has served U.S. interests." → Read on.
---
What Else We're Reading
‣ Biden Has Not Changed. The Politics, Culture and Mood of His Party Have. (Alexander Burns, The New York Times) (🔒 Paywall)
‣ What If Trump Won't Accept 2020 Defeat? (Natasha Bertrand and Darren Samuelsohn, Politico)
‣ 'Some Suburb of Hell': America's New Concentration Camp System (Andrea Pitzer, The New York Review of Books)
---