Don't Expect Trump's Europe Trip to Go Smoothly
The president could use his visit to distract from chaos at home. He probably won't.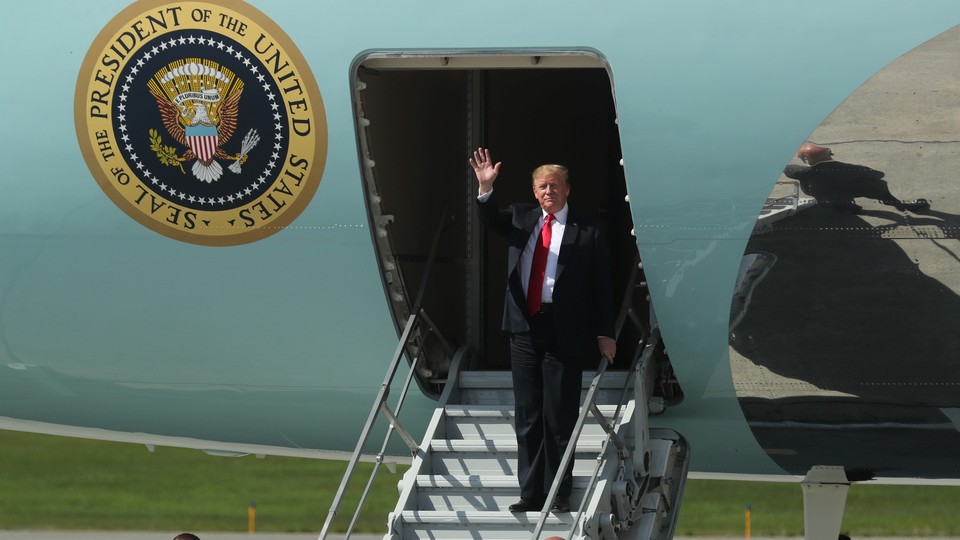 Facing troubles at home, beleaguered presidents often look abroad for a reset. Richard Nixon dashed off to the Middle East to "wage peace" as his presidency wobbled during Watergate. Bill Clinton flew to Russia and northern Europe a couple of weeks after admitting his affair with Monica Lewinsky.
President Donald Trump has taken this trusty playbook for deflecting domestic scandal and turned it inside out: When traveling overseas, Trump makes clear that he'd just as soon cannonball right back into the morass he left behind.
Next week is Trump's latest chance to ditch Chuck and Nancy, peel himself away from cable television, and present himself as a head of state operating on a bigger stage. Queen Elizabeth II will host him at a state banquet in Buckingham Palace on Monday, making him just the third U.S. president to be so honored (Barack Obama and George W. Bush being the others). Over the following days, he'll mark the 75th anniversary of D-Day at ceremonies in Britain and France, and hold face-to-face meetings with outgoing British Prime Minister Theresa May, French President Emmanuel Macron, and Irish Prime Minister Leo Varadkar.
With congressional Democrats mulling impeachment, the Europe trip should be a welcome reprieve. What's different in the Trump era is that the president doesn't necessarily want one. Seldom do Trump trips go smoothly. In past visits to Europe, he's ignited international incidents of varying degrees, insulting his hosts or threatening to unravel historic alliances. But, always, his mind seems elsewhere.
Heading into the four-day trip, the president appears squarely focused on the domestic scandals that his predecessors seemed only too happy to escape. That much was clear from his recent trip to Tokyo, where Trump toasted the new Japanese emperor at a banquet in the Imperial Palace. At different moments in his stay, he mocked Democrats for considering impeachment; tweeted that he "smiled" when the North Korean dictator Kim Jong Un insulted his potential rival in the 2020 election, Joe Biden; and boasted that he'd weathered Special Counsel Robert Mueller's Russia investigation. "No obstruction, no collusion, no nothing," Trump said at a news conference, standing beside his host, Japanese Prime Minister Shinzo Abe.
"I try to imagine how leaders of other countries might see the U.S. through President Trump," Representative Joaquin Castro, a Democrat who serves on the House Foreign Affairs Committee, said in an interview. "And they see a scattered mind."
After returning home from Japan, Trump's fixation only appeared to grow. Mueller made a rare televised appearance to discuss his findings and say his work was done. White House Press Secretary Sarah Sanders put out a statement saying Mueller had gotten on with his life and everyone else should do the same. One person who won't let it go: her boss. Talking to reporters on Thursday, Trump rehashed an eight-year-old dispute in which Mueller asked to have his membership fee refunded at Trump's golf club outside Washington. Why that matters now—or ever—wasn't clear. His anger swelled as he talked about the prospect of impeachment: "A dirty, filthy, disgusting word," he said.
Such is the president's mood on the eve of a trip meant to commemorate victory over the fascist powers. Making matters more combustible, Trump is at odds with his own foreign-policy team. He undercut his national security adviser, John Bolton, during the Tokyo trip, publicly disagreeing with him over whether recent North Korea missile tests ran afoul of United Nations resolutions.
When he lands in London on Monday, Trump will also be walking into a tense regional political environment where nationalist-populist forces are jockeying for power with more centrist groups. Trump symbolizes a nationalist wing hostile to immigration and focused on sovereignty. He has talked privately of pulling out of NATO, and upset many European leaders by withdrawing from the Paris climate agreement. He has also criticized European Union trade practices. Taken together, Trump's moves have threatened the multilateral consensus that has underpinned European security since the Second World War.
A belief inside some European capitals is that Trump is merely an aberration. Once he's gone, the thinking goes, the next president will repudiate the brand of unilateralism that this one has championed. But Trump could be in the job through the end of 2024, depending on how elections go. In the meantime, Europe is still learning how to live with America's impertinent president.
"Most Europeans are linking the peculiarities of U.S. policy to the character of Trump and would conclude that the nightmare will vanish when he leaves the power," Gérard Araud, the former French ambassador to the United States, told me.
Trump could further roil the landscape should he choose to inject himself into a fluid British-leadership struggle. May has already announced her resignation. Trump has described himself as a friend of Boris Johnson, the conservative former foreign secretary and a leading candidate to succeed May. Trump will have a chance to meet privately with Johnson and signal an endorsement, most likely at a dinner Tuesday night at the U.S. ambassador's residence. (Prince Charles and his wife, Camilla, are set to attend.) The White House would not provide a guest list.
"Will the president really begin to weigh in on the conservative-leadership contest? What will that do to a deeply divided U.K.?" asks Heather Conley, director of the Europe Program at the Center for Strategic & International Studies.
Trump has previously said he supports Brexit, Britain's impending withdrawal from the EU and a divisive issue in the country, and will certainly face huge protests in London. One of the street displays will be a 16-foot-high statue of Trump sitting on a toilet bowl, phone in hand (and, presumably, tweeting). The Labour Party leader Jeremy Corbyn is boycotting the dinner for Trump at Buckingham Palace, citing the president's "racist and misogynist rhetoric."
In a Q&A with reporters this week, Trump was noncommittal about meeting Johnson or Nigel Farage, the leader of the Brexit Party, though he didn't rule it out. "They're friends of mine, but I haven't thought about supporting them," Trump said. "Maybe it's not my business to support people. But I have a lot of respect for both of these men." A U.K. official, briefing reporters on the condition of anonymity this week, said that what the president "does in his downtime … in London is a matter for him and not for us to interfere with."
Trump's past European visits have been rocky, as have been his dealings with May and Macron. In a visit to Britain last summer, Trump unexpectedly gave an interview to a local tabloid owned by Rupert Murdoch and undermined May, praising Johnson as someone who would "make a great prime minister." Trump also told the newspaper, The Sun, that May had bungled Brexit negotiations and in doing so jeopardized a potential bilateral trade deal with the United States. Trump later apologized.
Yet he just did it again. The Sun published an interview with Trump on Friday in which he again criticized her handling of Brexit, saying she wasn't tough enough in her dealings with the European Union. "I think that the U.K. allowed the European Union to have all the cards," he told the newspaper.
He could once more put May in an awkward spot on this trip. Trump told reporters this month that he might question May about whether Britain spied on his 2016 campaign. Britain, a longtime intelligence ally of the U.S., has already dismissed such concerns as ludicrous. GCHQ, the nation's spy agency, issued a statement saying the claim should be ignored.
After his meetings with May, Trump will sit down with Macron in Normandy. Talks between the two have also proved treacherous. Before meeting Macron in France last fall, Trump criticized him for suggesting that Europe build a military counterweight to its adversaries. "Very insulting," Trump tweeted. Macron was put off by the tweets and unsure about how to respond. Should he retaliate on Twitter, or let it go? He consulted his ambassador to Washington. "My answer was 'Do nothing,'" Araud said. "Because in a Twitter battle, Trump has an escalation dominance. He will say whatever he wants, while we have some decency on our side."
Inside the White House, preparing for Trump's trips has never been easy. Staff members vie for control of speech drafts, and yet Trump's instinct is to forget his whereabouts and speak to his core voters back home, who applaud his message that Europe needs to pay more for defense, a former administration official told me. A goal in preparing Trump's various foreign speeches has been to deliver that message without leaving long-standing allies utterly offended, said this person, who requested anonymity to speak freely about internal White House discussions.
No one on either side of the Atlantic is expecting much to come from Trump's visit. As a caretaker prime minister, May isn't in a position to make deals she can enforce. Trump will stay a couple of nights at his resort in Ireland, a chance to play a round or two of golf.
If nothing tangible comes out of the visit, some hope that the D-Day ceremonies will at least make an impression on Trump and show him the power of collaborative, multinational action. They'd like to see his attention pivot, at least for a moment, from the political squabbles at home to the larger meaning of Normandy.
Germany was defeated in World War II and then rebuilt, in part through the Marshall Plan undertaken by the U.S. It has since been a close ally and a democratic bulwark in Europe. Thousands of Canadians fought on D-Day. Britain was the staging ground for allied landings that would soon wrench Europe from Hitler's grasp. All are part of NATO, an alliance Trump has fundamentally questioned.
When Trump visits the American cemetery in Normandy, Senator Chris Coons, a Democrat serving on the Foreign Relations Committee, told me he hopes the president "can be silent, for once, at the grave sites and reflect on what a world those brave men who fought and died together helped build for generations of descendants around the world."