Why Pro-impeachment Democrats Are Still Siding With Pelosi
They might be calling for an inquiry on Twitter and MSNBC, but they don't plan to publicly challenge the speaker.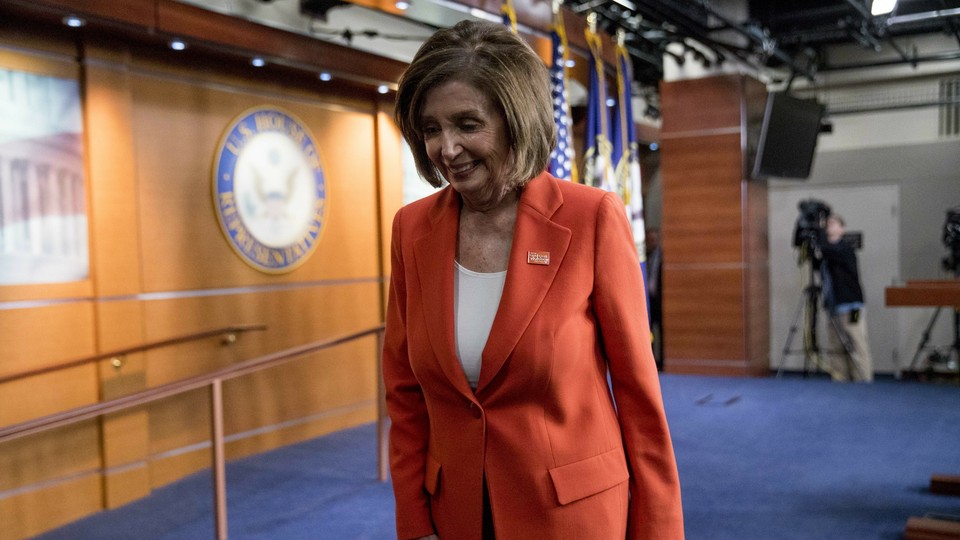 Throughout Speaker Nancy Pelosi's 17 years as the leader of the House Democrats, her governing philosophy has been to publicly embrace the wide gamut of views spanning her caucus. The body's diverse mixture of far-left progressives, business-friendly New Democrats, and Blue Dog moderates is, as she put it recently, "a sign of the vitality of our party." Pelosi's message has been that members are free to express their individual views, because, ultimately, their core values will unite them.
When it counts, in other words, her members will fall in line.
This is the attitude that Pelosi has brought to the impeachment debate currently roiling her party. It also appears to be the exact dynamic playing out among a subset of rank-and-file Democrats. Some of the lawmakers who have recently called for impeachment proceedings against President Donald Trump say that, despite their own personal feelings, they still support leadership's slow-and-steady strategy of pursuing congressional investigations first. Although in lengthy Twitter threads and interviews on MSNBC these lawmakers have explained that impeachment proceedings are the best way to protect democracy, they don't plan to publicly challenge the speaker, according to interviews with several House Democrats and congressional aides.
Their acquiescence suggests that concerns over a Democratic revolt on impeachment may be premature. "Right now, the vast majority of the caucus believes she's doing the right things," Representative John Yarmuth of Kentucky, the chairman of the House Budget Committee, told me in an interview. Yarmuth has long supported impeachment: He backed a resolution from Representative Steve Cohen of Tennessee laying out articles of impeachment against Trump in 2017, less than a year into Trump's tenure, and Yarmuth renewed his support for an inquiry in a tweet on May 29.* "A lot of us feel that even though we're convinced he should be impeached, we should let these investigations play out for a little while," Yarmuth said.
Earlier this spring, House Democrats were mostly in agreement when former Special Counsel Robert Mueller's findings were released: Impeachment should not be their next step. Led by Pelosi, Democrats instead pledged to use their full oversight powers to investigate whether the president had obstructed justice, a matter Mueller's inquiry had focused on. They demanded to read the special counsel's full, unredacted conclusions, and they summoned a series of key witnesses and administration officials to testify. Pelosi and other members of leadership were—and still are—concerned that if Democrats pushed for removal proceedings, they would lose support from some of the very voters responsible for their House majority. And with the Senate in Republican hands, it's unlikely to vote to remove the president, which Democrats worried could make them look ineffectual—or worse, foolish—going into the 2020 general election.
But as the White House continued to stonewall Congress's investigations—from refusing to hand over relevant documents to dissuading administration officials from testifying—a slew of Democrats late last month collectively threw up their hands and announced their openness to launching a formal impeachment inquiry. Additional changes of heart followed: After Mueller publicly rehashed his report's conclusions at a press conference last week, several Democratic presidential candidates announced their support for impeachment (despite, it's worth saying, hearing absolutely nothing new from the special counsel).
Fifty-nine congressional Democrats now publicly back initiating an impeachment inquiry into the president. But most of them aren't hatching plans to undermine Pelosi's strategy or pressing her to change tack.
"I don't think [those conversations] really are happening," Yarmuth told me. It makes sense to him and other lawmakers, he said, that Pelosi isn't pushing for impeachment: She has to appease the moderates in the Democratic caucus, and focusing on fact-finding through the various committee investigations could still turn up useful information. "What Jerry [Nadler] is doing right now in [the Judiciary Committee] is pretty much exactly what you would do if you had a formal impeachment inquiry," he added, referring to the New York lawmaker who is that panel's chairman.
Representative Don Beyer of Virginia, who announced on May 21 that he was ready to pursue impeachment, told me that he still supports Pelosi's strategy of, well, not doing that. "If we should finally get to impeachment, we'll get there in a very thoughtful, structured way," he said. "I don't know how soon [Pelosi] will get there, or even necessarily that she will." If Democrats continue to push for an inquiry, the congressman added, that could certainly influence the House leader's decision making. But he doesn't plan to pressure her. "She is our speaker, and we trust her and are devoted to her," Beyer said.
Even the members who have been the most ardent public supporters of impeachment, such as Green and Representative Maxine Waters, haven't been privately organizing against leadership or lobbying Pelosi on the issue, according to The Washington Post. "There's impassioned debate among members," one Democratic House aide, whose boss has called for an inquiry and who spoke on the condition of anonymity because he was not authorized to speak with the press, told me. But "it does not seem like there is a breakdown happening."
It could be the case that Pelosi's stance has offered some lawmakers a way to appease their constituents and express their personal views without having to actually act on them. "It probably gives us a little bit of cover," the staffer acknowledged, adding that "there's no sense here that she's gonna come down on you if you" come out in support of an inquiry. (Pelosi's office did not return requests for comment.)
"These people are historically not comfortable going up against Nancy Pelosi in the arena and squaring off," said another House Democratic staffer, whose boss has also backed impeachment proceedings and who was similarly granted anonymity. "They like to pick fights with the administration and with the pundits, which is fine, but they are not the people who square up against leadership."
In a press conference this morning, Pelosi encouraged members of the media to "disabuse" themselves of the notion that Democrats are in disagreement on impeachment. "Make no mistake, we know exactly what path we're on," she said. "There is no controversy."
It makes sense that House Democrats would want to present themselves as a united, loyal front given the gravity of the topic at hand—and especially given the significance of the upcoming election for their party. But if the lawmakers calling to begin impeachment proceedings truly believe that they're the best way to hold the president accountable and the only way to uphold the Constitution, it would also make sense if they were actively plotting to undermine leadership's strategy.
Lawmakers' obedience to Pelosi tracks with her broader management philosophy, says former Representative Steve Israel of New York, who worked closely with Pelosi when he served as the chairman of the Democratic Congressional Campaign Committee from 2011 to 2015. Under Pelosi's leadership, "you're free to express your view, and your view will be considered and maybe worked into a long-term plan, but at the end of the day, our caucus unity" is what matters, Israel told me.
Still, that doesn't mean that some pro-impeachment Democrats won't ever reach a breaking point. After all, the politics of impeachment continue to evolve. On Sunday, House Majority Whip James Clyburn, the third-ranking Democrat, said that proceedings are inevitable (although he has since walked that back). And Nadler announced on Monday that his panel would hold a series of long-awaited hearings on the special counsel's conclusions starting next week. "These hearings will allow us to examine the findings laid out in Mueller's report so that we can work to protect the rule of law and protect future elections through consideration of legislative and other remedies," Nadler said in his announcement.
Those remedies could, of course, include impeachment. But for now, lawmakers seem happy to wait and see what leadership does next—even the ones who say they want impeachment most.
---
* A previous version of this article misidentified the lawmaker whose impeachment articles received Yarmuth's support.