The Democratic Clown Car Rolls Into Iowa
Nearly the entire 2020 field of Democratic candidates fought for attention in Cedar Rapids yesterday.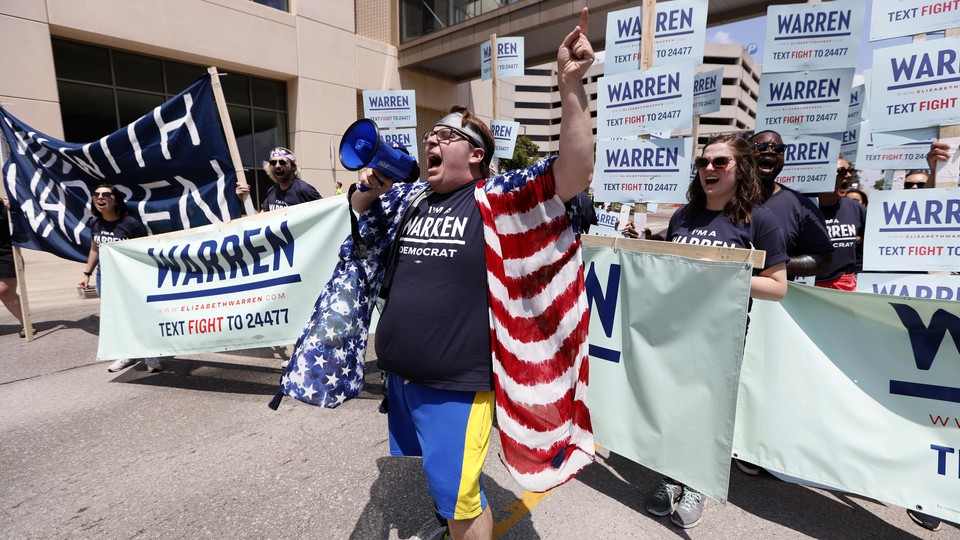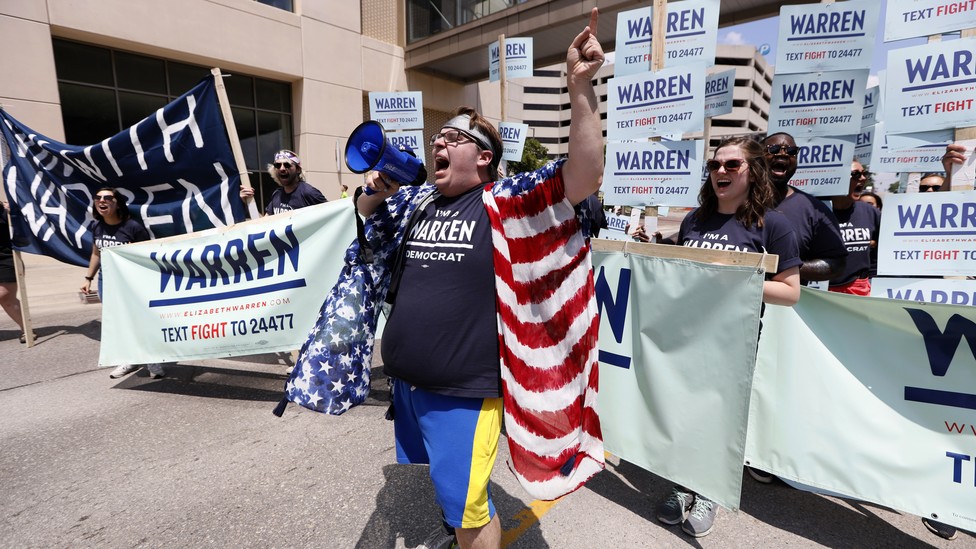 CEDAR RAPIDS, Iowa—When Winston Churchill said democracy was "the worst form of government except for all those other forms," he did not foresee the tailgate party that descended on eastern Iowa yesterday morning.*
Former Representative Beto O'Rourke's campaign rented a taco truck and dished out free chorizo. Senator Amy Klobuchar's gang rattled little white bells. Former Representative John Delaney's team had a bagpiper and a mini blimp overhead. Some of Senator Elizabeth Warren's supporters wore bright feather boas, with a few women dancing up and down the street playing Dolly Parton's "9 to 5" on a portable speaker. South Bend, Indiana, Mayor Pete Buttigieg hosted a barbecue at a park and played keys with a local band while wearing sunglasses. Senator Bernie Sanders marched from a McDonald's alongside striking workers and activists.
Cenk Uygur, the progressive television host of The Young Turks, ate pizza next door to the Sanders campaign's staging ground in a local Mexican restaurant while his "army" of supporters held up signs, screaming at candidates to "sign the pledge," though they never screamed what the pledge was about. Hundreds of people worked thousands of hours combined—and spent hundreds of thousands of dollars—so 19 presidential candidates could speak for five minutes each inside the DoubleTree Hotel ballroom here for the Iowa Democratic Party's "Hall of Fame Dinner." The "dinner" consisted mainly of chicken-satay sticks and big vats of guacamole and spinach dip.
"This is the thing I love about this campaign," Senator Michael Bennet of Colorado told me yesterday as he walked into the main event, surrounded by a small staff. "It's a battle of ideas." Outside it was more a battle of signs and bagpipes, I said. "I didn't bring my bagpipe," he quipped.
This is how America begins the process of picking a party's candidate, maybe even a president. The goal of the "dinner" was to puff up some big donors and activists as the 2020 campaign cycle enters the summer months. The Iowa caucuses, the idiosyncratic but overwhelmingly consequential presidential primary, are eight months away. The caucuses themselves are pretty ridiculous: Iowans gather in nearly 1,700 church basements, high-school gyms, community centers, and the like, huddling and rehuddling until a winner is decided. That person has a pretty good shot at becoming the party's nominee and, in many cases, the president. This is the state that propelled Barack Obama to the White House in 2008, and where Sanders's surge was first apparent four years ago. But it's also the state where the past few Republican winners have more or less peaked: Mike Huckabee (2008), Rick Santorum (2012), and Ted Cruz (2016).
The Iowa Dems invited almost every candidate in the massive field to attend yesterday's event, and 19 said yes, with the exception of former Vice President—and current front-runner—Joe Biden and former Housing and Urban Development Secretary Julián Castro. Representative Seth Moulton of Massachusetts and Miramar, Florida, Mayor Wayne Messam didn't meet the minimum polling qualification threshold to come. But everyone else showed up, each with his or her own walk-on music: ELO's "Mr. Blue Sky" for Washington Governor Jay Inslee, Lizzo's "Good as Hell" for Senator Kirsten Gillibrand of New York, John Mellencamp's "Small Town" for Montana Governor Steve Bullock.
Most of the candidates' speeches were underwhelming. They touched on their biographies, their voting records, and what they hope to achieve as president. New York City Mayor Bill de Blasio spent half of his time talking about his wife, Chirlane McCray, then brought her up onstage for a sideways hug. There's not much a candidate can do with five minutes—a brief introduction, maybe an applause line or two. The audience heard many digs at President Donald Trump. "We now expect more out of our preschoolers than we do out of the president of the United States," Bullock said. Buttigieg took it up a notch: "God does not belong to any political party, least of all one that produced this current president." Sanders's speech tried to make more of a point: "We will not defeat Donald Trump unless we bring excitement and energy into this campaign, unless we greatly expand voter turnout, and unless we give millions of working people and young people a reason to vote, and a reason to believe that participating in politics will improve their lives."
Senator Kamala Harris of California used the platform to introduce a new riff, saying that she'd prosecuted all sorts of fraud as her state's attorney general, and that Trump is full of new kinds of fraud: "health-care fraud" for promising to help people and then gutting Obamacare, "tax fraud" for promising middle-class tax cuts and signing a bill that had major cuts for the rich and big corporations, "securities fraud" for being deferential to Russian President Vladimir Putin, and, as for saying he's the best president ever, "I say let's call Barack Obama, because that's identity fraud."
Why would 19 candidates trek to Cedar Rapids for less time onstage than a long commercial break? Because 1,400 of Iowa's most involved Democrats were watching. "It's fun. You want campaigns to have fun and energy and excitement," Troy Price, the Iowa state Democratic Party chairman, told me, surveying the scene on the sidewalk yesterday morning. The organizers for Senator Cory Booker of New Jersey had chalked nearby sidewalks with slogans the night before: "We know we're extra, but Cory's worth it," one said. Candidates hugged as they saw one another; some posed for group selfies in the hotel's hallways. One tense moment occurred when Sanders arrived with his parade of workers through a crowd of Harris staffers, who started chanting, "We deserve a woman president!"
Biden says he skipped the event yesterday to attend his granddaughter's high-school graduation. He'll campaign Tuesday and Wednesday in southeast Iowa, but some local Democrats I spoke with are annoyed that he didn't support the party at this event, and hasn't spent much time in the state this year. Biden's withdrawal of support for the Hyde Amendment, which bans federal funding for abortion services, was a subtheme of the day, with several candidates touting their own support of reproductive rights even as they demurred when reporters asked them to take on Biden.
Representative Eric Swalwell of California said to think of the many Democrats running "like the Avengers" of politics. "The Republicans in 2016," Swalwell added, "that was the Hunger Games."
There will be at least two more big events in Iowa before next year's caucuses, not to mention more of these candidate parades in New Hampshire, South Carolina, and Nevada. This weekend began the long somersault into next July's Democratic National Convention in Milwaukee. The party is hoping to get to Wisconsin with its nominee in place, but that's far from guaranteed. And as for the pundits complaining that there are too many candidates? "That's a bunch of horse shit; this shows just how much excitement there is on the Democratic side," Price, the state party chair, told me yesterday morning.
Later, during his introductory speech, Price added to the point by contrasting the Democrats with the Republicans, and the cult of personality he sees within the GOP: "While they're the party of one, we are the party of many. I am proud to be part of a party that's about diversity."
But that party of one—so far, at least—is the only one that has a clear idea of what it wants in a 2020 presidential candidate.
* A previous version of this article incorrectly stated that Cedar Rapids is located in northwest Iowa.