The Inescapable Challenge of Talking While Female
The gender dynamics at last night's debate were familiar: The women waited for their moments. The men butted in.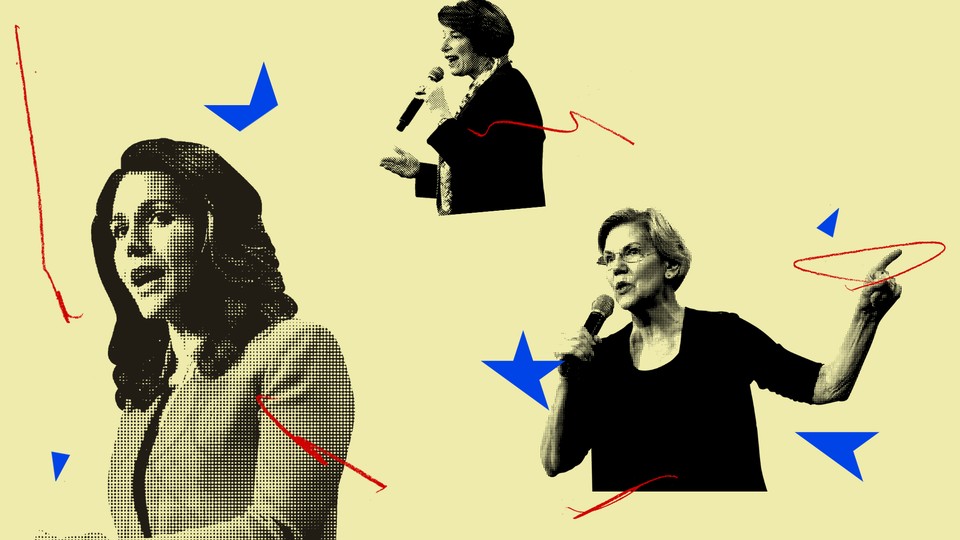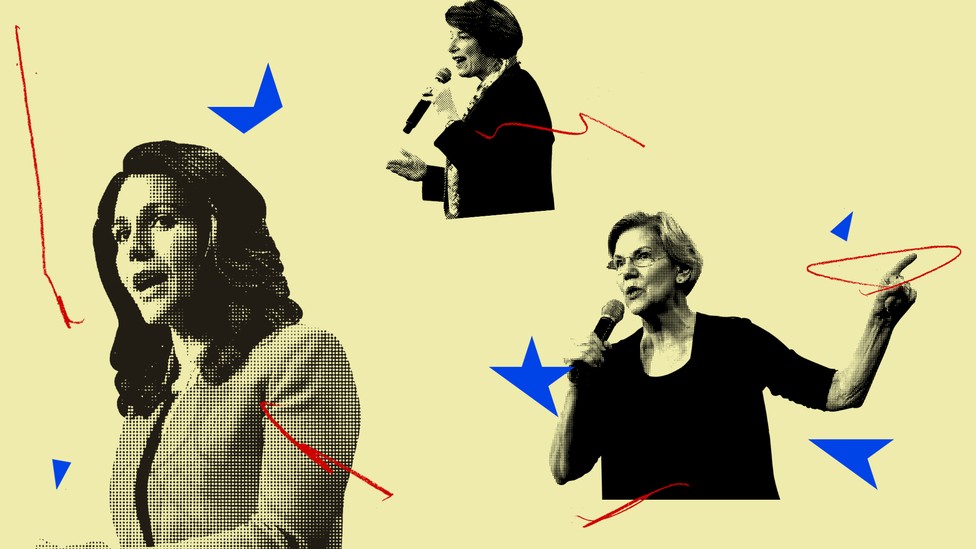 At first, it seemed like the Democrats' first primary debate would be an exercise in politeness. As the candidates tried to introduce themselves and their agendas to potential voters, minutes went by without so much as a small skirmish, despite legitimate, and often significant, policy differences.
Then suddenly, New York City Mayor Bill De Blasio halted the "Yes, and" chorus—opening the door for his fellow (mostly male) candidates to raise their voices, bicker, and interrupt. It was likely a familiar scene for many women watching at home: the men in the room yelling over one another with abandon, and the women, for the most part, patiently waiting for their turn to speak.
De Blasio had broken the mostly amiable streak by challenging former Representative Beto O'Rourke of Texas on private-health-care options: O'Rourke had proposed allowing those who like their private insurance to keep it and placing the rest of America's uninsured or underinsured on Medicare. "Choice is fundamental to our ability to get everybody cared for," he said. De Blasio stepped in: "Wait, wait, wait. Congressman O'Rourke, private insurance is not working for tens of millions of Americans … How can you defend a system that's not working?" After that first rebuttal, the men onstage appeared to feel more free to talk over one another, to let their voices rise while demanding their 30-second follow-up. Several theatrically traded awkward responses in Spanish.
For all of the anticipation leading up to last night's debate—especially around Senator Elizabeth Warren of Massachusetts, who was viewed by many as the candidate to beat—the stage took on some of the same frustrating dynamics of the modern American workplace. There were more women at last night's event than there have ever been on a presidential-primary-debate stage, and three more are appearing tonight. And yet to watch them was to be reminded that these are not just presidential candidates—these are professional working women who, like many others, have probably often struggled to be seen or heard over their male colleagues.
Warren, Senator Amy Klobuchar of Minnesota, and Representative Tulsi Gabbard of Hawaii didn't lack for something to say. Nor did the moderators ignore them—the first two questions of the night were directed specifically at Warren and Klobuchar. In one moment that attracted applause from the audience, Klobuchar forcefully asserted her bona fides on women's health. Washington Governor Jay Inslee had suggested that he was the only candidate who had "actually advanced the ball" to protect women's reproductive health, referring to state-level legislation he's signed into law. To that, Klobuchar responded, "I just want to say, there's three women up here that have fought pretty hard for a woman's right to choose."
Toward the end of the program, Gabbard engaged in a quick spar with Representative Tim Ryan of Ohio over foreign policy, one of her biggest moments of the night. "The reality is, if the United States isn't engaged, the Taliban will grow and they will have bigger, bolder terrorist acts," Ryan said. Gabbard, a veteran of the Army National Guard, stepped on the end of his statement to say, "The Taliban was there long before we came in. They'll be there long before we leave." Ryan, apparently taken aback, argued that when the United States wasn't engaged, the Taliban "started flying planes into our buildings."
With the only real-time fact-check of the night, Gabbard quickly shot back: "The Taliban didn't attack us on 9/11. Al-Qaeda did."
Overall, however, the women were much more likely to speak only when directly called on by the moderators than to cut short or aggressively rebut male candidates' answers. The result: Warren, though she accounted for the third-longest speaking time, behind Senator Cory Booker of New Jersey and O'Rourke, fell out of view for whole chunks of the evening. Klobuchar and Gabbard fell somewhere in the middle on speaking time, and used many of their answers to look beyond their fellow candidates and directly name-check President Donald Trump.
Even in the circumstances when the female candidates tried to interrupt, they seemed intimately aware of the risk of pushing it as far as their male counterparts. De Blasio, Ryan, and former Representative John Delaney of Maryland routinely hollered from the margins to force themselves into the flow of responses. Warren, Klobuchar, and Gabbard seemed much more reluctant to push through or push back when being cut off, perhaps because they know how often women are penalized for doing just that.
It's worth watching how Senator Kamala Harris of California, Senator Kirsten Gillibrand of New York, and the author Marianne Williamson navigate tonight's debate alongside male candidates such as Senator Bernie Sanders of Vermont, who chastised Hillary Clinton for interrupting him during their 2016 debates. Each of the six women seeking the party's nomination will likely have a very different approach to these public performances, but one thing is already clear: The record number of women candidates will change the dynamics of the 2020 race, at a time when women voters are perhaps more engaged than ever before. If only the female candidates could get more words in edgewise to address them.