Cory Booker's One-State Plan
The senator from New Jersey doesn't want to be considered a 2020 also-ran.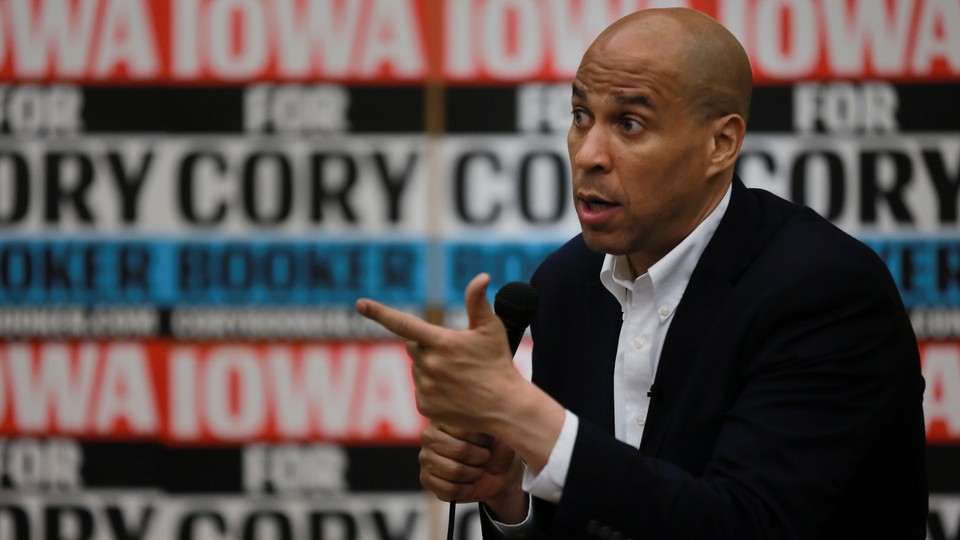 URBANDALE, Iowa—Cory Booker's New Jersey accent never comes out stronger than when he pronounces caucus as "kaw-kus." And here in a two-story building that used to be the city hall—and then was briefly a massage school—Booker's team of 50-plus people is chasing a dream that no poll in the past six months would suggest they'd achieve: that the 50-year-old senator can win Iowa next February and go on to become the 2020 Democratic presidential nominee.
"When I turn on the pundits in their armchairs talking about the race, that annoys me, until I think how much they really got it right on the 2016 election," Booker told me recently, smiling through the sarcasm as we drove from Des Moines to Ames. "Folks who really don't know what wins in Iowa— they really don't know."
Booker thinks he knows. His organizational strength in Iowa has become a perfunctory mention in national campaign coverage. He acknowledged that Senator Bernie Sanders of Vermont and President Donald Trump both showed in 2016 that the kind of campaign Booker is running might be a relic, but competitors on the ground are still keeping their eye on him. Some rivals are wondering what the point of his candidacy is anymore, given how much this primary race has been taken over by a national narrative centered on Sanders, former Vice President Joe Biden, Senator Elizabeth Warren of Massachusetts, Senator Kamala Harris of California, Mayor Pete Buttigieg of South Bend, Indiana, and a few others—a narrative in which Booker has barely played a part. (He's had a few pop-up moments, like this week's congressional testimony on reparations and taking on Biden over his comments about working with segregationists.)
"The quote you've heard me give often is the Mike Tyson quote, 'Everybody's got a plan until I punch them in the face.' So who knows what's going to play out in this. I just know this is my authentic way of campaigning all my life," Booker told me. "The success of my career has always been grassroots-up, and I can't do it any other way, and I definitely can't trust the fickle media, who's going to build people up, tear people down. For me, that's like going from stock trading, day trading, which is like the national media cycle, versus building a solid organization on the ground."
So, I asked Booker, does that make him a mutual fund? "High-yield treasury," Matt Klapper, his longest-serving aide, chipped in from the front seat. Booker wouldn't quite bite. "We are building an organization [like] real great companies that focus on people, that focus on values, that focus on communications."
Okay, I said, so does he think he's Mike Tyson (whose actual quote, by the way, is "until they get punched in the mouth")?
"No, no, no, no, no. I do not want to have another 'Spartacus' moment," Booker told me, referring to his comment during last fall's Brett Kavanaugh Supreme Court confirmation hearings that earned him months of mockery, "where I say a quote and people think I was talking about myself."
This can sound more like Pollyanna 2020 than an actual strategy—Booker giving interviews to insist his campaign is not over, a show for donors so that he scrapes together enough money to keep going. When I asked Booker how his fundraising was going, all he said was that the campaign was meeting its monthly goals. (Those specifics will be tested June 30, the end of the second quarter.)
Booker told me that the race that he compares his 2020 campaign to isn't either of his runs for Senate, nor his two winning campaigns for mayor of Newark, New Jersey, nor the losing mayoral campaign captured in the Oscar-winning documentary Street Fight. Booker says running for president reminds him of his very first run 20 years ago, for a city-council seat in Newark's central ward.
"This feels eerily like my '98 race," Booker told me. "We knew the only way we were going to win was organizing, getting people to meet me and hear me. If I could get you to come to the common room in one of the projects, and I could get you to hear what I was about, I was going to be able to get your support, if you were not already a partisan, so to speak. And it's the experience we're having in Iowa, which is so affirming to me, which is people who come, a large percentage of them, more than my organizers thought would happen, will sign commitment-to-caucus cards."
Wait, running for president in Iowa was just like running for city council in Newark? His Jersey accent came back out. No, no, he said: "I mean, come awwwn. This is Iowa."
When he officially entered the race five months ago, the New Jersey senator activated an Iowa support network that he'd spent years priming. His team is led by two of the best-connected next-generation operatives in the state, Mike Frosolone and Joe O'Hern, and stocked with many others who are already working on at least their second campaigns there. They've analyzed the idiosyncrasies of an incredibly idiosyncratic primary process. They've skimmed tactics of winning races in the state from the presidential level on down. They've designated a wall of the office for staffers to pitch new ideas—that's where the idea for Booker's RV tour across Iowa over Memorial Day weekend started. They're probably going to get "Cory Karaoke," and maybe even a slam poetry event, off the ground.
And that's how Booker's Iowa director of operations, Haley Hager, came to spend a recent Friday afternoon drilling holes around the edges of dozens of foam boards while an aide opened 100 packages of battery-powered Christmas lights to stick in said holes. "Cory Booker 2020" signs went in the middle, a twist on the one big light-up sign that one of the candidates running for governor, Nate Boulton, took to the state Democratic convention last year to get attention. This was a few weeks ago, and Booker's staff was preparing for the Iowa Democratic Party's Hall of Fame dinner, the unofficial caucus-season kickoff. In the other room, two aides stapled signs to poles that they would bang on the ground to drum up the attention of passersby. Another aide went to pick up the U-Haul with the trailer for Booker to stand on to speak. Another was excitedly eyeing the ThunderPower megaphone, built to be able to disperse riots and loud enough to cut into television live shots, that he'd lead chants through until he lost his voice.
"You're going to scare the shit out of everyone," O'Hern said, revving up the 40 or so people standing in a circle around him after midnight the night before the Hall of Fame dinner. Booker and his aides were nearby in a red minivan, carefully clocking the script for his speech. The team chalked up the surrounding sidewalks with slogans, including the campaign's internal motto, "Brick by Brick," wherever the pavement was interrupted by bricks. A decade ago, O'Hern started out as a field organizer, and though he has developed a sardonic smirk and an air of Buddha on the beanbag chair he keeps in his shared office, his background burst out of him that night. "People are going to see that organization and realize what it is," he said.
All this work for a five-minute speech at the dinner—though one that Booker's aides planned to use as a test for how well they could activate their team, aimed at all the parochial Iowa big shots who like to remind people that they're the ones who get to decide who wins the first presidential-primary state.
Like a few other campaigns, Booker's operation has invested in online outreach, tracking organizers' activity on Facebook messages and in texts, and capturing supporters' information digitally and mapping it against databases. But O'Hern and Frosolone—who previously worked for the Democratic Caucus in the state legislature—believe being homegrown matters, with staffers who were raised, went to college, and worked on campaigns in state, building up years of connections and favors along the way. These are the people who have networks, and know the players with bigger networks and how to reach them—like the organizer whose neighbor is a state representative, and whose father drives the church bus.
Few of the other campaigns are even trying to get to this point.
Come Iowa-caucus day—February 3, 2020—Booker's aides believe these local ties will put him over the top, as friends and family and community leaders bring their friends and families and communities to the rooms where the caucus will be decided, and get them to literally stand together throughout the night as a winner is eventually chosen. Barack Obama won Iowa in 2008, after all, largely by getting more people to caucus than ever before. "There are 1,680 precincts. You've got to put people in the room, and you've got to get them to stand in your corner," O'Hern told me.
Outside the Hall of Fame dinner, in Cedar Rapids, I spotted Kenan Judge, an Iowa state representative, wearing a Booker pin and listening to the candidate speak while he stood on the U-Haul trailer. "I wouldn't count him out," Judge told me. Judge said he's holding out on endorsing anyone, but he's interested in Booker: "He is a relationship builder." Judge had been chatting with Eric Giddens, a new state senator, whose special election in March briefly brought many leading presidential candidates to his nearby district to campaign for him as a pretense for campaigning for themselves. I asked Giddens why he chose the Booker event when so many other candidates must have chased him too. "He was the first to reach out, and we said yes right away," Giddens told me. His wife nodded. A few minutes later, at another Booker event, I saw Rob Sand, the up-and-coming young Democrat who won a locally invigorating race for state auditor last fall and has been hot in demand among many campaigns himself. Sand didn't go to any other candidates' events, but an aide traveling with him told me that his frequent texting with Booker reeled him in to the crowd, even though he's officially staying neutral too. Several other in-demand state legislators have endorsed Booker as well, despite how early it is and how much of a lost cause his campaign may look like now.
Most campaigns don't have a big presence in Iowa—some don't have Iowa state directors, and not every candidate's Iowa director even lives in Iowa. Two weeks ago, in Des Moines, I watched a man run up to Buttigieg after the mayor spoke at the pride festival, and say that he wanted to help out on the campaign, but couldn't figure out whom to call. To which the surging candidate responded, "We're just getting our Iowa team built." (His campaign announced 30 new hires on Thursday, but only a few have previous campaign experience in the state, and many are only scheduled to move there by the end of the month.) A few minutes later, I heard a woman confess to the voter she was trying to sign up for Beto O'Rourke that she'd been on the ground for only a week and a half, implying she was part of the swarm of field organizers lined up for the former Texas representative by a core of people who believe they can re-create what helped Obama shock the 2008 caucuses.
"People are months and months behind," Booker told me. "As a guy who knows organizing, I could not have won my city-council seat if I started four months out or five months or six months out. It really took us a very long time to build the kind of trust and connection." Biden says he's hiring 50 people to work in Iowa. Harris says she's hiring 65. Both have raised millions of dollars more than Booker for their respective campaigns. I asked Booker whether he thought there were that many people left to hire who even knew Iowa, and he deferred to the person driving the minivan, who shook his head and said, "Pretty much they're all gone"—an assessment that is not shared by those campaigns.
"I hope the other campaigns underestimate me," Booker told me. Then again, there is a candidate with an operation larger than Booker's in Iowa, and she is not only registering in the polls, but climbing: Warren. Sanders, meanwhile, has promised to activate a massive volunteer network.
Booker fans say that he's building something more significant.
"You want political trouble in Iowa, be a front-runner," Jerry Crawford, a well-known Iowa power broker who endorsed Booker a few weeks ago, told me. Like several of the other connected Iowans Booker has managed to land, Crawford acknowledged that he was hotly pursued by several other candidates, but he says he was won over by Booker's message of healing and civility.
Sure, Booker just came in at 1 percent in a Des Moines Register poll, with 6 percent of respondents listing him as the second choice, but 36 percent saying they were "actively considering" him, more than anyone else in the category. Crawford has a smile like that of a mischievous grade-schooler, despite his gray hair and chic new glasses, and he flashed it to me. "I hope Cory stays in low single digits until Thanksgiving and then explodes like a firecracker," he said. Crawford ran me through his list of Iowa polls this far out in previous elections, as in 2015, when Jeb Bush was far ahead and the eventual winner, Ted Cruz, was barely a blip on the Republican side, or when Barack Obama barely registered in 2007, or John Kerry in 2003.
One of the chants Booker's team practiced in Cedar Rapids is a line that's become an unofficial slogan of its Iowa operation: "Hope! Hype! Hustle!" The staff that had flown in from Newark didn't love it, but it was soon written all over the sidewalks.
They're fine with hope and hustle. The hype part might end up cutting a little too deep.