The Old Senate Is Hardwired Into Joe Biden
The body he was elected to in 1972 required even the bitterest rivals to maintain a veneer of civility. But the country has long moved on from that brand of politics.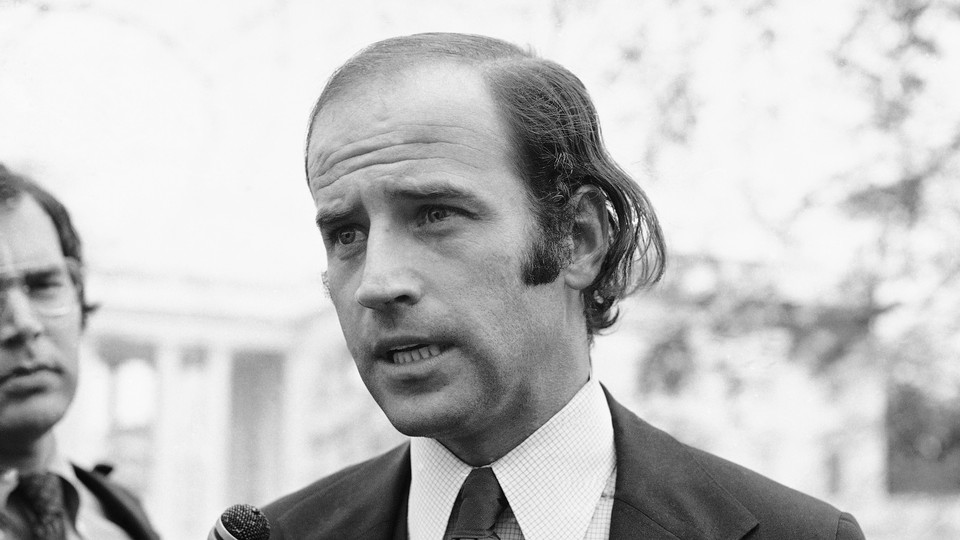 Updated at 2:13 p.m. ET on June 21, 2019
When Joseph Robinette Biden Jr. arrived in the Senate from Delaware in 1973, one of the first colleagues he tangled with was James Oliver Eastland of Mississippi, the vicious segregationist who ruled the Judiciary Committee with unyielding resolve, and who'd first been elected a couple of weeks before Biden was born. After Biden spoke up forcefully in a Democratic caucus meeting on behalf of total public financing of political campaigns, Eastland pounced.
"They tell me you're the youngest man in the history of America ever elected to the U.S. Senate," Eastland said, as Biden recalled in his 2007 memoir, Promises to Keep. (Biden was actually the second youngest, but thought it best not to correct Eastland.) "Y'all keep making speeches like you made today," Eastland added, "and you gonna be the youngest one-term senator in the history of America."
It's no surprise that Biden's invocation this week of Eastland and his Jim Crow colleague Herman Talmadge of Georgia as exemplars of a vanished brand of genteel bipartisanship in Washington drew swift and unsparing condemnation from some of his rivals for the Democratic presidential nomination. Senator Kamala Harris of California declared that Biden "doesn't understand the history of our country and the dark history of our country," and Senator Cory Booker of New Jersey demanded that Biden offer "an immediate apology for the pain his words are dredging up for many Americans."
Biden didn't help himself by cracking that Eastland always called him "son" and not "boy." ("You just don't joke about calling black men 'boys,''' as Booker noted). Nor did he further his cause by insisting that it was Booker who owed him an apology, because "he knows better. There's not a racist bone in my body." As Donald Trump could tell you, any politician who feels compelled to offer such a defense has already lost the argument.
But the perpetual-outrage industrial complex that passes for modern politics obscures a difficult truth about Biden's remarks: However infelicitous they were—and they were—they sprang from Biden's deep personal experience, reflecting a lingua franca that may be close to a half-century old but is hardwired into his very being. How much that will hurt him in the political climate of 2020 is an open question, but there's little doubt of his sincerity. When Biden arrived in Washington, as he wrote in his memoir, even "as they lost their grip on the nation, the southern Democrats tightened their hold on the Senate," occupying the chairs of virtually all the major committees. Working with them, as Biden and many liberals of his generation did, was not a matter of artificial comity or keeping peace in the valley; it was the only way they saw to do their jobs in Congress. Understanding this context might help voters get inside the former vice president's head, even if they, like his campaign opponents, recoil at his association with segregationists.
"I remember feeling that day like I was playing high school football again and I'd just taken my first tough hit of the season," Biden wrote of his inaugural tangle with Eastland. "Now I had to prove I wasn't going to stay down." But Biden badly wanted a seat on the Judiciary Committee, so he decided to court Eastland, even though "he was as far apart from me on civil rights as any man in the Senate." In fact, Biden wasn't so far apart from Eastland on every issue: Like the Mississippian, he opposed the use of busing to integrate public schools, as well as the legalization of marijuana and amnesty for Vietnam-draft evaders—all of which were mainstream Democratic positions in their day.
By the end of Biden's first term, in 1978, Eastland had agreed to give him a seat on the Judiciary Committee, and to come to Delaware to stump for his reelection. "I'll campaign for ya or against ya, Joe," he promised, "whichever way you think helps you the most."
Biden was far from the only young Democrat to work with Eastland. When Ted Kennedy arrived in the Senate in 1962 from Massachusetts, one of his first visits was to Eastland, to discuss the committee and subcommittee assignments he coveted—panels dealing with immigration, civil rights, and the Constitution. Eastland said he'd oblige, if Kennedy would down the stiff scotch on the rocks that Eastland had poured for him that late morning. When Eastland turned his back momentarily, Kennedy took the opportunity to dump a good portion of the drink into the chairman's potted plants.
"How could I seek guidance, or cooperate in any way, with a proponent of segregation?" Kennedy would ask decades later in his own memoir, True Compass. "My decision regarding Eastland—in fact, my abiding impulse to reach across lines of division during my career—took strength from the concluding phase of Lincoln's first inaugural address, on the eve of the civil war. I decided to put faith in 'the better angels of our nature.' I worked with James Eastland; in fact, the two of us became friends. Then and always, I would work with anyone whose philosophies differed from mine as long as the issue at hand promoted the welfare of the people, and I would continue to await those better angels, and to remain confident in ultimate justice." (Of course, Kennedy and Eastland had many widely divergent ideas about just what constituted the "welfare of the people.")
Other liberal Democrats—including Walter Mondale of Minnesota, the party's 1984 presidential nominee, and Philip Hart of Michigan—also had cordial relationships with Eastland, and in later years, they praised him for the fairness with which he came to run the Judiciary Committee, sharing staff and resources in ways not all the other old bulls of his generation did. In 1975, when the 1965 Voting Rights Act was about to expire and Eastland was hospitalized with broken ribs, he appointed Hart the temporary chairman of the Judiciary Committee, knowing full well he would ensure the law's renewal.
But it is hard to pinpoint just when and how Eastland exhibited his "better angels" on much else. Talmadge was a drunk and, by Biden's own reckoning, one of the meanest men in the Senate. But he helped create federal food stamps and supported the Watergate investigation of Richard Nixon. J. William Fulbright of Arkansas, another segregationist, became a trenchant critic of the Vietnam War. Biden may have worked well with Eastland, but the Mississippi senator was a racist of the most unrepentant stripe. After three civil-rights workers—James Chaney, Michael Schwerner, and Andrew Goodman—disappeared in Mississippi in 1964 (and were later found dead), Eastland suggested in a phone call with President Lyndon Johnson that the missing men were part of a "publicity stunt." One horrific quote sometimes attributed to Eastland, though it appears instead to have been contained in a pamphlet circulated at a rally, or rallies, where he spoke: "All whites are created equal with certain rights; among these are life, liberty and the pursuit of dead niggers."*
At one point during the Senate debate over the 1964 Civil Rights Act (which had come to the floor over Eastland's objections), Democratic Senator William Proxmire of Wisconsin made a speech about race-based discrimination in the South and noted that a Department of Agriculture report on Greenwood, Mississippi, near Eastland's hometown of Doddsville, had revealed that while nearly half the daily attendees in public school were black, black students received only one-fifth of the free lunches distributed in the district.
"I do not believe a word of that," Eastland replied.
When Proxmire protested, "This is from the Department of Agriculture," Eastland rejoined, "That does not mean it is true." (The charge of "fake news" is anything but new.)
Biden is heir—perhaps the last heir—to a once-strict Senate tradition: that the bitterest foes should maintain at least the veneer of civility, and that such a veneer could sometimes lead to actual cross-aisle friendships. After Senator Willis Robertson of Virginia (the father of the televangelist Pat) made a speech excoriating the 1964 act, he walked over to the bill's Democratic floor manager, Hubert Humphrey of Minnesota, and pinned a small Confederate battle-flag pin to his lapel. Humphrey praised Robertson for his "wonderful … gentlemanly qualities and his consideration to us at all times," which Robertson requited by allowing, "If it had not been for the men from Wisconsin and Minnesota, when Grant finally came down to Virginia, we would have won." The two strolled off the Senate floor arm in arm, to Humphrey's office for a drink.
Fourteen years later, when Humphrey, by then back in the Senate after serving as Johnson's vice president, was dying of cancer, Biden witnessed Barry Goldwater, the most prominent GOP foe of the 1964 bill, envelop Humphrey in a bear hug on the Senate floor, as the two old friends dissolved in unabashed tears. Such a display may seem as far removed from contemporary Washington as the horse and buggy—it may, in fact, be all but irrelevant. But it exemplifies the Senate that defines Biden's view—not just of politics, but of life itself.
In Promises to Keep, Biden writes about how, when he arrived in the Senate, he told Democratic Majority Leader Mike Mansfield that he despised his fellow freshman, the Republican Jesse Helms of North Carolina, who was "against Communists, minorities, homosexuals, Martin Luther King and anybody else who was diminishing what he saw as the God-given prerogatives of white men." Biden complained: "He's got no heart."
But Mansfield cut him off. "Listen, Joe," he told Biden. "Everybody who is here has something. The people who elected them saw something good about them … Your job here is to find the good things in your colleagues—the things their state saw, and not focus on the bad.
"And, Joe, never attack another man's motive," Mansfield added. "Because you don't know his motive."
"To this day," Biden concluded more than a decade ago, "if I need help on an issue I really care about, it's not always enough to bring along my political allies." He described how he sometimes needed backing from senators he sharply disagreed with. "If I've shown them respect, honored my word when I gave it to them on another issue, and been careful not to question motives," Biden wrote, "I can at least expect them to hear me out."
The question now is whether Biden's fellow Democrats think it's worth hearing him out at all, when what he is saying falls so heavily on their contemporary ears—ears that, to Biden, can't help but seem wet.
---
* A previous version of this story misattributed a quote to former Mississippi Senator James Eastland.