Joe Biden Has the Most to Lose at the Debates
The former vice president hasn't gone head-to-head with another Democrat in more than a decade.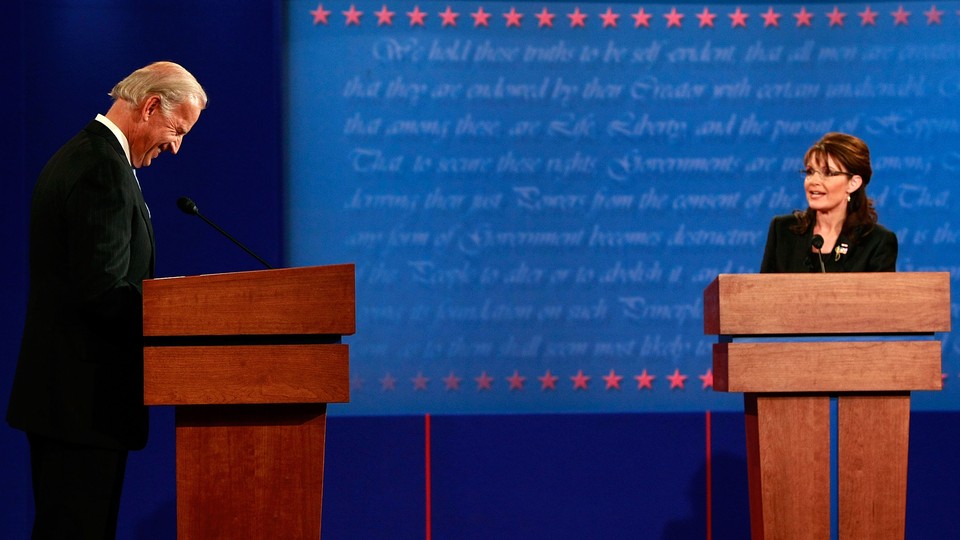 On that October night in 2012, everyone who had sat through Joe Biden's debate prep knew he was going to say "malarkey"—they just didn't know when. Democrats were panicking after Barack Obama had stumbled through his first debate with Mitt Romney one week earlier, but here was Biden, looking like he was having a good time dismissing Paul Ryan in the vice-presidential debate.
"With all due respect," Biden said, interrupting Ryan's very first answer that night in Kentucky, "that's a bunch of malarkey." By the end of the evening, Biden had seemingly rescued his boss. Along the way, he'd created a meme and launched a line of "malarkey" merchandise. It was a much better night for him than in 1987, when a bungled answer set off a plagiarism scandal that weeks later forced him to bow out of his first presidential run.
Biden has always been a strong debater, but he hasn't faced anyone since Ryan seven years ago, and hasn't debated another Democrat in more than a decade. The first Democratic showdowns, in Miami at the end of June—over two nights with 10 candidates each— will be the biggest moment in the 2020 race so far, and Biden, as the front-runner, clearly has the most to lose. Biden's team has kept him mostly out of sight since he launched his campaign at the end of April. Staying out of the way means he has less chance of making a comment that could be twisted into a news-cycle-defining scandal. That's the upside. The downside, beyond having to fend off snide tweets about his skimpy schedule and articles questioning whether he's too old to keep up, is that he's getting almost no practice taking voter questions at town halls or in open exchanges with reporters. Now if he stumbles or screws up, it'll be a prime-time event, with the rest of the field and an internet full of pundits ready to pounce. (On Tuesday, Biden released his long-promised climate plan and was immediately attacked both for not going far enough in his proposals and, in an echo of the 1987 scandal, for failing to include citations for certain passages.)
Biden has told friends that part of the reason for sticking to an ultra-light schedule is to create more time for debate prep, which for him tends to be less about conducting mock sessions and role-playing than digging into briefing books. This will likely hold: Biden's aides are not convinced that any kind of interaction he'd have at a town hall or other event is comparable to what's awaiting him onstage. His campaign staffers expect the debates to either crystallize his top spot, or turn the primary into less of a marathon with Biden out ahead and more like two dozen Slinkies tumbling down a flight of stairs.
"This is not a debate. It's not going to be structured as a debate. It is 10 candidates in a joint appearance with press moderators," one Biden adviser, who spoke on the condition of anonymity because they were not able to discuss strategy publicly, told me.
Biden's debate prep is being led by Ron Klain, one of the former vice president's longest-serving aides and a fixture in Democratic debate prep in almost every presidential election of the past two decades, and Anita Dunn, the former Obama communications director and an old Biden friend.
Both the candidate and his aides expect him to be the top target in these first debates. "He has never gone into a debate ... [as] the person who is going to have all the shots taken at him," the Biden adviser told me. "There's almost no downside to people who barely qualify for the debate in punching up in any way they can, and trying very hard to get one of the people above them to engage with them in the debate."
Biden's goal is to not give his rivals what he thinks they're looking for. But he and his team are on edge at the prospect of so many candidates aiming for him, attacking his record and questioning his rationale for running—all while he tries to come across as the candidate who is set apart from the rest of the field but doesn't hold himself up as being on another level. "Clearly, the front-runner is the person that's going to be the target of the people who are not the front-runner," says Ted Kaufman, the former Delaware senator, who is a close friend and adviser to Biden. "I've been in presidential races where he's not the front-runner, and I'll tell you what: It's a lot better being the front-runner."
New polls out Tuesday show a race that has stabilized after Biden's larger-than-expected bump this spring, powered in large part by name recognition and the idea that he's the candidate best positioned to beat President Donald Trump. He's still out ahead of the pack, but not leading by as much.
"If it were an open race, Biden may not be as viable a candidate, because the Democratic electorate would be looking for a leader of the future," says Marc Morial, the president of the National Urban League, who said that he's a longtime friend of Biden as well as several other candidates in the race. Voters are "looking for a leader who can beat Donald Trump."
The question, essentially, is whether the 2020 Democratic race will be more like the 2012 Republican-primary race, when nearly every debate produced a boomlet of attention and support for a different candidate, or the 2016 Republican-primary race, when many candidates had mini-flares, but the race was never really about anyone but Trump.
What's striking in talking with people close to Biden over the past few weeks is how unsettled they think this race still is, despite all the polls that make the nomination seem like his to lose. These people are not doing the obligatory not taking anything for granted, but acknowledging anxiety about how fragile Biden's lead really might be in a field this big and in a campaign this volatile. Still, the debates give them confidence. The 2012 Ryan debate and Biden's 2008 debate with Sarah Palin, in which he was seen as dispatching her with respect and humor while clearly outmaneuvering her, were different from what he'll soon face. They were both one-on-one contests against a Republican opponent, and they both featured Biden as a candidate on a national ticket.
The last time he was on a debate stage with other Democrats was December 13, 2007, during his second short-lived run for president. He was, at best, the underdog, and often almost the comic relief—the guy to be called on for a break between rounds of Obama and Hillary Clinton and John Edwards going at it. As in the other debates that year, moderators didn't spend much time holding Biden to account, since he never broke 4 percent in any primary poll. He spoke in passing about how much he'd accomplished, citing the 1994 crime bill and the Violence Against Women Act. He talked about working human-rights protections into the international trade deals he supported, and was challenged on comments about race he'd made during the campaign (with Obama at one point stepping in to defend him). "Folks talk about this election being about experience or change. It's really about action and pragmatic solutions," Biden said then. He dropped out three weeks later, after finishing with 1 percent in the Iowa caucuses.
Obama has said that those debate performances were part of what made him think of Biden as a running mate. He always hated the format himself, but to Biden, the debates were the pinnacle of a life spent speechifying on the Senate floor. "He spent 36 years in the Senate engaged in debates, and he's proven he's very good at that," Kaufman told me. In 2007, Biden often came across as on top of the issues and eager to mix it up, usually to Obama's benefit, by throwing off Clinton. His whole campaign was much more freewheeling then: He participated in every small event he could get to, and called up reporters to give them a good quote.
But it's that 2012 Obama debate disaster that may prove more instructive to Biden now. While Obama had gotten used to deference in his years as president, Romney had been scrapping through town halls and primary debates, sharpening his instincts and his responses. Biden has now gone nearly twice as long between debates as Obama did, and his rivals have had chances to practice. Former Representative Beto O'Rourke, for example, was seen as a weak debater against Senator Ted Cruz in their Texas race last year, but he was praised by many for the tight and direct answers he gave in his CNN town hall last month, all of which had been honed constantly on the campaign trail.
It's practically written into the Delaware constitution that people from the state have to fall over themselves to say nice things about Biden, but Chris Coons, as the senator occupying what was once Biden's seat, goes far beyond that. When I asked him whether he was worried that Biden is out of practice, he laughed. "Are you kidding me?" he said.
"One thing about Joe Biden: He prepares, prepares, prepares, whether it's for a Sunday-show interview, a speech at the United Nations, or a debate against another candidate," Coons said.
When Coons first ran for the Senate, in 2010, he was up against Christine O'Donnell, a Republican in the mold of Palin. Biden called him with advice from his Palin debate that Coons said worked perfectly for him, and that he expects the former vice president to follow onstage in Miami: "Treat her with respect. If you sigh, if you roll your eyes, if you look at your watch, if you seem to take it for granted, you will be accused of dismissing her as a candidate."
"That disrespect will be broadcast," Coons told me, noting that he probably should have asked Biden before sharing the advice. "No one is successful at a job interview by saying, 'Look at this other person—they're not qualified; they're crazy.'"
But this time, 19 other people will be at the job interview—and those are just the ones who make it to the stage.