As Bernie Sanders Leans Into Socialism, His Rivals Laugh
The longtime independent senator is preparing to deliver a speech in which he will reiterate his support for the bogeyman du jour.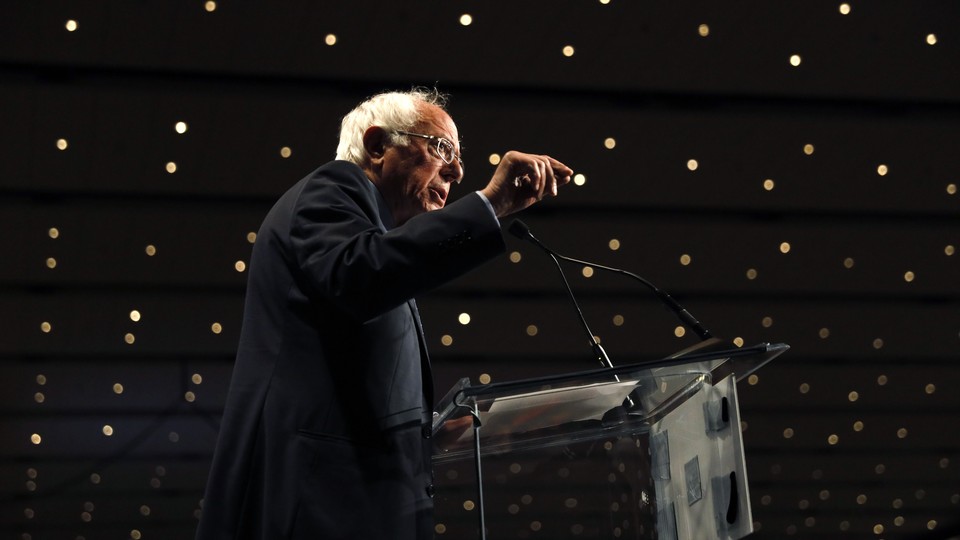 WATERLOO, Iowa—Making Elizabeth Warren laugh can be tricky. Throwing her off her talking points is almost impossible. Both happened when she heard that her 2020 opponent Bernie Sanders is scheduled to deliver a "major address" today titled, according to his campaign, "How Democratic Socialism Is the Only Way to Defeat Oligarchy and Authoritarianism."
The Massachusetts senator shook her head. It was Sunday evening, and we were standing in the backyard of a house on the poorer side of town here. Warren had just explained how her proposed 2 percent tax on every dollar over $50 million—"Two cents!" she likes to shout—would provide enough cash to fund universal child care for every child up to age 5 and universal pre-K for every child over 3. The plan, Warren said, as she has many times, will also raise wages for teachers and child-care workers, with enough money left over to wipe out almost all existing student debt. Warren refers to her agenda as "broad structural change." It includes proposals such as securing voting rights for people of color and students, ending partisan gerrymandering, and amending the Constitution to stop the free flow of money in politics enabled by the Supreme Court's 2010 Citizens United decision. Warren believes the "bold structural change" she's calling for is what's needed, and that there's a difference between that and Sanders's vision of democratic socialism.
"I'll have to hear the speech," she said diplomatically of her rival's coming address. But what about the argument of the title, to insist on democratic socialism? I asked. "I'll have to hear his speech," she said again.
That Sanders would lean into democratic socialism—and that he'd do so now—is surprising only to people who don't know him. He wants this fight. He believes that he's more right than most insiders are ready to acknowledge, based on his own successes and based on how he's defined so much of the larger Democratic agenda these past four years—not to mention all the polls that show support among young people for socialism.
Of the two dozen Democrats running for president, some are ready to sign on to ideas Sanders has pioneered, such as Medicare for All, but none agree with democratic socialism as a way to govern, or as a pitch that will defeat President Donald Trump. Former Colorado Governor John Hickenlooper, who was booed for condemning socialism two weeks ago in a speech before the California Democratic Party, laughed at the title of Sanders's speech when I read it to him. Senator Michael Bennet of Colorado let out an exasperated chuckle. "I don't think the American people even know what that means," he told me. "Nobody in my town halls talks about democratic socialism versus oligarchy and authoritarianism." When I read the title of the speech to Senator Kamala Harris of California on Monday after an event in Dubuque, she responded with a simple "Huh."
At a CNN town hall in April, Sanders defended democratic socialism at length in response to a question from the daughter of a Soviet refugee. He distinguished his economic agenda from "authoritarian communism," framing his beliefs instead in the tradition of Franklin D. Roosevelt. This past Sunday, on CNN again, Sanders elaborated: "I think it's important for the American people to understand what my definition is of democratic socialism. And it's certainly not how Donald Trump defines it," Sanders said, adding, "When I talk about democratic socialism, it means a vibrant democracy and an economy that works for all, not just the people on top." That same sort of language, linking his ideas to a tradition in the Democratic Party, will be part of his speech today, according to Sanders's senior adviser Jeff Weaver. "There are a lot of democratic socialists in the Democratic Party. There are now, and there always have been," Weaver told me after looking over a final draft of the speech yesterday. Weaver said that Sanders is planning to take on the "socialism bogeyman" argument directly.
This new speech has long been in the works, Sanders's aides tell me, and they say it doesn't have anything to do with his recent drop in the polls as Warren rises. They say they're not concerned that he's not showing signs of breaking through past his solid core of support. He's scheduled to deliver the speech in Washington, D.C., on the campus of George Washington University, rather than at home in Vermont or out in a swing state. Aides say the D.C. setting is an attempt to convey his seriousness on the subject. They want this to be a major signpost in his 2020 campaign, an opportunity for Sanders to lay out why he's running with an argument no one else can or would make as forcefully, and to dare the rest of the field to oppose him. They believe this speech has the potential to re-center the dynamics of the race around him, and that the other candidates will regret any of their laughter and questioning of it to me over the past few days.
Sanders's aides entered this second presidential campaign believing that one of the Vermont senator's biggest liabilities—aside from his age of 77—is that he's not a Democrat, and that people will hold it against him. For years, Sanders has proudly been a democratic socialist who works with the Democrats in the Senate, but he only formally joined the party during his last White House bid because of a New Hampshire requirement that candidates in party primaries have to be members of that party. When Sanders ran for reelection to the Senate last year, he appeared on the ballot as an independent and declined the nomination of the Vermont Democratic Party, but still received its support—a maneuver he'd used in his previous two Senate runs. Some Democrats believe he contributed to Hillary Clinton's eventual loss to Trump because he tore her down on a mission to change the party from the outside, and they still hold that against him. Since then, he's forced changes at the Democratic National Committee—such as getting rid of superdelegates at conventions and using online donations as debate-entry thresholds—that many see as beneficial to him despite the fact that he's not a full member of the party.
Sanders's inner circle is now committed to democratic socialism in a way that some senior members of his 2016 campaign team were not, though he did deliver a speech about the topic back then as well. This new speech, aides tell me, will go much deeper. Sanders and his aides see this as a moment to reach for the revolution that he's been dreaming of since he was an angry, underemployed writer in the 1970s, paying his bills through essay writing while being an activist.
Not everyone believes the message will penetrate. "There is zero electoral evidence that voters support hard socialism or care about the fights the left relitigates every day on Twitter," one frustrated former 2016 Sanders aide, who spoke on the condition of anonymity to freely criticize the current campaign, told me.
"Candidates during campaigns have to introduce their philosophies and what they believe to voters every time they run, and it's important for Bernie Sanders to run an issue-based campaign on what he's believed for a very long time," Ari Rabin-Havt, Sanders's campaign chief of staff, told me yesterday morning. "The way to win is to make our case directly to voters, and to lay this out directly to voters."
His opponents' critiques line up: Sanders is promising pipe dreams that most people don't even really want, and certainly won't get, and along the way he's playing right into Trump's "Democrats are socialists" scare tactics, in addition to his subtler attack on Democrats—that they always promise big but rarely deliver.
"What people want is health care," Bennet told me. "What people want is a job that will actually pay them enough so they can buy housing, health care, higher education, and early-childhood education. What people actually want is to know that we've got a durable solution on climate."
Senator Kirsten Gillibrand of New York, who two months ago stood with Sanders as he reintroduced Medicare for All, made a similar argument to me. "Capitalism has been the reason for our growth as an economy for hundreds of years," she said. "We have healthy capitalism when small businesses and entrepreneurs start businesses to create jobs and create a growing economy. When greed takes over is when capitalism is corrupted."
Fix the system, Gillibrand said—don't tear it up. "Find ways to inspire healthy capitalism and regulate where corruption and greed result in things like income disparity and the racial wealth disparity between blacks and whites." That's the line former Maryland Representative John Delaney took, too. "All this stuff about democratic socialism—let's get back to supporting workers," he told me. "I think we've got to get back to these basic kitchen-table issues, we've got to stop with this notion of throwing out the whole model of the United States of America, and we simply have to get back to recommitting ourselves to it and doing our job." It's an argument voters are hearing throughout the field, including from candidates like Warren, who has made a point of setting herself apart from Sanders by asserting herself as a capitalist.
Sanders's aides are confident his rivals will regret questioning him. "[Democratic socialism] is morally right, but also it is imperative that we take this approach to defeat Trump," Weaver told me. As for the political issue of Sanders's allegiance to democratic socialism over the Democratic Party, the candidates themselves are careful not to engage on an argument that's popular among many of their supporters. "I won't tell Senator Sanders what to do, but I am a proud Democrat, and will remain that way," Harris told me.
Hickenlooper told me that the approach makes sense for Sanders. He wants to be the outsider, flinging bricks and telling everyone else in the field that they're wrong. "I think that he's drawn to a role of an iconoclast—that's where he feels alive," Hickenlooper told me. "If he was brought into the more traditional confines of the Democratic Party, he'd be miserable."
He'd probably be happier, though, if his campaign were catching on a little more than it is—with or without this speech.