The Atlantic Politics & Policy Daily: DSA What You Want to Say
2020 Democratic candidates sniff at Bernie Sanders's democratic-socialist ideas. Plus: How will the Green New Deal work? We may have to wait until next year to see.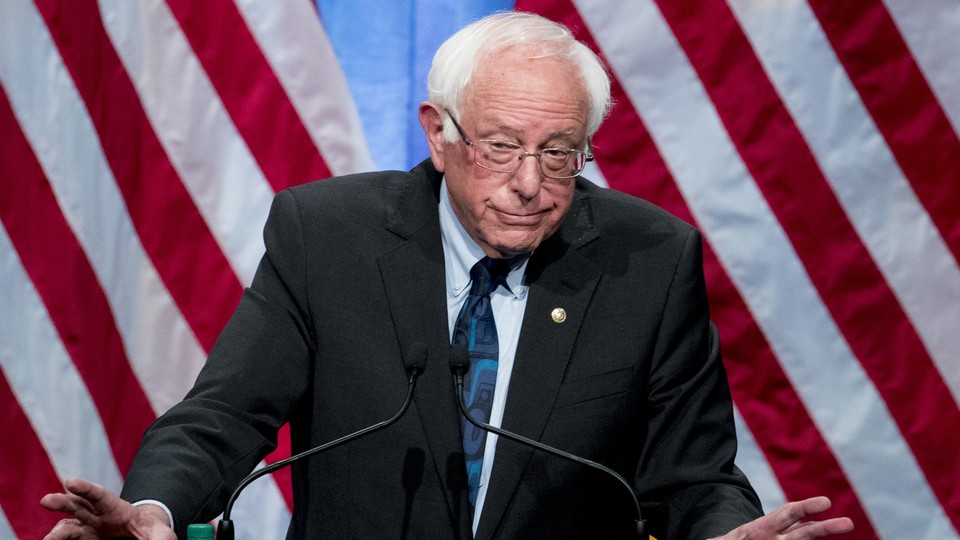 What We're Following Today
It's Wednesday, June 12.
‣ President Donald Trump invoked executive privilege over documents related to the addition of a citizenship question to the 2020 census.
‣ Donald Trump Jr. testified before the Senate Intelligence Committee in a closed-door session (he reportedly told the committee that he did not change anything from his previous testimony).
Here's what else we're watching:
(Courtesy of the ACLU)
Abuse on the High Seas: The American Civil Liberties Union is suing the U.S. Coast Guard, Kathy Gilsinan reports. The lawsuit, filed today, accuses agency officers of intercepting four Jamaican fishermen, falsely accusing them of smuggling marijuana, and holding them at sea for more than a month.
LOL DSA: Senator Bernie Sanders delivered a speech on democratic socialism—a concept that made some of his 2020 rivals LOL, IRL. Though many of the major presidential contenders are politically aligned with proposals championed by Sanders, they still don't believe that democratic socialism is an effective way to govern, or a message that will rally enough support to defeat President Trump.
Getting the Deets: What does the Green New Deal actually propose to do? Well, New Consensus, the think tank charged with coming up with all the policy details, doesn't plan on publishing those substantive "policy deets" until next year, reports Robinson Meyer.
---
Snapshot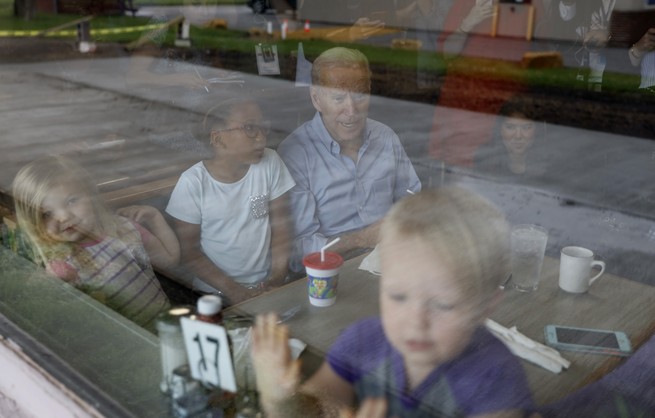 Former Vice President Joe Biden visits with diners during a stop at the Tasty Cafe in Eldridge, Iowa. (Charlie Neibergall / AP)
---
Ideas From The Atlantic
Free Speech on Campus Is Doing Just Fine, Thank You (Lee C. Bollinger)
"When students express concern and discomfort about speech that is hateful, racist, or noxious in other ways, they are doing nothing unreasonable or historically unprecedented. A number of other democracies take a less absolute view on this topic—yet remain democracies." → Read on.
Biden's Message Is Incoherent (David A. Graham)
"How can it be that Trump poses an existential threat, and if he serves two terms, it would produce a profound shift in American society, but that if he serves only four years, it will be easy to return to the supposed idyll that existed before 2016? The idea beggars belief." → Read on.
---
What Else We're Reading
‣ After a Transgender Woman's Death at Rikers, Calls for Justice and Answers (Michael Gold and Sean Piccoli, The New York Times)
‣ 'They Happen to Be Our Neighbors Across the Span of a Century, but They're Our Neighbors.' (Adam Morgan, Longreads)
‣ When Pete Buttigieg Ripped America's Missionary Zeal (Jesús A. Rodríguez, Politico Magazine)
‣ The Conservative Divide (Jonah Goldberg, National Review)
---
About us: This newsletter is a daily effort from The Atlantic's politics writers: Elaine Godfrey, Madeleine Carlisle, and Olivia Paschal. It's edited by Shan Wang.

Were you forwarded this email? Sign yourself up here. We have many other free email newsletters on a variety of other topics. Browse the full list.