The British Remind Trump That He's Still the Leader of the Free World
British leaders have accommodated Trump at every turn, yet gifts from Queen Elizabeth II and Theresa May are subtle reminders of the power of democracy.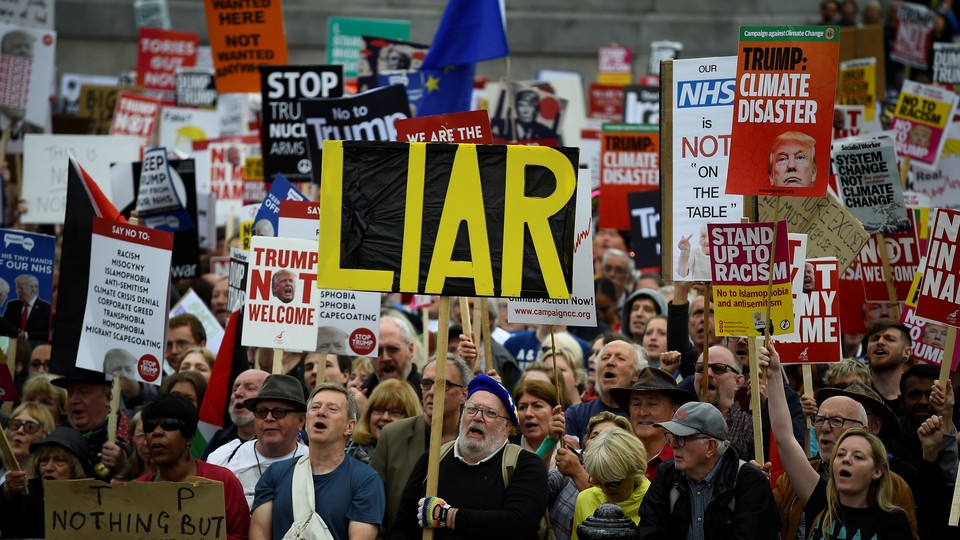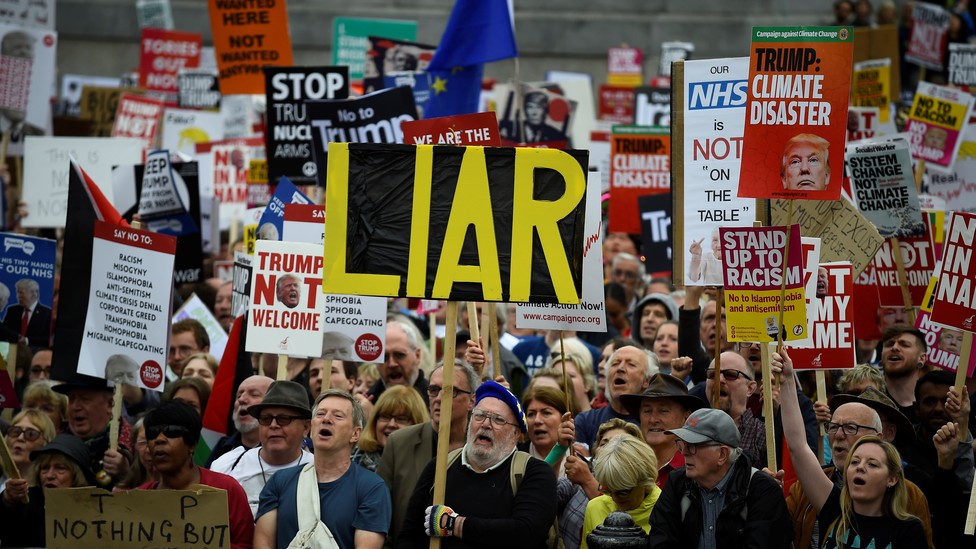 LONDON—To President Donald Trump, a political protest isn't so much an expression of hard-won democratic freedoms as a personal rebuke.
At his campaign rallies ahead of his election, Trump would cheer when protesters were evicted—"I'd like to punch him in the face," he told the crowd when a demonstrator was thrown out of a rally in Las Vegas in February 2016. The notion that he was running for an office sworn to uphold the constitutional protection of free speech never seemed to sink in.
So a visit to Britain was always going to be a minefield for Trump. Although attracted by the pomp that British royalty dishes up, he has also been leery of a population that largely dislikes him and comes up with inventive ways to show its disdain. He told Prime Minister Theresa May during his first year in office he didn't want to visit if he'd be met with mass protests, according to one account.
Midway through a three-day trip to Britain, Trump declared a victory of sorts, telling a news conference on Tuesday that predicted large-scale protests never materialized. Standing beside May in Durbar Court, at the Foreign Office, Trump said: "I heard that there were protests. I said, 'Where are the protests? I don't see any protests.' I did see a small protest today when I came, very small, so a lot of it is fake news, I hate to say."
Yes, protesters in central London carried through the streets a large statue of the 45th president sitting on a gold-painted toilet, phone in hand. Yes, the "Trump baby" blimp, which debuted above Westminster last year during a presidential visit, was lofted into overcast, drizzly skies as Trump met privately with May to talk about future trade deals. And yes, a group of critics puckishly projected the president's approval ratings in Britain alongside Barack Obama's to illustrate how little he is liked here.
But, in Trump's telling, that's only part of the story. He said that as he's motorcaded around the city over the past two days, he's seen "thousands of people on the streets cheering."
There are ways to shield a visiting president from street images he may find unpleasant. At one time in the planning of this trip, Trump was supposed to ride to Buckingham Palace in the traditional horse-drawn carriage. That idea was scuttled, though, when authorities warned the ride would be difficult to police. Instead, Trump arrived to greet Queen Elizabeth II by helicopter, landing in a secluded part of the palace gardens on Monday with no view of the street.
If the president was determined to evade the protesters, though, the protesters made sure to find him. In many ways, the demonstration resembled the mass protests that took place when Trump visited last year. Then, like now, thousands of people gathered in Trafalgar Square wielding signs saying #DUMPTRUMP, TRUMP NOT WELCOME, and BUGGER OFF!
Still, there were some differences from a year ago. For one, Trump was correct that attendance was off. Hundreds of thousands of demonstrators poured into the streets of Westminster last year, but the turnout wasn't as high this time. Before protesters began their march from Trafalgar Square toward 10 Downing Street, where Trump and May were meeting, one police officer at the scene estimated that 5,000 people were in attendance. (Organizers behind the Together Against Trump protest estimated that 75,000 people attended by the end of the event, and Ash Sarkar, an activist and one of the protest organizers, told The Atlantic that those numbers were depressed because of the rainy weather and the time—it was a weekday.)
A number of British politicians took part in the protest, including the opposition Labour Party leader Jeremy Corbyn, who was among the British leaders to boycott Monday night's state banquet for the president at Buckingham Palace. "I want to live in a world that survives, that thrives. You do that by respecting the world, respecting each other," Corbyn told protesters on Whitehall, just feet away from the hall where Trump and May were meeting with journalists.
At the news conference, Trump gave a retort. Asked about the Labour leader, he said that Corbyn had sought to meet with him during the trip and he had declined. Trump described Corbyn as "somewhat of a negative force."
British officialdom has taken pains to accommodate Trump at every turn. Yet there are some subtle signs that his hosts want to remind him of larger democratic values—values in which political protests are embedded. As a gift, the Queen gave Trump a first edition of Winston Churchill's account of World War II, which recounts how the Allies defeated fascist powers. May, who is stepping down shortly, gave him a draft of the 1941 Atlantic Charter, a statement signed by Churchill and then-President Franklin Roosevelt whose tenets include self-determination and freedom from fear.
It's not clear exactly what the givers had in mind. But perhaps the purpose was to remind Trump—who is wary of alliances, averse to protests, and seemingly more comfortable in the company of autocrats than democratically elected leaders—that he's caretaker of a rich tradition.
Trump will get more reminders in the days ahead. He is in Europe to mark the 75th anniversary of the D-Day landings, and on Wednesday he'll visit Portsmouth, on Britain's southern coast, an embarkation point for the D-Day troops. Then, the next day, he'll fly to Normandy, where Allied troops landed on D-Day and began rolling back Hitler's forces in Europe.
"He needs to reestablish the fact that the U.S. is a leader in democracy," Representative Joaquin Castro, a member of the House Foreign Affairs Committee, said in an interview. "A leader in patrolling human rights around the world, a leader in supporting our allies."