The Moderate Men Waiting for Biden to Fall
What if Democratic voters really are looking for a middle-of-the-road candidate in 2020?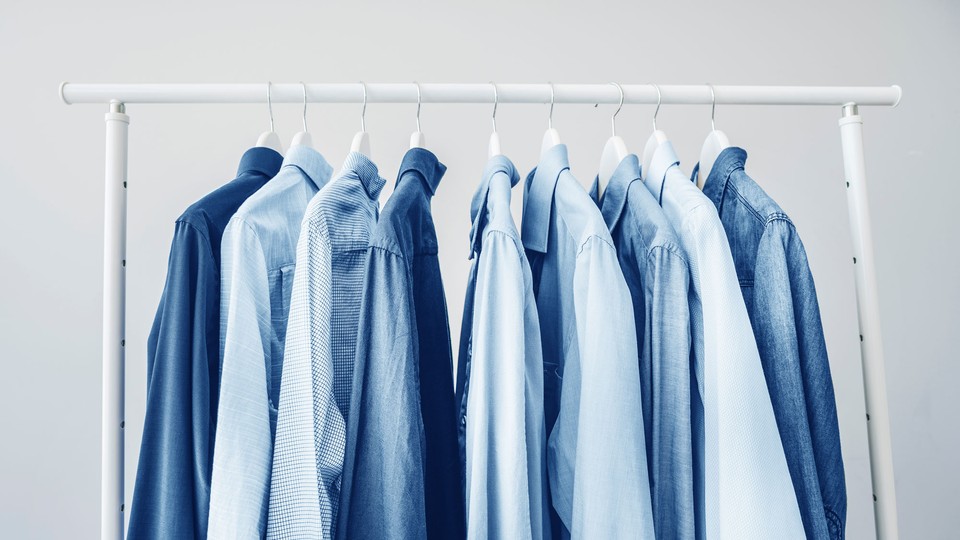 Joe Biden's Democratic rivals are hoping he tumbles. Many are confident that he will.
No one needs Biden to fade more than the other white, male, moderate candidates who believe they'd be able to step in and take his place. To anyone who complains how hard it's become for a white man with middle-of-the-road politics to find space within the Democratic Party, many would recommend the tiniest violin, strings removed. Theoretically, it's both the most crowded and most dismissed lane, full of people currently competing to be the most memorable also-ran: Senator Michael Bennet of Colorado, Montana Governor Steve Bullock, Representative Tim Ryan of Ohio, Representative Eric Swalwell of California, Representative Seth Moulton of Massachusetts, former Representative Beto O'Rourke of Texas, and, to a certain extent, South Bend, Indiana, Mayor Pete Buttigieg.
They're getting punchy—in part because they believe they're starting to sense Biden's weakness, and in part because they believe there's an opening for moderates, with so many other candidates largely following the lead of Senator Bernie Sanders of Vermont on progressive issues such as Medicare for All. For all the ways the 2020 Democratic primary race is like no election before, these candidates are still convinced it will still be like every other modern election, in that a white man from the middle will make it into the final round. And they think that there's a way to energize voters around calls for compromise—though that's not how modern American presidential politics works. When announcing that he wasn't running for president in March, former New York City Mayor Michael Bloomberg said that he didn't think he could break through as a moderate—and he was ready to spend millions of dollars on a 2020 campaign. But the moderates who are running insist that this is their moment, despite what you hear on Twitter and in echo chambers on the left.
"The Democratic Party is going through the process of deciding if we want Joe Biden to be the nominee or not," former Representative John Delaney of Maryland told me, waiting to board the plane in Washington, D.C., for what was his 29th trip to Iowa a week and a half ago. "He has 100 percent name ID, he's very well liked, and he's polling really well. If the Democratic Party decides for a variety of reasons that he may not be the best nominee, then I think it becomes wide open for other, more moderate-oriented candidates."
Delaney has already been to all of Iowa's 99 counties. He's made another 19 trips to New Hampshire. He's been going at it for two years, and so far, what he has to show for it is 1 or maybe 2 percent in the polls, and the notoriety among insiders for throwing himself so hard into running a race no one believes he can win. His biggest splash so far came from delivering a speech at the California Democratic Party convention earlier this month in which he opposed Medicare for All, only to be told on Twitter by New York Representative Alexandria Ocasio-Cortez, the rising Democratic star, that he should drop out. When her office turned down Delaney's offer to have a debate, her friend, Representative Ilhan Omar of Minnesota, jumped in, tweeting "No means no!"
Delaney is a self-made multimillionaire from two companies he founded, and though he's largely self-funding his campaign, he has nowhere near Bloomberg-level money. What Delaney believes he has, though, is the freedom and guts to say what most of his opponents won't, such as the idea that most Americans don't want to give up their private insurance plans, as they'd have to under the current version of Sanders's Medicare for All bill.
"Everyone is afraid to say it in the Democratic Party, but if our nominee runs on Medicare for All, the Republicans won't be afraid to say it," Delaney told me. "In fact, they'll probably spend a billion dollars, sending messages to the American people that one of the most important things in your life, your health insurance, which 100 million people like, according to polling, the Democrats are going to make illegal."
Walking through the farmers' market in Des Moines, I watched Delaney make this case to Jenny and Joe Newman, a couple who had driven an hour in from Ames to see several of the Democratic candidates speak. "I just don't know why we've got to shock the system," Delaney told them. "I agree with you," Jenny Newman responded. Afterward, they told me they hadn't realized that Medicare for All would get rid of private insurance, and Joe Newman said that working as a podiatrist, he wasn't sure whether that was the best idea.
If the Newmans' sentiments are representative of a larger population, it's theoretically good news for Delaney. But that's a big if. After our conversation, I watched him walk five blocks back to his car through the farmers' market, with not one person appearing to recognize him.
John Hickenlooper, the former Colorado governor, was also at the farmers's market, also not making big waves of his own. At the same California convention at the beginning of the month, Hickenlooper was booed for speaking out against socialism. The former Denver brewpub owner began this particular trip to Iowa touring a new brewpub in Des Moines, where he interviewed the kitchen workers about their knife skills, asked what botanicals were used in the gin, and talked up his "three-legged stool" plan of nonprofits, businesses, and government working together. So what, I asked him, did he make of the argument that Republicans will call the Democrats socialists no matter what, so they might as well have the courage to back big changes, and not chase the supposed center? "They are going to call us that. That's why it's important that we say we're not," Hickenlooper told me. Maybe now, one of Hickenlooper's aides had argued to me, was the "insurgency of the moderates."
Hickenlooper wasn't sure about that phrase. "Sounds like a movie script," he told me. He picked at an appetizer plate of charcuterie and olives at the restaurant on the top floor of the hotel where he and 18 other Democrats quickly made their cases at an Iowa Democratic Party event in Cedar Rapids. Sanders had just gotten the crowd cheering as he said, "We will not defeat Donald Trump unless we bring excitement and energy in this campaign, unless we greatly expand voter turnout, and unless we give millions of working people and young people a reason to vote, and a reason to believe that participating in politics will improve their lives."
That, Hickenlooper said, could actually be where Sanders will be the one out of sync with where the party is headed. "I thought the path of the discourse had obviously taken a turn—organically, I think that almost always happens. One side pushes an angle, and if there are enough people that have a different perspective, somebody sooner or later speaks up," he told me. "At a certain point, you step back and you say, 'Wait a second. I think the majority of people don't agree with the orthodox view.' Senator Sanders deserves tremendous credit for actually providing clarity to some of the biggest issues. He really put into focus the problem, and his solution. That captured so many people's attention that many people adopted it without really putting it within their own framework of what they believe, seriously thinking it through."
So how, I asked Hickenlooper, was he proposing to capture people's attention? He talked about an apprenticeship program he'd pioneered in Colorado that was now being modeled in other states, even as he lamented that "no one pays attention because my name's not Bernie Sanders."
"We've created a politics of celebrity and of attention. Doesn't matter why people are paying attention to you, people have to pay attention," he said.
Hickenlooper's fellow Coloradoan, Michael Bennet, is among those who do not want the "moderate" label at all, though Bennet has a health-care bill called Medicare X, offering Medicare as an option, and is mounting a campaign that rejects the burn-it-down, all-out-war mentality that has set in among many of the loudest voices in the party.
"I reject the idea that they're moderate ideas," Bennet told me after speaking at the Iowa Democratic Party event in Cedar Rapids. "The more I'm in this race, the less I think it's about 'moderate' versus 'progressive,' the more I think it's about whether you've got a vision that is connected to where the American people really are or whether you've got one that's really good at responding to what's on the cable at night or on social media."
It's not just on social media and cable news, though. Combine the polling numbers for all the straggler male moderates, and that still wouldn't add up to Sanders's share. And for all the predictions about Biden's numbers collapsing, they haven't.
"You all said I was going to fail from the beginning," Biden said in Iowa last week. He looked at me. "You, you said, 'Biden is going to start off and he's going to plummet.'" (Though he was pointing at me, I noted that it was other people who'd made the prediction to me in my reporting for other stories.)
But so far, seven weeks into Biden's third official run for president, that hasn't proved true—though the polls don't reflect the small size of the crowds he's drawing, the lack of enthusiasm most people in those crowds have been demonstrating, or the loose commitment to vote for him that they walk away with.