Democrats Wrestle Over What Their Party Stands For
The Miami debates are like the beginning of the pupa stage for a metamorphosis to come.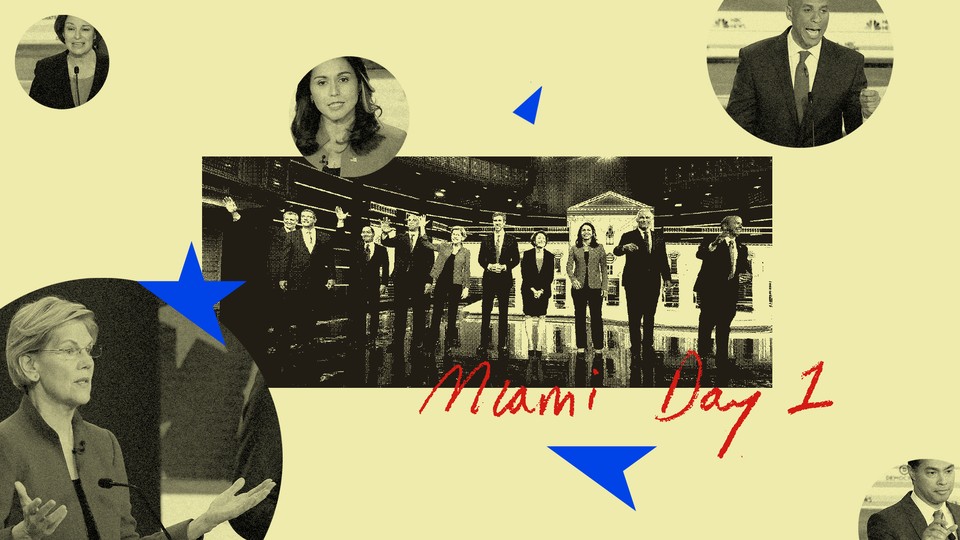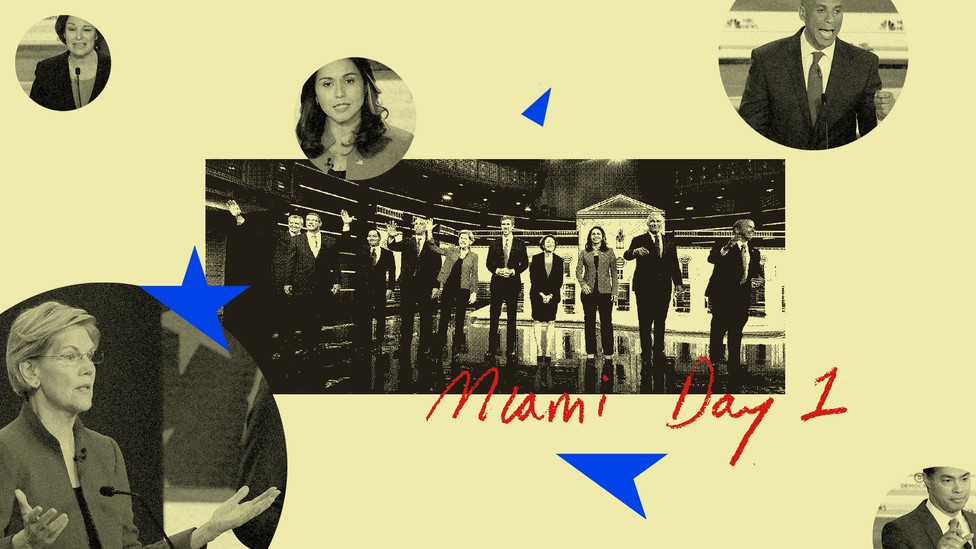 MIAMI—On one side of the street stood a group of Republicans waving a Donald Trump flag under a giant banner that declared SOMOS CAPITALISTA. On the other idled an ice-cream truck that had been commandeered by Joe Biden superfans offering free cones of "Biden-berry blue," noting the flavor is "Obama's favorite too!" When the moon is full and the tide is high, this street often floods, a sign of what climate change is doing to this city. Down the block sits the opera house, the scene of the Democratic presidential debates, with a set optimistically decorated to show the candidates standing in front of the White House.
Here, Democrats are trying to figure out not just who their 2020 nominee will be, but what their party is going to be. These debates may resemble a carnival, but they're also an advertisement for what the party is trying to achieve: fresh policy ideas, some even tethered to plans for how to execute them, put forward by a group of accomplished people from a diverse array of life experiences, ideologies, and backgrounds. These debates are like the beginning of the pupa stage for the Democratic metamorphosis to come.
Yesterday was the anniversary of John F. Kennedy's "Ich bin ein Berliner" speech in West Germany. It also marked four years since the afternoon Barack Obama sang "Amazing Grace" at the memorial service for Clementa Pinckney, one of the nine people murdered by a white supremacist at Mother Emanuel Church in Charleston, South Carolina. That same morning, the Supreme Court had legalized gay marriage nationwide, and the morning before had upheld Obamacare as constitutional—two moments that made it feel, to many who worked for Obama then, as if his whole presidency was suddenly coming together. After the service, the president's helicopter, Marine One, landed back at a White House lit up in rainbow colors. A party roared across the street in Lafayette Park all night.
This is the feeling that the Democratic Party is currently chasing: Beyond insider fights over qualifying criteria or who won the battle of 30-second responses, the early debates are about Democrats searching for their new star. Their new hope. The man or woman who can unite Americans from different states and convince them the party can win next November. They probably won't figure it out for at least another eight months. And even then, they're stuck with a dilemma: There isn't a candidate running whose celebrity, so far, is on par with Obama's—or Trump's.
Republicans aren't anywhere near as confused. Last week, a few hours north of here, in Orlando, President Trump "officially" launched his reelection campaign with a long, rambling speech that railed about illegal immigration, the Russia investigation, and "Crooked Hillary." His campaign manager, Brad Parscale, worked reporters all the while, trying to sow doubt about what polls can and cannot credibly say about the current electorate.
The Republican Party, too, wants to define what the Democratic race is about. Republican National Committee Chair Ronna Romney McDaniel, whom I'd spotted flying first class to Miami early yesterday morning, hurried off the plane for an event at a Cuban restaurant in the city: "Detailing the Socialist Policies of 2020 Democrats." Though two of the candidates last night raised their hands to affirm their support for eliminating private insurance companies—Senator Elizabeth Warren of Massachusetts and New York City Mayor Bill de Blasio—that's as close to backing socialism as any of the candidates got.
At least last night, Trump appeared only as a sideshow—the Democratic candidates were asking Americans to choose among them. Still, I asked, what are people supposed to make of 20 candidates, most of them largely unknown, tap-dancing across topics for two nights? "I take away that we had a deep bench," Democratic National Committee Chair Tom Perez told me after the debate. But what were people at home supposed to think his party stands for? "We stand for an America where opportunity exists for everyone," Perez said. "We stand for an America in which compassion is not a four-letter word." That might be hard to turn into a clever bumper sticker—or a policy platform.
"I hope they know that there are some people up there focused on working-class issues," Representative Tim Ryan of Ohio told me when I asked him the same question as he walked into the spin room, where the candidates spent an hour taking more questions. Fine, I said to Ryan: That's what he wants. But does he think that will be voters' takeaway? "We'll see," he said. "It's tough with 10 people, 10 messages."
"I think the Democratic Party's got to stand for some common-sense, mainstream stuff," former Representative John Delaney of Maryland told me. Delaney, like Ryan, said he felt boxed out of speaking for much of the night. Right now, Delaney told me, his party "stands for eliminating private health insurance. It stands for writing off all student debt. We know that's not going to happen."
To Julián Castro, the former housing secretary, Democrats should also stand for a more forgiving immigration policy. Castro called on his fellow candidates to join him in supporting the decriminalization of border crossings. If crossing the border is a crime, Castro said, it leads to parents being incarcerated and separated from their children. Explaining his stance to reporters after the debate, Castro kept repeating the line: "I do my homework."
During the debate, when Castro invoked the viral photo of an El Salvadorian father and daughter who recently drowned in a river trying to cross the southern border, Trump jumped in. "BORING!" he tweeted, a comment Perez told me was "Exhibit 48,000 in the absence of a soul of this president." But like the other candidates who largely avoided bringing up Trump, Castro wasn't interested in taking that swing. "I'm not paying attention to him," Castro told me, adding only that "this president has already shown himself to be a failure."
When I asked Senator Cory Booker of New Jersey what he thought voters were supposed to glean about the Democratic Party, he told me that these nights in Miami are "the beginning of a conversation." Booker moved through the spin room surrounded by the biggest cluster of reporters that I've ever seen around him. "I think that the debate stage will whittle down over time," he added.
He's right. The race will likely stay hot and crowded through the summer, and through the next debates, in Detroit at the end of July. But right now, most candidates are just fighting for their spot in the third debate in September, which will be harder to qualify for. By then, the money, for many of them, may start running out; few people believe a full two dozen candidates will survive long past Labor Day.
But any changes to the field won't make a significant difference if the race doesn't start to shift away from Biden. His name didn't come up once on the debate stage last night, implicitly or explicitly, despite all the expectations among pundits—and among those on Biden's campaign—that he was going to be the punching bag. The candidates seemed determined not to let his top position in the polls shape the conversations they wanted to have.
"This is about the American people," Booker told me, as he made his way out of the spin room. I'd asked him why he didn't bring up Biden, a candidate with whom he had recently exchanged words, after Biden wistfully recalled his days working on legislation with segregationists. "This isn't about one individual candidate," he told me.
That is what every candidate who isn't the Democratic front-runner wants to keep repeating, praying that it might turn out to be true. But it's also easier to say when Biden's not onstage (not to mention Trump). Tonight, Biden will be at the center, surrounded by nine other candidates—who'll all be trying to get the audience to look right past him.