2020 Candidates Are Going All In on Abortion Rights
Democratic candidates are pushing their party further left than ever. Will this strategy cost them voters?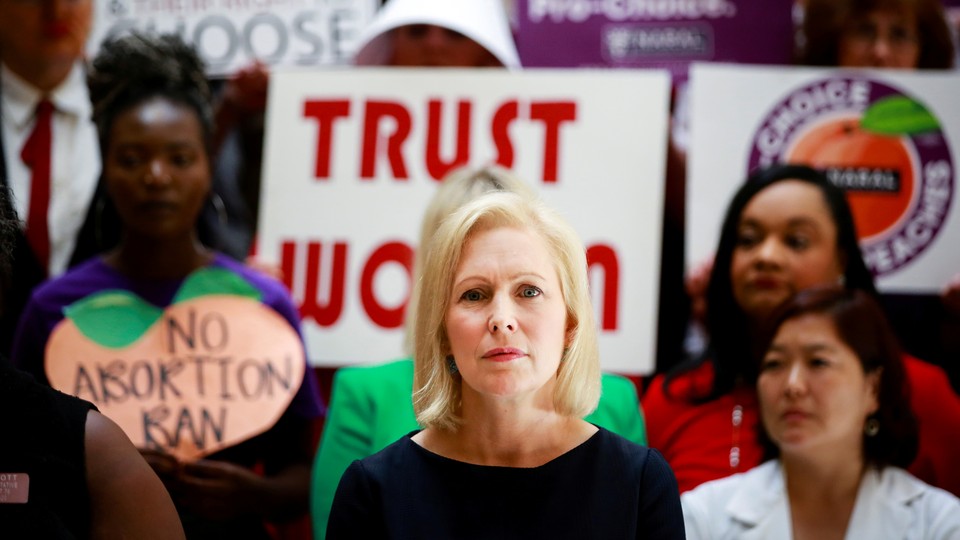 Kirsten Gillibrand has made abortion the central issue of her presidential campaign. The senator from New York has consistently led the field of 2020 candidates on abortion policy, moving first and going the furthest to embrace an expansive vision of abortion rights. Her approach is a bellwether of where the Democratic Party is heading on this issue: Abortion is guaranteed to be a key topic in the 2020 election, especially following major policy battles at the state and federal levels. Gillibrand and other Democrats have warned that Donald Trump and the conservative-leaning justices he has appointed to the Supreme Court are working to overturn Roe v. Wade, the decision that established a constitutional right to abortion in 1973. Because of this, they argue, now is the time for Democrats to take a definitive stance, rather than try to compromise or telegraph discomfort over the issue.
Democrats are in the midst of an identity crisis, with leaders fighting over who should be welcome in the party and which policies will most appeal to Trump-traumatized voters. Gillibrand and other 2020 contenders, such as Senator Cory Booker of New Jersey, Senator Elizabeth Warren of Massachusetts, and Senator Kamala Harris of California, want to make abortion far more accessible and reject any efforts to place limits on the procedure. "Are we gonna go back to the days of back-alley abortions? Women died before we had Roe v. Wade in place," Harris recently said in an interview on MSNBC. "On this issue, I'm kind of done."
The national battle over abortion has been fueled by a wave of state-level abortion restrictions in recent months, including a near-total ban signed into law in Alabama on May 15 and tough restrictions after six to eight weeks of pregnancy passed in Louisiana, Missouri, Georgia, Ohio, Kentucky, and Mississippi. Although local Democrats supported the abortion restrictions that passed just this week in Louisiana, and the state's Democratic governor, John Bel Edwards, signed the bill into law, the national party has thoroughly purged its anti-abortion members, a move that leaders such as Gillibrand support.
This full embrace of abortion is the culmination of decades-long shifts in rhetoric and strategy among Democrats. It's also a bet on what's going to work in the next general election. Democratic candidates believe Democratic voters want abortion rights expanded, ensuring that the procedure is safe, legal, and available on demand. Of course, that bet runs the risk that voters who aren't on board will stay quiet, stay home, or vote for someone else.
In 2007, 66 percent of Democrats said abortion should be legal in all or most cases, according to the Pew Research Center. Ten years later, 79 percent of Democrats said the same thing. By comparison, over that same time span, roughly a third of Republicans consistently said they support legal abortion in all or most cases. Similarly, 73 percent of Democrats say Roe v. Wade should be upheld, compared with 34 percent of Republicans, according to the Public Religion Research Institute.
Gillibrand has long aligned her political career with the cause of abortion rights: Last fall, following Brett Kavanaugh's nomination to the Supreme Court, she rallied with NARAL Pro-Choice America to warn that his confirmation would pose an existential threat to the status of women's liberty in America. Earlier this month, she went to Georgia, again with NARAL, to protest a new abortion law that limits the procedure at six weeks of pregnancy.
"I believe that reproductive rights are human rights, they are civil rights, and they are nonnegotiable," Gillibrand told me in an interview last week. "The attacks we've seen from Republicans in states like Alabama and Georgia represent the greatest threat to women's reproductive rights since Roe. I believe we have to fight back with every fiber of our being, which is why I've made this a major platform for my presidential campaign."
Democratic presidential candidates with a more moderate approach to abortion have already been pushed to the left on this issue. Former Vice President and current 2020 front-runner Joe Biden, a devout Roman Catholic who once called his position "middle of the road," pledged in May to pass federal legislation protecting abortion rights, "should it become necessary," according to the Associated Press. He also recently told a volunteer for the ACLU that he would commit to abolishing the Hyde Amendment, despite repeatedly voting to preserve the ban on federal funding for most abortions through programs such as Medicaid.
In general, Democrats have been eager to prove their support for abortion rights. As Gillibrand has unveiled new policy proposals, they've quickly been adopted or adapted by a number of her competitors in the 2020 field. "It's the tenacity and passion and dedication to this issue over a decade that sets me apart from many Democrats," she told me. "I'm very proud to have led the 2020 conversation." She wants to repeal the Hyde Amendment, and she promises to impose a litmus test on potential Supreme Court justices and nominate only judges who will uphold "Roe v. Wade as settled law and protect women's reproductive rights," according to her website. Gillibrand has also vowed to pass federal legislation that would protect private insurance coverage for abortion, create funding for "reproductive health [centers]," and "supersede … harmful state restrictions" on abortion services or providers.
This plan to override state abortion restrictions is popular among Democratic candidates: Just this week, Harris argued that the Justice Department should have to approve all state laws having to do with abortion, similar to the way voting-related laws in some states were reviewed following the battle over civil rights in the 1960s.
Some of Gillibrand's proposals make for better talking points than coherent policies. For example, the former defense attorney and government lawyer has vowed to "codify Roe v. Wade into law." It's impossible to literally codify Roe without passing a constitutional amendment, since the Supreme Court decision asserted a constitutional principle; besides, the framework for most court decisions about abortion today relies on jurisprudence that came after Roe. When I asked Gillibrand what would actually be in her proposed law, she said, "Just the status of the law today, that this is reproductive freedom that the laws and courts have guaranteed for over a generation, and that we want that guarantee to be in statute." Other candidates, including Booker and Warren, have joined Gillibrand's cry to codify Roe, although Warren has sidestepped the legal murkiness with a proposal to establish "federal, statutory rights that parallel the constitutional right in Roe v. Wade."
Notably, Gillibrand was unwilling to say she would expand abortion rights to include abortion at any point in pregnancy—a position being pushed by Democrats in blue states, including in her home state of New York. "I think the status of the law today makes sense," she told me, answering follow-up questions only with broad statements about expanding abortion access to poor women and women of color. By contrast, her male peers in the Democratic field have been willing to go that far: When asked during a Fox News town hall about when abortion should be limited, South Bend, Indiana, Mayor Pete Buttigieg said, "I trust women to draw the line." Former Representative Beto O'Rourke of Texas has answered this question similarly. "I think those decisions are best left to a woman and her doctor," he told a reporter earlier this spring. Andrew Yang, the entrepreneur and founder of Venture for America, tweeted, "I personally don't think male legislators should be weighing in on women's reproductive rights and freedoms … I'm happy to let women decide for themselves." This is the only abortion issue on which Gillibrand is not outflanking her competitors to the left.
---
Just 20 years ago, the Democratic Party was led by a president, Bill Clinton, who spoke in radically different ways about abortion. But by the 2016 election, his famous formulation—that abortion should be "safe, legal, and rare"—had been all but tossed aside as his wife, Hillary Clinton, endorsed abortion through the third trimester of pregnancy.
Public opinion on specific abortion policies is still mixed, including among Democrats. Only a slim majority of Americans oppose policies banning federal funding for abortion along the lines of the Hyde Amendment, including 60 percent of Democrats. Roughly two-thirds of Americans say abortion should generally be illegal in the second trimester, and more than 80 percent say it should generally be illegal in the third trimester—numbers that have held steady since the 1990s, when Gallup first polled the question. Gallup data since the 1970s have shown that a plurality of Americans believe abortion should be legal only under certain circumstances, and as of 2018, the country was evenly split between people who identify as "pro-life" and "pro-choice."
In spite of this mixed public opinion, Gillibrand and other candidates see abortion rights as a winning issue for the Democratic Party, especially as a contrast to Trump's full-on embrace of the anti-abortion movement. "These radical legislatures, as well as President Trump, who is emboldening them to pass these laws that criminalize women's reproductive freedom … are not reflective of where America is today," she told me. "I think they're trying to turn back the clock … which is why I think women have been marching since President Trump got elected."
In the Democratic primary field, candidates seem to be making the calculus that they don't need to appease those Democratic voters who sit somewhere in the middle on abortion—perhaps another manifestation of the broad push to the left during the primary race so far. "Every voter can make their own decision on their own reproductive freedom," Gillibrand told me, "and, of course, any voter can vote for a Democrat or Republican, regardless of their views." She believes the Democratic Party should not support candidates who "don't believe in women's reproductive freedom and basic female equality," a view that is now widely embraced: Representative Cheri Bustos, the chairwoman of the Democratic Congressional Campaign Committee, recently canceled an appearance with Dan Lipinski, the Illinois congressman who is effectively the last anti-abortion Democrat in Congress, after facing pressure from abortion-rights advocates in the party.
In the general election, however, abortion may be a make-or-break issue for some swing voters, who will likely be looking to Democrats for compromise. The crucial swing states that helped Trump secure victory over Clinton—including Wisconsin, Michigan, Pennsylvania, and Florida—have only razor-thin majorities supporting abortion in all or most cases, according to research from Pew. These voters could really matter: Some moderates and conservatives who were initially uncomfortable with Trump specifically point to the third presidential debate, when Hillary Clinton endorsed third-trimester abortion, as the decisive moment that solidified their reluctant support for Trump. Given the way the current Democratic primary is shaping up on this issue, that dynamic could conceivably play out again in 2020.
With a few notable exceptions, including Biden, many 2020 Democrats are trying to run as far to the left as possible. For a candidate like Gillibrand, who has struggled to meet the qualifying threshold for the Democratic primary debates and may not make it past the early primaries, positioning herself as the abortion trendsetter may be a chance to push the field on an issue she has long cared about, as a matter of principle. In the 2016 primary race, Senator Bernie Sanders of Vermont modeled this strategy, pushing the political conversation with proposals for Medicare for All and the elimination of student debt.
"We need Democrats who will stand tall to defend women's reproductive rights—our basic human rights and human dignity," Gillibrand told me. "These decisions are so intimate, so personal, so life-and-death, that they must be made by a woman with her family, with her doctors, if she so chooses. But it's her right to make them."