Democrats' Grand Plan to Contain Iran? Just Beat Trump
What the president does in the coming days could reshape the world order. But in the race to beat him, the crisis has barely made a ripple.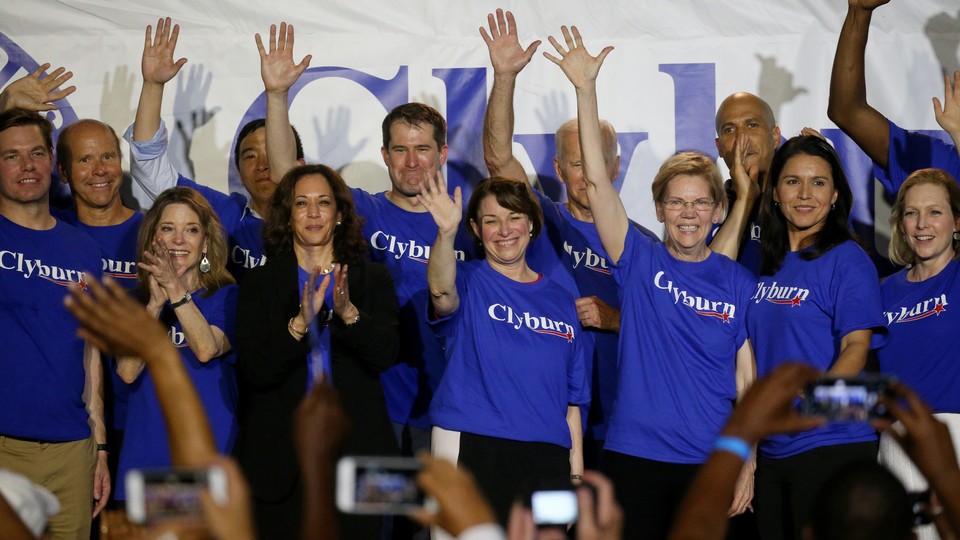 COLUMBIA, S.C.—Friday started with the lights on early in National Security Adviser John Bolton's office in the West Wing, with President Donald Trump already starting to change his story about how close he came to ordering a military strike on Iran. Here, Friday ended with 21 Democratic presidential candidates posing together onstage in matching T-shirts, waving at a crowd nibbling on fried fish.
What Trump does in the coming days could reshape the world order, but so far, in the race to beat him, the crisis has barely made a ripple.
This is just the latest weekend in a primary campaign that's started to resemble a rolling road show, with all the same candidates, political operatives, and reporters coming together in a different spot around the country every few days. The latest stop was the South Carolina capital, with Friday evening's "Blue Palmetto" dinner, hosted by the state Democratic Party, and then afterward, Jim Clyburn's "world famous fish fry," hosted annually by the congressman. Yesterday, the candidates bounced between giving speeches at the state Democratic Party convention and taking questions across the street at a Planned Parenthood forum.
"We're bound by our Democratic process to do this," South Carolina Democratic Party Chairman Trav Robertson told me, standing in the back of the convention hall while the speakers revved up the crowd. "It brings a renewed sense of urgency and seriousness to the situation."
Yet through all the official appearances and side events, few candidates even said the word Iran, let alone explained what they'd do about the tensions between the two countries beyond trying to get Trump out of office. "No one knows what happens next, including Donald Trump, but it's a dangerous time for America and for the world," Senator Elizabeth Warren of Massachusetts told me on Friday evening, after she'd popped into the World of Beer, a local bar, for a brief speech to the Young Democrats of South Carolina. But the speech she'd just given, and the rest of the primary campaign, hasn't been about that, I pointed out to her, before she pushed back: "It is, ultimately," Warren said. "It's about the chaos, and the fact that he thinks this country should run for his own personal benefit, and hate should be normalized." Warren added that she believes Trump has "marched this country to the edge of war."
Most of the Democratic candidates seem to believe Trump himself wants war—contrary to the president's repeated assertions—whether out of a wag-the-dog reelection ploy or an overly aggressive foreign policy they see as commander-in-chief playacting. "I think there's a chance that he doesn't want to get into a war with Iran, if you take him by his words, but the point here is, he's surrounded by people that may" want war, Senator Amy Klobuchar of Minnesota told me yesterday afternoon. "I don't think he knows what he wants," said Senator Kirsten Gillibrand of New York, raising her voice to be heard over the music at the World of Beer after her own speech to the Young Democrats. New York City Mayor Bill de Blasio, who is new to talking about anything related to foreign policy, told me he sees "a purposeful march to war that some are trying to engineer in the Republican Party.
"I fear deeply that, at some point, Donald Trump will see it as a helpful distraction," de Blasio added.
The Democratic primary campaign's focus so far, on economics and the character of the country, wouldn't look quite the same against the backdrop of another Middle East war, and this one with a proto-nuclear power that's been chanting "death to America" for 40 years. Aides to several campaigns acknowledge that the circumstances could change within days, anxious that by the time Democrats get to Miami for their debates later this week, Trump or Tehran could overtake the questions—and, more importantly, make the candidates seem irrelevant.
So far, the candidates haven't done much to assert what they believe on foreign policy. The only dedicated speeches on the subject have come from Warren, back in the fall before she even launched her campaign, and more recently from South Bend, Indiana, Mayor Pete Buttigieg and the self-help author Marianne Williamson.

Senator Bernie Sanders of Vermont put out a statement last week about the recent attack on two oil tankers that Trump blamed on Iran, warning against the incident being used "as pretext for illegal war" with the country. On Thursday, after an American drone was downed by the Iranians, former Vice President Joe Biden issued a statement calling Trump's Iran policy "a self-inflicted disaster," and several other candidates soon followed: Sanders, former Representative John Delaney of Maryland, Washington Governor Jay Inslee, and Senator Cory Booker of New Jersey. Even in a field this large, though, that was it. On Friday evening, when each of the candidates had a chance to speak for a few minutes at the fish fry, Inslee was the only one who said anything about Iran, and it was mostly to point out that he voted against the Iraq War when he previously served in the House.
Among the candidates who didn't mention Iran was Representative Tulsi Gabbard of Hawaii, who says she's running specifically as the peace candidate; she made only the broadest passing reference to conflict in her promise to "end the wasteful regime-change wars." Representative Seth Moulton of Massachusetts, who's tried to center his own fledgling campaign around national security, skipped over the subject too. When I spoke with him late Friday, after his remarks, Moulton pointed out that he had talked about his own service as a decorated marine, and had contrasted himself with "a reckless commander in chief" who he argued has brought the country to "the brink of war."
"People say Trump doesn't want to go to war, but the one thing that Trump is more concerned about than going to war is looking weak," Moulton told me just before midnight, as the heat of the South Carolina night was finally starting to break and the last of the fried fish was being dished out.
The Democrats I spoke with about Iran framed the president as an agent of blundering chaos. "Americans are tired of the country going to war based on lack of planning, a haphazard policy," said former Department of Housing and Urban Development Secretary Julián Castro. When I asked whether he thought Trump wants a war, he offered a noncommittal "I hope not."
When asked for their own approach to Iran, the candidates I spoke with all landed on the same optimistic generalities: They'd rejoin the Iran nuclear deal, pursue alliances, and prioritize diplomacy. In a race haunted by the assumption—in international relations, at least—that there's a way of turning back the clock to a pre-Trump order, the situation in Iran is like a blister, reminding the world that the friction isn't just going to go away.
Imagine, I said to a few of the candidates: Tomorrow morning, you're president—what do you do on Iran?
"The first thing you do is work with our allies, engage in diplomacy, try to de-escalate the situation," Klobuchar told me. "The second thing is, if I'm president, on day one—if this is still going on—you negotiate yourself back into the Iranian agreement." Klobuchar also noted that she's eager for the coming political fight over the 9/11-era Authorization for Use of Military Force, which has been stretched so far to cover military actions across the Middle East.
Buttigieg, who did a tour in Afghanistan in the Naval Reserves, raised that point as well at a town hall in North Augusta, South Carolina, yesterday. "Congress has been asleep at the switch, but in this country, Congress decides when we go to war," he said, responding to a question about Iran from a voter.
"I'm so disturbed by what appears to be an escalation toward war with Iran, engineered, by the way, by some of the people who got us into Iraq," Buttigieg said. Responding to Trump's about-face on a military strike, he said, "I guess I'm glad he changed his mind, but what does this mean? It means we have a president who is easy to manipulate, who has trouble making decisions, who does not have a defense secretary and is taking advice from people who made some of the worst decisions of my lifetime."
When I asked Gillibrand for her approach to Iran, she said the first thing she would do "is tamper down this saber-rattling that's moving us toward war.

"I would engage our allies immediately, I would ask for a reconvening of the signatories to the [Iran deal], and I would try to reengage on Iran—on not only re-signing the deal, but maybe even a longer commitment, maybe a 20-year commitment," she said.
On Friday night, standing under the stairway at the World of Beer, Senator Michael Bennet of Colorado landed in the same spot as his colleagues. "What [Trump] should do is mobilize our allies around a coherent approach to contend with what Iran did … We're in this for the long haul. This is not a day-by-day, hour-by-hour kind of situation. We need a strategy, and he has no strategy," Bennet told me. So what would his be? "My strategy would be to, first of all, reconstitute the Iran deal or a version of the Iran deal," he said. "If we can make it stronger, we should certainly make it stronger." He added that he'd want to "lower the temperature" because "the escalation that's happening on both sides is unproductive."
Gillibrand said she'd be open to talking to the Iranian leadership, I told Bennet. Trump has indicated the same. What about him? "Only if we had a strategy that was coherent," Bennet replied. Trump "has no coherent strategy. What is he going to ask them?"
At the White House yesterday, Trump was back to saying he wants to defuse the situation. "My impression is, we have plenty of time," he said, before getting on Marine One to fly to Camp David. Here in South Carolina, the people hoping to beat him say we don't have much time at all—and that's reason enough to get him out of the White House. Castro got the biggest cheers of his speech to the state convention when he said he's already dreaming of his inauguration day, when he'd escort former President Trump into retirement. "The helicopter will be out in the distance, and just before he walks away," Castro said, "I'm going to tell him, 'Adios.'"