Sure, Bill de Blasio, Why Not?
The latest candidate poised to enter the 2020 Democratic primary is a head-scratcher.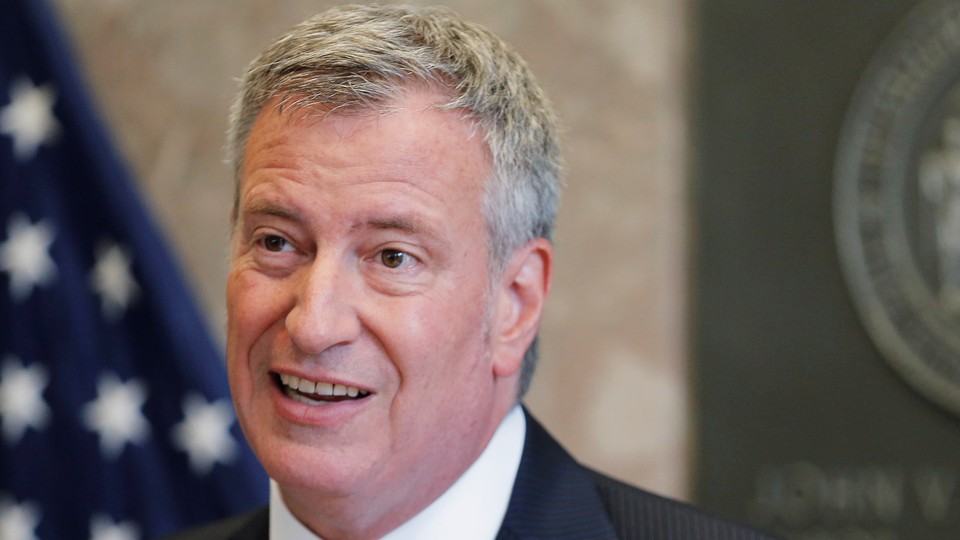 Updated on May 6 at 6:48 p.m. ET
Multiple people close to New York City Mayor Bill de Blasio gave up trying to talk him out of running for president earlier this year. Now he's reportedly going to try to win Iowa and New Hampshire without most of his friends—or even people on his payroll—supporting him.
"Ugh," said one former aide when asked about de Blasio actually going forward with his rumored 2020 campaign. "Lunacy," said another. Others declined to comment for this story. One person who knows de Blasio well cited too much loyalty to speak anonymously about his prospects. No point in just being mean, the person said. The mayor's team declined to comment for this story.
De Blasio is expected to announce a presidential run in the coming days with a skeletal campaign team staffed by junior aides on vacation from their jobs at city hall. He's trying to do what Michael Bloomberg, Rudy Giuliani, John Lindsay, and every New York mayor since 1868 has failed to do: Get elected to a higher office.
De Blasio's communications director, Mike Casca, who two months ago joined the payroll of his PAC, quit on Friday afternoon, shortly after attempting to bat down the latest round of stories that the mayor was soon joining the crowded Democratic-primary field. His government press secretary walked last month, in part to avoid being pulled into forthcoming 2020 efforts. His 2013 campaign manager, Bill Hyers, didn't respond when I asked him what he made of the mayor's White House ambitions, though he's been talking with Pete Buttigieg about getting involved with his campaign. John Del Cecato, the consultant who made de Blasio's ads in the past, including the breakthrough, blockbuster spot featuring de Blasio's biracial son, Dante, which turned around his 2013 mayoral race, won't be involved either, though he declined to comment other than to confirm that he wasn't going to participate. Lis Smith, a member of de Blasio's 2013 team who was later denied an administration post after her own tabloid run-ins, is Buttigieg's communications adviser.
"Everyone has an honest assessment of his flaws, except, maybe, for him," said one current New York City Council member who wanted to remain nameless to avoid upsetting work with the administration. But de Blasio, who started his career as a political operative and ran Hillary Clinton's 2000 Senate campaign before winning a New York City Council seat in Brooklyn in 2001, has never lost a race—and was written off at the outset every time. Now he's watched Buttigieg, the mayor of a city that's a fraction (of a fraction) of New York's size, become a phenomenon. Based on conversations I had with people who have spoken with him, de Blasio thinks that it should be him. He also thinks Buttigieg's surprise surge proves that it could be him. If Democrats want a mayor evangelizing progressivism, de Blasio's right here. De Blasio has always seen politics as more about the campaigning and less about the gritty work of governing, people who like him and people who dislike him agree. He may not be an operative anymore, but he still thinks like one.
De Blasio is different from most politicians. He's twice won huge victories for one of the hardest jobs in the country, despite high numbers of New Yorkers, including some of the people who work for him, saying they don't like him personally. (He had a 42 percent approval rating in a Quinnipiac poll released last month, though 66 percent among African Americans.) He runs the largest city in the United States, overseeing a budget that this year will hit close to $90 billion, all while successfully implementing programs that most of his progressive allies can only talk about as aspirations. His pummeling by the New York City tabloids, helped along by interactions with the press and colleagues that they say range from sneering to insincere—all suffused with his sense that he should be taken much more seriously—seems to have left de Blasio with more people who will roll their eyes at him than cheer for him as he takes steps toward the White House.
He needs more allies. Presidential campaigns usually involve calling on every old connection to chip in every dollar and every hour he or she can. Aides give up nights and weekends; old advisers form a kitchen cabinet, helping out with advice and activating their own networks. Buttigieg has a friend from high school, Michael Schmuhl, running his campaign. Kamala Harris has her sister, Maya, chairing hers and traveling the country. Joe Biden has an inner circle of close advisers who have been with him for decades. De Blasio has almost none of the above as he prepares to head into what seems like a campaign few believed he'd actually launch—especially after recent appearances in Iowa, New Hampshire, South Carolina, and Nevada that were far from mobbed with supporters.
"Bill de Blasio has a real progressive record of accomplishments to run on and actually is a pretty decent campaigner," says Rebecca Katz, another top adviser during the 2013 race who later served in the administration. "The trick will be if he can get decent press, which is his ongoing challenge. Will he play nice, and will that be well received?"
Katz is also sitting out de Blasio's campaign. The New York City–based Working Families Party, which de Blasio had a hand in getting off the ground and which propelled his earlier victories, is expected to support Bernie Sanders, highlighting a separate issue: Is there room in the race for another candidate running further to the left than Democrats are used to? Elizabeth Warren has already discovered how rough that territory can be, and that's as a nationally known figure revered among many in the Democratic base.
Hillary Clinton's orbit hasn't forgotten, and won't forgive, de Blasio's drawn-out refusal to endorse her in 2016. "Buttigieg started at zero, had to earn it on the trail. And everyone is seeing him as he does," tweeted the longtime Clinton aide Philippe Reines on Friday. "Being the Mayor of the biggest city means BdB's in the public eye, sized up, dismissed - including dipping his toe in the water earlier this year."
On Friday, as the New York Daily News reported that de Blasio's 2020 campaign launch was imminent—a rumor that had been going around for about two weeks, but which his since-departed communications director had been shooting down—I emailed de Blasio. "How do you mount a strong campaign without the support of close aides and the operatives who've worked for you before?" I asked him. Some people see him as angling to be the Democratic National Committee chair after the next election, so is that what he's really after? De Blasio didn't respond, but about an hour later, Peter Ragone, an old friend and adviser, reached out, eager to talk.
Ragone, who worked for de Blasio in his first campaign and during his first term, said he'd discussed the potential 2020 campaign with de Blasio over several recent dinners, but asked the mayor not to inform him of his final decision so as to avoid having to deceive reporters seeking information. But Ragone, like de Blasio, blames "New York City elites" and insiders for tarring the mayor's reputation and constantly betting against him. They believe de Blasio's negative press coverage comes mostly out of spite and from people opposed to his politics—though that underplays how much his own approach has hurt him.
Look at his record, Ragone said: creating universal pre-K in the city; ending race-based policing practices, including stop-and-frisk; revolutionizing public-housing programs. "You don't really know who is going to break through, and if you have a message, get out there," Ragone said. "This might be the right time for this message."
Ragone said if there is a campaign, he's not likely to sign on fully, given other professional and personal commitments that he has, but added, "I will help him in any way that I can." In that, he seems to be the exception.