White Women Are Helping States Pass Abortion Restrictions
Their support for Republican officials has been key to the GOP's strength in the South.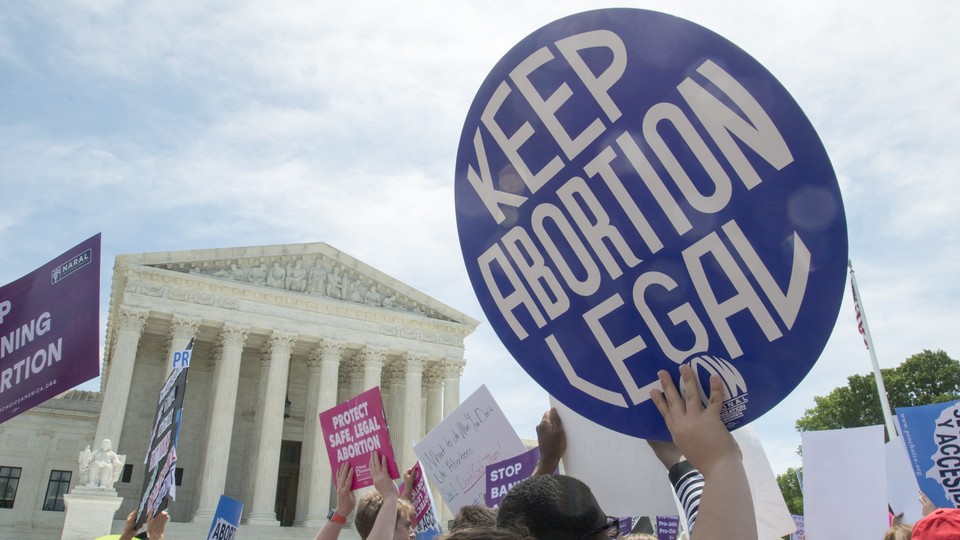 It's common for critics of the new wave of state laws severely limiting access to abortion to say the measures are part of a Republican "war on women."
But strong support from most white women, especially those who identify as evangelical Christians, has helped Republicans dominate local government in the states passing the most restrictive measures, from Alabama and Georgia to Kentucky and Missouri. In some of those states, polling shows that opposition to legal abortion is higher among white women than among white men.
These attitudes underscore why it's too simplistic to forecast that the renewed push against abortion will uniformly drive women away from the GOP. There's no question that abortion-rights supporters everywhere are mobilizing in opposition to the highly restrictive new laws, which range from bans starting at six weeks of pregnancy to total prohibition. Activists held some 500 events in all 50 states on Tuesday to protest the new laws—a preview, they say, of the energy the measures will ignite in the 2020 presidential and congressional elections, particularly among the roughly 60 percent majority of women who support legalized abortion. "We will power this movement into 2020," NARAL Pro-Choice America President Ilyse Hogue insisted in a conference call on Wednesday. "There will be political consequences."
But it's much less clear that abortion-rights supporters can exact political consequences in the states actually approving these laws, which are explicitly designed to prompt the Supreme Court to reconsider the 1973 Roe v. Wade decision guaranteeing nationwide access to the procedure. Their success will depend on whether the restrictions dislodge meaningful numbers of white women in these states from their respective Republican coalitions. And that is far from certain, particularly in the southern and border states advancing most of the laws.
Whit Ayres, a Republican pollster who works extensively across the South, says that white women, "particularly suburban white women … have been absolutely critical" to the GOP's strength in states approving the abortion bans. Election Day exit polls showed that most white women in these areas joined big majorities of white men to provide insuperable leads for Republican candidates.
In 2018, for instance, exit polls conducted by Edison Research found that fully three-fourths of white women supported the Republican Brian Kemp over the Democrat Stacey Abrams in the Georgia governor's race. That same year, just 16 percent of white women picked the Democrat Mike Espy for Mississippi's Senate seat. In the 2017 special Senate election in Alabama, 63 percent of white women backed the Republican Roy Moore, who faced multiple allegations that he had dated teenage girls as an adult, over the Democrat Doug Jones (who narrowly triumphed anyway).
In all of these races, southern white women's preferences diverged sharply from those of African American women, who gave 97 percent of their votes to Abrams, 98 percent to Jones, and 93 percent to Espy.
In most southern states, white women express at least as much opposition to legal abortion as white men, and in some cases more. The nonpartisan Public Religion Research Institute (PRRI) examined state-by-state attitudes on abortion in 2014. It found that just over three-fifths of white women in Alabama and Mississippi said that abortion should be illegal in most or all circumstances, almost exactly the same percentage as white men in those states. About three-fifths of white women in Kentucky and a narrow majority in Georgia said that abortion should be mostly illegal; in both cases, that was a higher share than among the state's white men. Only in Missouri did a 51 percent majority of white women say that abortion should mostly remain legal.
Across the South, the core of female opposition to abortion—and of support for the GOP—is women who identify as evangelical Christians. These women now consistently support Republicans in overwhelming numbers. Fully 80 percent of southern white evangelical women backed Donald Trump over Hillary Clinton in the 2016 election, according to previously unpublished exit-poll results provided to me by Edison. Three-fourths of white evangelical women in Alabama backed Moore over Jones in 2017, and an even more emphatic 88 percent of them in Georgia backed Kemp over Abrams in last year's governor's race. Across the South overall, three-fourths of white evangelical women said they approved of Trump's performance in the 2018 exit poll, according to Edison, and just 20 percent of white evangelical women backed Democratic House candidates that year.
Robert P. Jones, the CEO of PRRI and the author of The End of White Christian America, says that for evangelicals and other culturally conservative Americans, abortion has become a crucial symbol of attitudes toward the larger demographic, cultural, and even economic changes reshaping the nation.
In PRRI polling, Americans who oppose abortion expressed much more negative views on a broad array of social changes than those who support legal access, according to a new analysis it conducted at my request. Looking back at its 2016 Annual Values Survey, the group found that abortion opponents and supporters provided mirror-image responses to a core question: whether "American culture and way of life" has changed mostly for the better or for the worse since the 1950s. Two-thirds of abortion opponents picked worse, while two-thirds of supporters picked better. Similarly, while 60 percent of abortion opponents said the growing ranks of immigrants "threaten American customs and values," a matching 60 percent of abortion supporters said having more immigrants "strengthens American society." Women who opposed abortion were as likely as male opponents to express conservative views on those other social changes.
Jones says these results reinforce an insight from the sociologist Kristin Luker, who posited back in the 1980s that abortion had become a proxy for reactions to cultural change overall, particularly the evolving family dynamics between women and men.
"I was surprised at how strong the correlations were, and how consistent they were," Jones says, referring to the results in the PRRI analysis. "The pro-life, pro-choice fight is about this real sea change in the way motherhood, family structure, and gender roles are shifting. I think, harkening back to Luker's argument … that for many conservative women, abortion rights is more than just the issue—it's a threat to a very particular gender role and valuing motherhood. It's a much bigger thing."
Penny Young Nance, the president and CEO of the socially conservative Concerned Women for America, dismissed the idea that women living in states that have passed new limits on abortion will rebel against them. Instead, she said, the laws represent a backlash to measures liberalizing abortion access in more Democratic-leaning states.
"From our point of view, this general movement toward life is not a GOP strategy at all, but the reasonable reaction of the grassroots to the abortion extremism we saw in places like New York and Virginia," she said in an email. "Young conservative women of all races are driving these conversations. We do not fit the old molds and we will not be silent. Both parties would be wise to engage us. They ignore us at their own risk."
The Alabama law prohibiting abortion even in cases of rape and incest pushes the boundaries even among the most culturally conservative voters. Citing PRRI's polling, Jones says that no more than about a quarter of any major demographic group—including southern evangelical women—support banning abortion in all cases. But the reality that most culturally conservative voters who oppose abortion also recoil from so many other social changes makes it difficult for political professionals in both parties to imagine that many of them will shift to voting Democratic—even if they consider the new laws too extreme. The web of issues connecting southern white women to the GOP, Ayres notes, is dense.
"It's a combination of an economically conservative message focused on the vital importance of free markets and entrepreneurial endeavor coupled with a generally conservative outlook on cultural issues that is reinforced by the strength of evangelical churches in suburban areas of the South," he says. "Some of the largest, most dynamic evangelical churches are in southern suburban communities. It's upscale."
But that doesn't mean these laws are without risk for the GOP. Discomfort with Trump has already allowed Democrats to establish a beachhead among southern white women who are not evangelicals, especially in those same white-collar suburbs. While Trump trounced Clinton among white southern evangelical women in 2016, the Edison results showed that he managed only a narrow, three-point edge among southern white women who are not evangelicals. In 2017, Doug Jones carried more than three-fifths of these non-evangelical women in the Alabama Senate race. In 2018, Abrams ran about evenly with them in Georgia. And across the South that year, these women actually preferred Democratic House candidates by a slim 50 percent to 48 percent margin.
Those results still aren't nearly as good as Democrats typically post elsewhere with non-evangelical white women. (Outside of the South, Democrats carried about two-thirds of these women in both the 2016 presidential and 2018 House races, according to Edison.) But in southern states where demographic change is already narrowing the partisan balance, even small further gains with suburban white women might be enough to tip the results from red to blue. For example, even modest further gains would represent Jones's best chance of survival in his reelection next year in Alabama.
Elsewhere across the South, the Republican advantage is so entrenched in many states that it's unclear when, or if, Democrats can truly threaten it, even if these new abortion laws provoke a substantial backlash. The laws' most predictable effect may be to more fully include the region in the realignment that's reshaped politics elsewhere: a re-sorting of the political parties based on attitudes toward the changes remaking American life.
The abortion bans are helping stamp the GOP as the party committed to restoring old social arrangements, including within the family. That could more deeply cement the party's hold on change-averse white voters, even those uncertain that Republican economic policies truly benefit working people. But it could simultaneously allow southern Democrats to capture more of the well-educated suburban voters they've attracted in other regions, as cultural attitudes have supplanted class as the principal dividing line between the parties.
"On the one hand, there is a kind of hierarchical view of families and gender roles that is embedded with this sense that men and women are different from one another; on the other side is this very egalitarian view of the family that is based on the belief that men and women are much more similar than they are different," Robert P. Jones says. Those are "two very different worldviews that come into conflict here."