The Atlantic Politics & Policy Daily: Trump's North Korea Playbook Isn't Working on Iran
The week ahead in national security. Plus: trying to kill two nuclear problems with one strategy, trade talks with China ended with tariff hikes and no deal, and more.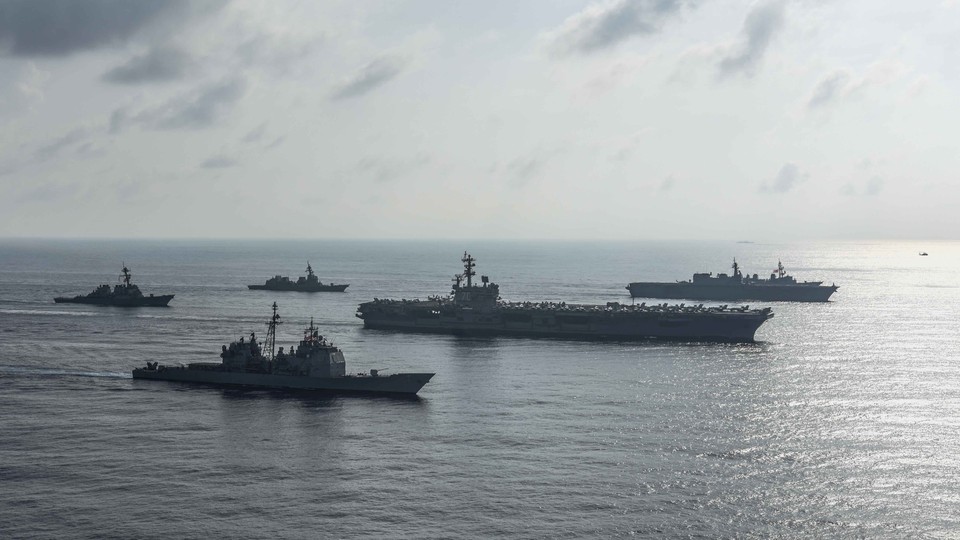 We're trying something new: a once-a-week national-security-focused edition of The Atlantic's signature politics newsletter. We'll tell you what to keep an eye on this week, what our reporters are covering, and why the latest foreign-policy developments are significant.

Comments or questions? Send us an email anytime. Were you forwarded this email? Sign yourself up here.
The Top Story
(Leah Millis / Reuters)
Trump's North Korea Playbook Isn't Working on Iran
"Call me," Donald Trump said to Iran's leaders on Wednesday. Unsurprisingly, a top commander in Iran's Islamic Revolutionary Guard Corps said no. But the exchange showed something interesting, writes Kathy Gilsinan: Trump had taken his North Korea playbook—using the language of maximum pressure while goading the foe's leaders into joining him at the negotiating table—and applied it to Iran.
It's not working.
The appeal followed several days of escalating tensions between Washington and Tehran. National Security Adviser John Bolton announced late last Sunday that U.S. warships were headed to the Middle East because of unspecified Iranian threats. (Even still, the United States remains particularly vulnerable to Iran, write Gilsinan and Krishnadev Calamur.)
Then Iran's president said that Iran won't comply with parts of the nuclear accord that the United States abandoned last year unless the other nations still signed on to the deal step up and do their part. The Europeans said they "reject any ultimatums."
We still don't know the nature of the intel, which has raised questions about how specific and credible it is. The administration is not letting up the pressure. On Friday evening, the acting defense secretary approved the move of additional military assets to the Middle East. Earlier this week, Secretary of State Mike Pompeo made a surprise visit to Baghdad to brief Iraqi leaders on Iranian threats, and on Thursday he said that any Iranian attacks will garner "a swift and decisive U.S. response."
This week, watch for whether clues emerge about any specific Iranian threats. But the potential for escalation—which could mean leaving the nuclear accord or harassing American troops or assets in the region—remains.
***
🗓The Week Ahead in National Security
‣ Monday: Trump hosts Hungarian Prime Minister Viktor Orbán at the White House. (Orbán is waging a war on liberal institutions in Hungary, Franklin Foer reports in a new profile. The U.S. ambassador to Hungary told Foer that Trump "would love to have the situation that Viktor Orbán has.")
‣ Tuesday: Pompeo meets with Russian President Vladimir Putin in Sochi, Russia. Last week, Trump talked to Putin without mentioning Russia's interference in American elections. The last U.S.-Putin interaction was notable for what wasn't said.
‣ Wednesday: The Senate Foreign Relations Committee hosts a hearing with top State Department officials on the future of arms control following the United States' withdrawal from a Cold War–era treaty limiting nuclear weapons.
‣ Thursday: On this day in 1868, the U.S. Senate voted on the first of 11 articles of impeachment against President Andrew Johnson—and failed to convict him by just one vote. (Want to understand how impeachment affected the "irascible" Johnson? Read Yoni Appelbaum's case for impeachment.)
‣ Friday: Two years ago today, Deputy Attorney General Rod Rosenstein appointed Robert Mueller to serve as the special counsel in the Russia investigation. Rosenstein retired from the Department of Justice on Friday. He's … been through a lot.
***
🌏 Defense & diplomacy
Kim Jong Un breaks a promise he never made: When Trump and Kim met in Vietnam in February, the goal was to avoid precisely the kind of escalation that happened this week. But they left without a deal. Trump didn't come close to his demands for a nuclear-free North Korea—in fact, Uri Friedman wrote at the time, "they actually seem to be negotiating the conditions under which the United States can live with a nuclear-armed North Korea."
After North Korea fired what South Korea euphemistically deemed "projectiles" last weekend, Pyongyang followed up by launching short-range ballistic missiles on Thursday. It was the first confirmed North Korean missile test in more than 500 days. On the same day, the United States announced that it had seized a North Korean shipping vessel it claimed was violating international sanctions.
"We've now descended to the point at which all that is keeping diplomacy with North Korea from collapsing is how many miles its missiles are flying," Friedman writes. In other words: Since none of these missiles is capable of hitting the United States, Washington hasn't fully given up on talks.
Shanahan gets the part: Last week, we told you to watch for whether Trump would officially nominate Patrick Shanahan to the role of secretary of defense—the White House announced on Thursday that it will. Shanahan now "faces a culture of entrenched interests and standard operating procedures that has thwarted the ambitions of far more experienced bureaucrats," Gilsinan writes.
This also happened: Military experts say the missiles Kim launched this week look strangely similar to missiles Russia has deployed in Syria. (Eric Talmadge, Associated Press)
***
🚨 Terrorism & security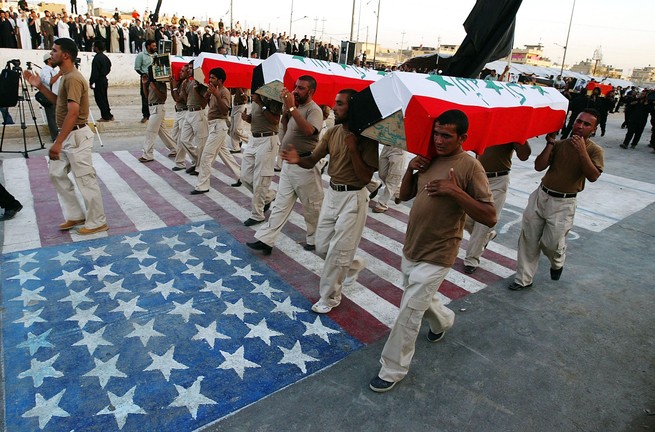 A 2006 photo shows Shiite-militia members in Baghdad carrying mock coffins to criticize American actions in the region. (Wathiq Khuzaie / Getty)
Navigating a post-ISIS Iraq: "The global fight against ISIS created strange alliances," writes Mike Giglio. One example: The United States allied with Shiite militias on the shared objective of defeating the Sunni extremist group. Awkwardly, some of those militias were funded by Iran. And as tensions spike between Washington and Tehran, the militias might become a flash point.
But Shiite militias also have a role to play in parts of Iraq that have been destabilized since the American invasion in 2003. In Samarra, a majority-Sunni city, Shiite militias are behind recent efforts to rebuild. It's a fragile peace, Thanassis Cambanis reports.
This also happened: A former U.S. intelligence analyst was charged with leaking classified information to a reporter at The Intercept, less than a year after another Intercept source was sentenced to five years in prison for the same offense. (Aruna Viswanatha and Dustin Volz, The Wall Street Journal)
***
🇨🇳 EYES ON China
Trade warriors: Negotiators from the United States and China met in Washington to try to end the months-long trade dispute between the two nations. They didn't make much progress. The U.S. put more tariffs in place at 12:01 a.m. Friday, even as talks continued later that day.
Treasury Secretary Steven Mnuchin called the talks "constructive" but offered no details. Watch for whether Trump keeps the higher tariffs in place—and whether talks will continue if he does.
U.S. Trade Representative Robert Lighthizer is at the center of the talks. As Matt Peterson wrote in December, Lighthizer isn't afraid of "bend[ing] the rules of the global economy in America's favor—even if that means breaking the system America itself created."
This also happened: In a London speech on the special relationship between the United States and the United Kingdom, Pompeo warned Britain to be wary of the Chinese tech company Huawei and "Beijing's spymasters." (Stephen Castle, The New York Times)
---
About us: This edition of The Atlantic's Politics & Policy newsletter was written by Gabby Deutch and edited by Yara Bayoumy, the national-security editor, and Shan Wang, the newsletters editor.

Were you forwarded this email? Sign yourself up here. We have many other free email newsletters on a variety of other topics. Browse the full list.