Why Trump Is Rolling Back LGBTQ Health-Care Protections
A culture-war fight is playing out in the courts and federal agencies.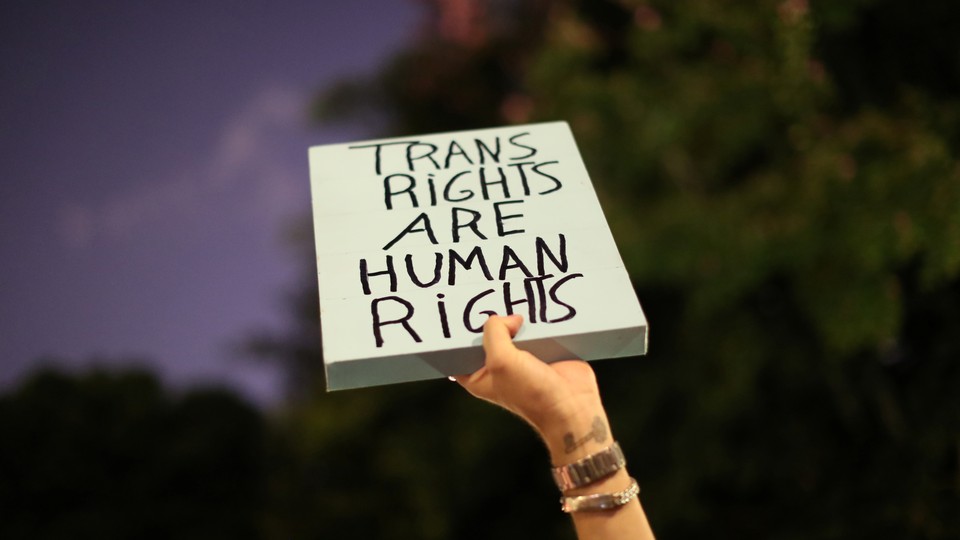 Updated on May 24, 2019 at 5:29 p.m. EST
On Friday, Donald Trump's administration started rolling back two controversial legal provisions related to the Affordable Care Act: protections against discrimination based on gender identity, and based on the termination of a pregnancy. Advocates for LGBTQ and women's health care see this proposed reversal as a pointed attack on transgender people and patients who have received abortions—the latest in a series of moves by the Trump administration to limit the rights of marginalized populations.
But beyond the alarmed reactions, a larger legal question is at stake, about both the authority of government agencies and the very nature of discrimination. In the absence of a clear federal law protecting LGBTQ and other rights in housing, hiring, and public accommodations, including health care, this culture-war fight is being played out in the courts and agencies, where officials are left to decide just how far interpretations of the law should go when it comes to protecting minority rights.
For years, across the legal system, people have been debating whether civil-rights prohibitions against sex discrimination should be interpreted expansively to include sexual orientation and gender identity, thus offering specific protections for LGBTQ people. The Supreme Court just agreed to take up this question in a different area of law: It will hear three cases about alleged discrimination against LGBTQ people in the workplace, which also turn on this question of what "sex discrimination" actually means.
HHS's latest move is a flag in the ground for the legal position that executive-branch agencies can't get out in front of Congress and create rules that go beyond the scope of the law, just because those agencies think it's the right thing to do.
Barack Obama's administration took a different position. In 2016, the Department of Health and Human Services issued a rule that would have put new discrimination protections in place. The rule relates to Section 1557 of the Affordable Care Act, which forbids discrimination in health care on the basis of "race, color, national origin, sex, age, or disability." This is a standard list of categories found in U.S. civil-rights laws, which cover everything from work to education to health care. Once the Affordable Care Act was in place, HHS was responsible for specifying how it interpreted these provisions, and how they would be enforced. The department's final rule took an expansive view of what "sex discrimination" actually is, taking it to include gender identity and abortion.
Progressive activists cheered this as a significant step forward for women and LGBTQ people. Conservative critics saw the rule as agency overreach, however: an attempt by nonelected officials to establish protections that went beyond the intentions of Congress when it wrote and passed the ACA. Soon after the Obama rule was issued, these sections were enjoined by a federal court, and never went into effect.
Since the late 1980s, a body of case law about the meaning of "sex discrimination" has been building. In recent years, progressive legal advocates have pushed a relatively novel theory that it should cover discrimination on the basis of gender identity, which would protect transgender and nonbinary people. Several legal bodies, including the Equal Employment Opportunity Commission, have agreed with this theory. Under Obama, HHS—along with a number of other departments—embraced that stance.
Shortly before the department's ruling on Section 1557 was set to go into effect, however, a Texas judge issued a nationwide injunction on those specific provisions of the rule, preventing them from being enforced. Soon after, President Donald Trump took office. His administration set about rescinding a series of Obama-era agency rulings on LGBTQ discrimination, including at the Department of Education and the Department of Justice. In subsequent litigation on the Affordable Care Act rule, HHS signaled that it would take a similar position. As Roger Severino, the director of the Office for Civil Rights at HHS, noted in a call with reporters on Friday, the administration took the position that "discrimination on the basis of sex does not include gender identity and termination of pregnancy."
In a follow-up email, Severino noted that some medical providers feared they would be coerced into providing abortion or sterilization services under the Obama-era rule. "A federal court enjoined the 'termination of pregnancy' provision because it risked forcing people to perform, refer for, or cover abortions, contrary to law," he wrote. The new, "proposed rule conforms to the court's judgment as well as statutes protecting against forced participation in abortions."
It was only a matter of time, in other words, before HHS initiated a rollback of this part of the Obama-era rule on Section 1557. The department officially began the notice-and-comment process on Friday, which gives the public a chance to weigh in. (The rule change would also make minor changes to provisions on language-translation services, based on the argument that the Obama administration wildly underestimated the costs of its new translation requirements.)
LGBTQ advocacy groups see this move as an enormous step backwards for health-care civil rights. The original rule was adopted "in response to an overwhelming record of anti-transgender discrimination and barriers to health care and health coverage," said Jocelyn Samuels, the former director of the HHS Office for Civil Rights and the current head of the Williams Institute at UCLA, in a statement. "A reversal of these protections would be contrary to the law and, if adopted, would seriously endanger the health and wellbeing of an especially vulnerable population." The Williams Institute, a think tank on LGBTQ rights, said that this rollback would leave 1.4 million transgender adults and 150,000 transgender teens without the help of the federal government in situations of discrimination.
Conservative groups, meanwhile, applauded the proposed reversal. Before the rule was enjoined, a number of legal organizations warned that it would put pressure on doctors and religious hospitals to perform procedures they object to, such as gender-transition procedures. The Becket Fund, which litigates religious-freedom cases, dubbed it the "transgender mandate." "Now patients can be reassured knowing their doctors are free to follow their best medical judgment," said Lori Windham, one of the group's senior attorneys, in a statement. "This new rule follows medical consensus and common sense." The reversal would follow other significant steps from HHS to strengthen religious-freedom protections in health care, including a new rule earlier this month related to forced violations of conscience around abortion and sterilization.
More than half of states do have LGBTQ nondiscrimination protections in place, covering some combination of housing, hiring, and public accommodations, which includes health care. If HHS does, in fact, reverse this rule, it wouldn't preempt or change those state laws. But this is another reason why these provisions are so controversial: Because there is no federal law in place that prohibits discrimination against LGBTQ people, protections vary widely depending on where people live in the United States. There have been efforts to pass a federal law along these lines. Just last week, the House of Representatives passed the Equality Act, a sweeping bill to put LGBTQ nondiscrimination protections in place. That proposal is expected to die in the Senate, however, meaning that this legal question will remain ambiguous.
Ultimately, this rule change is about a subtle, but important, disagreement about how to interpret the law. The Trump administration is not alone in arguing that the Obama administration stepped beyond its legal authority in trying to expand the definition of sex discrimination to cover the LGBTQ community, although progressives argue that case law supports this position. Most important, though, this episode is evidence that questions of LGBTQ rights are still unresolved in many areas of the law.
For now, the status quo remains in place. As courts and successive administrations continue to debate the meaning of sex discrimination, LGBTQ people, along with people who seek abortions, will be left on their own to navigate situations where they believe they're facing discrimination.