When Donald Trump Touched the Magic Orb
Two years ago today, the U.S. president, King Salman of Saudi Arabia, and Egyptian President Abdel Fattah al-Sisi took an iconic photograph.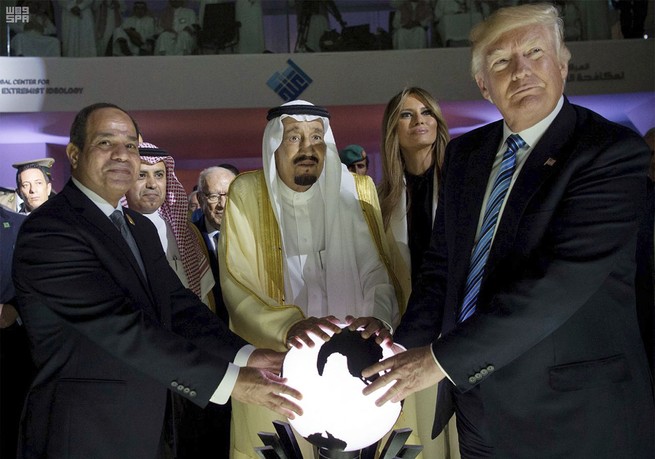 "For clarification," the Church of Satan helpfully tweeted, "this is not a Satanic ritual." So what is it? Something sinister, surely, some species of power Sabbath or midnight summit. Three rulers of men, three pairs of hands on an orb of white light. On the left, smiling and fatuously composed, President Abdel Fattah al-Sisi of Egypt; in the center, high-shouldered and witchily titillated, King Salman of Saudi Arabia; and on the right, basking, gently broiling in the orb's glow, Donald Trump. Of the three men, he appears the happiest, the most conspicuously nourished by this wacky, inhuman light. See how it searches out the paler densities of his face, how it touches off the golden flare of his eyebrows. Behind him is the enigma: Melania Trump, vacant and flawlessly intense, like a pole vaulter clearing her mind before an attempt at the world record.
I have waited in vain these two Trumpy years for an American equivalent of the English word naff to present itself. Naff, which has its roots, possibly, in Polari or gay slang, indicates an extreme of unstylishness—not just bad taste or no taste, but a vulgarity so vast and humorless that it precludes the possibility of taste altogether. Bright-red baseball hats: naff. Wanting a military parade: naff! The first family on inauguration night, listening from behind a plastic screen to a performance by 3 Doors Down: a blazing nirvana of naffness.
When the orb image first circulated, during Donald Trump's visit to Saudi Arabia in early 2017, the internet giggled nervously. The orb was a crystal ball, a node of freemasonry, a concentration of diabolic energy, and the three kings were its slaves. Hydra, the Illuminati, Saruman the White, etc. Trump might as well have appeared astride a golden calf or greedily clutching a chalice of goat's blood. But the point of the image is not its flavor of the occult; the point is its unbelievable, its almost otherworldly, naffness. As with other moments from the Trumpian spectacular—the dinner with Mitt Romney, the deflated Pope Francis—you do yourself an imaginative mischief, you blow your own mind, if you try to interpret it. There's nothing to interpret. It's right there. No magic, no secret, no esoteric conclave. Just this life-draining, futuristic, departure-lounge tawdriness. The vibe is catastrophic. The people look ill. Only Trump, chin raised, mouth set in bullion-faced complacency, appears healthy. He's in his element.
---
This article originally appeared as a part of our series, Unthinkable: Fifty Moments That Define an Improbable Presidency.