Trump Wants to Leave the Middle East. He's Not Getting His Wish.
The new deployment is a small fraction of the tens of thousands of troops already there. But it's designed to send a signal to Iran.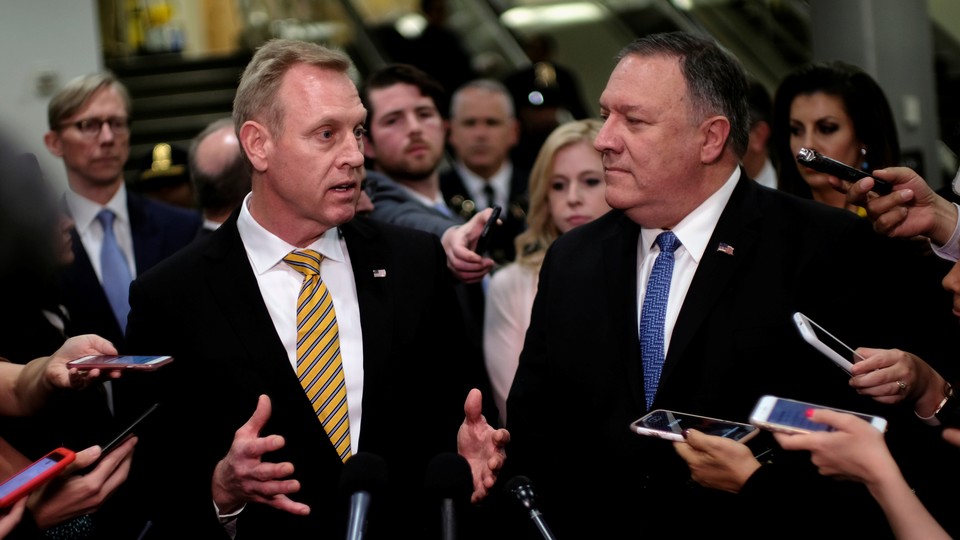 Updated at 3:00 p.m. ET on May 24, 2019.
President Donald Trump is learning, like two presidents before him, that wanting to get out of the Middle East isn't enough to make it happen.
On Friday the Pentagon announced that it would send 1,500 troops to the region in what officials described as a "force protection" measure because of what they've called increased Iranian threats, including to American troops. The United States currently has thousands of troops in Iraq and Syria, in many cases in close proximity to Iranian-backed militias, with whom they've maintained a de facto truce as both focused on fighting ISIS.
Speaking to reporters on Friday, Acting Assistant Secretary of Defense for International Security Affairs Katie Wheelbarger said that the new troops would not be going to Iraq and Syria, but would augment the U.S. presence in the region. The U.S. currently maintains between 60,000 and 80,000 troops, both at sea and on land bases, in the Middle East. The extra troops, Acting Defense Secretary Patrick Shanahan said in a statement, are a "prudent defensive measure and intended to reduce the possibility of future hostilities."
At the briefing Friday, Vice Admiral Michael Gilday, the director of the Joint Staff, for the first time attributed recent attacks on foreign oil tankers to the Iranians, and confirmed earlier media reports that U.S. officials were concerned when they observed what they said were Iranian missiles being moved on small boats.
The Defense Department made the announcement just a day after President Trump, while declaring Iran "a very dangerous player" and "a nation of terror," said he did not think such a deployment would be needed. "I don't think we're going to need them, I really don't," he said, though he said he'd send troops if necessary.
And so he will, notwithstanding his oft-repeated desire to avoid war and his vocal distaste for foreign entanglements. Just Thursday he remarked of the Middle East, "I don't think we ever should have been there, okay? I inherited this mess." Yet he has also twice launched strikes against the Syrian regime in response to chemical-weapons attacks, reinforced the United States position in Afghanistan, and continued drone strikes against militants in Somalia and Yemen.
With the territorial defeat of ISIS, which has coincided with the Trump administration's escalating economic-pressure campaign against the Islamic Republic, the incentives for cooperation between the U.S. and Iranian-backed proxies in the Middle East appear to be fraying. Earlier this month, National Security Adviser John Bolton, citing unspecified intelligence of Iranian threats, announced that the U.S. would send a carrier strike group to the region. The Pentagon followed that up with an announcement that it would send antimissile batteries—though these were only a partial replacement of military assets withdrawn from the region weeks before. On Friday, Gilday cited "multiple credible reports" that he said showed Iranian proxy groups planning to attack U.S. forces.
Pentagon officials have characterized the new deployments as aimed at force protection and deterrence—essentially, defensive moves. The administration's critics, and particularly Democrats in Congress who have been briefed on the intelligence, don't buy this explanation; they have repeatedly cited the risks of provoking Iran into a possible military confrontation.
"I'm gravely concerned that we've got folks who are encouraging or tolerating his bumbling forward into a major deployment into the Middle East without a clear strategy," the Democratic senator Chris Coons said in a television interview earlier this week. A spokesman for Coons, who was briefed on the intelligence about Iranian threats earlier this week, told me in an email that he hadn't seen much from the administration that he hadn't seen in news reports.
Administration allies such as Republican Senator Tom Cotton of Arkansas, have voiced more alarm about what the intelligence shows. "There can be no doubt that we've seen serious, credible, and increased reporting of threats from Iran across the Middle East—whether [from] their own forces like the Revolutionary Guard corps or through their proxies like the rebel groups they support in places like Yemen, or paramilitary forces in Iraq," he told Fox News.
Speaking to reporters on Thursday, Shanahan insisted: "Our job is deterrence. This is not about war. We have a mission there in the Middle East: Freedom of navigation; counterterrorism in Syria and Iraq; defeating al-Qaeda in Yemen; and the security of Israel and Jordan." Wheelbarger and Gilday said repeatedly on Friday that the U.S. does not seek a military conflict with Iran.
"It's right to do all we can to ensure protection for U.S. forces. The one enemy actively attacking our forces, however, is ISIS—including a suicide attack in Syria last week. Iran has not attacked U.S. forces since 2011," a former senior administration official who spoke on condition of anonymity to discuss the issue, told The Atlantic. "The aim should be to keep it that way, through a combination of deterrence and diplomacy. There does not seem to be much if any of the latter."
The numbers announced Friday would not be sufficient to invade and occupy Iran, a proposition that, according to a New York Times report, would take vastly more than even a high-end proposal of 120,000 troops at one point apparently under discussion at the Pentagon. (Trump later called that number inaccurate and said that "if we did that, we'd send a hell of a lot more troops than that.")
As tensions have escalated, Iran has made threats of its own—including to increase its uranium enrichment. Speaking to reporters on background Friday morning, a senior administration official characterized the threats as an attempt to blackmail the Europeans, who have stayed in the Iran nuclear deal along with Iran after the U.S. departure last May, in an effort to try to get around American sanctions.
Iran and the U.S.'s allies are already locked in a low-grade war of sorts that's playing out among their proxies and allies across the region, so there is ample potential for existing confrontations to spiral even further.
At the White House, there was notably no mention of a military solution. "If they are really interested in the well-being of the Iranian people, they have no viable path but come to the table, take the president's offer of a negotiation," the official said.
Top Iranian officials, including Foreign Minister Javad Zarif, have so far refused."Pompeo makes sure that every time he talks about Iran, he insults me," Zarif told Reuters. "Why should I even answer his phone call?" The administration official declined to say whether channels were open at lower levels—and the lack of any evident communication between the two foes has stoked worries that it will be difficult to de-escalate tensions. In the meantime, more troops are on the way.
---
Yara Bayoumy contributed reporting.