Impeachment Is the Song of the Summer
Democrats wary of calling for President Trump's ouster are changing their tune.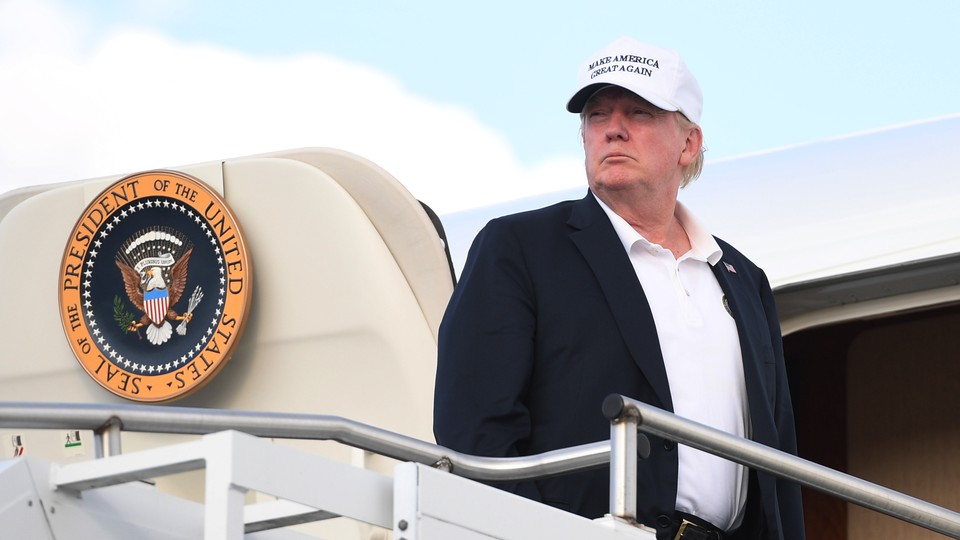 After a televised press conference in which Special Counsel Robert Mueller simply reminded viewers what was contained in his 448-page report, a growing number of 2020 Democratic presidential candidates are calling for impeachment proceedings against President Donald Trump.
On Wednesday morning, with the weary look of a professor at the end of a particularly trying school year, the special counsel presented a SparkNotes version of his two-year investigation into Russian interference in the 2016 election and possible obstruction of justice by the president. Mueller said that if his office "had had confidence that the president clearly did not commit a crime, we would have said so." (As the report shows, they did not say so. Mueller helpfully noted that "the introduction to volume two of our report explains that decision.") He reiterated the key Justice Department policy when investigating the executive branch: "Charging the president with a crime was …  not an option we could consider."
Even in redacted form, these conclusions were laid out clearly more than a month ago in a Times New Roman–esque font with two spaces after each sentence. Yet when read aloud by the man who led the historic probe, they evidently sounded much more alarming to lawmakers. Just minutes after Mueller concluded his remarks, a line of 2020 Democratic presidential candidates emerged as though from a clown car to call for Congress to weigh in on the topic of impeachment.
"Mueller made clear this morning that his investigation now lays at the feet of Congress. No one is above the law—Congress should begin an impeachment inquiry," tweeted former San Antonio Mayor Julián Castro. Senator Cory Booker of New Jersey echoed in his own tweet that "Congress has a legal and moral obligation to begin impeachment proceedings immediately," adding: "I've been asking for Mueller's testimony—today he made his views clear." Senator Kirsten Gillibrand of New York chimed in later in the afternoon: "It's time for Congress to begin impeachment hearings and follow the facts," she said in a statement. "Robert Mueller clearly expects Congress to exercise its constitutional authority and take steps that he could not."
"Mueller did his job. Now it's time to do ours," tweeted Representative Seth Moulton of Massachusetts. "Impeachment hearings should begin tomorrow." Senator Kamala Harris of California argued that what Mueller "basically did was return an impeachment referral. Now it is up to Congress to hold this president accountable. We need to start impeachment proceedings. It's our constitutional obligation." South Bend, Indiana, Mayor Pete Buttigieg called Mueller's statement "as close to an impeachment referral as you could get." Senator Bernie Sanders of Vermont, who had so far been hesitant to endorse impeachment proceedings, said in a statement that "if the House Judiciary Committee deems it necessary, I will support their decision to open an impeachment inquiry."
Of course, Mueller's "views" became available in a searchable PDF file on April 18, but for many Democratic presidential hopefuls, on Wednesday morning the idea of impeachment swiftly transformed from a political taboo into a constitutional necessity. Other than Senator Elizabeth Warren of Massachusetts—who called for the House to "initiate impeachment proceedings against the President of the United States" upon the release of the Mueller report—and former Representative Beto O'Rourke of Texas, who on May 6 said that the House of Representatives had enough evidence to "move forward with impeachment," any candidate who supported impeachment before Mueller's oral remarks had done so in tepid language. Immediately after the report was released in April, Castro, in a radio interview, said that the special counsel's findings made it "perfectly reasonable" for Congress to move forward with impeachment, without formally calling for it. Harris said in a CNN town hall later that month that she believed Congress should "take the steps towards impeachment," though she acknowledged that the Republican-controlled Senate was unlikely to vote to impeach. In an interview in mid-May with CNN, Harris also fell short of saying that the standoff between Congress and the Trump administration amounted to a definitive "constitutional crisis."
Before Mueller assumed the lectern, the rest of the presidential hopefuls could be placed in two categories: those pushing for further fact-finding, and those who felt that the act of removing Trump from office should be handled by voters at the polls in 2020. After the Mueller report was released, Sanders called on Congress to continue investigating Russia's role in the 2016 election. Booker told reporters, "There's a lot more investigation that should go on," citing the fact that Democrats hadn't seen an unredacted version of Mueller's report and hadn't heard Mueller testify. Gillibrand, too, wanted a hearing with the special counsel: "I want the American people to get to hear [Mueller's] words and hear what he says," she said during a campaign stop in Iowa. (Congress still hasn't heard from Mueller, and the special counsel said today that he sees no value in testifying.) During a CNN town hall in late April, Buttigieg said that while Trump "deserves impeachment," the best way to hold the president accountable would be by giving him "an absolute thumping at the ballot box."
As of today, though, the 2020 field's closer-to-unified stance on impeachment could provide political cover for some of the more hesitant congressional Democrats to voice their support for taking more serious steps against the president. It also means that House Speaker Nancy Pelosi faces increasing pressure to green-light the proceedings. Even as Pelosi has suggested that Trump is mentally unfit for office, encouraging his family to intervene and praying on his behalf, she has yet to concede that impeachment is the correct path forward for Democrats, which has caused some grumbling in her caucus. Those grumbles will likely increase today: After Mueller's remarks, Pelosi still wouldn't budge. In a statement, she thanked Mueller and his team for providing "a record for future action both in the Congress and in the courts regarding the Trump Administration involvement in Russian interference and obstruction of the investigation." She said that Congress would continue to "investigate and legislate" in order to "secure our democracy," and rather than urging impeachment, she called on the Senate to pass legislation "to protect our election systems." Former Vice President Joe Biden, the party's 2020 front-runner, agreed. In a statement released this afternoon, a Biden spokesperson said, "No one should relish what would certainly be a divisive impeachment process … Vice President Biden will continue to make the case as to why President Trump should not be reelected. That is the surefire way to get him out of office.")
"I hope and expect this to be the only time that I will speak to you in this manner," Mueller concluded his remarks. "The report is my testimony."