Trump's Allies Want to Clintonize Joe Biden
Donald Trump's supporters want to erase the line between an old white man and the person who might have been the first woman president.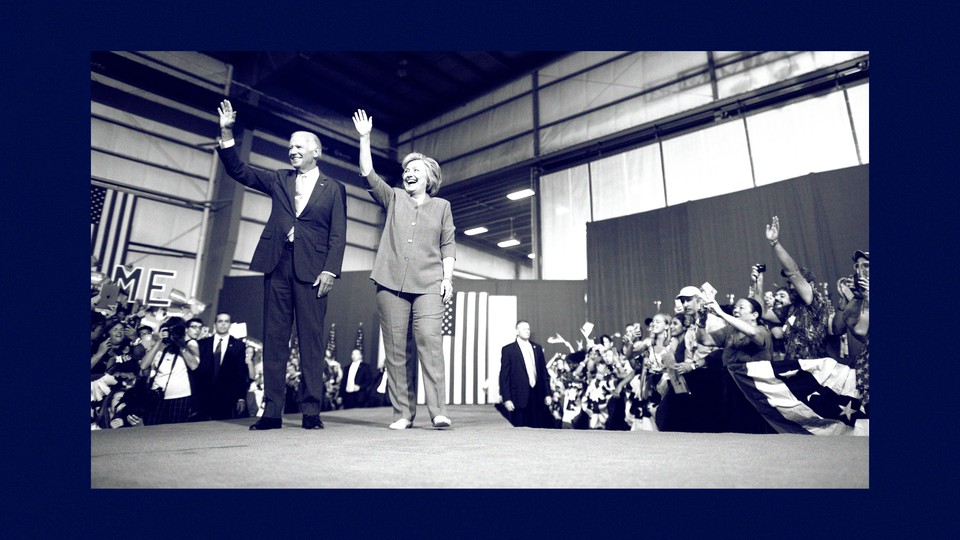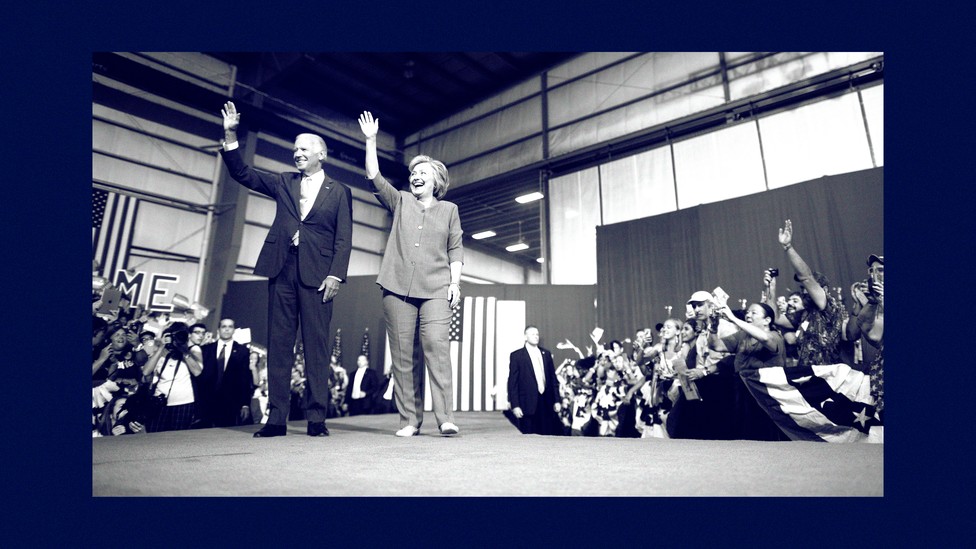 Donald Trump is clearly spooked by Joe Biden—but some of the president's supporters say there's an easy solution: Make Biden out to be Hillary Clinton, just older and with a longer record of not getting things done in Washington.
Go ahead and try, Biden and his advisers say, offering a list of reasons why they believe that strategy won't work. Though an old white man is not a history-making candidate like Clinton, Biden's advisers know their candidate benefits from not being a woman, which they think will save him from the sexism and misogyny that defined 2016. They plan to lean into Biden's personal story of family tragedy to reinforce what they see as his core image of decency, possibly making Trump's attacks harder to stick. They also believe that running against Trump will allow the 76-year-old former vice president, who first came to Washington, D.C., 47 years ago, to come off as the candidate of change.
"The notion that [Biden is] arguing for the status quo is a little hard when the status quo is Donald Trump," a Biden adviser, who spoke on the condition of anonymity to discuss the campaign's internal thinking, told me. "What he's advocating for is a pretty radical change from what we have."
Still, it's easy to see how Trump could try to frame Biden as Clinton 2.0. Biden was elected to the Senate in 1972, long before the Clintons arrived in Washington. For years, Biden said he was working on fighting for the middle class, and all the while the middle class was getting squeezed tighter and tighter. Trump's 2016 campaign communications director, Jason Miller, told me that the president "can simply point at Joe Biden and say, 'Why would we go back to that?'" Decades of Biden's floor speeches are lurking in C-SPAN's archives, providing enough material to hit him on just about any subject. Rudy Giuliani and other Trump allies have already tried to make Biden look like he has his own foreign entanglements due to his son Hunter's work with a Ukrainian-backed company.
Of course, Biden has to make it through the primaries, and so far he's been the heavy without much of the actual weight. (Candidates have continued announcing even in the two weeks since Biden entered the race.) Some are convinced that his campaign will eventually collapse beneath new blunders or voters will become exhausted after attacks on a record that includes more votes and more speeches than Clinton ever had to her name. His recent boost in the polls is bigger than his own team expected, and aides on other campaigns admit that Biden's media attention has been overwhelming. But none of that has translated into huge or passionate crowds.
"Biden possesses many of the downsides of Clinton's attributes with fewer of the upsides," a former Clinton aide told me. They noted that while Biden has tried to display a show of force in the first phase of his candidacy, he hasn't locked up as many of the big donors as Clinton did by this time in her own campaign, nor does he have as long a list of endorsements. "Clinton had several trappings of an establishment candidacy, but she at least got the most out of those factors," the aide said. "Whereas Biden is going to be vulnerable to many of the same criticisms without that."
Will that matter to voters this time around?
Biden's campaign might be a 2016 what-if. He's a candidate running to take down Trump with a long résumé, a promise of steady leadership, and a middle-of-the-road Democratic policy agenda. But this cycle, the candidate is not battling a public image poisoned by a 25-year conservative conspiracy complex. As Clinton herself put it in an appearance in Washington a few weeks ago, "When you get attacked, or there are false stories about you, even your supporters get nervous."
Like Clinton in 2016, Biden has cornered the punditry market on "electability," and his campaign is also a redo. Of the 21 Democrats so far seeking the nomination, Biden is the only one who's flamed out in two previous attempts, not to mention that he stopped just short of running in 1992, 2004, and 2016. (And unlike Bernie Sanders, the other repeat candidate, Biden received just 1 percent of the vote in Iowa in 2008 and dropped out, while Sanders hit over 49 percent in Iowa and went on to win 22 more states.)
Trump attacked Clinton not just as the evil schemer with the frozen smile, but also as the embodiment of the entire failed Washington system. "Hillary, I'd just ask you this," Trump said during their first debate in September 2016. "You've been doing this for 30 years. Why are you just thinking about these solutions right now?" Moments like that are why Miller says Biden is the candidate he'd most like to see Trump face.
"Trump's sweet spot is where he's running as an indictment against politicians of both parties," Miller told me. Even though Trump is the incumbent, Miller said, "Biden being in the race allows him to be the change agent, allows him to be the reformer."
Senator Lindsey Graham of South Carolina, an old friend of Biden's who is now one of Trump's most eager defenders, agrees. "I think the president believes that Joe Biden represents the old way of doing business that was pretty soundly rejected, and that it would be going backwards," Graham told The Atlantic. "I think President Trump believes that Joe Biden, in Obama's time, created malaise and lack of economic opportunity and the weakness that led to Trump being elected."
That's how Trump's spinning it too. During his time in the Senate, Biden voted for trade, health care, financial regulations, the crime bill—most of what Clinton supported over the years. "Funny, I'm only here because of Biden & Obama," Trump tweeted during a frenetic days-long string of posts after the former vice president announced his campaign last month. "They didn't do the job and now you have Trump who is getting it done - big time!"
Biden and his team expected the Clinton comparisons. There's no running from his age, or his record, or his decades on Capitol Hill. They know he'll be attacked as a Washington dealmaker who made deals that didn't work for people outside Washington, who went on and on at committee hearings while Americans' bills stacked up, and who thinks, Those were the good old days. They also know that he can't simply run on a platform of restoration, and that he'll need to figure out a forward-looking vision, which he has yet to really articulate.
"This is not a conventional presidential political environment, so the old orthodox lines of attack just don't work anymore," says Steve Israel, a former congressman from New York who was the head of the House Democrats' campaign operations across the country in 2012 and 2014. "When you stack up a Biden type of candidacy versus four more years of Trump, I think the contrast works for the Democrats."
Israel hasn't yet endorsed a 2020 candidate, but, like many Democrats warming to Biden, he cited the conventional wisdom that Biden will be able to connect with the vaunted white working-class voters Clinton took for granted, and lost, in 2016. Pennsylvania is a must-win state for Democrats, and Biden knows it: He launched his campaign at a union hall in Pittsburgh last Monday, and he's building up to a large-scale event in Philadelphia on May 18.
"I just don't think that you can have him wear her shoes," Pittsburgh Mayor Bill Peduto told me a few hours before Biden appeared in his city. "He's a different candidate. He has a much different background." Peduto hasn't yet endorsed anyone in the race, but he's clearly open to the possibility of Biden as the nominee. "Even though he has a shared history of holding elective office, I think his brand sells better in the more rural areas of Pennsylvania," the mayor said.
Biden has a little under a year left to convince Democrats, as a whole, that this brand should be enough to back him. At this point in the 2016 cycle, Clinton had just entered the race, and Trump was still negotiating his new contract with NBC.
---
Peter Nicholas contributed reporting.