Trump's Biden Plan? It Could Get Dirty.
Should Biden remain atop the 2020 field, Donald Trump and his allies may attack the former vice president's family.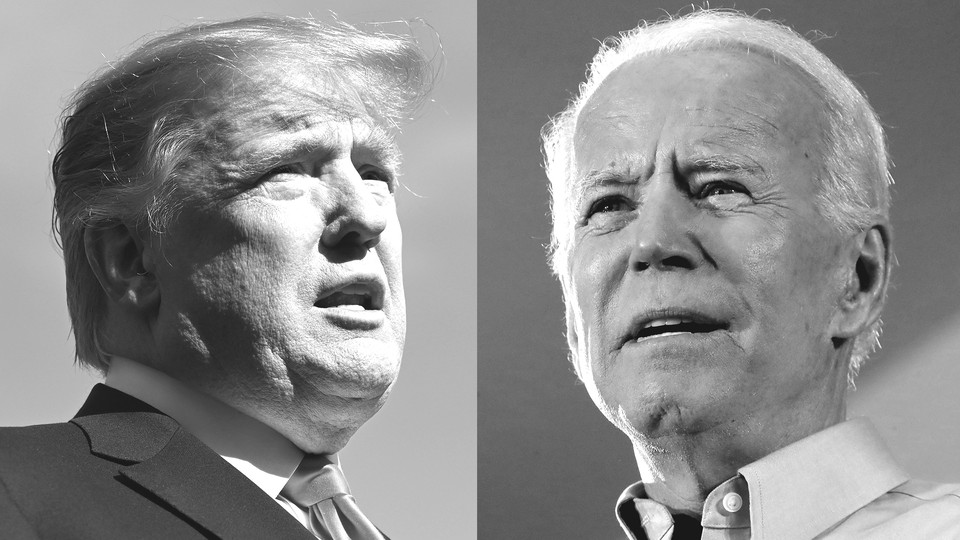 Seldom has Donald Trump paid a real price for ridiculing anyone he sees as a political threat, or for that matter, anyone he doesn't particularly like. Running a long-shot campaign in 2016, Trump taunted the then–Fox News anchor Megyn Kelly ("There was blood coming out of her eyes, blood coming out of her wherever"); demeaned Khizr and Ghazala Khan, the parents of a soldier killed in Iraq; and insulted the war hero John McCain for getting shot down in Vietnam ("I like people that weren't captured"). None of it stopped him from becoming president.
Former Vice President Joe Biden is only a few days into his 2020 presidential bid, and already Trump is road testing various lines of attack. For now, he has settled on "Sleepy Joe," though advisers say Trump is still casting about for the artfully emasculating nickname that felled his erstwhile Republican rival Jeb Bush, he of "low energy."
When Biden's name would come up in White House meetings early in Trump's term, the president "would be totally dismissive of him," the former White House strategist and Trump campaign CEO Steve Bannon told me. "Trump will bench-press Biden on the debate stage if it ever gets to that."
Trump may take steps to see that it doesn't. Typically, presidents stay out of the other party's nomination fights. Trump will find it tough to resist injecting himself into the race. But the coming Biden evisceration may prove to be more brutal than anything the president has yet unleashed. Make no mistake: Team Trump sees Biden as a genuine threat to the 45th president's second term. The campaign's internal polling aligns with public polls showing Biden to be Trump's most dangerous general-election opponent, one of the president's confidants said. The Real Clear Politics average of national polling shows Biden leading Trump by nearly 8 percentage points.
As they weigh Biden's weaknesses, some in Trump's orbit plan to zero in on the candidate's only living son, Hunter, a move that will almost certainly spark a backlash. Biden has already lost two children: His year-old daughter, Naomi, died in a 1972 car crash that also killed his first wife, Neilia. His sons, Hunter and Beau, were also in the car that day and were injured in the accident. Beau died of cancer in 2015.
A rationale these operatives offer is that Trump's children have sustained plenty of criticism from the press and Democratic lawmakers, and thus, Biden's family is fair game. Exactly what they would highlight isn't immediately clear, but potential vulnerabilities have emerged since Biden's name was last on the ballot, in 2012, including Hunter's association with a Ukrainian natural-gas company and his discharge from the Navy after testing positive for cocaine. Trump on Wednesday retweeted a New York Times article that discusses Hunter's work for the company.
In an interview, David Bossie, a 2016 Trump-campaign official who in the 1990s was a House Republican investigator looking into then-President Bill Clinton's dealings, mentioned the "liabilities that Hunter Biden brings."
"Look at the way (various news outlets) have treated the Trump children; Hunter Biden is on the table," Bossie said.
Newt Gingrich, the former House speaker and a Trump ally, told me: "You'll notice the left doesn't mind going after Don Jr. So it's a little bit late for them to say it's unfair." Another person close to Trump said the decision about spotlighting Biden's family ultimately rests with the president.
Trump isn't especially squeamish about these sorts of things. In 2016, he made an issue of the Clintons' treatment of women (at a time when his own treatment of women was under scrutiny). Roughly 48 hours after The Washington Post released hot-mic footage from 2005 of Trump bragging about grabbing women "by the pussy," the Trump team invited three of the former president's accusers to sit in the audience during his second debate with Hillary Clinton. The group was evicted from Trump's VIP box at the insistence of debate officials.
"You have to make the decision, 'Do I want to go after the guy's family?'" the person close to Trump said. "Trump during the first campaign didn't give a shit about going after Hillary and Bill." The Biden campaign declined to comment for this piece. A Trump-campaign aide said the campaign would not disclose its "playbook."
"The Trump campaign should be mindful of the potential for it to boomerang, especially given the Biden family history," says Douglas Heye, a Republican strategist. "His political career was born out of tragedy and bookended with the loss of Beau."
For other reasons, Biden remains a tricky general-election opponent. Trump might have trouble labeling Biden a socialist given the centrist positions he has staked out—though Biden could be yanked left as the nomination fight unfolds. Chris Ruddy, a friend of Trump, says he believes that the president will "decimate Joe Biden as a candidate," though "any candidate that represents more of the center wing of the party poses the biggest threat."
Other strategies are off the table: Trump can't unleash the sexist and race-based attacks he deployed against Hillary Clinton and Barack Obama, respectively. (Trump for years peddled the fiction that Obama was not born in the United States.) Nor can he paint Biden as someone who's too young or untested.
Indeed, no one in the 20-person Democratic field is more familiar to Trump than Biden. The two are not friends, but they share several commonalities. Both are gaffe-prone politicians whose core supporters see them as refreshingly authentic. Each is an alpha-male septuagenarian who came of age amid U.S. economic and military dominance that has diminished over time. As a real-estate titan living in New York City, Trump made a $1,000 donation to Biden's 2001 Senate campaign. In 2015, when Biden announced he wouldn't run for president, Trump tweeted that he saw Biden as a stronger prospective opponent than the eventual nominee, Hillary Clinton.
Biden has forged a respectful rapport with Trump's No. 2, Mike Pence. During the presidential transition, Biden helped Pence prepare for the role, people familiar with the matter said. The two talked a handful of times, chiefly about foreign policy, though the conversations largely stopped shortly after Trump's inauguration.
"Pence was complimentary of Biden during the transition," one person close to the vice president said. Biden called Pence a "decent guy" during an appearance in February, though he quickly walked back the compliment in the face of criticism from Democrats who said Pence has supported anti-gay and -lesbian policies. (As governor of Indiana in 2015, Pence signed into a law a religious-freedom measure that some warned could be used to deny service to gays and lesbians. Amid a public outcry, he signed a revised measure to clarify that businesses could not discriminate under the law.)
If you listen carefully, you'll pick up a few MAGA-lite notes in Biden's 2020 messaging. At his kickoff rally in Pittsburgh, Pennsylvania, this week, Biden faulted General Motors for closing plants and laying off workers. Trump has been saying much the same thing. GM, Trump said in December, "isn't going to be treated well." Biden made an appeal to the sorts of blue-collar voters who gravitated to Trump in 2016. "Workers feel powerless, too often humiliated," Biden said. "How did we get to this place where they don't think we see them, or hear them, or know them?"
David Urban, a 2016 Trump-campaign aide, says that Biden's speech "sounded like Trump's version of 'Make America great again.'"
Biden is clearly on the White House's mind. Early Wednesday morning, Trump retweeted a series of supportive messages from firefighters, apparently looking to undercut the endorsement Biden received from the International Association of Fire Fighters in Pittsburgh. A day earlier, Kellyanne Conway, a counselor to the president, took questions from reporters in the White House driveway. Because Trump's press office has largely stopped holding regular press briefings, these sorts of impromptu Q&As are one of the main vehicles for the White House to share its message. Conway told reporters that the "middle class is booming now despite what Joe Biden says … But [Biden] and his nonsense aside …" At the time of the statement, no one had asked her about the president's potential challenger. She brought him up on her own, unprompted.