The Atlantic Politics & Policy Daily: Putin the Word Out
President Trump said he discussed the Mueller report with Russian President Putin in an hour-long phone call today. Plus: Infrastructure week is no longer a joke!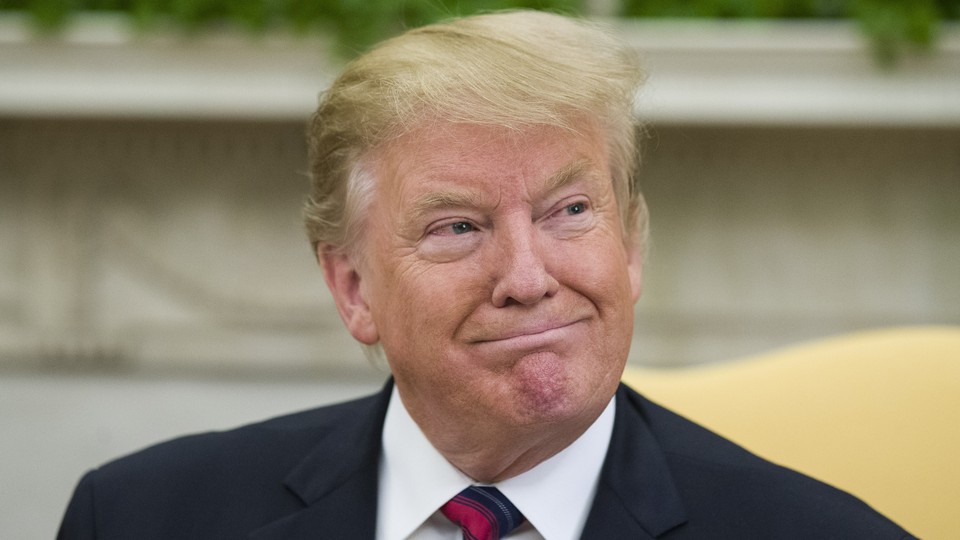 What We're Following Today
It's Friday, May 3.
‣ The U.S. economy added 263,000 jobs in April, exceeding expectations, and the national unemployment rate shrank to 3.6 percent, the lowest rate since 1969.
Here's what else we're watching:
Trump-Putin (Again): President Donald Trump said he discussed Special Counsel Robert Mueller's report with Russian President Vladimir Putin in an hour-long phone call today. However, Trump says he didn't warn Putin not to meddle in the upcoming 2020 elections: "We didn't discuss that," he told reporters.
It's Infrastructure Week (Again): But this time it's not a joke. Sometime in the past two years, the Trump administration's focus on Infrastructure Week has become an internet meme and a symbol of the president's inability to stay on message. But this week's infrastructure meeting at the White House between Trump, House Speaker Nancy Pelosi, and Senate Minority Leader Chuck Schumer seemed to indicate a promising start, writes Elaina Plott.
A Glutton for Punishing?: The use of sanctions has exploded in the 21st century: As of today, the United States has 7,967 sanctions in place on individuals, companies, and entire foreign governments across the globe. But while sanctions are useful for making American enemies' lives more difficult, experts worry their overuse brings long-term risks.
2020 Watch: Washington Governor Jay Inslee, running for president on a climate-focused platform, just released a three-part plan to reshape the U.S. auto market, building code, and power grid over the next decade and a half: "You could call it the 100-100-100 plan," writes Robinson Meyer. (Compare Inslee's plan with the other comprehensive climate plan in the mix, from Beto O'Rourke.)
---
Snapshot
President Trump holds his hand up to a reporter as he listens to another's question during a meeting with Slovak Prime Minister Peter Pellegrini in the Oval Office. (Alex Brandon / AP)
---
Ideas From The Atlantic
Why Is Trump Suddenly Talking About God? (David A. Graham)
"By this point it's banal to note the mismatch between Trump—the coarse, libertine sexual harasser—and the American evangelical movement. It's a marriage of convenience: Trump gets support he needs, and evangelicals get a champion of their causes, even if that champion is not especially Christlike in his bearing." → Read on.
The Right Way to Think About 'Electability' (Conor Friedersdorf)
"Orienting that conversation around polls and analysis of how different candidates compare with Trump on likely campaign issues is one way to ground analysis in something more than intuition, even if certainty will remain elusive." → Read on.
Anti-Semitism Is Thriving in America (Deborah Lipstadt)
"For the past seven decades, it has been shameful to be an open anti-Semite. We assumed that, after the Holocaust, the world recognized where anti-Semitic rhetoric can lead. We were wrong." → Read on.
---
What Else We're Reading
‣ Inside the AOC Meme Machine (Lam Thuy Vo, BuzzFeed News)
‣ The Revolt of the Democratic Elites (David Brooks, The New York Times)  (🔒 Paywall)
‣ How Erik Prince Used the Rise of Trump to Make an Improbable Comeback (Matthew Cole, The Intercept)
‣ Inside Bernie Sanders's 1988 10-Day Honeymoon in the Soviet Union (Michael Kranish, The Washington Post)  (🔒 Paywall)
---
About us: This newsletter is a daily effort from The Atlantic's politics writers: Elaine Godfrey, Madeleine Carlisle, and Olivia Paschal. It's edited by Shan Wang.

Were you forwarded this email? Sign yourself up here. We have many other free email newsletters on a variety of other topics. Browse the full list.