Shanahan Finishes His Four-Month Audition for Defense Secretary
Trump has finally given his acting defense secretary the nod to be permanent. Now he just has to deal with a skeptical Senate and a threatening world.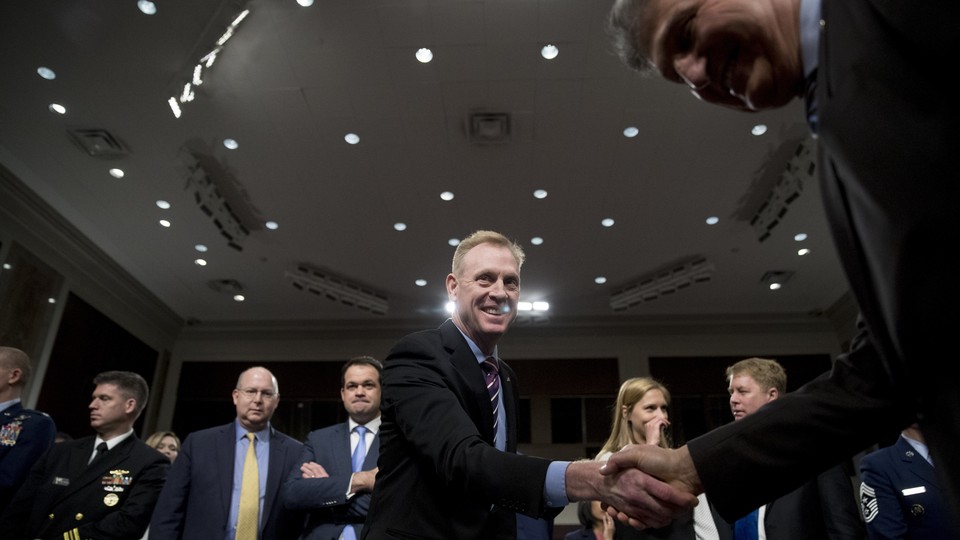 After keeping him in the audition phase for more than four months, the White House finally announced President Donald Trump's intent to nominate Patrick Shanahan to drop the acting in his secretary-of-defense job title and make it official. He is likely to be confirmed by the Republican-held Senate, which means he will formally take leadership of a massive bureaucracy trying to fundamentally change its approach to dealing with the world's most pressing threats. But not everyone is convinced that he's the best man for the job.
The Pentagon is attempting a radical shift, turning its attention to preparing for potential conflict with a powerful rival such as Russia or China after two decades focused on counterterrorism. Experts and officials warn that the consuming War on Terror has left the country dangerously unprepared to deal with other threats—all while Russia and China have spent the past two decades observing America's weaknesses and building their own arsenals to exploit them.
Leading that transformation while dealing with the daily difficulties of perhaps the hardest job in the government, and serving a mercurial boss, would be enormously challenging for the most qualified candidate. The boss factor in particular ultimately drove out Shanahan's predecessor, James Mattis, a retired Marine general once widely portrayed as a levelheaded check on some of the president's worst instincts. Mattis was one of a series of retired generals Trump surrounded himself with earlier in his administration, before each of them—Michael Flynn, H. R. McMaster, and John Kelly—fell out of favor.
Shanahan, in contrast, brings no military background to the job; like Trump, he comes to his role from a career in business. His lack of any background to speak of in foreign policy or public service before taking over in January, following Mattis's abrupt resignation, has made adjusting to the role a challenge. Whereas Mattis had a reputation as a "warrior scholar" with deep knowledge of military history and a fondness for quoting Marcus Aurelius, Shanahan has struggled to answer policy questions; the late Senator John McCain scolded him at his confirmation hearing after he wrote, in response to a written question about whether he would support sending arms to Ukraine, "I plan to examine this issue closely" rather than taking a position. (When McCain called that answer "not satisfactory," Shanahan said he did support sending arms.)
Shanahan seems most at ease in public when talking about brass-tacks operational issues, such as bureaucratic reform and establishing a Space Force. "You guys all look so serious," he told the audience at a March think-tank event where he took questions about his plans for space. "This is a good day, right? Yeah. This is such a good subject. I mean it's, you know, this is about the future, you know what I mean? We're working on the future." There were no questions about contentious issues such as the United States–Mexico border or Syria.
His defenders argue that his business mind-set might be exactly what's needed to reform the department. In a recent report by the Pentagon inspector general, for instance, Mattis said that his former deputy "had an appreciation for how industry works [and] that allowed him to be very critical as he reviewed data and looked for cost savings, and looked for what we could do to maintain the best, the absolute best return on our dollars." It was Shanahan, too, who led the development of the strategy that laid out the focus on great-power competition, a notion defense officials repeat with the frequency of a mantra.
Still, even assuming the wisdom of that strategy (which has its critics and is likely to cost enormous sums), rhetorical commitment is not the same as genuine change. Shanahan faces a culture of entrenched interests and standard operating procedures that has thwarted the ambitions of far more experienced bureaucrats.
Meanwhile, he and the department face complicated foreign-policy problems, and even a domestic one, now that Trump has pulled the Department of Defense into the fraught politics of controlling the border. Nearly 5,000 troops are currently at the border, deployed on a controversial mission involving a range of activities, from repairing fencing to otherwise supporting border agents, though they are legally barred from detaining migrants. Shanahan also has to oversee a confusing withdrawal from Syria amid shifting orders from the president; reassure NATO about U.S. alliance commitments; try to deter China's muscle-flexing in the South China Sea; contend with the threat of new missile tests from North Korea; and deal with the White House invoking the U.S. military as an "option on the table" to force Venezuela's Nicolás Maduro to step down. Then there's Iran, which the administration this week said was planning something so threatening that it is sending American warships to the Middle East.
As Shanahan told reporters Thursday after getting the nod, "You have to spin a lot of plates."
Still, he also faces skepticism in Congress, particularly from Democrats, who have fought him over his proposed budget and plans for border-wall funding; threatened his flexibility to move money among different defense projects; questioned why he wants to create an entirely new bureaucratic entity to deal with threats from space; and raised questions about ethics given his former association with Boeing. Republicans are likely to have fewer qualms; despite McCain's scolding at his first confirmation hearing, not a single Republican voted against Shanahan, and he was confirmed with 92 votes. In February, Republican Senator Lindsey Graham publicly threatened to be Shanahan's "adversary" if, as Trump had initially ordered, the military withdrew all its troops from Syria by the end of April. But Trump has since changed his mind, and by early May by there was still no clear timetable for the drawdown.
Through all that, Shanahan also spent about five weeks under a Pentagon ethics investigation concerning his ties to his former employer Boeing, which happens to be one of the Pentagon's biggest contractors. That investigation ultimately cleared him, removing the key obstacle to his nomination.
Indeed, it was Boeing that helped stall Shanahan's nomination as the Pentagon inspector general looked into allegations that he had sought to promote the company and disparage its commercial rival Lockheed Martin. The inspector general issued a report at the end of April that cleared him of wrongdoing, but Boeing faces a separate outcry over its role in two recent fatal crashes of 737 Max jets. Though Shanahan worked on a different Boeing model, his association with the company also reportedly contributed to Trump's hesitation to pick him permanently.
The "acting" role was a distinction he shared with numerous other Trump officials, including several in the higher ranks of the Defense Department itself. Politico reported at the end of April that a third of the 24 senior civilian jobs in the Office of the Secretary of Defense had only acting, unconfirmed officials serving in them, putting the organization at a disadvantage in interagency policy debates. Shanahan's unprecedented stretch in the "acting" role also irritated lawmakers—James Inhofe, the Republican chair of the Senate Armed Services Committee, told CNN nearly a month ago that he wanted Shanahan nominated "right now" and that "we're long past the point where we should have an acting in that position."
The ethics report itself, for which the inspector general interviewed 34 witnesses, including Mattis and Shanahan, might also prompt questions in confirmation hearings. It found that Shanahan adhered to ethics guidelines and observed a detailed screening process to keep him insulated from Boeing-related matters. But in investigating allegations that Shanahan had "repeatedly dumped on" the much-criticized F-35 fighter jet, manufactured by Lockheed Martin, the inspector general reached a narrow conclusion. "Mr. Shanahan told us," the report says, "that he did not say that the F-35 aircraft was 'f---ed up.' He told us that the F-35 aircraft is 'awesome.' Mr. Shanahan told us that he said the F-35 program was 'f---ed up.'" The distinction, according to the report, means he was criticizing not a Boeing rival's specific product but the way Lockheed Martin and the Pentagon were managing the program, especially its expense. The importance of this distinction might not be obvious to lawmakers worried about ethical issues.
The real significance of the report might be in underscoring the number of national-security issues Shanahan can't touch, given ethics constraints—potentially a significant handicap for the job at the center of U.S. national-security policy. Boeing does billions of dollars worth of business with the Defense Department, from drone refuelers to helicopters to stealth fighter jets, and though Shanahan can participate in broad conversations about strategy and capabilities, the ethics agreement he signed upon entering the Pentagon prohibits him from participating in decisions involving Boeing without prior authorization. The report highlights several instances in which Shanahan stopped conversations with senior officials when Boeing came up, illustrating just how complicated it is to disentangle questions of private industry from questions of national security.
The prospect of having a permanent defense secretary who is barred from discussing "a wide swath of national security matters ... strikes me as something the Senate needs to consider," Jack Reed, the top Democrat on the Senate Armed Services Committee, said in a statement to The Atlantic. "The senior leadership of DOD oversees hundreds of billions of taxpayer dollars, and to do that job well they must be above reproach and focused only on the country's interests."
In any case, Shanahan has now passed a four-month audition with Trump. This is not least because, unlike several others who were reportedly in contention, he was willing to take the job. Getting the inspector-general clearance was one hard part, and getting Trump's nod was another. The next will be continuing to do the job.